3 Comments
College Weekend Recap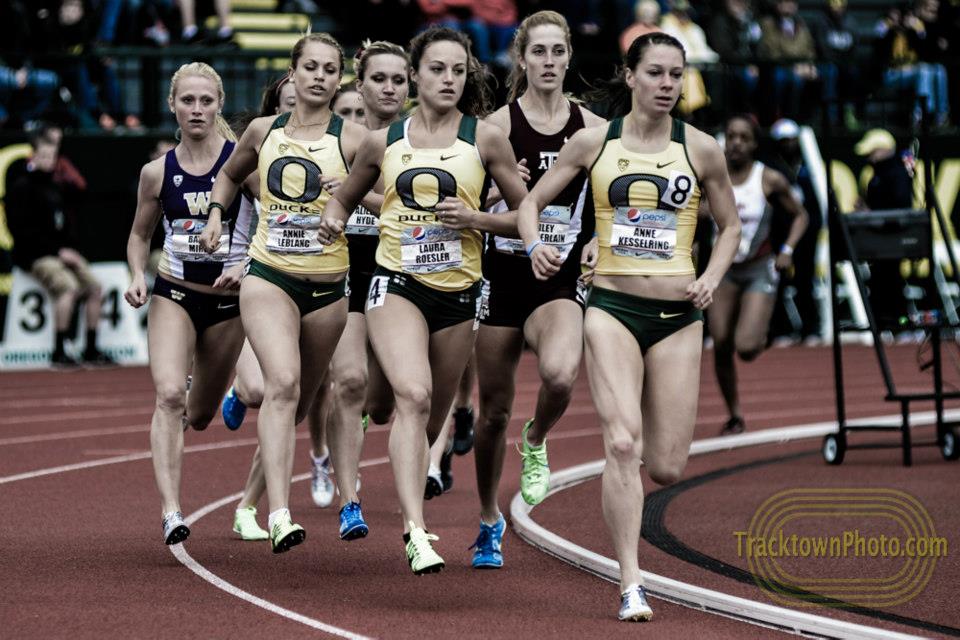 Oregon is already at the front of the pack. (Photo by TrackTownPhoto)
A week ago the weekend's college action was all about the teams. This time it's all about the individuals, but still with a look towards teams.
Oregon Ducks
Oregon's women had a big day at Kentucky's Rod McCravy Memorial, turning in two national leaders. Laura Roesler won the 800 in 2:01.32 and Phyllis Francis won the 400 in 52.14.
The oversized track at Nutter Field House disqualifies Roesler's time from being #2 on the all-time collegiate list, but note that it's more than three seconds faster than Roesler ran at Washington's oversized track on this same weekend last year. Roesler went on to finish second at the NCAA indoor championships (behind LSU's Natoya Goule, who has transferred to Clemson and is redshirting), so pencil her in as a heavy favorite to win the title this year.
Francis is also way ahead of where she was last year at this time. She didn't run the 400 until February last year, opening up with 53.40 at Arkansas (considered the fastest indoor track in the world for the 400 meters). She finished fourth at the NCAA indoor, and of those ahead of here only third-place Ashley Spencer returns. She might not be the favorite, but we can probably expect a top-three finish.
Add in Jenna Prandini, who was fifth in the 60 meters at last year's NCAA indoor championships and who is also much faster than she was last January, plus standout redshirt freshman Jasmine Todd, #2 and #1 on the collegiate list in the 60 and long jump, and the Ducks may have the personnel to make a run at a fifth straight NCAA indoor championship. Only LSU has ever done that (1993-97).
Bowerman Watch List Showdowns
Two head-to-head battles loomed this weekend between athletes on the Bowerman Award watch list. The lists rarely include multiple athletes in the same events, but we had two of them this weekend.
Texas A&M's Kamaria Brown and Texas Tech's Cierra White met over 200 meters in a triangular with LSU on Saturday in College Station. Brown handily defeated White (who was not on the list proper but the "also receiving votes" section) as did Brown's teammate, Ashton Purvis.
In Kentucky, Florida's Arman Hall faced off with Oregon's Mike Berry (likewise "also receiving votes") at 400 meters. Hall won by a big margin, 45.84 to 46.13, but his was not the fastest of the weekend. Texas A&M's Deon Lendore won his triangular with LSU and Texas Tech with a year-leading 45.74, breaking his own meet record set last year. Hall made the US team for the Worlds last summer but didn't even qualify for the NCAA indoor championships last winter.
A few other big showdowns took place this weekend. Also at Kentucky, Eddie Lovett, Florida's defending NCAA indoor hurdle champion, raced Ohio State's Demoye Bogle, the year's fastest collegian. Lovett won with ease, with Buckeye redshirt freshman Donovan Robertson also ahead of Bogle.
Again at Kentucky, the year's three fastest collegians in the women's 60 were set to race each other: Kentucky's Dezerea Bryant and Oregon's Jasmine Todd and Jenna Prandini. Prandini qualified to the final but didnt' run, and Bryant narrowly beat pro Tianna (Madison) Bartoletta with Todd well back in third.
Which event(s) for D'Agostino?
Dartmouth's Abbey D'Agostino joined in the Nike Oregon Project's special mile record attempt at Boston University on Friday night. She was second behind Mary Cain in 4:28.31, a PR and third-best in collegiate history. Would she consider running the mile at the NCAA Championships? It's hard to see her losing if she did, but it's equally hard to see her picking it over the 3000 and/or 5000, the two events she won last year. The only other times she's run the mile or 1500 over the last few years were for team points (at the Ivy League championships) or for experience (at the Millrose Games).
The rest of the Ivy League had a pretty good weekend too. Not only does D'Agostino lead the national list in the mile and 5k, but so does Dartmouth's Will Geoghegan (mile, in an Ivy record of 3:58.04), Harvard's Maksim Korolev (5000m, 13:42.56), and Cornell's Stephen Mozia (shot, 20.52m/67′ 4″).
Super freshmen
Houston freshman Cameron Burrell won the 60 meters at New Mexico's Cherry and Silver Invitational with a time of 6.55 seconds, just 0.01 outside the all-time top ten for US collegians. His old PR was 6.61, run one year ago at the Brooks PR Invitational high school meet in Seattle, one of two big national high school invites he won last year. If the name sounds familiar, it should; his coach at Houston is Leroy Burrell, the former world record holder, who is also his father.
Burrell will get the attention because he is a sprinter, but Georgia's Kendell Williams might deserve it more. On Friday the freshman broke her own US junior record in the pentathlon, putting up a collegiate leader with a score of 4302. It's just 34 points shy of the all-time top ten by US collegians–and less that 100 points shy of the PR of Erica Bougard, the defending NCAA indoor champion, who opened her season last weekend with a 4207 score. Her strengths are the hurdles and jumps (as good or better than Worlds silver medalist Brianne Theisen-Eaton was at the same age) and she has a lot of room for improvement in the throws and 800.
Team competition
There were a few high-level team competitions. Texas A&M's men ran their record to 8-0 in home duals and triangulars by downing LSU and Texas Tech, and the women swept the Tigers and Red Raiders as well.
Michigan State's men upset Notre Dame in a quadrangular, with Southern Illinois third and Illinois State fourth. The Irish won the women's meet, with Michigan State second, SIU third, and Illinois State fourth. It was the first time the Spartans have beaten Notre Dame since the series began in 2007. MSU and UND have a long history together; they once had an annual dual meet rivalry, and in 1923 the two schools (along with Marquette) created the now-defunct Central Collegiate Conference, the midwest's version of the IC4A.
Speaking of rivalries, the Duke Chronicle's headline reads Blue Devils notch 2 victories against rival UNC, which tells you exactly what gets attention. The Carolina Cup was a five-team meet between Duke, UNC, East Carolina, Western Carolina, and UNC-Wilmington. East Carolina won the men's meet and Duke won the women's meet.
Other wins were picked up by Nebraska's men and women, Minnesota's men and women, Kansas' men and women, Cornell's men and women, Eastern Illinois' men and women, Colorado's men, Colorado State's women, VMI's men and Youngstown State's women. Lehigh swept Lafayette in dual meet action, Southeast Missouri swept SIU-Edwardsville, and Montana State's men and Montana's women came out on top in double duals with Idaho State.

Dual Meet Rankings

The national rankings will be released tomorrow at the Track and Field News website. Below are regional rankings. Remember that in order to be ranked, a team must compete in at least one dual/tri/quad meet during the indoor season.
Great Lakes Region
Men
Women
1. Purdue (3-0)
1. Notre Dame (3-0)
2. Akron (2-0)
2. Purdue (3-0)
3. Michigan State (3-0)
3. Michigan (0-0)
4. Kent State (0-1)
4. Indiana (0-1)
5. Indiana (0-1)
5. Kent State (1-0)
6. Eastern Michigan (2-0)
6. Michigan State (2-1)
7. Notre Dame (2-1)
7. Akron (1-1)
8. Wisconsin (1-0)
8. Indiana State (2-1)
9. Indiana State (3-0)
9. Eastern Michigan (2-0)
10. Grand Valley St. (1-0)
10. Wisconsin (1-0)
Midwest/Mountain/West Region
Men
Women
1. Nebraska (3-0)
1. Nebraska (3-0)
2. Kansas State (4-0)
2. Iowa (3-0)
3. Texas Tech (0-2)
3. Texas Tech (0-2)
4. Air Force (0-0)
4. North Dakota St. (2-0)
5. Iowa (3-0)
5. Kansas State (4-0)
6. Eastern Illinois (6-1)
6. Missouri (0-1)
7. Missouri (0-1)
7. Illinois State (0-2)
8. Colorado St. (1-0)
8. Montana (2-0)
9. Wichita State (2-1)
9. Wyoming (1-0)
10. Northern Iowa (2-1)
10. Northern Iowa (2-1)
Mid-Atlantic/Northeast Region
Men
Women
1. Navy (1-0)
1. Harvard (0-0)
2. Buffalo (0-0)
2. Columbia (2-0)
3. Harvard (0-0)
3. Monmouth (3-0)
4. Princeton (0-1)
4. Dartmouth (1-1)
5. Monmouth (5-0)
5. Buffalo (0-0)
6. Dartmouth (2-0)
6. Yale (0-2)
7. Army (3-0)
7. Princeton (2-0)
8. Maine (1-0)
8. Lehigh (6-1)
9. Rider (2-1)
9. Rider (2-1)
10. Lehigh (3-1)
10. St. Joseph's (Pa.) (1-1)
South/Southeast/South Central Region
Men
Women
1. Texas A&M (2-0)
1. Texas A&M (2-0)
2. Arkansas (3-0)
2. Arkansas (3-0)
3. LSU (1-1)
3. LSU (1-1)
4. Texas (0-1)
4. Texas (0-1)
5. Mid. Tenn. State (3-0)
5. Louisville (0-1)
6. Texas-Arlington (0-3)
6. Mid. Tenn. State (3-0)
7. Louisville (0-1)
7. Tennessee St. (2-1)
8. Tennessee St. (1-1)
8. Texas-Arlington (0-3)
9. Western Kentucky (0-2)
9. Austin Peay (1-2)
10. Winthrop (0-3)
10. Western Kentucky (0-3)
Awards
The first star: Nick Ross, Arizona
The 2012 NCAA indoor high jump champion missed all of 2013 with injury but is back with a vengeance. Last weekend he set a new PR with a 2.30 meter (7′ 6½") clearance, and on Saturday he broke it with 2.31m (7′ 7″) at New Mexico's Cherry & Silver Invitational. That ties him for 10th on the all-time indoor collegiate list.
The second star: Cameron Burrell, Houston
It's not the time he ran at the Cherry & Silver Invitational that earns him the star but who he beat while doing it: Florida State's Dentarius Locke, the top returner from last June's NCAA Championships 100 meters.
The third star: Maksim Korolev, Harvard
Korolev broke Harvard's school record at the BU Terrier Invitational on Friday, posting a collegiate-leading 13:42.56. It broke his outdoor PR by more than 16 seconds, but more impressive is how he did it: all alone, no pacers, no help. He lapped the entire field.
WOMEN
The first star: Abbey D'Agostino, Dartmouth
As stated above, she's now the third-fastest indoor miler in collegiate history.
The second star: Laura Roesler, Oregon
As stated above, Roesler's 2:01.32 for 800 meters won't go on the all-time collegiate list since it was run on an oversized track. Still, it's one of the best ever run indoors by a collegian.
The third star: Kendra Harrison, Kentucky
Harrison won the 60 meter hurdles at the Rod McCravy Memorial in a time of 7.96 seconds, just 0.01 off the all-time collegiate top ten.
Other awards…
D-II athlete of the week: Chris Reed, Minnesota State
Reed won the shot put at Minnesota's Jack Johnson Classic with a distance of 19.95 meters (65′ 5½"), which puts him fifth among all divisions.
D-III athlete of the week: Michael LeDuc, Connecticut College
LeDuc was second in the 5000 at the BU Terrier Invitational behind Korolev (see above) in 14:17.32, eighth-best of the year among all divisions and just missing the all-time D-III top ten.
NAIA athlete of the week: DeMarcus Jackson, Central Methodist
Jackson won the 60 meters at Indiana College's Snow Bird Open. His prelim time of 6.70 is an NAIA leader and ranks 21st among all college divisions.
CIS athlete of the week: Ross Proudfoot, Guelph
Proudfoot won a distance double at the McGill Team Challenge in Montreal, taking the 1500 in 3:44.08 and the 3000 in 8:02.78. Both put him in the top 15 of all North American collegians. The other big Canadian meet this weekend was the Downtown Lions Sled Dog Open in Saskatoon, Saskatchewan, which I mention just because it has to be the coolest meet name I've heard in a long time.
Team player: Hilary Conrad, SIU-Edwardsville
In a dual against Southeast Missouri, Conrad won the 200 meters and 400 meters, took fourth in the 60 meters, and anchored the winning 4×400 relay.