No Comments
5 Reasons the Boston Marathon is similar to The Masters (and 5 reasons it's different)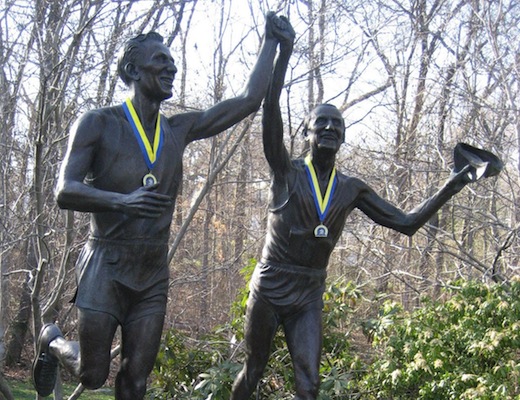 Pat Price | On 14, Apr 2013
Welcome to my first post on the Daily Relay. You may know me from Writing About Running, or maybe not. I'll be writing a few posts a week here, predominantly for The Mixed Zone; a look at the entertainment side of the sport and 5 Questions, a look into some of the thoughts of the people in the sport (read past 5QW here from WAR).
Feel free to send me your thoughts on who you would like to see an interview with or why I shouldn't cover the upcoming season of The Bachelorette (with a track spin) by emailing me or following me on Twitter @WritingAboutRun.
5 Reasons the Boston Marathon is similar to The Masters
1. Not everyone can get in
Qualifying for the Boston Marathon requires diligent training to gain the appropriate times necessary for entry. Qualifying for The Masters requires qualification as well. Most distinctively, the golfer must be one of the top 30 finishers on last year's PGA Tour money list. And for the casual fan, Masters tickets can be pretty hard to come by as well.
2. Everyone has heard about them
Both events have that cachet about them where if you bring them up in a casual setting, people will have some kind of knowledge of them. Go to any road race and people will be wearing their Boston gear. Go to any golf course and your bound to see a few Master's visors.
3. Both have well-known landmarks
Turn on the TV this afternoon and you'll hear about Amen Corner, Magnolia Lane and Butler Cabin. Turn on the TV tomorrow (or internet stream) and you hear about Hopkinton, the Johnny Kelly statue, the Newton Hills, the Citgo sign and a few more famous Beantown landmarks mentioned below.
4. The holiday atmosphere
Patriot's Day is a holiday in Boston, where Masters week is treated like a holiday for locals in Augusta. The fans are out in full force all over the Boston course, partly due to having the day off of work and school. In Augusta, Masters week "brings families together. Sometimes they are together someplace else" (as many locals rent their homes out to competitors and their families for big bucks.
5. Win either and become an American legend
Boston Billy Rodgers and Arnold Palmer have enjoyed a lifetime of fame due to their respective domination over a short period of time at these classic American sporting events. Can Massachusetts native, Shalane Flanagan, join that club tomorrow? If she does, there's a good chance she woven into the fabric of the marathon for the rest of her life.
5 reasons Boston is different
1. The amateurs are participating AND watching
While there are a few "amateurs" participating in The Masters each year, it is nearly impossible for the Average Joe to earn entry. Boston is truly the Olympics for the everyday runner, as if you qualify, you can compete. It is a mecca for the marathon runner.
2. There's more than one jacket to go around
There's nothing quite like the green jacket at Augusta, but there's also few things as distinctive as a Boston Marathon jacket. They are usually quite ugly, but in a fun way. There's a great feeling of finishing your first Boston Marathon and sliding that neon thing on over your salt-riddled body.
3. Boston has it's own beer
This is a new one, but in 2012 Samuel Adams introduced the Boston 26.2 Brew and it's a good one. Possibly a great one. It is a Gose style, which is brewed with salt and coriander and is low alcohol. Trust me, it is delicious. If only they would bottle it and ship it out!
4. The girls of Wellesley College
Seeing is believing (and hearing) with the girls of Wellesley. Right before you hit the halfway point, you hear the screams and see the long, long row of coeds awaiting. If you're focused on a PR, move a few feet off the line as the sound is deafening. If you're running Boston as a victory lap (as many do), enjoy the view! Few things will put a smile on your face mid-marathon like Wellesley.
5. Heartbreak Hill
There isn't much like this in any other major marathon; especially 20+ miles in. It's almost a half mile stretch worth of hill that comes just when your legs don't really want to run anymore. Toss in tons of (drunk) fans screaming at you to attack and you'll see what you're made of. Once you get to the top, it's five flat-ish miles to the finish!
Note: I have run Boston twice; once with some success and also during the heatwave of 2012.  I have never played in The Masters (nor Augusta National), but watch every year. If you're reading this before the race tomorrow, good luck!