No Comments
The Monday Morning Run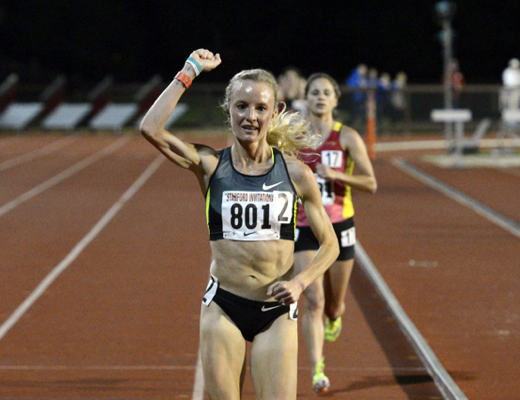 For good reason, all the attention of the weekend was on the collegians competing in the NCAA Indoor Championships. There were world leads, American records, world junior records and a thrilling 4 x 400 that clinched a sweep of the team titles for Oregon.  All of that is discussed and dissected extensively in our College Weekend Wrap.
On the professional side of the fence, we find ourselves in a bit of dead period. The next two weekends are relatively quiet, but the action soon picks up on the roads and on the track. April brings marathons in Paris, London and Boston in consecutive weeks and also features relays meets at Penn, Drake, Mt. SAC, Florida and Kansas.
The Medalists
The top three (non-NCAA) performances of the week
Gold: Geoffrey Mutai
In the battle before the battle, Geoffrey Mutai won the New York City Half Marathon over Mo Farah on Sunday. The two are scheduled to race next month at the London Marathon. Mutai's win in 1:00:50 came with a bit of an asterisk after Farah fell 5.5 miles into the race.
If this were cycling maybe the group would have stopped and waited for Farah to regroup. Instead, Mutai forged ahead after Farah's fall and opened up a gap that he was able to maintain to the finish. Farah managed to rally and finish second in 1:01:07 before passing out after the race.
With all the chaos, are there any takeaways for this race for the London Marathon?
Conventional wisdom says if Farah has any chance of beating Mutai in a marathon, he would need to have the edge in the half. But with the fall, we still don't have a clear indication of that. 1:00:50 doesn't raise any red flags for Mutai, but it also doesn't make him a lock for London. His past tune-up races haven't always been a great predictor of his marathon performances.
What we got today was more evidence of Farah's extreme competitiveness. This was a dress rehearsal and yet he still tried to chase down Mutai after the fall (doing so with little-to-no regard for his own well-being). After seeing this, I'm less convinced than ever that Farah will be satisfied with a top five finish in London, regardless of how impressive that would be for a first-time marathoner.
To recap, less than four weeks out from the London Marathon and here is what we have: A scheduled world record pace, a field filled with 2:04 and 2:05 runners and a debutante that will do anything not to lose.
Silver: Sally Kipyego
In her half marathon debut, Kipyego won in New York City in 1:08:31. Kipyego now has personal bests of 4:06, 8:35, 14:30 and 30:26. The 1:08:31 makes her a great candidate for the marathon, but with her success in the 5,000 and 10,000 there isn't an urgent need to switch distances. And at least for the time being, making an Olympic marathon team in Kenya is much more difficult than making one on the track.
Bronze: Shalane Flanagan
Flanagan ran solo from the gun at the Gate River Run 15K and set an American record of 47:03. I'm not sure of exact numbers, but Flanagan's record against American runners in the last ten years is remarkable. She's had some losses (Olympic Trials 10K in 2012, .US 12K Championships in 2013), but in most cases she has dominated from the start and has rung up a big winning margins, on the track and the roads.
Next up for Flanagan is the Boston Marathon where she is America's best chance at the podium. The 47:03 converts to a 2:22 marathon though Boston's course isn't compatible with pace calculators.
In the men's race, Ben True outlasted Chris Derrick to win in 43:03. American distance fans hope those two tussle at the marathon distance in the future.
Surging
-Outdoor Track
In Australia, where the water in the toilet runs the other way, the outdoor season is in full swing. Natasha Hastings, Duane Solomon and David Oliver all scored easy victories at the Sydney Track Classic. But early season meets are more fun when athletes are running outside of their comfort zone.
Here is Sally Pearson running 100 meters without any objects in her way:
….and how about Lashawn Merritt in a 200:
Sydney also marked Phillips Idowu's return to the runway. The British triple jumper was rumored to be mulling retirement last season and did not compete in the World Championships in Moscow. On Saturday he jumped 54-4 ½, far off his personal best, but enough for an easy win. Good news for fans of the best hair in track and field.
When I was searching for images of Idowu's hair it became very clear that triple jump is the most photoshoppable event in track event.
Here is Idowu diving for a volleyball….

Sliding into 3rd base….

Putting out a small fire….

And escaping quicksand….

-Molly Huddle
Between Kipyego in New York City and Flanagan at the Gate River Run, Huddle's 1:09:04 half marathon debut could get lost in the mix. She placed third and was only five seconds behind marathon veteran Buzunesh Deba. Huddle hasn't ventured off the track much, but all of her attempts at longer distances have gone smoothly. Her first shot at the marathon can't be far away.
-Collegians
As was mentioned at the top, collegians were the big stars of the weekend. Jesse Squire recapped it here, but I wanted to highlight a few performances.
–Deon Lendore's winning time in the 400, 45.21, would have won the World Championships. With him and Lalonde Gordon, Trinidad and Tobago is halfway to a very good 4 x 400 team.
-Also in the 400, Phyllis Francis ran an collegiate and American record of 50.46. Like Lendore, her time would have won the World Championships. In the 2016 indoor season, maybe they should hold the World Championships after the NCAA meet. Or at least hold a separate meet for the 400.
-A pair of Canadian distance runners, Mohammed Ahmed and Jeremy Rae, competed in their final collegiate meet. Neither performed well, but both will be able to dive directly into their professional careers.
-Multi-event star Curtis Beach also wrapped up his career on Saturday. He went out with a win in the heptathlon and will now try to establish himself in a crowded American men's decathlon field.
-Speaking of multi-events, Kendell Williams set a world junior record in the pentathlon with a score of 4,635. The freshman's mark is the 10th best of the year and is only behind Sharon Day-Monroe on the American list.
-Help looks like it is on the way for the Americans in the long jump. Jarrion Lawson employed the always useful strategy of PRing by a foot and half to win the competition with a jump of 27-6 ½. That is the best mark in the world this year and a welcomed sign for the US who recently lost Dwight Phillips to retirement.
-For those who see Edward Cheserek's 3,000/5,000 double as a sign of many more NCAA Championships to come, take heed. Look no further than the man he beat to win the 5,000, Lawi Lalang. Lalang won the NCAA Cross Country Championships as a freshman and while he has won titles since then, he has been far from dominant force we expected.
Slowing
-Meb Keflezighi
He finished as the second American in the New York City Half Marathon in a respectable 1:02:53. Why is he in this section? Because we can't marvel at his inevitable top-five finish at the Boston Marathon if we don't first dismiss him first.
Interestingly, Keflezighi's age graded time was 1:01:18, good for fourth place overall. One of the perks of being 38.
-Conference Calls
The Track and Field Athletes Association and the USATF planned to have a discussion last week in order to increase the transparency of the disqualification process. The clarity of the procedure is under scrutiny after Gabe Grunewald and Andrew Bumbalough were disqualified during the USA Indoor Championships. However, the planned phone call between the union and USATF never happened, reportedly due to a miscommunication. Sounds like somebody forgot to sync their Outlook calendar.
-VCB
Veronica Campbell-Brown held a press conference last week and took aim at the media and Jamaican officials over her doping suspension. About the reporting of her case she said:
"What is another day of writing for you is another day of a person's life being destroyed by your baseless reporting."
And on the Jamaica Athletics Association:
"I implore you to be more supportive of the athletes you govern. We need the confidence to know that you are working on our behalf and that we are in a partnership towards the better of Jamaican track and field and the sport in general."
Campbell-Brown also revealed that she took a lie detector test and her lawyer claims that her scores were "as high as he (the examiner) had ever seen." At least a world record came out of this ordeal.
Reading List
–Garry Hill of Track and Field News writes that there should be a separate governing body for professional track and field in the United States.
-Before all the NCAA action in Albuquerque, Ken Goe profiled Oregon 400-meter star, Mike Berry.
-Interesting infographic in the South China Morning Post displays the distribution of finishers in the Hong Kong Marathon. Starts getting crowded around four hours.
–Jeff Pearlman examines the the phenomenon of universities using Title 1 in order to cut men's running programs.
–Marko Cheseto, who got lost during a 2011 run in Alaska and had to have both his feet amputated, is now running on prosthesis and aiming for the Paralympics.
The Week Ahead
For this coming weekend, the best track meet is probably in Australia at the Melbourne Track Classic. Sally Pearson and Mitchell Watt are the big names listed, but I'm sure many of the Americans who ran in Sydney will compete.
Stateside, the TCU Invitational in Ft. Worth, Texas and the Oregon Preview at Hayward Field usually attract a smattering of professionals.