One Comment
The Monday Morning Run: Kipsang and Kiplagat triumph, Farah struggles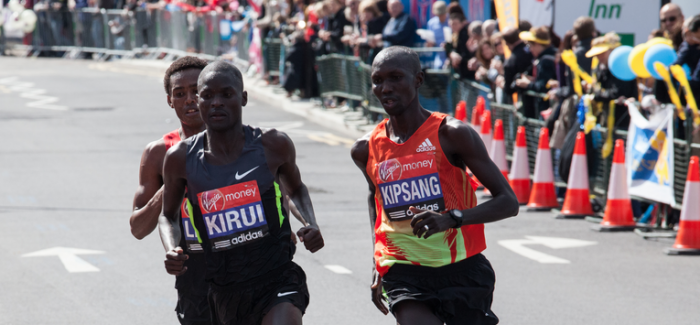 Wilson Kipsang and Edna Kiplagat were the big winners at the London Marathon, but much of the talk centered on Mo Farah's debut. We being the Monday Morning Run with 26 takeaways the biggest race thus far in 2014.
26 Takeaways from the 2014 London Marathon
1) Wilson Kipsang's control over the final 10K was in stark contrast to last year's race. In 2013, he got caught up in an incredibly fast first half and ultimately finished fifth in 2:07:47. On Sunday, he surged at the 30K mark and ran his next 5K in 14:33. The move broke up the congested field and left him alone with Stanley Biwott. Kipsang's next 5K was 14:38. Eventually, he cut Biwott loose and went on to win in a course record of 2:04:29.
2)  Stanley Biwott came up short in his quest to win, but he has to be happy that he was finally able to put together a complete race in a major marathon. In London and New York last year he looked like he had chance for a victory only to completely self-destruct over the final miles and fade badly. When Kipsang finally broke away on Sunday, I thought there was a chance that Biwott was coming apart at the seams. Instead, the race splits tell us it was Kipsang's surge and not Biwott crashing that created the gap. Biwott leaves London with a new personal best, 2:04:55, and newfound confidence that he can run more than just 35K.
3)  How long until major marathons rid themselves of rabbits.? The fast times draw headlines, but the men's race was a great example of the pacesetters actually slowing the race down. Haile Gebrselassie went out in 14:21 for the first 5k and was still on sub 2:03 pace at 5 miles. Even with the quick start the pace was slower than the intended target at halfway and no rabbits even made it to the 25K. The race had a fast start, a relatively conservative middle section, and then a lightning quick finish from Kipsang. It wasn't boring to watch, but it would have been even more interesting if the leaders were figuring out the pace by themselves. As Boston and New York have proven, marathoners can and will run fast without a pacemaker. This is not the 1,500.
4) Regardless of what Mo Farah did, he was going to be second guessed. He laid off the 2:01 pace and they asked why did he didn't go with the leaders. He began to make a dent in the lead between 5 and 10K and they questioned if he is running too fast at such an early juncture. He finds himself in no man's land in the middle of the race and they think his strategy of starting with the second group backfired.
5) The pacing didn't help Farah on Sunday, but ultimately he wasn't going to win the race no matter how it played out. It had nothing to do with strategic decisions and everything to do with not being a good enough marathoner right now to contend for the win in a race of this caliber.
6) Farah didn't break the British record, missed a bottle and ran much of the race by himself and yet he still beat Feyisa Lelisa and finished just seconds behind Emmanuel and Geoffrey Mutai. Great Britain, the sky is not falling.
7) Are there any examples of marathon greats who struggled in their debut outing. Maybe, from Great Britain, that Farah can look toward?
And what of Steve Jones' first marathon? A DNF (Chicago '83). Broke WR in '84 and '85.

— Jesse Squire (@tracksuperfan) April 13, 2014

8) I watched the BBC feed of the race. I've watched many of their telecasts of track meets and I've enjoyed their coverage. It's Brit-centric, but they are typically informative and their passion for running is apparent. Like most homer broadcasts, when things are going well for their favorite, they heap praise. And when a race goes poorly, they pile on. Brendan Foster, who did the majority of the announcing along with Steve Cram, spent most of the final miles writing Farah's marathon obituary–imploring him to focus on the 10,000 at the 2016 Olympics as if the entries for the meet were due the next day.
9)  34-year-old Edna Kiplagat pulled out another major marathon win out-sprinting Florence Kiplagat to win in 2:20:21. The win marks the best ever performance from someone who finished 10th in the Las Vegas Marathon.
10)  It wasn't a surprise that half-marathon world record holder Florence Kiplagat pushed Edna to the line. What was more surprising was how well Tirunesh Dibaba ran for third. When the early pace was so hot, it seemed possible that Dibaba was in over her head in her first marathon. She stuck with the main group and when Priscah Jeptoo dropped out before the 18 mile mark, Dibaba's top three finish was all but secured. Her time of 2:20:34 is the third fastest debut of all-time.
11) With Gebrselassie's struggles, will this be the last we see of "celebrity" pacemakers? And what about the idea of running half of the race to prepare like Farah did last year?
12) Last year I had difficulty deciding between Priscah and Rita Jeptoo as the best marathoner of 2013. Neither showed any vulnerabilities and I wondered if they could carry that through to this season. When Priscah Jeptoo disappeared from the lead pack on Sunday I was a bit surprised. The London women's field was tough, but not any more difficult than the one scheduled for Boston. The pace was fast, 1:09:17 at halfway, yet well within Jeptoo's range. Will Rita have similar difficulties in Boston?
13) What is with Geoffrey Mutai in London? He has won in Berlin, New York and Boston, but struggled again in London this year. A sixth place finish in this field doesn't mark the end of his career, or even major cause for concern, but finishing four minutes back of Kipsang won't sit well with him. This fall, he will likely be back in New York City to defend the title he has held since 2011. If he struggles there, then he is in trouble.
14) File this under things I need to look up. Has anyone ever won the five major marathons in the course of their career? Sorry, Tokyo, but I'm including the "original" majors–London, Boston, Berlin, Chicago, New York. If not, shouldn't this become a thing? The World Marathon Majors standings provide an incentive for athletes to compete against each other in the big races. But it would be even better if they pooled together to offer a bigger prize to anyone who can win all five in their career. Does this mean that Geoffrey Mutai would probably spend the last 10 years of his career trying to win London? Probably.
15) In just his second marathon of his life, Tsegaye Mekonnen finished fifth in 2:08:06. The commentators went out of their way to mention their disbelief at Mekonnen's age, which is listed as 18. 18, 28 or 38 his performance makes him a name to watch for in the future. More impressive is that he is just three months off his debut of 2:04:32 in Dubai.
16): Both the men's and women's races went Kenya-Kenya-Ethiopia-Ethiopia-Ethiopia. All total, Kenya had two women and four men place in the top ten. Ethiopia put four men and four women in the top ten.
17) Is Kipsang the best marathoner in the world? Yes. Although, I still agree with what I wrote after the Chicago Marathon last year.
I am starting to think that we may never see an athlete dominate the marathon for more than a year. The competition is too deep and the distance is too unpredictable for one runner to stay on top for very long. Kipsang and Kimetto are the two hottest, but on a given day I could make a list of at least five who could beat them.
18) The men's times as a whole were slower than some anticipated, but none of the top contenders really faltered. The order was a bit jumbled, however most of the big names finished in the top 10. Stephen Kiprotich, who finished 12th, was the lone exception. There were no major drop outs or flame outs, quite the difference from last year's version of the race, where Patrick Makau and Geoffrey Mutai didn't finish and Emmanuel Mutai and Wilson Kipsang blew up.
19) Tsegaye Kebede was one of the lost souls when the group in the men's race shrunk from seven to two before the 35K mark. Despite leading for much of the middle of the race, Kebede held it together and finished third in 2:06:30. This is his 13th top-five major marathon finish in his career-just remarkably consistency when you consider how deep and fast this era of marathoning is.
20) American Ryan Vail finished ninth with a new personal best of 2:10:57. We will wait and see how Meb Keflezighi, Ryan Hall and the other Americans perform in Boston next Monday, but right now Vail is certainly in the conversation for top-three American marathoner.
21) The 2012 Olympic marathon champions continued to struggle. Tiki Gelana was never a factor in the women's race and ultimately crossed the line in ninth, over six minutes behind the leader. Between Mo mania and Kipsang and Co., we didn't see Stephen Kiprotich much. He finished 12th in 2:11:07. Kiprotich's win at last year's World Championship is the only bright spot for the two since the Olympics.
22) Because of their track success and their debuts on back-to-back weekends, it was natural to compare Kenenisa Bekele and Mo Farah's debuts. Now that we have seen the results, where do they go from here? Bekele success in Paris combined with his recent struggles on the track means he will probably return marathon as quickly as possible. As I outlined earlier, Farah's marathon destiny was not written on Sunday. If he wants to continue to run marathons he will most likely improve with experience. All of Alberto Salazar's other marathoners have stayed active on the track during their time on the roads.
23) BBC found themselves in the tricky position of having to cover three races (and even more than that if you include paralympic competitors). There was the women's race, the front of the men's race and then Farah Cam, which took up quite a bit of air time even when it was clear that Farah was not a threat to win the race. This wasn't surprising given the hometown hero is racing, but if they were going to focus on Farah so much I expected the BBC to give more information about where he was in relation to the leaders. There weren't many graphics, splits or cutaways to show in real-time if Farah was going to be able to bridge the gap.
24) Farah's super shoes were all the buzz in the lead-up to London. I didn't hear much about them on race day except for this tweet from Farah. Shoes with your silhouette are nice, but he needs to go full on Bolt and wear a jersey with his own face on the front.
All set for tomorrow 26.2 miles….!!! I wanna see everyone out on London streets tomorrow..!! #theresnoplacelikehome pic.twitter.com/sJCU5yozHL

— Mo Farah (@Mo_Farah) April 12, 2014
25) Both Dibaba and Farah had trouble grabbing their bottles. Farah forged on when he missed his, while Dibaba stopped and went back for hers, creating a gap that she never overcame. Forget the fluctuations in pace or the strategic decisions of how to expend energy, the biggest struggle in a race can be simply picking up a bottle off of a table.
26) 1:15 a.m. is a brutal time to set your alarm for. Do any of the 11 other people on the west coast want to start a Kickstarter to try to get London to start their race two hours earlier? Or two hours later?
Surging….
–Eliud Kipchoge
Not sure why Rotterdam scheduled their marathon opposite THE GREATEST MARATHON EVER, but the result was Eliud Kipchoge's 2:05:00 getting lost in the headlines. Kipchoge has now run marathons in 2:05:30, 2:04:05 and 2:05:00. That is a pretty nice average, but would love to see how he fares on a more challenging course.
-Simon Magakwe
Pending ratification, South Africa has their first sub 10-second sprinter. Simon Magakwe ran 9.98 in Pretoria at the South African National Championships, slicing .08 off his personal best.
There are now 22 countries (23 if you count Churandy Martina as competing for two different nations) that have had at least one sprinter break 10 seconds.
Jamaica
US
Canada
Nigeria
Trinidad and Tobago
Namibia
Portugal
Great Britain
Barbados
Zimbabwe
Bahamas
Antigua and Barbuda
Netherlands/Netherlands Antilles
France
Australia
Cayman Islands
St. Kitts and Nevis
Cuba
Ghana
Norway
South Africa
Also at the South African Championships, Caster Semenya won the women's 800 in 2:03.05.
-Eugene 2019
Still a long way off, but Inside the Games is reporting that Eugene, along with Doha and Barcelona, will make a bid for the 2019 World Championships.
Oregon will have plenty of chances to demonstrate they can host a global event in the coming years, the World Juniors take place at Hayward Field this summer and the IAAF has already awarded the 2016 World Indoor Championships to Portland.
However, the seating capacity of Hayward Field still remains a major obstacle for a Eugene bid. Hayward Field would need to be upgraded to 20,000 permanent seats with the ability to expand to 30,000. Currently it can only be expanded to 21,000, with 10,500 permanent seats.
Slowing…
Steve Hooker
The 2008 and 2009 gold medalist in the pole vault retired last week. His last few years on the circuit were a struggle and he hadn't competed in a vault since last June.
"I honestly thought the body would be the one that would give way, and that would be the end. But it has almost been the opposite," Hooker said.
-Sherone Simpson/Asafa Powell
Both received 18-month suspensions for their doping violations. Both are appealing. The suspensions are backdated meaning they are eligible to compete in the end of December.
Powell's response:
"My team commissioned two private laboratories that confirmed that oxilofrine was present in the supplements, despite it not being listed as an ingredient on the bottle nor on its website."
WADA's code of strict liability says that the responsibility falls solely with the athlete. The burden was on Powell/Simpson to know what they put in their body, not the maker of the supplement, regardless of how vague or misleading the label might be.
Fellow sprinter, Kim Collins had a more direct response.
"Whenever these tests come out, people have some really strange excuses. Very few people man up, and I think that's why Dwain (Chambers) ended up in so much trouble – for saying the truth." 

"In track and field, when it comes to cheating, you do not tell the truth. You lie, lie, lie. And everybody says, 'Oh, he really didn't do it.' Come on, we all know.

"Man up. Man up. Man up. When I'm out there losing to you, or anyone else is losing to you, man up. If you're a woman, the same thing applies: man up."
This Week in USATF
The USATF named the member that will be looking into the disqualifications at the US Indoor Championships in Albuquerque. The group includes Bob Hersh, John Blackburn, Jon Drummond, Darvis Patton and Rose Monday.
And of course you can't mention Drummond and officials in the same sentence without watching this clip:
Reading List
-Matt Fitzgerald of Competitor explains the concept of secondhand doping. The title image of the post shows two of the least likely dopers in the history of running.
–Jimson Lee delves into the math behind the 4 x 100. The takeaways? Club teams underperform early in the season and the 1990 French team massively overperformed.
-In a piece for the New York Times Katrina Karkazis and Rebecca Jordan-Young discuss the incredibly complicated issue of high testosterone in female athletes.
The Week Ahead
The Boston Marathon is next Monday and Shalane Flanagan is getting plenty of press in the lead up to the race. 60 Minutes profiled the Massachusetts native's preparations on Sunday evening. Though they call her a contender to win the race, Flanagan's task is tall. To win, she will have to defeat:
-The three women who beat her in the race last year (Rita Jeptoo, Meseret Hailu and Sharon Cherop).
-Two other women who have broken broken 2:20 (Mare Dibaba and Jemima Sumgong)
-The 2011 Boston Marathon champion (Caroline Kilel)
-The 2013 New York City Marathon runner-up (Buzunesh Deba)
The men's race is headlined by Dennis Kimetto who is going for three major marathon win in a row. He should receive strong competition from the defending champion Lelisa Desisa. Meb Keflezighi and Ryan Hall lead the American men. If Hall finishes the race, it will be his first completed marathon since the 2012 Olympic Trials.
-At the Mt. SAC Relays, Ashton Eaton will make his debut in the 400-meter hurdles.