2 Comments
College Recap: Big Changes Coming?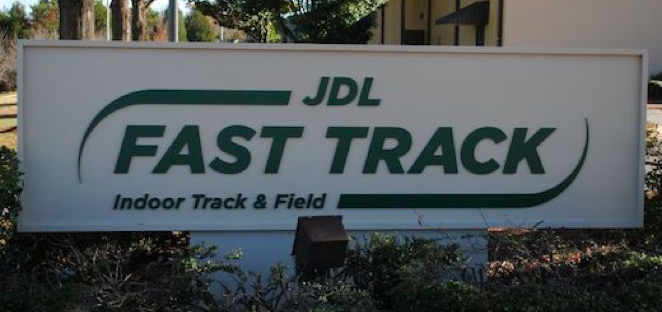 if proposed changes go through, the JDL Fast Track's business model will no longer work. That would mean very little indoor track in North Carolina.
NCAA Redefining College Meets?
On Friday, Track and Field News published an article outlining some proposed changes to what constitutes a "college track meet".
This June the NCAA may move forward with major–opponents would argue Draconian–rule changes to strictly define what counts as a college meet.
Post-collegians and organizers of meets in which pros and preps compete alongside NCAA athletes could end up squeezed out of the picture.
The basic idea is this: henceforth there would be only two types of meets from which athletes could qualify to the NCAA preliminaries (aka "regionals"): scored meets and big relay carnivals.
"Scored meets" would be, as the name implies, scored meets between two or more teams. A "team" would have to be at least 14 athletes, the meet would have to contest the entire slate of championship events (save the 10k and decathlon), and–this is the big deal–only NCAA-eligible athletes could compete. No high schoolers, no post-collegiate "pros" (in practicality, mostly semi-pros and amateurs), no junior colleges, no NAIA or CIS teams. These athletes could compete but in separate events scheduled before or after the college meet.
Non-scored meets would have to be massive events (40 or more NCAA institutions present) that included all the extra relays (4×200, 4×800, 4×1500, sprint and distance medleys, shuttle hurdles)–meets like the Penn, Drake and Texas Relays. It should be noted, though, that even this year's Texas Relays didn't fit all the proposed regulations; in addition to the above, each relay event must have a minimum of 4 NCAA teams and each individual event must have a minimum of 6 NCAA athletes.
So, when and how will the decision on this proposal be made?
The NCAA Men's and Women's Track and Field/Cross Country Rules Committee will vote on the proposal in June. Individual coaches will not be polled but may express their views through conference representatives by May 1.
I contacted several coaches about this proposal, and not a single one of them liked it. None of them knew of any other coaches who liked it, either. As stated above, coaches won't get to make the decision directly, but they can make their displeasure known to those who will be representing their conferences–and sounds like complaints will be long and loud. The committee referenced above is made up of conference representatives, with equal representation from all levels of Division I.
My best guess is that this proposal is dead on arrival. As with most things, the issue is money–specifically that the proposal would raise costs and cut revenue for the majority of college teams. Entry fees are a major source of revenue for most meet hosts, and cutting out post-collegians, JCs and NAIA teams would not sit well. The requirement for a minimum of 14 athletes per team would mean that fair-weather high-speed meets in California and elsewhere would be beyond the means of most teams outside the five power conferences.
Another problem was identified by Dr. Rich Ceronie, one of New Mexico's assistant coaches and the meet director for all meets at the Albuquerque Convention Center (including USATF and NCAA Championships). He said these proposed requirements would have a significant effect on teams in sparsely populated parts of the country.
For us the biggest unintended consequence is the "geographic discrimination". The Mountain Region programs will be negatively affected by this more than any other region of the country. Not one person on the NCAA rules committee discussing this understands this point. We have few Division I programs within an 8 hour radius which will make having meets incredibly complex.
One of the biggest complaints about the proposal in the track and field community isn't even about the possible effect on colleges, but on the "middle class" of post-collegiate competitors. Those who aren't good enough to get into Diamond League meets or well-heeled enough to travel abroad would find themselves nearly totally shut out of competition. Personally, I think track's biggest problem is that it puts the needs of athletes before the needs of fans. What if this did come to pass (which it won't)? Here's what one college coach told me.
I don't think it's the job of NCAA schools and athletic departments to prop up the elite track and field world. Maybe getting them out of NCAA meets (except for a few occasions) would be a good thing. Maybe it would force that part of our sport to start to stand on it's own two feet instead of relying on the collegiate system to sustain it. If pros in the US really want to make the sport more popular, maybe this would force them to think outside the box and develop some sort of league. What are you really accomplishing as a pro by running the collegiate schedule? How does that help the sport grow? Maybe we would see meets like the old Home Depot meet start to come back. These athletes would be forced to develop their own meets to sustain themselves and their sport. This could possibly be a good thing.
Where the heck did this proposal come from, anyway? Five years ago, the US Track and Cross Country Coaches Association developed a Division I strategic plan, one based around making college track more appealing to fans of college sports. One of the main ideas in it was to make more meets into team-oriented competition that can be completed in a reasonable time frame, 2½ hours or so. This is hardly revolutionary thinking and a lot of people can get behind it.
This proposal is based off that idea but doesn't seem to really address the basic issue, which is that colleges compete as teams but qualify as individuals. Marks-based individual qualifying means that finishing 21st in a competitive time is more valued than winning in a less competitive time. To me, that's not sports but performance art. Performance art may appeal to Austin hipsters, but not so much to the legion of Texas Longhorns fans. The same is true for all the other college teams all across this country, and overreliance on marks a problem endemic to track and field at all levels of competition–but not one easily fixed.
Another coach noted that while there should probably be some kind of standardization of college track meets, he thought it should start with standardizing conference championships. They don't all have the same slate of events (especially indoors), they don't have a standardized schedule, each conference uses a different qualifying system, and the championship meets are spread out over as much as four weeks.
In short, this proposal is not gonna happen. It's a start for some real discussion on how college track can make itself more spectator-friendly, but this proposals doesn't address the issue in any real manner. And it's not going to be easy to up with something that is good for both the large and wealthy members of the SEC, the tiny and struggling members of the NEC, and the masses in between.
Now, on to the weekend's action.
Performance of the Week
In terms of individual efforts, the biggest news of the weekend was made by Kendall Williams, Georgia's freshman heptathlete. She scored a new PR of 6062 points at the Bulldog Heptathlon, which is a significant score on a number of levels. It's the best of the year in college track, which is no surprise given that Williams won the pentathlon at the NCAA indoor championships. It makes her a solid medal contender for this summer's World Junior Championships, which will be held in the USA for the first time.
The big deal is that it breaks the US junior record, previously held by Jackie Joyner-Kersee. Any time you break any record held by the greatest female athlete of all time, it's a big deal.
Stanford at Cal
Results
Leading scorers: Tom Blocker (Cal, sprints), 11¼ points; Angelica Weaver (Cal, hurdles) and Kristyn Williams (Stanford, long sprints), 11¼ each
Outstanding performances: Derek White (Cal, discus), 59.42m/194′ 11″; Aisling Cuffe (Stanford, 1500 meters), 4:19.64
The USTFCCCA's Meet of the Week was the 120th running of The Big Meet between Stanford and Cal. Boy, was it a blowout. Cal swept with scores of 113 to 48 (men) and 97 to 66 (women). It's the biggest win by Cal's men since 1983 and the third-most points ever scored by either team in the entire series history.
Stanford's one strength is middle distance, as evidenced by their NCAA indoor title last month in the distance medley, but even there the Bears topped the Cardinal. In the 1500, Cal sophomore Thomas Joyce outfoxed Stanford's runners–including All-American Michael Atchoo–and went from fifth to first in the last 200 meters.
Head coach Tony Sandoval:
"Every Big Meet is a special meet…As I told the kids, there have been some times when we should have won and didn't, and times when we won and maybe shouldn't have, so it is always kind of special. The kids knew the significance of it and stepped up one event after another and had some people that did step up and did a tremendous job, especially on the women's side. The men just kept piling it on, event after event. We brought our 'A' game and this is our home and I'm proud that we came away with a double victory."
This is a remarkable turnaround from two years ago, when Stanford blew out Cal by scores of 106-57 (men) and 122-41 (women). Cal's men may be in the running for the national dual meet title, while Stanford's men might have a fight on their hands just to stay out of last place in next month's Pac-12 Championships.
Stanford junior Aisling Cuffe just missed the meet record in the women's 1500 meters, running 4:19.79. Who holds that meet record of 4:19.4? None other than the notorious Regina Jacobs, who set it way back in 1983. It might be nice to have her name off the record books.
Sun Angel Classic
Results
Leading scorers: Josh Dixon (Arizona State, jumps), 15 points; Brittany Howell (Penn State, hurdles), 20 points
Outstanding men's performances: Deon Lendore (Texas A&M, 400m), 44.90; Shavez Hart (Texas A&M, 100m), 10.18; Devin Bogert (Texas A&M, javelin), 73.01m/239′ 6″
Outstanding women's performances: Shelby Houlihan (Arizona State, 1500m), 4:13.56; Shamier Little (Texas A&M, 400H), 56.55; Shelbi Vaughan (Texas A&M, discus), 60.74m/199′ 3″
The Sun Angel Classic was a scored for the first time that I can remember, and Texas A&M's large and powerful crews won both the men's and women's titles. Arizona State was the men's runner-up and Penn State was second in the women's competition.
The meet saw four new collegiate leaders, three of them in women's competition. In the 1500 meters, Arizona State's Shelby Houlihan ran behind Nicole Sifuentes, the Canadian indoor record holder, to a PR of 4:13.56. Texas A&M's Shelbi Vaughan beat Anna Jelmini, Arizona State's defending NCAA discus champion, with a new PR and NCAA leading mark. And Texas A&M got two more NCAA leaders out of quarter-miler Deon Lendore and 400 hurdler Shamier Little.
Video highlights from Texas A&M:

Yale at Harvard
Results
Leading scorers: Ben Glauser (Harvard, throws) and Jarvis Harris (Harvard, hurdles), 10 points each; Autumne Franklin (Harvard, sprints/hurdles) and Nikki Okwelogu (Harvard, throws), 10 points each
Outstanding Performances: Ben Glauser (Harvard, shot), 17.71m/58′ 1¼"; Autumne Franklin (Harvard, 100 hurdles), 13.72w
Another ancient dual meet rivalry–this one dates from 1891–was also a one-sided affair, as Harvard swept Yale for the fourth straight year by scores of 104-34 (men) and 87-53 (women). It was the most lopsided men's meet since 1981. Head coach Jason Saretsky said, "I was really pleased with the way we competed in front of a fantastic home crowd". "It's really just nice to participate in the tradition, everybody had good energy and we had good weather," said Harvard hurdler Autumne Franklin.
Big West Challenge Cup
Results
Leading scorers: Dylan McCloskey (Long Beach St., sprints), 20½ points; Deena Pierce (Cal St. Fullerton, hurdles) 19½ points
Outstanding performances: Michael Perez-Roberts (Long Beach St., 400 meters) 46.77; Ithan Aikhonbare (UC Irvine, shot) 15.37m/50′ 5¼"
The Big West Challenge Cup is a meet without the long history of The Big Meet or Harvard-Yale, but it's no Johnny-come-lately. This was the 22nd edition of the quadrangular between Long Beach State, Cal State Fullerton, UC Santa Barbara and hosts UC Irvine. Long Beach State has been the dominant force lately and continued as such, winning their seventh straight men's title and adding the women's title as well.
Princeton Quadrangular
Results
Leading scorers: Tom Hopkins (Princeton, sprints) and Jeffrey Errol (Monmouth, throws), 12 points each; Mariah Toussaint (Monmouth, sprints/jumps), 10¼"
Outstanding performances: Damon McLean (Princeton, triple jump), 16.11m/52′ 10¼"; Julia Ratcliffe (Princeton, hammer throw), 69.60m/228′ 4″
This is a new meet on Princeton's schedule, a home quadrangular against Monmouth, Vermont, Rutgers (men) and St. John's (women). Tigers head coach Fred Samara said he added this meet to their schedule because "we went to an invitation meet that lasted so long that everyone at the meet was upset". I can relate to that.
Monmouth's athletics website claims a sweep for the Hawks (as does Princeton's), but the results I've seen show a tie on the men's side. The meet had a fairly high level of competition, led by a couple of Princeton efforts. Hammer thrower Julia Ratcliffe extended her NCAA lead with a throw of 69.60 meters (228′ 4″), a new New Zealand record, a new Ivy League record, a new record for collegiate dual/tri/quad meets, and it moves her to #9 on the all-time collegiate list. Triple jumper Damon McLean went to #2 on the 2014 outdoor collegiate list (and #6 all-time in the Ivy League).
Johnson/JJK Invitational
Results
Leading scorers: Ronnie Baker (TCU, sprints), 9¼ points; Kylie Price (UCLA, sprints/LJ) 16¼ points
Outstanding performances: Julian Wruck (UCLA, discus), 62.00m/203′ 5″; Kylie Price (UCLA, long jump) 6.43m/21′ 4¼"
This is the second year of a new experiment at UCLA. The Rafer Johnson/Jackie Joyner Invitational used to be just another collegiate/pro invitational, but now it's a collegiate triangular featuring a few pros as guest competitors. It combines reasonable star power (Olympic high jump silver medalist Brigetta Barrett, Worlds hurdle silver medalist Ryan Wilson, pentathlon American record holder Sharon Day, 800 meter cover girl Maggie Vessey) and team scoring in a format that doesn't take all day.
UCLA won on both the men's and women's side over guests BYU and TCU. I guess that makes the Bruins the alphabet soup champions. UCLA's Kylie Price swept the 100, 200 and long jump, and recorded a nifty 6.43 meters (21′ 4½") jump in the last of those to go to #2 on the 2014 collegiate outdoor list. A battle with TCU's Lorraine Ugen, the NCAA indoor long jump champ, will have to wait; Ugen did the sprints and relay here instead.
Jim Click Shootout
Results
Leading scorers: Carlos Rodriguez (Kansas State, sprints), 22½ points; Erica Twiss (Kansas State, sprints/hurdles/LJ), 29½ points
Outstanding performances: Nick Ross (Arizona, high jump), 2.25m/7′ 4½"; Julie Labonte (Arizona, shot put) 17.40m/57′ 1″
If you're not familiar with this meet, it's one of the success stories in college track and field. The Tucson-area Jim Click auto dealerships pour big sponsorship money into the meet and the invited teams are treated very well. It is generally limited to four to six teams and is always scored (albeit usually in the "conference scoring" system where nobody wins and nobody loses). This year it was straight-up scoring between five teams, and Washington State swept the men's and women's titles to prove that their dual meet wins over UCLA were no fluke. Besides the host Arizona Wildcats, the vanquished foes included Kansas State, Air Force and New Mexico.
The highest quality of competition was on the women's side of things. Arizona's Julie Labonte swept the shot and discus; her shot put mark would have led the NCAA before the weekend began. Kansas State's Alyx Treasure won the high jump with a PR height of 1.85 meters (6′ ¾"), which ties her for #2 on the NCAA D-I outdoor list.
"It was a great job by the Cougs on both sides today," said Washington State head coach Rick Sloan. "In our two scoring meets this season the kids have really come up and competed well." Sloan arrived in the coaching staff at WSU in 1973, and this is his farewell season.
Texas Invitational
Results
Leading scorers: Errol Nolan (Houston, long sprints), 22 points; Morolake Akinosun (Texas, sprints), 22½ points
Outstanding performances: Reese Watson (Texas, pole vault), 5.51m/18′ 1″; Courtney Okolo (Texas, 400m), 51.36
The Texas Longhorns swept a number of number of in-state rivals in their own Texas Invitational. Houston was the runner-up on the men's side and Baylor was second in the women's competition. The highlight of the meet was Courtney Okolo's 400 meter win in 51.36, a new NCAA leader.
Several Longhorns took this meet as an opportunity to compete in events other than their specialties. Quarter-mile star Ashley Spencer ran the 100 and the 400 hurdles. NCAA indoor shot put champion Ryan Crouser threw the discus and recorded a PR, good for fifth in the NCAA this year.
The video recap from Texas Sports:

All-Ohio Championships
Results
Leading scorers: Elijah Owens (Ashland, hurdles/relays), 21¼ points; Skyler Willis (Akron, hurdles/HJ) 23½ points
Outstanding performances: Justin Welch (Findlay, hammer); 70.38m/230′ 11″; Brooke Pleger (Bowling Green, hammer), 65.34m/214′ 4″
The All-Ohio Championships are a relic of a bygone era that still manages to survive and be an interesting meet. There are two versions of the meet, one pitting the state's Division III teams against each other, and this one which combines D-I, D-II and NAIA teams. Akron won both the men's and women's titles and host Cincinnati took runner-up on both sides.
All-Americans Brooke Pleger (Bowling Green) and Brittany Funk (Akron) met in the hammer throw, and Pleger won rather easily in her season opener while Funk struggled with fouls. Findlay's Justin Welch hit a PR of 70.38 meters (230′ 11″) in the hammer throw, making him the first non-Ashland D-II thrower in history to get over the 70 meter barrier.
Mississippi vs Alabama Border Clash
Results
Outstanding men's performances: Diondre Batson (Alabama, 100m), 10.01w; Hayden Reed (Alabama, discus), 60.68m/199′ 1″
Outstanding women's performances: Remona Burchell (Alabama, 100m) 11.23; Rhianwedd Price (Alabama, 1500m), 4:17.38
This is a new meet on Alabama's schedule, a "scored" meet pitting three teams from Alabama against three teams from Mississippi. I think that's a rather pointless affair; nobody wins and nobody loses.
The big news out of the meet was in the 100 meters, where Alabama senior Diondre Batson ran a wind-aided 10.01. Ole Miss high jump star Ricky Robertson showed off his range of talents by winning the long jump (7.64m/25′ ¾") and taking second in the triple jump (15.60m/51′ 2¼").