One Comment
The Monday Morning Run: Kipsang's kick, Keitany conquers the Park and the maxim of Meb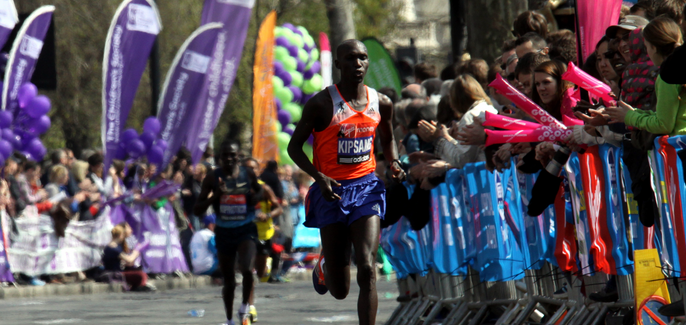 Kevin Sully | On 03, Nov 2014
Photo via Creative Commons
New York's weather on Sunday would have ruined any other fall marathon.  With wind gusts between 30-40 mph, any hope of a fast time was gone before the elites even got off the bus at the start line. But for the New York City Marathon this sort of thing doesn't matter.  Time is never the focus, so the added challenge of the wind only served to make the race more interesting, not less.  An already unpredictable race became even harder to forecast now that both the men's and women's fields would be running in packs.
Despite this, it was two favorites, Wilson Kipsang and Mary Keitany, who ultimately prevailed in very competitive and entertaining races.
Without further ado, here are 26 more thoughts on the New York City Marathon.
1) Do not bump Wilson Kipsang.  You might think it is a good idea until he lays waste to you and any hope you had of winning the race in a matter of seconds.  Lelisa Desisa learned this lesson on Sunday.
After a moderate pace for the first 26 miles, Kipsang and Desisa were alone in Central Park.  The two were running shoulder-to-shoulder until Desisa's elbow caught Kipsang's arm.  The contact didn't appear intentional.  Desisa looked like a runner not entirely in control of his body, which is understandable in the last mile of a marathon.
Kipsang didn't see it that way.
He was offended by the contact, or maybe by the idea that Desisa thought he was going to win. Twice Kipsang turned and said something to Desisa.  Then, like swatting away a pesky gnat, Kipsang took off. The response was swift, decisive and entirely disproportionate to Desisa's crime.  In a few of strides, Kipsang left Desisa behind and clinched the win. He put 11 seconds on the Ehtiopian in the final stretch, and looked like he could have piled on twice that margin if he wanted to.
The Lelisa-Kipsang bump – look of part bemusement, part indignation after he's bumped. Then comes the winning move: https://t.co/UTVf05t2d6

— Ross Tucker (@Scienceofsport) November 2, 2014
2) For the second marathon in a row, Rita Jeptoo became a major storyline. In Chicago, it was for what she won. She dominated the race, clinched the World Marathon Majors championship and removed any doubt that she was the best marathoner in the world. This week in New York, the topic was what she lost–her reputation, her marathon titles and a whole bunch of money after testing positive for EPO in September.
All of this is, of course, pending the confirmation of her B sample. But when Jeptoo's coach Claudio Berardelli met with reporters on Friday he didn't rush to her defense. Jeptoo's agent said that they will "legally go after the person or the people that convinced Rita to do this," which seems like both an admission of guilt and an extremely flawed legal strategy.
If the B sample also tests positive then the fallout will be immense. Jeptoo will be the most accomplished Kenyan runner to fail a drug test. It will also represent a tough test for the various governing bodies. As of 2013, the World Marathon Majors have the right to repayment from any athlete who commits an anti-doping violation "before, during or after the term of the agreement."
In prize money alone, Jeptoo has won well over a million dollars. If you include appearance fees, the number is much higher. With this much money at stake, her case won't be resolved neatly.  Outside of the financial ramifications, there is the more important question of Kenya's doping problem. Before Friday, Matthew Kisorio was the only big name to serve a serious ban for a performance enhancing drug. Rita Jeptoo is a much bigger star.
As David Epstein pointed out, positive tests means that testing is taking place. That is a vast improvement from several years ago when out-of-competition testing was non-existent.
Much more on this in the weeks to come
3) With the win, Kipsang has now won in Berlin, London and New York. Nobody has ever won all five of the major marathons in their career. To do that, Kipsang would need to stay stateside and win Boston and Chicago.
After today, that doesn't look like it should be too difficult. Boston is no more tactical than New York City and has comparably weaker fields because of its proximity to the London Marathon. Ditto with Chicago. Eliud Kipchoge will be tough to beat, but he may aim for a fast time in Berlin or try his hand in New York.
At the rate Kipsang is running, though, the competition matters less than his own desire to run the race. As the reigning champion in London, it would be surprising if he passed on defending his title there in April. Boston would be interesting though. His win in New York proves he can win outside of a paced, flat race.
If he goes on to win all five (and adds an Olympic gold medal) is he the greatest marathoner of all-time? Would he also need a world record to make that claim? He is competing during a golden age of marathoning, so I think the records matter less than his win/loss record, which at the moment is preposterously good. Right now it's just him and Kimetto.
4) When he retires, Sunday's performance in New York City won't be in the list of Meb Keflezighi's best races. Fourth place after his shocking win in Boston, might not register in a career filled with comebacks and surprises. But it is nearly as impressive.
Kipsang and Mutai were already penciled in ahead of him, by virtue of their resumes, and yet Meb was able to come up with another top five finish.
We were reminded again of the Maxim of Meb. The screwier the race, the better he runs. When the pre-race weather report called for wind gusts up to 40 m.p.h., I'm sure he smiled. He ran with the lead pack for much of the race and held on for fourth when Kipsang and Desisa broke away. In the process he beat Geoffrey Mutai, Stephen Kiprotich and finished well clear of the next American.
5) If there is a World Marathon Majors headquarters, there were certainly some fist pumps when Mary Keitany took the lead from Jemima Sumgong in the final meters. Sumgong has the same coach and the same agent as Rita Jeptoo and Sumgong was previously suspended for a doping violation. She was reinstated after it was ruled she used the substance appropriately, but with the marathon world still reeling after the Jeptoo announcement, a Sumgong win certainly would have lengthened the shadow cast by Jeptoo.
6) It was Keitany vs. Sumgong down the stretch, but it was really Keitany vs. Central Park. In her two previous attempts at the race she has struggled through the hills, a penance for her ambitious early pace. This year, either through deliberate strategy or because the weather gave her no other option, Keitany was calm and confident and she was the hunter instead of the hunted when she entered the park. When Sumgong opened up a slight gap, Keitany patiently countered and felt the benefit of a negative split as she took the three second wind.
7) Speaking of splits Keitany ran half marathon splits of 1:13:41 and 1:11:27. Kipsang went 1:06:56 and 1:04:03.
8) In a turn on recent performances, the women ran much more aggressively than the men in the early miles. The final margin between the winners was only 14:08. Keitany ran the exact winning time that Priscah Jeptoo did last year, 2:25:07. Contrast that with the men where Kipsang was 2:35 seconds slower than Geoffrey Mutai's time from 2013. I don't think there was a logical reason for such a slow pace other than the top men were more intimidated by the weather than the women. Neither Kipsang, nor Mutai seemed interesting in pushing the pace and none of the others were going to get too far out in front of the pack.
9) Edna Kiplagat dropped off the lead pack just after halfway and finished in 13th place. She is still alive in the World Marathon Majors race, pending the results of Rita Jeptoo's B sample. Not the type of drama the World Marathon Majors had in mind when the week began. For the men, Kipsang's win means he gets the $500,000 and Dennis Kimetto doesn't owe Lelisa Desisa a beer.
10) Anybody know what the namaste bow all the Adidas runners were doing as they crossed the finish line was all about?
Update: It's actually part of Adidas's Aktiv campaign.

11) The American men fared well on Sunday with three runners in the top ten. The fall marathon season as a whole reinforced the status quo. Meb is still Meb and will be the favorite to win the Olympic Trials unless he injures himself between now and February 2016.
Ryan Hall and Dathan Ritzenhein didn't race, but aren't out the picture yet. Behind them, everything is up in the air. Ryan Vail and Nick Arciniaga ran well on Sunday and finished ninth and tenth. Bobby Curtis set a personal best in Chicago and has a strong case for top three in the United States.
After that, there are lots of question marks. None of the debutantes panned out this fall and none of the veterans look like they are capable of running under 2:10. There is still lots of time remaining until the Trials, but right now it is Meb all by himself, with a larger gap than anyone would have predicted two years ago when he finished fourth at the Olympics.
12) There is a bit more order with the American women. Desiree Linden ran a strong race and finished fifth in 2:28:11 on Sunday. That result makes her, Shalane Flanagan and Amy Hastings the Olympic Trials frontrunners. There is a healthy gap back to the next tier. Right now, Annie Bersagel might be the best of the rest. She was the second American in New York, placing tenth and finishing ahead of Deena Kastor and Kara Goucher.
13) With the wind, you would think the race would have favored those who were experienced on the course. Yet, in the women's race two newcomers to the distance Sara Moreira and Rkia El Moukim, finished third and sixth. Moreira's performance was particularly impressive because she apparently drew the short straw and had to do all the leading into the wind for most of the race. Her background is primarily in track, but she has been running half marathons since 2007.
Jessica Augusto, Ana Dulce Felix and now Moreira, Portugal is doing something right to keep churning out top female marathoners.
14) Who is Rkia El Moukim? Or, as I knew her, the woman who was dressed all in pink during the race. She has personal bests of 4:09/8:56/15:21 on the track and has run 32:07 (10K) and 1:10:03 (half marathon) on the roads. Her lone "honor" on her IAAF page is a 36th place finish at the 2011 World Cross Country Championships. Welcome to the marathon, where the mediocre can be good and the good become mediocre.
15) Another reminder at how unpredictable New York City is. Lusapho April was third last year and finished 12th on Sunday. Gebre Gebremariam looked all but done since 2011, but found his way back into the top three. I thought Buzunesh Deba and Edna Kiplagat were safe picks for top five (I actually had them going 1-2) and they finished ninth and 13th.
16) One of the many things I got wrong when I wrote about the race last week was the impact the late adds would have on the race. I wasn't high on eventual runner-ups Lelisa Desisa and Jemima Sumgong, mostly because they weren't on the original start list and were tacked on when Stanley Biwott and Priscah Jeptoo withdrew with injuries.
17) Is this it for Geoffrey Mutai? Sixth in London this spring and sixth again Sunday on his best course. The gap to Kipsang was so profound — almost three minutes and off of a slow pace that Mutai should have been able to follow. Because of the weather and the strange pacing, I'm not quite ready to write him off. The result does take him down a couple notches and puts him in the runners not named Kimetto and Kipsang tier of the marathon.
18) Yuki Kawauchi and Masato Imai were Japan's first two finishers. In the battle for third best marathoning country in the world, they finished just behind the United States who had one runner before Imai, (Meb) and two more place ahead of Kawauchi (Vail and Arciniaga).
19) This is how Nick Arciniaga finished the race.
This is my nightmare. #TCSNYCMarathon pic.twitter.com/ZIQmKUmMRy

— Mitch Kastoff (@mtchkstff) November 2, 2014
20) Before the race Gebre Gebremariam said that Ethiopia has a better chance against Kenya in Boston or New York where the courses are hillier and the pace isn't pre-determined. At least with the men, he was right.  Desisa and Gebremariam finishing 2/3 was a huge surprise and takes some sting off of missing out on the top spot on the podium again.
21) The television feed cut out on the men's race just as the lead group was entering the final miles. Rather than watch the deciding moves that dropped Mutai and the others we saw almost all of the top women finish…and then some more…..and then some interviews….and running around with flags.
We got pretty much into the post-race meal and stretch before they reestablished the connection with the men's field.
22) Yuki Kawauchi ran his 10th marathon of the year and had some time in front of the pack when the lead seemed to rotate every mile. Kawauchi's time was eventful, as he almost got run off the road by an NYPD motorcycle, who was either not paying attention or didn't believe Kawauchi was actually part of the race. By the end, he drifted back and finished 11th in 2:16:41.
23) Some proof that people who run two hours and people who run five hours aren't all that different.
#strongtake pic.twitter.com/h0QmHLWquT

— Sara Germano (@germanotes) November 2, 2014
24) Great run by Stephan Shay to break 2:20 and finish as the fourth American. Shay ran the race in honor of his brother, Ryan, who died during the Olympic Trials marathon seven years ago. Juliet Macur of the New York Times has a terrific story of Shay's run on Sunday.
25) You know how annoyed you get when your friends ask you if you ran a "26-mile marathon." Well, on Sunday, your oblivious friend would have had a point. The wheelchair race was shortened due to high winds. Competitors did not go over the Verrazano Narrows Bridge at the start, shortening the course to 23.2 miles. It's a one time thing though.
26) We got to learn all about Caroline Wozniacki on the ESPN broadcast. Her finishing time of 3:26:33 was mighty impressive considering her longest training run was only 13 miles. The highlight of the celebrity athletes though came in the form of 7-foot-2 Dikembe Mutombo who ran as part of the NBA relay team–and he wore high tops.
Dikembe Mutombo running his relay leg at the NYC Marathon (love the shoes). pic.twitter.com/lBBrWgIsRH

— Nick Zaccardi (@nzaccardi) November 2, 2014