No Comments
Searching for a SportsCenter Moment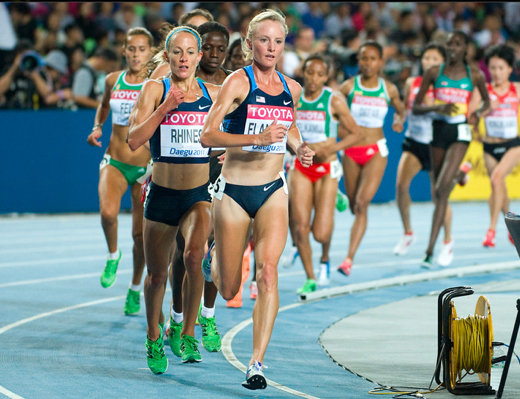 Kevin Sully | On 13, Apr 2013
Photo Courtesy of TracktownPhoto.com

Welcome to the Daily Relay!  In the coming weeks this site will be updated regularly with news, commentary and analysis about track and field, road racing and cross country.
In addition to contributing to this site, I also co-host the House of Run podcast.  My friend Jason and I started the podcast in September 2010 because we enjoyed talking with each other and liked running.  We also figured the fastest way to make money during a recession was to start a podcast about a sport most people don't care about.
Like most of you, Jason and I are fans of other sports and the familiar sports arguments that populate television and radio often seep into our show each week.  Who has the most to gain by winning this race?  Is _______ relevant anymore? Should ___ be concerned by their latest performance? What is Tim Tebow doing? 
In previewing the Boston Marathon on our latest episode, we hit on another common refrain:  How big of deal would it be if Shalane Flanagan became the first American since 1985 to win the Boston Marathon? Not within the running community, that is a given, but could it breakthrough all the way through and create a SportsCenter Moment?
A SportsCenter Moment, roughly defined as one of those times when a track and field performance makes it into the mainstream and commands a few seconds of airtime on ESPN, CNN and the morning shows.  The most common symptom of a SportsCenter Moment is an immediate spike in name recognition that causes your non-running friends to ask you if have ever heard of said athlete.
Most sports have plenty of them.  Track has had a fair share in the last year, but almost entirely at their own expense.  When you take away the story about the Paralympic hero investigated for murder, the cancelation of a major marathon due to a natural disaster, a prostitution scandal involving an Olympian and the baffling mishandling of an Olympic Trials tiebreaker, there hasn't been much left to talk about.
Outside the Olympics, and the negative and sensationalized stories, the SportsCenter Moments that do occur usually have some combination of following:
-Person competes in a glamour event (100, 1500/mile, marathon)
-Performance takes place in an iconic race/event
-Person is considered a long shot
-Person breaks a record
In 2001, Alan Webb had a literal SportsCenter Moment when the program cut in to show his 1500 race at the USATF Championships live.  This was after he shattered the four-minute barrier and high school record at the Prefontaine Classic.
Eight years later , Meb Keflezighi won the New York City Marathon.  His victory was the first by an American in 27 years and earned him an appearance on the Late Show with David Letterman.
Flanagan has three of the above criteria checked off.  Boston is one the most recognizable events in the world.  Although the race has no clear favorite, she will still be seen as an underdog to the Kenyans and Ethiopians.
Ironically, considering the field and her credentials, a win on Monday would be no more shocking than Jenny Simpson winning a gold in Daegu or Galen Rupp taking silver in London.  But Simpson's win came in a championship that most of the country is unaware of, and Rupp was 2nd, one spot too low for most Americans to appreciate.
American wins Boston.  A concise, declarative sentence that doesn't require further explanation.  Perfect for any headline on a newspaper or website.  Or even SportsCenter.