No Comments
The Weekend's Best Matchups - April 13-15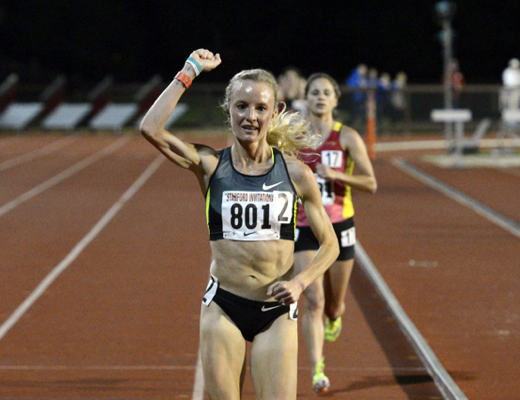 Jesse Squire | On 12, Apr 2013
Photo Courtesy of TrackandFieldPhoto.com
Shalane Flanagan vs history
Boston Marathon
Monday, 9:32am ET
No American, man or woman, has won the Boston Marathon since 1985. Much has changed since then, and at times the probability of ever having a US winner appeared to round to zero. But this year there is hope, as Olympic 10k medalist Flanagan is in the shape of her life.
There is no better matchup of a race and an individual in terms of public interest and sentiment. It's the oldest annual marathon in the world and held in a city that prides itself on history. The city truly cares about and appreciates this race as sports fans, in that winning really matters (as does getting plastered, apparently). Even better, the hero is a Boston-area native with an Irish surname. If Flanagan wins, you can almost imagine famed Boston sports fan Bill Simmons writing Now I Can Die in Peace, part II.
The odds for Flanagan are long, as they are for any single athlete in a marathon. There's a lot of competition and the marathon is a fickle master. But maybe, just maybe…
Live webcast link
Flotrack coverage | Runnerspace page | Running Times coverage
Texas A&M vs Arkansas (men)
John McDonnell Invitational, Fayetteville AR
Saturday, main session at 5:00pm local time (6:00pm ET)
The two rivals meet up again this weekend at the John McDonnell Invitational, a seven-team scored meet. Entries have not yet been posted, but I doubt either team will hold back. They're currently #1 and #2 in the USTFCCCA rankings, so this should be a dandy of a battle.
Arkansas track home page | Live results
Kansas vs Texas A&M (women)
John McDonnell Invitational, Fayetteville AR
Saturday, main session at 5:00pm local time (6:00pm ET)
The McDonnell Invitational also brings together the #1 and #3 teams in the women's rankings, another good one to watch.
Arkansas track home page | Live results
Kenenisa Bekele vs Ibrahim Jeilan (10k)
SPAR Great Ireland Run, Dublin
Sunday, 1:30pm local time (7:30am ET)
If Bekele isn't the greatest distance runner of all time, then he's on the short list for that honor. He hasn't quite been himself in the last few years, though, so current form is questionable. Maybe he'll be back at the top, or maybe his time has passed. On Sunday he runs against Jeilan, the surprise 2011 World Champion at 10,000 meters. This may be a preview of the Ethiopian 10k trials for the Worlds team, to be held in two months in conjunction with the Prefontaine Classic.
Race website | RTÉ preview
Geoffrey Kipsang vs Kenyan selectors
Rotterdam Marathon
Sunday, 10:30am local time (4:30am ET)
Third at last fall's Berlin Marathon in his first-ever 26.2-miler, Kipsang won February's RAK Half Marathon in 58:54. He's probably the headline name in Sunday's race, with 2011 champion Wilson Chebet among his main competition. Whoever wins is probably hoping to also impress selectors for Kenya's World Championship squad–this second-tier race doesn't have any of the big dogs who would rather skip the Worlds for a fall payday.
Race website | Xinhua preview