One Comment
Daily Relay's 2013 Holiday Gift Guide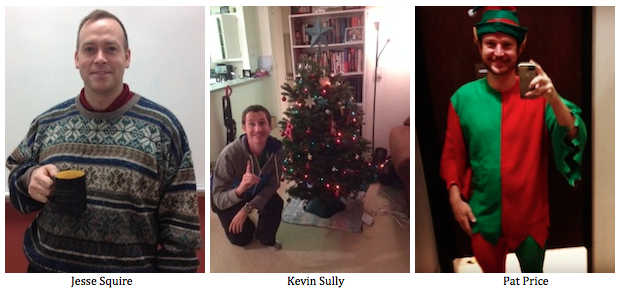 Daily Relay | On 11, Dec 2013
Here's a few picks from the Daily Relay staff. If you can't find anything you like here, just click here to go to Amazon.com and find something else you like!
Uncle Jesse's shot put bag:
1. The Sports Gene
Inside the Science of Extraordinary Athletic Performance
By David Epstein
Amazon.com in hardcover, Kindle or audio versions
This is doubtlessly the best track and field book of the year, but it might be the best sports book of the year, period. Epstein, a writer for Sports Illustrated, has the perfect background for digging into the science of sport performance: he was a scientist and a competitive runner.
Are the best athletes born or made? Why do certain racial and ethnic groups dominate certain sports? These are not easy questions to answer, and Epstein illustrates the science of what we know about those answers–or at least what we think we know. He touches on all sports, but track and field's easily quantifiable performances make it the centerpiece of this book.
2. Track and Field Christmas Ornaments
$10-$15, Cafepress.com
Cafe Press, where you can individualize virtually anything, offers several dozen track and field themed Christmas tree ornaments. It may take a while to hunt through and find the one that's just right for your favorite track fan, but that's half the fun–you get to see all the other weird crap that gets mixed in, such as the President Obama dressed like Jesus ornament.
3. Out-of-the-Way Track Movies
Various prices, Amazon.com
How many more times is your favorite track fan going to watch Without Limits or Chariots of Fire? Get them something truly different, something they've never heard of. Try things like Der Räuber (The Robber), a 2011 German film based on a novel about a champion marathoner who leads a double life as a bank robber sprinting away from heists. (NY Times: "If you like the 'Bourne' movies but wish they were more cerebral…you might be the perfect audience for 'The Robber'").
If your track fan liked Endurance, the life story of Haile Gebrselassie, then go one better and get Atletu (The Athlete), a 2009 release in English and Amharic that tells the out-of-nowhere story of Abebe Bikila, the first and greatest Ethiopian champion.
If your track fan's tastes run less towards art-house and more towards Three Stooges fare, get College, a 1927 Buster Keaton film in which he miserably (and hilariously) fails at every college sport, including track and field.
4. T-Shirts
Various prices, RunFanShop.com
RunFanShop.com was launched earlier this year and carries more than just t-shirts, but that's their specialty. There are college shirts–licensees include Oregon, Colorado, Oklahoma State, Wisconsin, Arkansas and Stanford plus the Drake and Penn Relays. There are mile-oriented shirts in the Bring Back the Mile collection. There are Hansons shirts for the blue-collar or Midwestern runner. And if you'd rather let them choose, you can get them the Shirt of the Month Club.
Santa Sully's stocking:
1. Fast Girls
Amazon.com DVD or Amazon.com Instant Video (only $3.99)
At almost 25 dollars, the asking price for this film about a fictitious British 4 x 100 meter relay is a bit steep.  But where else are you going to see a movie where exchanging a baton is a metaphor for the human condition?  Lenora Crichlow and Lily James play sprinting rivals turned teammates who need to understand their differences before they can truly trust one another.  You are hooked already, right? The acting is decent and the running scenes are passable.  If you are in the UK, you can get it for £3.00 and be inspired for a lifetime.   

2. Seiko Alarm Clock
Amazon.uk (only available in British store)
What is this, a clock for ants?  The replica Seiko alarm clock probably needs to be at least three times bigger to pose with it in pictures, but the novelty will not be lost on true track and field fans. They were in high demand at the World Championships in Moscow, but some are now available on Amazon in the UK. The product description should include that using the clock guarantees that you awake each morning with the motivation of a world record holder.
3. Penn/Drake Weekend
If price is no object, get the track fan in your life an unforgettable two days of track and field.  First, catch the Friday evening session of the Drake Relays on April 26th.  Last year, Friday night featured several Olympic rematches and big names.  Hopefully, that will be in the case in 2014. Then, hop on a plane to Philadelphia to catch the final day of the Penn Relays and see the United States vs The World in the 4 x 100, 4 x 400 and the distance medley.  There is typically a heavy Jamaican presence in the high school and collegiate sections giving a taste of Caribbean track meet without having to leave the United States.
Elf Pat's workshop:
1. Hoka One One Rapa Nui
Coming soon to Running Warehouse
The minimalist revolution is over and the maximalist revolution is upon us. I have spent most of my last 6 months running in the Stinson Tarmac and the Stinson Trail. Why? Because I've been injured for the better part of 3 years and am now able to run again, consistently, in the Hokas. I was lucky enough to test drive the Rapa Nui, and I can say people will love it. It's not as "moon shoe-y" as the other Hoka's, but it gives you all the protection. It's responsive, lighter, and ready to convert the naysayers. It will be my go-to shoe for the Black Mountain Marathon and Umstead 50 in 2014.
2. Yurbuds earphones
Many options available at Amazon.com
Lots of earphones claim to stay in your ears, but none do like Yurbuds. I was skeptical, until I lost a pair of my previous earphones and picked up a nice pair of pink Yurbuds at Best Buy in advance of a multiple hour run. Wow! They do work. They stay in on the treadmill as well, even at 6:00 pace. A sound investment or gift for any runner that does the "running with music/podcasts/books" thing.
3. Guideline Eyegear Draft Sunglasses
Available at Amazon.com
Like Yurbuds, these things stay in place! I've had plenty of running sunglasses over the years that are good, until you get a little sweaty and they start sliding and fogging up. These Drafts stay put and don't fog. They're light, polarized, and only cost ~$40.
4. Trip to Oregon for the Prefontaine Classic (or any other big event at Hayward)
Available through all the travel sites (Kayak's a good place to start)
If you're a track fan and you haven't made this trip, I highly recommend it. I've don't it five times now, and it's become something I look forward to every year.
To give you an idea, here's a good way to set up a weekend:
Friday – Fly into Portland (PDX). Rent a car (can be as low as $20/day). Bonus points if you can swing Thursday night.

Head towards Eugene and pop through Bend for a run and a stop at Deschutes Brewery
Afterwards, drive up to Eugene and take in Friday night at Hayward, which has become a great distance night before the Pre Classic.
After the meet, walk over to the Wild Duck Cafe. Grab a beer with other like-minded track folk.
Saturday

Get up early, head out for a run on Pre's Trail. Add on the Amazon Trail and/or a visit to Pre's Rock.
Head over to breakfast at the Glenwood (my favorite), or one of Alexi Pappas' excellent recommendations
Go watch the Pre Classic. One of the best meets in the world, and see that track fandom does exist!
Post meet, grab a slice at Track Town Pizza and/or a beer at Ninkasi Brewing
Head back to Portland
Go to one of many excellent restaurants and/or breweries in the Rose City. Bonus points for late night stop at Voodoo Doughnut
Sunday

Depending on your flight, get up early and get in a long run at Forest Park
Have cool stories to tell all your friends (and if you want more tips, just email me)