No Comments
World Juniors Watch List: Women's Jumps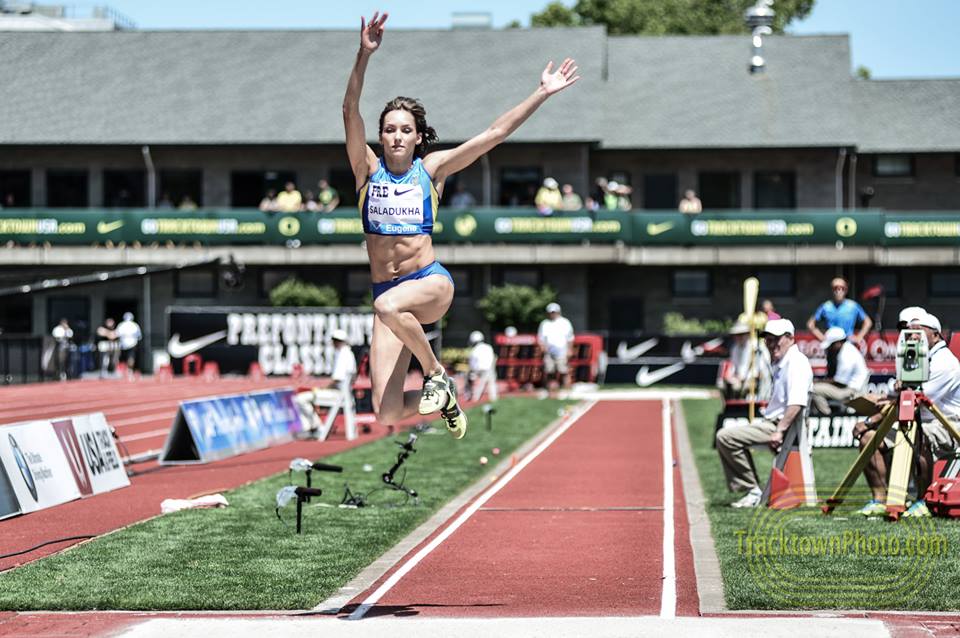 Jesse Squire | On 04, Jun 2014
The World Junior Championships will be held in the USA for the first time ever this summer. My job with this series of watch lists is to let you know which athletes to keep an eye on at the upcoming NCAA Championships and the various state and national high school championships.
So far I've looked at the multi-events and the women's throwing events. This time around I'll get you up to speed on the women's jumping events.
The Basics
The IAAF World Junior Championships will be held at historic Hayward Field from July 22 to 27. Get your tickets here. Eligible athletes are those born in 1995 through 1998.
The US team will be chosen at the USATF Junior Championships, held on July 5 and 6 at historic Hayward Field. Nations get a maximum of two entries per event and those entries must meet qualification standards. Basically, the top two at the US Juniors who meet the standard will make the team. The same is true for the Canadian team; their Junior championships are on July 4 to 6 in Sainte-Thérèse, Quebec.
Note that as host nation, the USA may enter a single athlete in any event in which no US athlete has met the qualifying standard. So if no American makes the mark in an event, theoretically the US junior champion would make the team. However, USATF's selection criteria specifically says that the IAAF qualifying mark must be met in order to gain selection for the team…but it would hardly be unprecedented for USATF decision-makers to ignore their organization's own rules.
Now, on to the athletes!
High Jump
Qualifying standard: 1.82 meters (5′ 11½")
Seven US jumpers have achieved the qualifying standard, and one of them is unlikely to contest the high jump at the World Juniors. That would be Georgia's Kendell Williams, who is a medal contender in the heptathlon.
Vashti Cunningham
PR: 6′ 3″ (1.90 meters)
Hometown: Las Vegas, NV
Cunningham is just a sophomore at Bishop Gorman High School but is a strong favorite to win the US junior title. She has cleared six feet (1.83 meters) or higher eight times this year, and her best height of 6′ 3″ puts her at #2 on the all-time high school list. She comes from a rather athletic family–her brother jumped 7′ 2″ in high school and her father and coach, Randall Cunningham, played quarterback in the NFL for 16 seasons. Consider her a medal contender at the World Juniors, and gold is a possibility.
Claire Kieffer-Wright
PR: 6′ 0″ (1.83 meters)
Hometown: Pasadena, CA
Of the remaining US jumpers who have achieved the standard, Kieffer-Wright is probably the most consistent. She was runner-up to Cunningham at the Arcadia Invitational and seeks a defense of her California state championship this weekend. She will jump at the University of Michigan next year.
Kelsey Hermann
PR: 6′ 1″ (1.85 meters)
Hometown: Crossett, AR
Herman, a senior at Crossett High School headed to Arkansas, cleared 6′ 1″ back in March, the second-best among likely US team contenders behind Cunningham, but only once since then has she cleared as high as 5′ 9″.
Others to watch include Chelsie DeCoud (South Houston HS), Stacey Destin (Santaluces HS, Lantana FL), and Kandie Bloch-Jones (Illinois/Argenta-Oreana, IL). Northern Illinois' Claudette Day (Belleville, IL) is the only junior who qualified to the NCAA Championships but she does not yet have a Worlds qualifying mark.
International Competitors
Seventeen-year-old British heptathlete Morgan Lake is at the top of the world junior list but won't be competing at the World Junior Championships–she's saving her gas for the Commonwealth Games. The top contenders for gold appear to be Ukrainian Iryna Herashchenko, who won bronze at the 2013 European Junior Championships and was on her national team for this year's World Indoors, and Australia's Eleanor Patterson, the reigning World Youth champion.
Pole Vault
Qualifying standard: 3.95 meters (12′ 11½")
The qualifying mark is not a barrier for US competitors, as more than thirty American juniors have surpassed it.
Desiree Freier
PR: 14′ 6″ (4.42 meters)
Hometown: Justin, TX
Frier, a senior at Northwest High School who signed with Arkansas, broke the national high school records this year and has cleared 14 feet or better seven times this year. She was on the US team for last year's World Youth Championships, where she finished ninth, but she has made massive improvements since then. She's one of the contenders for gold at the World Juniors in Eugene.
Kaitlyn Merritt
PR: 14′ ¾" (4.29 meters)
Hometown: Rancho Santa Margarita, CA
Merritt, a high school junior, hit the dreaded no-height at the CIF Southern Section Masters meet and will not be able to defend her California state title this weekend. Even so, she's still probably the most consistent vaulter after Freier.
Lexi Weeks
PR: 14′ 0″ (4.27 meters)
Hometown: Cabot, AR
Another high school junior, Weeks has added nearly a foot to her best height over the last year, topped out by a state record of 14 feet at the Arkansas Meet of Champions. Her twin sister, Tori, is a 13′ 2″ vaulter herself.
Lakan Taylor
PR: 13′ 11″ (4.24 meters)
Hometown: Fort Worth, TX
Taylor's PR dates from last year in high school, but the Alabama freshman hit her 2014 season's best last weekend to qualify to the NCAA Championships, where she will be the only junior competing. With only four years of pole vaulting under her belt, she's still gaining skill and experience.
Annie Rhodes
PR: 14′ 0″ (4.27 meters)
Hometown: Waco, TX
Rhodes was the New Balance Indoor Nationals champion in high school and cleared 14 feet, but hasn't yet improved in her freshman year at Baylor.
International Competitors
Freier's biggest competition for gold may come from Russian Alena Lutkovskaya, who won the European Junior title last year and took second at the World Youth Championships, and was third at this year's Russian senior indoor championships. Another to watch out for is Venezuela's Rosbeylis Peinado, who beat Lutkovskaya for gold at the World Youth. Also likely to compete are Georgia freshman Georgia Stefanidi (Greece) and Princeton freshman Allison Harris (Canada).
Long Jump
Qualifying standard: 6.10 meters (20′ ¼")
Fourteen American juniors have achieved the qualifying mark, six collegians and seven high schoolers. As with the high jump, Georgia freshman Kendell Williams is among the best the USA has in this event but is likely to skip it in favor of the heptathlon, where she is a medal contender.
Courtney Corrin
PR: 21′ 0″ (6.40 meters)
Hometown: North Hollywood, CA
Corrin is just a sophomore at Harvard-Westlake High School but is already the nation's top junior long jumper. She has jumped further than any of the others and her only loss in the last two years was a fifth-place finish at last year's World Youth Championships. She's thrice faced national high school leader Margaux Jones (see below) and come out on top each time. The two will face off again at this weekend's California high school championships.
Keturah Orji
PR: 20′ 11¾" (6.39 meters)
Hometown: Budd Lake, NJ
Orji is the nation's #1 high school horizontal jump star–she's just as good at the triple jump (see below)–and the Mt. Olive High School senior will jump for Georgia next year. She lost to Corrin at last year's New Balance Outdoor Nationals and World Youth trials, but came through with a PR at the World Youth Championships and won a silver medal. She and Corrin are the favorites for the US team.
Margaux Jones
PR: 20′ 9″ (6.32 meters)
Hometown: Redlands, CA
Jones has the year's longest jump among high schoolers but hasn't been able to get by Corrin. She tried for the World Youth team last year and came fourth at the trials but is a much improved jumper this year.
Quanesha Burks
PR: 20′ 8″ (6.30 meters)
Hometown: Hartselle, AL
The Alabama freshman has made massive improvements since she came to Tuscaloosa and is a real contender for the US team. She's the #8 seed going into next weekend's NCAA championships from the PR she hit at the East prelims.
Others to watch include collegians Tierra Williams (Nebraska/Auburn NE), Nataliya Friar (LSU/Wentzville MO) and Jazmine McCoy (Nebraska/Blue Springs MO), all of whom will be jumping at the NCAAs, and high schooler Chyna Ries (East HS, Denver CO).
International Competitors
One of the favorites is Barbados' Akela Jones, who competes for Oklahoma Baptist University. She has experience at the World Youth and World Junior levels but hasn't won medals. The gold medal favorite is probably Romania's Florentina Cosmina Marincu, who won last year's World Youth Championships and has improved this year to as far as 6.67 meters (21′ 10¾"). Another to watch out for is Jamaica's Claudette Allen, the national high school champion and runner-up to Jones at the CARIFTA Games.
Triple Jump
Qualifying standard: 12.90 meters (42′ 4″)
Unlike the other jumping events, the qualifying mark will play a big part of deciding who makes the US team. As of right now, just five have hit the standard, four collegians and one high schooler.
Keturah Orji
PR: 44′ 11″ (13.69 meters)
Hometown: Budd Lake, NJ
Orji won bronze at the World Youth Championships last year and could conceivably repeat that feat at the World Juniors but will face much tougher competition. With a PR more than ten inches better than any other US junior, she's a heavy favorite to make the team.
Marshay Ryan
PR: 44′ ½" (13.42 meters)
Hometown: Chambersburg, PA
Ryan made big improvements during her freshman year at Auburn and finished second at the NCAA indoor championships, but finished 13th at the NCAA East prelims and did not advance to the national championships. Even so, she's a solid candidate for the US team.
Kaitlyn Beans
PR: 43′ 3¾" (13.19 meters)
Hometown: Montgomery, AL
Beans was just an 18-foot long jumper in high school who apparently never tried the triple jump, but in one year at South Alabama she learned the event and qualified to the NCAA Championships, coming into next weekend's meet with the #9 seed. If she improves much more, she could be on the team for the World Juniors.
Simone Charley
PR: 43′ 1″ (13.13 meters)
Hometown: Hoover, AL
Charley was the runner-up at the New Balance Outdoor Nationals last year but has added more than a foot to her PR during her freshman year at Vanderbilt and also qualified to the NCAA Championships.
Oregon freshman Sasha Wallace has also achieved the standard but will probably run the hurdles at the US Junior Championships instead.
International Competition
Romania's Florentina Cosmina Marincu is the reigning World Youth champion in this event but appears to be spending more time on the long jump this year. Still, she remains one of the favorites. World Youth silver medalist Rong Wang of China might be the gold medal favorite as she has improved her best distances from last year. Cuba seems to churn out triple jumpers and their current junior star is Liadagmis Povea.