One Comment
World Juniors Watch List: Women's Throws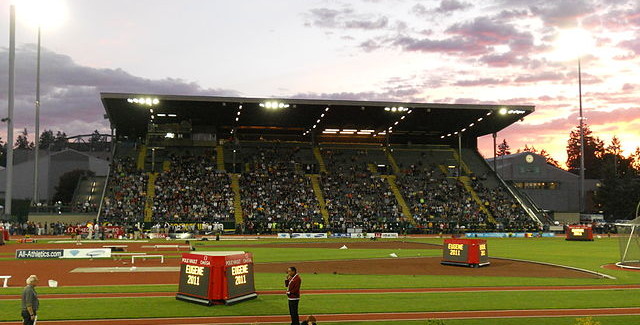 Jesse Squire | On 28, May 2014
Last week I started a series of watch lists for the upcoming World Junior Championships, so that you know which athletes to keep an eye on at the upcoming NCAA Championships and the various state and national high school championships.
So far I've looked at the multi-events, the decathlon and heptathlon. This time around I'll get you up to speed on the women's throwing events.
The Basics
The IAAF World Junior Championships will be held at historic Hayward Field from July 22 to 27. Get your tickets here. Eligible athletes are those born in 1995 through 1998.
The US team will be chosen at the USATF Junior Championships, held on July 5 and 6 at historic Hayward Field. Nations get a maximum of two entries per event and those entries must meet qualification standards. Basically, the top two at the US Juniors who meet the standard will make the team. The same is true for the Canadian team; their Junior championships are on July 4 to 6 in Sainte-Thérèse, Quebec.
Note that as host nation, the USA may enter a single athlete in any event in which no US athlete has met the qualifying standard. So if no American makes the mark in an event, theoretically the US junior champion would make the team. However, USATF's selection criteria specifically says that the IAAF qualifying mark must be met in order to gain selection for the team…but it would hardly be unprecedented for USATF decision-makers to ignore their organization's own rules.
Now, on to the athletes!
Shot Put
Qualifying standard: 14.30 meters (46′ 11″)
More than two dozen American juniors have made the standard in this event, so I won't bore you with the complete list. I'm just going to look at those who are most likely to make the team.
Raven Saunders
PR: 56′ 8¼" (17.27 meters)
Hometown: Charleston, SC
Saunders, a senior at Burke High School and headed to Southern Illinois next year, now owns both the national high school records (both indoors and out). That's no small feat since the woman who held them, Michelle Carter, has finished as high as fourth at the senior World Championships. Saunders has made an amazing transformation in the last year and added 14 feet to her PR after adopting the spin technique. She's throwing nearly three feet further than her US rivals and should make the team, and is a medal contender at the World Juniors.
Stamatia Scarvelis
PR: 53′ 9¼" (16.39 meters)
Hometown: Goleta, CA
Ashlie Blake
PR: 53′ 10¼" id (16.41 meters)
Hometown: Henderson, NV
Blake and Scarvelis are both high school seniors and will be teammates at UCLA next year. Their PRs are quite similar; Scarvelis has thrown further outdoors, Blake further indoors. Scarvelis won their two outdoor meetings so far this year but Blake beat her at the New Balance Indoor Nationals. And they both have international experience–Scarvelis won gold at last year's Pan-Am Junior Championships and Blake won bronze at last year's World Youth Championships. The sudden emergence of Saunders means it's unlikely that both will make the team for this year's World Juniors, and these two could have a real tight battle for the second spot on the US team.
Nikki Okwelogu
PR: 52′ 7¼" (16.02 meters)
Hometown: Fresno, CA
Okwelogu's freshman campaign for Harvard led her to sweep the shot at the indoor and outdoor Ivy League Championships and the ECAC Championships. Some sources refer to her as competing for Nigeria, from which her parents emigrated, but I cannot find any confirmation.
Others to watch include Haley Teel (Gregory-Portland HS, Portland TX), Alysiah Whittaker (Georgia State/St. Louis MO), and Lena Giger (Highland HS, Highland IL).
International competitors
The current world junior leader is China's Tianqian Guo, who won the 2011 World Youth title but hasn't competed abroad since then. Turkey's Emel Dereli, who won gold at both the 2013 European Junior championships and the 2012 World Youth championships, is another contender. A relative unknown in the junior ranks is Cuba's Sally Viart, who has never competed internationally.
Discus
Qualifying standard: 47.50 meters (155′ 10″)
More than twenty American juniors have made the standard here.
Valarie Allman
PR: 187′ 6″ (57.17 meters)
Hometown: Longmont, CO
Allman is the current world junior leader and could score at the NCAAs for Stanford. Her third-best meet is better than any other US junior, and she finished 13th at last year's USATF senior championships. As a high school freshman she was part of a nationally-touring dance company, but at six feet tall she's now more suited for the discus. She may or may not be the gold medal favorite at the World Juniors, but she knows how to compete–in her first collegiate meet she beat Stephanie Brown Trafton, the 2008 Olympic champion.
Madison Jacobs
PR: 175′ 7″ (53.52 meters)
Hometown: Arroyo Grande, CA
Competing for Kentucky, Jacobs was runner-up at the SEC Championships. According to seed marks, she's right on the bubble for qualifying to the NCAA Championships at this weekend's East Preliminaries.
Stamatia Scarvelis
PR: 172′ 7″ (52.57 meters)
Hometown: Goleta, CA
Scarvelis is a double threat in the shot and discus (see above) but has longer odds here. Whereas she won last year's US junior title in the shot, she was just sixth in the discus.
Kiana Phelps
PR: 179′ 7″ (54.74 meters)
Hometown: Kingsley, IA
Phelps is just a sophomore at Kingsley-Pierson High School and is carrying on a family tradition. She broke the Iowa state record earlier this year and her father still holds the boys' state record. She rode a big wind to that record throw, though, and hasn't come within twenty feet of it since.
Others to watch include Melissa Ausman (Oregon State/Nyssa OR), Nikki Okwelogu (Harvard/Fresno CA), Lloydricia Cameron (Northwestern HS, Miami FL), Ashlie Blake (Liberty HS, Henderson NV), and Corina Cox (Troy/Los Fresno TX). Canada has a qualifier in Asiana Covington (Georgia/Vancouver BC); more on her below in the hammer throw.
International competitors
Allman's greatest competition will likely come from China's Yuchen Xie and Germany's Claudine Vita, the gold and silver medalists at last year's World Youth Championships. Both have already put up some good throws in 2014. Another is Brazil's Izabela Rodrigues, the reigning Pan-American junior champion.
Hammer throw
Qualifying standard: 57.00 meters (187′ 0″)
The qualifying standard isn't a challenge in the first two throwing events but it sure is here. As of right now, just one American and one Canadian have achieved it.
Brooke Anderson
PR: 194′ 9″ (59.37 meters)
Hometown: Vista, CA
Anderson has made huge improvements since landing at Northern Arizona–her high school PR was just 159′ 1″. Even so, she's going to have to improve even more in order to qualify to the NCAA Championships since she's seeded just 26th in the West Preliminaries. As the lone American with a World Juniors qualifying mark, she's all but assured of making the team.
Asiana Covington
PR: 193′ 3″ (58.90 meters)
Hometown: Vancouver, BC
Covington, a freshman at Georgia, did not declare for the East Preliminaries and her first collegiate season is over. I don't know if she is injured, and if so if she plans on competing at the World Juniors. She does have international experience from throwing the hammer at the 2012 World Juniors, where she failed to advance from the qualifying round.
Of the USA's high school throwers, the closest to qualifying is Haley Showalter (Valor Christian HS, Highlands Ranch CO). She's currently just under four feet short of the mark.
International competitors
Of course the top-rated hammer throwers are all from eastern Europe. The current world junior leader is Ukrainian Alona Shamotina, who hasn't fared well at major competitions. She was fifth at last year's Euro Juniors and fouled out of the qualifying round at the 2012 World Juniors. Hungarian Réka Gyurátz won silver at the Euro Juniors and gold at the World Youth Championships, and that kind of competitive mettle makes her the favorite.
Javelin
Qualifying standard: 49.00 meters (160′ 9″)
Eight Americans have achieved the standard so far.
Megan Glasmann
PR: 176′ 11″ (53.92 meters)
Hometown: Park City, UT
Glasmann, a freshman at Stanford, is the reigning Pan-American Junior champion. She really put together a great throw to win that gold medal, but so far it was a one-off performance and more than ten feet further than she's ever thrown otherwise. She's seeded 13th in the West Preliminaries, meaning that she's right on the bubble for getting to the NCAA Championships.
Danie Plank
PR: 167′ 4″ (51.00 meters)
Hometown: Gardner, KS
Plank has little competitive experience outside of high school and her one year of college at Kansas State. She is the #8 seed in the West Preliminaries and will have to throw to her potential to get to the NCAA Championships.
Katelyn Gochenour
PR: 167′ 0″ (50.93 meters)
Hometown: Omaha, NE
The sophomore at Marian High School is the poster child for the National Scholastic Athletic Foundation's "Project Javelin", which periodically brings some of the most promising talent to North Carolina for experience with top-level coaches.
Rebekah Wales
PR: 166′ 10″ (50.87 meters)
Hometown: West Monroe, LA
Wales was a good high school thrower who got a lot better in college at LSU. She's seeded 11th in the East Preliminaries and has a good shot at making it to the NCAA Championships.
Gabrielle Kearney
PR: 166′ 0″ (50.67 meters)
Hometown: Roseburg, OR
The Roseburg High School junior will get big support from the Oregon crowd at the US Junior Championships. She's already familiar with Hayward Field since she threw there in the Oregon Relays, Oregon Twilight, and the Oregon high school championships. She's added a massive 25 feet to her PR this year.
Others to watch include Sarah Firestone (Nebraska/Mercersburg PA), Christine Streisel (Duke/Tamaqua PA) and Peyton Montgomery (Barbe HS, Lake Charles LA).
International competition
The strong favorite for gold has to be Sweden's Sofie Flink. She's the defending World and European Junior champion and finished tenth at last year's senior Worlds. The top two challengers are likely to be Australia's Mackenzie Little, the 2013 World Youth gold medalist, and Croatia's Sara Kolak, who won bronze at last year's European Juniors.