No Comments
What2Watch: Saturday at the USATF Championships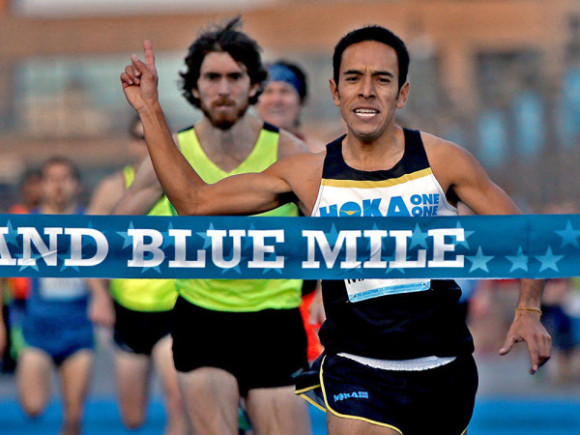 Jesse Squire | On 27, Jun 2015
If you only watch one race today, it should be the men's 1500 meter final. And if you only watch one race today, there is clearly something wrong with your priorities.
The USATF Championships continue today at Hayward Field in Eugene, Oregon. Here is our handy guide to what, why, how, when, and who to watch.
What happened yesterday
Today's events
Today's finals are the women's steeplechase, men's 400 hurdles, men's 1500 meters, men's and women's 400 meters, women's 100 hurdles, men's pole vault, and women's hammer, long jump and discus.
What's at stake
For one, it's a shot at a national championship. But the top three* will also make the US team for the World Championships in August. This is also the selection meet for the Pan-American Games (Toronto, July 18-26) and the NACAC Championships (Costa Rica, August 7-9), and since the best athletes tend to skip these other meets then anyone in the top six or so will probably be on a national team of some sort.
*with the usual qualification requirements, which are a bit different this year
The USATF Junior Championships are running concurrently with the senior championships and will act as a selection meet for the Pan-American Junior Championships (Edmonton, July 31-August 2).
How to watch
The meet will be broadcast live on NBC from 4:00 to 6:00 (Eastern time). All events will be webcast at USATF.tv, and field events will be webcast during the TV broadcast (a tacit admission that NBC will have little to no field event coverage).
Key links
Schedule, start lists and live results
Webcast
Daily Relay A-Z guide to the US Championships: Part 1 – Part 2
House of Run podcast preview
Track and Field News formcharts
Event-by-event
Here's a deeper look at the day's action, taken in chronological order.
Heptathlon, day 1
Begins at 11:05am PT / 2:05pm ET, runs all day
Favorites: Sharon Day-Monroe (Asics), Barbara Nwaba (Santa Barbara TC), Erica Bougard (Mississippi State)
The above three finished in this order at last year's championships and all three have achieved the requisite World Championships qualifying mark (6075 points), as has Heather Miller-Koch (Central Park TC).
Men's pole vault
Begins at 11:50am PT / 2:50pm ET
Favorites: Sam Kendricks (Nike), Jake Blankenship (Tennessee), Brad Walker (Mizuno/New York AC)
Kendricks, still just 22 years old, has been competitive with the best in the world. Blankenship is even younger and is figured as Kendricks' biggest threat. Veteran Walker knows how to get it done in championship meets like this. Andrew Irwin (Arkansas) is inconsistent but could get into the top three if he's at his best.
Women's hammer
Begins at 12:15pm PT / 3:15pm ET
Favorites: Amanda Bingson (Nike), Amber Campbell (Nike), Gwen Berry (New York AC), Jeneva Stevens (New York AC)
Bingson, the American record holder and two-time defending champion, hasn't thrown well yet this year. That makes this event rated as a toss-up between four athletes who have traded wins: Bingson, Berry, Campbell and Stevens. Deanna Price (Southern Illinois) had a huge day at the NCAAs, and Britney Henry (Oiselle) could be a contender too.
Women's long jump
Begins at 12:45pm PT / 3:45pm ET
Favorites: Tianna Bartoletta (Nike), Brittney Reese (Nike), Quanesha Burks (Alabama)
Bartoletta would be a huge favorite if you went by 2015 results alone, but Olympic and World champion Reese (who has a Worlds wild card entry and does not need to place to make the team) is always capable of a big jump. Burks was impressive at the NCAA Championships. Jenna Prandini (Oregon) just missed a spot on the US team in the 100 and could bounce back here.
Women's discus
Begins at 12:45pm PT / 3:45pm ET
Favorites: Gia Lewis-Smallwood (Nike), Shelbi Vaughan (Texas A&M), Whitney Ashley (Nike)
Lewis-Smallwood had a dream season last year and broke the American Record, but hasn't been the same in 2015. Regardless, she's still the favorite. NCAA champion Vaughan and first-year pro Ashley are probably the best of the rest. Liz Podominick (National Athletics Institute) and Summer Pierson (unattached) are the challengers to watch.
Women's steeplechase
Begins at 1:55pm PT / 4:55pm ET
Favorite: Emma Coburn (New Balance)
Coburn is head and shoulders above the rest. Any of a long list of athletes could get the second and third spots on the US team for the Worlds: Stephanie Garcia (New Balance), Ashley Higginson (Saucony), Nicole Bush (New Balance), and NCAA champion Colleen Quigley (was Florida State, now Nike/Bowerman TC) are the favorites, but US depth in this event has never been better.
Men's 400 hurdles
Begins at 2:11pm PT / 5:11pm ET
Favorites: Bershawn Jackson (Nike), Johnny Dutch (Nike), Michael Stigler (Kansas)
Super-vet Jackson is in the midst of his best season in years. Dutch and Stigler are the most consistent of the rest. Kerron Clement (unattached) is making a comeback after some time away from the sport and is capable of anything from first to last. Michael Tinsley (Nike) has a Worlds wild-card entry and did not contest the semifinals.
Men's 1500 meters
Begins at 2:20pm PT / 5:20pm ET
Favorites: Matthew Centrowitz (Nike Oregon Project), Leo Manzano (Hoka One One), Ben Blankenship (Nike/Oregon TC)
If you only watch one race today, this should be it. Manzano and Centrowitz are proven championship performers, but races like this are always unpredictable. Blankenship is having his best season ever and can hold his own against anyone. The locals will have plenty to cheer for; finalists include four from the Oregon Track Club (Blankenship, Pat Casey, Jordan McNamara, Andrew Wheating) plus three Oregon Ducks (Will Geoghegan, Colby Alexander, Daniel Winn).
Women's 400 meters
Begins at 2:32pm PT / 5:32pm ET
Favorites: Francena McCorory (adidas), Allyson Felix (adidas)
This was figured as a three-way battle until Sanya Richards-Ross failed to qualify to the final; the winner between McCorory and Felix will be the favorite for gold at the Worlds. Third place is probably a battle between Natasha Hastings (Under Armour/New York AC) and Phyllis Francis (Nike).
Men's 400 meters
Begins at 2:42pm PT / 5:42pm ET
Favorite: LaShawn Merritt (Nike)
Merritt hasn't been his normal self yet this year but is still the overwhelming favorite. He has a wild-card entry to the Worlds and doesn't have to race here but is anyway. That means that three other athletes will make the US team for the Worlds, and the best chances are figured for Vernon Norwood (LSU), David Verburg (adidas), and Tony McQuay (adidas).
Women's 100 hurdles
Begins at 2:52pm PT / 5:52pm ET
Favorites: Jasmin Stowers (Nike), Sharika Nelvis (adidas), Keni Harrison (Kentucky)
Stowers began the season with crazy-fast times and has come back to earth a bit, while Nelvis has steadily improved and ran the third-fastest non-final of all time in the heats. NCAA champ Harrison is rated as a slight favorite over the rest, but this event is fantastically deep. Semis will be run earlier in the day and it will be harder to make the final here than at the World Championships. Brianna Rollins (Nike) has a wild-card entry to the Worlds and has an automatic spot on the team.