No Comments
What2Watch: Sunday at the USATF Championships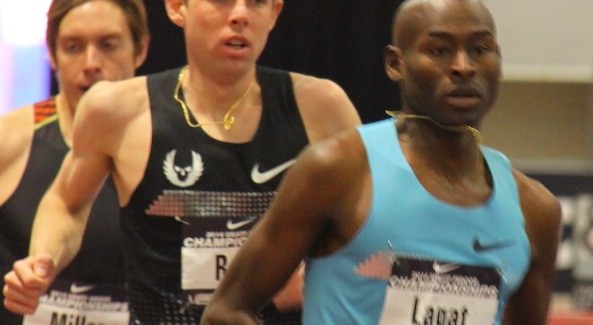 Jesse Squire | On 28, Jun 2015
The day starts early with one of the great rivalries in American distance running. (Photo: Dane Schubert for Daily Relay)
The USATF Championships conclude today at Hayward Field in Eugene, Oregon. Here's our handy guide of what, why, how, when and who to watch.
Today's events
Today's finals are, well, everything that wasn't a final over the first three days. That's the men's and women's 5000 meters, women's pole vault and high jump, men's triple jump and shot put, men's and women's 200 meters, men's and women's 800 meters, men's 110 hurdles, women's 400 hurdles, men's steeplechase and women's 1500.
What's at stake
For one, it's a shot at a national championship. But the top three* will also make the US team for the World Championships in August. This is also the selection meet for the Pan-American Games (Toronto, July 18-26) and the NACAC Championships (Costa Rica, August 7-9), and since the best athletes tend to skip these other meets then anyone in the top six or so will probably be on a national team of some sort.
*with the usual qualification requirements, which are a bit different this year
How to watch
The meet will be broadcast live on Universal Sports from 3:00 to 4:00 (Eastern time) and NBC from 4:00 to 6:00. All events will be webcast at USATF.tv beginning at 1:15pm, and field events will be webcast during the TV broadcast.
Key links
Schedule, start lists and live results
Webcast
Daily Relay A-Z guide to the US Championships: Part 1 – Part 2
House of Run podcast preview
Track and Field News formcharts
Event-by-event
Here's a deeper look at the day's action, taken in chronological order.
Heptathlon, day 2
Begins at 10:45am PT / 1:45pm ET, runs all day
Leaders: Sharon Day-Monroe (Asics), Barbara Nwaba (Santa Barbara TC), Erica Bougard (Mississippi State)
The above were expected to take the top three spots, but there's not a huge amount of daylight between them and everyone else. The magic score for a Worlds qualifying mark is 6075, and of the chase pack only Heather Miller-Koch (Central Park TC) has achieved it.
Women's 5000 meters
Begins at 10:20am PT / 1:20pm ET
Favorites: it depends
Note: the 5ks are not on live TV coverage but will be webcast at USATF.tv
When I say "it depends" for the favorites, that means it depends on who runs. Molly Huddle (Saucony) was entered but will withdraw since she already has made the US team in the 10,000 meters. One presumes Shalane Flanagan (Nike/Bowerman TC) and Emily Infeld (Nike/Bowerman TC) will make the same assessment. Shannon Rowbury (Nike Oregon Project) is entered in both this race and the 1500 final, held just four hours later, and a double seems unlikely. So all of the well-known distance running stars are entered, but it's possible that all of them with scratch.
Of the remainder, your best bets are 5000 runners with 1500 meter closing speed: Katie Mackey (Brooks), Marielle Hall (Nike), and Nicole Tully (Hoka One One/NYAC). Abbey D'Agostino (New Balance) has struggled with injury over the last two years but is rounding into form and could be a contender.
Men's 5000 meters
Begins at 10:45am PT / 1:45pm ET
Favorites: Galen Rupp (Nike Oregon Project), Bernard Lagat (Nike), Ben True(Saucony)
Ben Franklin once said, "In this world nothing can be said to be certain except death, taxes, and Bernard Lagat making the US team". No, he really did. That's because his worst result at a US championship since transferring allegiance in 2006 is a second-place in the 5000 at the 2012 Olympic Trials. (In 2009, with a Worlds wild card entry, he only raced a single round of the 800.) He's been a US champion in one event or another for six out of the eight years he's been eligible to compete in the meet.
Even more important when handicapping this race is knowing that Rupp has beaten Lagat a grand total of twice in his entire life. Once was at the Prefontaine Classic a month ago, and the other was that 2012 race. Rupp near the peak of his powers and Lagat is showing signs of age, but a kicker's race is still not a situation that Rupp wants.
The third man in the conversation is True, the only American man to ever win a Diamond League 5000 meter race. By the way, this is how incredibly stupid the IAAF's marks-based qualifying system is: True is tied for third in the Diamond League standings but doesn't yet have a qualifying time.
Of everyone else, your best bets are Ryan Hill (Nike/Bowerman TC) and Eric Jenkins (Oregon), but they're extreme long shots unless one of the above scratches out.
Women's pole vault
Begins at noon PT / 3:00pm ET
Favorites: Jenn Suhr (adidas), Demi Payne (Stephen F. Austin), Sandi Morris (Arkansas)
Suhr, who holds the world indoor record, has struggled with injury but she's so good that she has to be considered a threat if she can get down the runway. Collegians Payne and Morris just engaged in a clash of titans at the NCAAs two weeks ago and are significantly better than any pro besides Suhr. This is the pole vault, though, where if even a little thing is off it makes a huge difference, and Mary Saxer (Nike/New York AC) is the best of the rest.
Women's high jump
Begins at 12:05pm PT / 3:05pm ET
Favorites: Chaunte Lowe (Nike), Amy Acuff (unattached)
Lowe and Acuff are the favorites by default. No American has yet achieved the Worlds qualifying standard of 1.94 meters (6′ 4¼"). Lowe is still working on regaining form after having a baby two years ago, and Acuff, who turns 40 next month, came out of retirement to build up towards trying for a sixth (!) Olympic team next year.
Men's triple jump
Begins at 12:10pm PT / 3:10pm ET
Favorites: Will Claye (Nike), Marquis Dendy (Florida)
Christian Taylor (Nike) has a Worlds wild card entry and is sitting out this competition. Claye is one of the world's three or four best jumpers, but NCAA champ Dendy is rapidly approaching the same status. The gulf between them and everyone else is huge—no other American has yet achieved the Worlds qualifying mark of 16.90m (55′ 5½")—and I see Omar Craddock (Jump Corps) and Donald Scott (Eastern Michigan) as the best of the rest.
Men's shot put
Begins at 12:20pm PT / 3:20pm ET
Favorites: Joe Kovacs (Nike), Reese Hoffa (Nike/NYAC), Ryan Whiting (Nike), Christian Cantwell (Nike)
Hoffa has a Worlds wild-card entry, so he's on the US team regardless of the outcome, and there will be three more. Kovacs is slowly becoming more consistent and basically can't be beaten if he gets a big throw. Whiting and Cantwell are experienced international competitors. Jordan Clarke (unattached) an outsider with a chance of making the US team.
Women's 400 hurdles
Begins at 1:03pm PT / 4:03pm ET
Favorites: Shamier Little (Texas A&M), Georganne Moline (Nike), Tiffany Williams (unattached)
Little won the NCAA title in dramatic fashion, running down Kentucky's Keni Harrison from behind, and is the world's fastest in 2015. (Harrison opted for the 100 hurdles here.) Moline's and Williams' semifinal runs put them fourth and fifth on the world list. Cassandra Tate (adidas) ran a PR in the semis but will probably have to do it again today to get into the top three.
Women's 800 meters
Begins at 1:48pm PT / 4:48pm ET
Favorites: Ajee Wilson (adidas/Juventus TC), Brenda Martinez (New Balance/Big Bear TC)
Wilson has maturity and racing skill beyond her 21 years, which makes her a heavy favorite to win despite the tremendous depth of competition. Martinez is no slouch, with a Worlds bronze and two Diamond League wins in her career. After these two it's wide open in part because the 800 is inherently unpredictable, but also because there is no shortage of talent here. Molly Beckwith-Ludlow (Saucony) and Maggie Vessey (unattached) are running great this spring, and Chanelle Price (Nike) and Alysia Montao (Asics/NYAC) have won international medals in recent years. But the truth is that anyone who got into this final has a chance.
Men's 800 meters
Begins at 1:57pm PT / 4:57pm ET
Favorites: Duane Solomon (Saucony), Nick Symmonds (Brooks Beasts), Erik Sowinski (Nike)
This was the year this event was figured to change dramatically, but we're looking at the usual suspects for the top three as Solomon and Symmonds are rounding into form at just the right time. Cas Loxsom (Brooks Beasts) has a pretty good shot at it as well. My sleeper pick is Clayton Murphy (Akron), a guy without spectacular times to his credit but who knows how to race.
Men's steeplechase
Begins at 2:06pm PT / 5:06pm ET
Favorite: Evan Jager (Nike/Bowerman TC)
Jager is the strongest favorite in the entire meet–he's the current world leader at 1500 meters, which isn't even his best event. Donn Cabral (Nike) and Dan Huling (Nike) are probably the best of the rest, but Stanley Kebenei (Arkansas) and Cory Leslie (Nike) are legitimate contenders.
Men's 200 meters
Begins at 2:22pm PT / 5:22pm ET
Favorite: Justin Gatlin (Nike)
I think it's time for Gatlin to embrace his villainy and go full heel in the style of Triple H or "Rowdy" Roddy Piper. This will clearly be a stompdown on the road to Wrestlemania the World Championships. As for who puts up the best fight, I'm looking towards Dedric Dukes (Florida) and Isiah Young (Nike). An outsider is Remontay McClain (Nike), who apparently picked up sponsorship after his surprise fifth-place finish in the 100.
Women's 200 meters
Begins at 2:31pm PT / 5:31pm ET
Favorites: Tori Bowie (adidas), Dezerea Bryant (Kentucky), Jenna Prandini (Oregon)
Whether or not Bowie is the world's best all-around sprinter is open for debate, but there's no doubt she's the best in the US. She's undefeated against Americans this year and it appear it will stay that way, based both on her dominant win in the 200 meters at the New York Diamond League meet and the absence of Allyson Felix (who has a Worlds wild card entry in this event).
Bryant and Prandini battled to the line at the NCAAs two weeks ago, but it would be foolish to ignore Jeneba Tarmoh (Nike).
Women's 1500 meters
Begins at 2:40pm PT / 5:40pm ET
Favorites: Jenny Simpson (New Balance), Shannon Rowbury (Nike Oregon Project)
One of the best rivalries in all of track and field is right here, between Simpson and Rowbury. After that it's hard to say what will happen, although Sarah Brown (New Balance) and Treniere Moser (Nike Oregon Project) appear the best of the rest.
Men's 100 hurdles
Begins at 2:52pm PT / 5:52pm ET
Favorites: David Oliver (Nike), Aries Merritt (Nike), Aleec Harris (adidas)
The meet ends with the high hurdles, which is always one of the best races. Oliver has a wild card entry into the Worlds, which means an additional three athletes will make the US team. Harris was undefeated through the indoor season and the early part of the outdoor season but has cooled off a bit. Merritt, the Olympic champion and world record holder, is getting back into form after several injury-plagued years. The next spot is wide open, with Jason Richardson (adidas) and Jeff Porter (Nike) figured as the top contenders.