No Comments
The Monday Morning Run: 15 Thoughts from the Weekend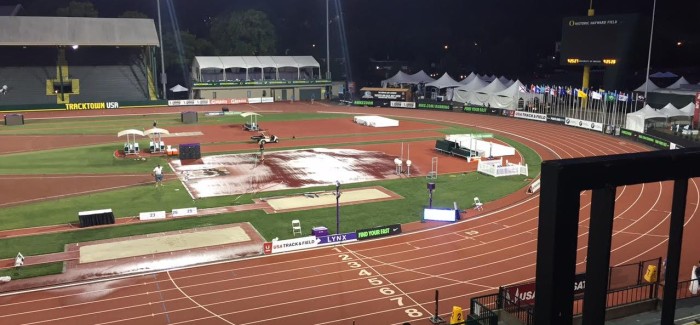 Pat Price | On 29, Jun 2015
It was another exciting weekend at Historic Hayward Field. I was in attendance, so Kevin gets the day off and will return next week. Below, I'll tell the story in a series of tweets from the mixed zone, but here are "15 thoughts from the weekend's action in Eugene"
Nick Symmonds can still win. After bouncing back from a tough year, he delivered the goods by taking top honors in the 800. Then he hosted a great Run Gum party at Hop Valley Brewing. He never stops. Best interview in Track as well.
David Oliver is warming up. 3 solid rounds, concluding in a wind legal 13.04, has to have him thinking gold.
Alysia Montano is back too, with familiar faces, Brenda Martinez and shoeless Ajee Wilson (see below) joining her in Beijing. I predict medal(s).
Robby Andrews gambled on the 1500, and won. Well, he got second, but he's on the Beijing team. Maybe the fastest last 100 in an 800 ever? Maybe not, but he was flying. And "(Andrew) Wheating got Wheating-ed" (his own phrasing of the race)
Matt Centrowitz looks ready for anyone in Beijing. Swag levels at all time high as well.
The Women's 1500 team looks quite different. Sure, Jenny Simpson and Shannon Rowbury made it, but Kerri Gallagher and Lauren Johnson? New faces are great for the sport.
The Women's 5000 was absolutely incredible. 10k qualifiers, Shalane Flanagan and Emily Infeld made the race, then Nicole Tully, Marielle Hall, and Abbey D'Agostino slammed the door. It took 15:06.59 to qualify. Fast stuff.
Ryan Hill's ascent continues. Made the World team in 2013, won the indoor 2 mile title this winter, and now takes the US 5000 title, pulling Ben True along in the process.
Despite skepticism from fans and press, Justlin Gatlin's American competitors seem to appreciate what he is doing. Nothing but respect from his sprinting peers this weekend.
Tarmohgeddon now a thing of the past. Jeneba Tarmoh narrowly missed the 100 team again, but rallied and made the World team at 200. She's also having an excellent Diamond League season.
The Steeples were fast. Both American Men and Women continue to improve in the event, sending their strongest squads ever to Beijing with medal potential for Emma Coburn and Evan Jager.
Drew Hunter is the real deal. Beat sub 4 miler, Grant Fisher, in the Brooks 2 mile last week, and does so again in the 1500 Junior final, narrowly losing to Oregon's Blake Haney, who ran 52.9 for the last 400. Hunter has another year of high school and is officially on sub 4 watch for next year.
Bowerman Track Club had a very good weekend, and added Steeple qualifer and NCAA champ, Colleen Quigley, and former NCAA 1500 champ Shelby Houlihan.
Carl Stones may not have won the Men's Steeple, but he did represent Jacuzzi Boys Athletic Club.
The Alberto Salazar vs. Past Athletes/Coaches/Court of public opinion situation isn't going away anytime soon.
Seen and heard over the weekend:
"I still have unfinished work from Beijing in '08" @PrinceSpearmon #usatfoutdoors pic.twitter.com/WWaDnvYTzX

— Pat Price (@WritingAboutRun) June 27, 2015
Look how far back Robby Andrews was with less than 100m to go. #USAoutdoors pic.twitter.com/ILMzT82cZu — Kevin Liao (@RunLiao) June 27, 2015
"With 200 to go, I thought I missed the boat. I saw my dad at 150 and he said 'Don't Wait, don't wait!" @RA_Andrews pic.twitter.com/lH9lZMIecq

— Pat Price (@WritingAboutRun) June 27, 2015
"I made a mistake against guys that are gold medal athletes, and I paid for it" @AndrewWheating #usatfoutdoors pic.twitter.com/Ig9ExVVJkw — Pat Price (@WritingAboutRun) June 27, 2015
"I was a little nervous, because I was very emotional after NCAA's" @steeple_squigs #usatfoutdoors pic.twitter.com/stZN1o9b0b

— Pat Price (@WritingAboutRun) June 27, 2015
A disappointed @lolojones walks the mixed zone #usatfoutdoors pic.twitter.com/sc4e4L9KfM — Pat Price (@WritingAboutRun) June 27, 2015
Suggestion for @usatf -Athletes who deliberately skip media mixed zone at #USATFOutdoors after their events get no prize money #PartOfTheJob

— David Monti (@d9monti) June 28, 2015
"I thought everything was going as planned." @benfblankenship after yesterday's 1500 disappointment #usatfoutdoors pic.twitter.com/zLbEMMEtln — Pat Price (@WritingAboutRun) June 28, 2015
"Winning wasn't good enough, I wanted to dominate." @MattCentrowitz on his hard move from 600 out #usatfoutdoors pic.twitter.com/khxmYcQQJl

— Pat Price (@WritingAboutRun) June 27, 2015
"I'm a gamer. I love to go and compete, and that's what I did" @DHarp100mH on strong comp in 100h #USATFoutdoors pic.twitter.com/WpdEAtTv3C — Pat Price (@WritingAboutRun) June 27, 2015
"I couldn't tell he (Lagat) was 40 until today, and Rupp had a 10k in his legs" @RyanHillNCState #usatfoutdoors pic.twitter.com/UZls45xFrV

— Pat Price (@WritingAboutRun) June 28, 2015
"I wanted to do it for my kids. I'll look at my Visa and know what could have been." An emotional @Lagat1500 post 5k pic.twitter.com/gqpUh9RoxM — Pat Price (@WritingAboutRun) June 28, 2015
"With a few laps to go, I got a little nervous. But I wasn't not making this team" -Marielle Hall #usatfoutdoors pic.twitter.com/qWojqaYTAo

— Pat Price (@WritingAboutRun) June 28, 2015
"NCAA's are wonderful, but this doesn't compare" @abbey_dags #usatfoutdoors pic.twitter.com/QmVgmG5xpX — Pat Price (@WritingAboutRun) June 28, 2015
"The 10k was an honest pace, but that's no excuse (for not winning today)" –@G_Rupp pic.twitter.com/vWUi9FdILG

— Pat Price (@WritingAboutRun) June 28, 2015
"I didn't know I'd be ready this soon. I'm still breastfeeding." @AlysiaMontano on the 800 win #usatfoutdoors pic.twitter.com/x8Lv7SXola — Pat Price (@WritingAboutRun) June 28, 2015
"I didnt have time to think. I wiggled it off and kept moving" @AjeeW on losing a shoe in the 800 #usatfoutdoors pic.twitter.com/k5E42aBbUh

— Pat Price (@WritingAboutRun) June 28, 2015
"Last year I was watching this meet from my couch and was contemplating retirement" @NickSymmonds #usatfoutdoors pic.twitter.com/fxCVyZdhmn — Pat Price (@WritingAboutRun) June 28, 2015
"It's been a great year to have a breakout" @cazzylox #usatfoutdoors pic.twitter.com/2WPMR1pLsV

— Pat Price (@WritingAboutRun) June 28, 2015
"The whole plan was to break the field. From 600-700, I felt my mechanics get away" @Dbang800 #usatfoutdoors pic.twitter.com/4T3LzMcm4c — Pat Price (@WritingAboutRun) June 28, 2015
"Anytime you go out as slow as we did, you never know what is going to happen" @ShannonRowbury #usatfoutdoors pic.twitter.com/YHlvziKoWN

— Pat Price (@WritingAboutRun) June 28, 2015
"I'm as fit as I've ever been this time of year. My priority is to win a medal in Beijing" @trackjenny #usatfoutdoors pic.twitter.com/1gAyDhWRRg — Pat Price (@WritingAboutRun) June 28, 2015
"Took a tumble out there & the officials helped me up. Now the standard chase begins" @JohnsonRunning #USATFoutdoors pic.twitter.com/NCMhVMOXyQ

— Pat Price (@WritingAboutRun) June 28, 2015
"I didn't know I'd get here at the beginning of the season, my PR is from prelims on Friday" @kgall3 #usatfoutdoors pic.twitter.com/Geh5USIkUv — Pat Price (@WritingAboutRun) June 28, 2015
"Donn is super tough, as is @DanielHuling, who I train with everyday" @EvanJager on U.S. Steeple team #usatfoutdoors pic.twitter.com/iltwP7l8QT

— Pat Price (@WritingAboutRun) June 28, 2015
"I think the 100 is my best chance for gold, but only because it comes before the 200 (in Beijing)" @justingatlin pic.twitter.com/tEhatZhg7c — Pat Price (@WritingAboutRun) June 28, 2015