No Comments
FIELD Rankings #1: Jumps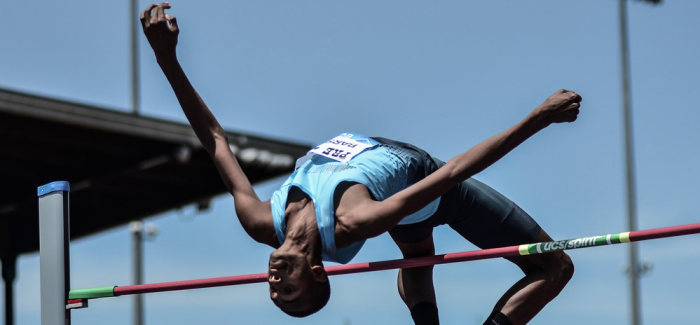 Jesse Squire | On 02, Jul 2015
Kevin Sully periodically publishes the SPEED Rankings, a power ranking of sorts for the running events. This is the inaugural edition of the FIELD Rankings. These rankings are unscientific, subjective, and most likely inaccurate. They are based on my predicted finish order if the World Championships were held right now.
The Diamond League resumes on Saturday in Paris, and athletes in red are on the entry lists.
Men's High Jump
1. Mutaz Essa Barshim (QAT)
2. Zhang Guowei (CHN)
3. Bohdan Bondarenko (UKR)
4. Erik Kynard (USA)
5. Marco Fassinotti (ITA)
Barshim faltered at the last Diamond League meet, the Bislett Games in Oslo, but other than that has been untouchable. He has three meets over 2.40 meters (7′ 10½") while no one else has jumped higher than 2.38 (7′ 9¾"). Bondarenko, the yin to Barshim's yang, will miss Saturday's Diamond League meet in Paris with injury, and this year just hasn't gone as well as the last two. Bondarenko seemingly came out of nowhere in 2013 to challenge the world record, but "nowhere" was six previous seasons of nearly constant injury.
Zhang won the Bislett Games over Barshim and backs it up with a second and a third on the Diamond League circuit. He's on a roll right now with clearances of 2.34, 2.38 and 2.36 in his last three meets.
Kynard had a truly awful start to his outdoor season, but then got things together over his next three meets. He looked awesome at the USATF Championships last weekend—he tied his PR (2.37) and had some very close attempts at the American Record (2.41)–and will get to test himself against Barshim on Saturday. Fassinotti hasn't won outdoors yet but has been consistent. You would expect to see Canada's Derek Drouin in the top five but as of yet he has struggled to recreate his form of the last two years.
Men's Pole Vault
1. Renaud Lavillenie (FRA)
2. Shawn Barber (CAN)
3. Sam Kendricks (USA)
4. Raphael Holzdeppe (GER)
5. Piotr Lisek (POL)
Other than a hiccup at the Drake Relays, Lavillenie has been untouchable. Barber and Kendricks tied for that win over Lavillenie, and Barber has more 5.90+ clearances this year (4) than anyone but Lavillenie has over the last two years. Holzdeppe is rounding back into form after injury problems. Lisek is consistent but has no major wins.
Men's Long Jump
1. Marquis Dendy (USA)
2. Jeff Henderson (USA)
3. Greg Rutherford (GBR)
4. Micheal Hartfield (USA)
5. Aleksandr Menkov (RUS)
Dendy started both his indoor and outdoor seasons with a loss, but then got better and better with each meet. His big wind-aided 8.68 meter (28′ 5¾") jump at the USA Championships was the world's longest in the last five years. In the process he beat Henderson, who has just one win on the season despite jumping 27'+ in every meet. Rutherford has two wins on the Diamond League circuit, with Hartfield runner-up both times. Menkov won the other Diamond League meet, the season opener in Shanghai.
Men's triple jump
1. Pedro Pablo Pichardo (CUB)
2. Christian Taylor (USA)
3. Will Claye (USA)
4. Omar Craddock (USA)
5. Marquis Dendy (USA)
Ignoring wind-aided marks, there have been a grand total of 24 triple jumps in history that have gone 17.90 meters (58′ 8¾") or further, and Pichardo has produced four of them in just the first half of 2015. In fact, the only meet where Pichardo didn't go that far was in New York, in nasty conditions with a big headwind. He is my early pick for Athlete of the Year.
After that, it's a Florida Gator reunion party. Taylor competed in the long jump at the USATF Championships since he has a World Championships bye in this event. He has lost to none but Pichardo and has his own 18 meter jump, by far the furthest anyone has ever jumped and been beaten. Craddock beat Claye at the USATF Championships, but Claye is a proven international competitor and has put together a better season so far. Dendy is a dangerous jumper and capable of huge marks, but I still think that bronze is the limit of his abilities—for now.
Women's high jump
1. Ruth Beitia (ESP)
2. Maria Kuchina (RUS)
3. Kamila Licwinko (POL)
4. Blanka Vlasic (CRO)
5. Airine Palsyte (LTU)
This event is about as clear as mud. That's a good thing—it's not terribly interesting to watch an event when the winner seems predetermined—but it makes it hard to rank.
In the women's high jump, 2.00 meters (6′ 6¾") is the mark of distinction, and only two women have gone that high in 2015. Beitia is the only one to do it outdoors, and she's riding a two-meet win streak on the Diamond League but was relegated to second at the European Team Championships two weeks ago.
Kuchina won that meet plus the European Indoor Championships and has a pair of 1.99 clearances to her credit. Licwinko has three 2.00+ jumps, but all of them were months ago during the indoor season, and she has just one outdoor win, the Birmingham stop on the Diamond League. She certainly has the potential to be World champion, but isn't jumping like it right now.
Vlasic is a bit of a question mark. She's jumped just twice, producing a pair of 1.97 runner-up finishes in Diamond League meets. In her fifteen years at the world-class level, only once has she competed this little at this point in the season (in 2005, when injured). If she's just being conservative with her efforts, then she will almost assuredly improve over the rest of the summer.
Palsyte had a very good indoor season and won the Diamond League opener in Doha, and it's been all crap for her since then—eighth and ninth in the next two DL meets.
Women's pole vault
1. Fabiana Murer (BRA)
2. Jenn Suhr (USA)
3. Nikoleta Kiriakopoulou (GRE)
4. Anzhelika Sidorova (RUS)
5. DemiSandi PayneMorris (USA)
Murer had a mixed bag of an indoor season—one big win plus four very average results—but outdoors she's the tops. She has four wins in five meets, plus a pair of 4.80+ (15′ 9″+) jumps.
Suhr is rapidly closing the gap. Injuries popped up indoors—who could forget the tearful interview she gave when withdrawing from the US championships—but things look good now. She jumped 4.81 (15′ 9¼") at a two-woman meet in her hometown, then finished third at the adidas Grand Prix and won the US outdoor championships in dominating fashion with 4.82 (15′ 9¾").
Kiriakopoulou has also cleared 4.80 twice this year and has three wins in five outdoor meets. Sidorova was the European indoor champion but has just a single point in the Diamond race. Collegians Morris and Payne are so closely matched that I combined them into a single entity for fifth.
Women's long jump
1. Tianna Bartoletta (USA)
2. Brittney Reese (USA)
3. Christabel Nettey (CAN)
4. Darya Klishina (RUS)
5. Ivana Spanovic (SRB)
Bartoletta finally got over the hump and beat Reese at a US Championships. Five times in a row she lost to "The Beast" at the nationals, and last year she came so close. Now Bartoletta beat her at one championship, but beating her at the Worlds is a different thing altogether. Reese has seven straight Olympic/World gold medals, indoors and out, dating back to 2009. On the other hand, while Bartoletta has only beaten Reese five times ever, those five wins are from their last five head-to-head meetings.
Nettey has come up with some big jumps, including the seven longest in Canadian history, and at the adidas Grand Prix she dealt Bartoletta her lone loss of the year. Canada has never won an Olympic or World medal in the women's long jump.
Klishina has hit her stride in the last two meets, the Rome Diamond League and European Team Championships, with wins and good distances. Spanovic was probably the best jumper of the indoor season and is off to a late start outdoors.
Women's triple jump
1. Catarina Ibarguen (COL)
2. Yekaterina Koneva (RUS)
3. Gabriela Petrova (BUL)
4. Olha Saladukha (UKR)
5. Hanna Knyazheva-Minenko (ISR)
Ibarguen has 25 straight triple jump victories, dating back to 2012, and is one of the safest bets in track and field right now. She had to go to her last jump at the Prefontaine Classic to beat Koneva, who is solidly the best of the rest despite a fourth-place finish at the Bislett Games. Petrova is the only other athlete currently jumping distances in the same zip code as the two above.
Saladukha is sitting on a second and two thirds through the first three Diamond League meets. Knyazheva-Minenko has put up some decent distances but, aside from a bronze at the European Indoor Championships, hasn't shown much competitive mettle.