No Comments
Day 2 in Eugene: The Heat is On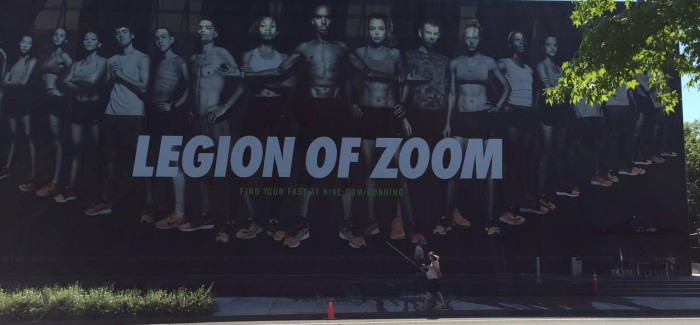 Pat Price | On 27, Jun 2015
As we go into Saturday in Eugene, it looks like it's going to be another hot one. Friday was warmer than Thursday, and the 2015 Outdoor Championships are certainly feeling like a 2013/Des Moines redux. What were good conditions for sprinters, looked to be taking their toll on the steeplers. Sports Illustrated's Chris Chavez and I kicked off our day by doing a podcast with ESPN's Jill Montgomery. She shared great insight on the recent NCAA meet, the magic of Eugene, broadcasting Track & Field on television, and even Caitlyn Jenner's potential return to the sport. Take a listen here via iTunes, or click the YouTube link below to jump right in to her thoughts on Jenner.
On the track, the 100's were very fast. Yes, there was some wind, but the Women's 100 final saw six competitors dip under 11 seconds, which looks to be Team USA's best relay pool ever. The men saw Tyson Gay return to the top of the podium (and to Nike), but that wasn't the story. This weekend was the coming out party for Trayvon Bromell. He's the first teenager to make a World team in the 100, and ran consistently strong, yet windy, times in the rounds before dropping a wind legal 9.96 in the final. The international media was captivated by what looks to be the next American sprinting star, and for good reason. He, Gay, and Michael Rodgers will join automatic qualifier, Justin Gatlin, in Beijing.
The rest of the day was filled with preliminary heats, which showed the continued depth of American middle distance running. To make the Women's 800 final, you had to run at least 2:00.76. Indoor 1000 meter champ, Lauren Wallace, ran a personal best of 2:00.48, but was left out of the final, after finishing fifth in her heat to Chanelle Price, Maggie Vessey, Alysia Montano, and Ajee' Wilson. Talk about competition! This final's gonna cook on Sunday.
The Men's 800 was equally brutal, with breakout start, Borian Berian, narrowly missing the final, just week's after running 1:43. Cas Loxsom seems to have gotten the 800 figured out, and dropped a nice 1:44.92 to win his heat in the process. Veterans Duane Solomon and Nick Symmonds look to be rounding into form at the right time, and Symmonds had some choice words about the Alberto Salazar/Nike Oregon Project situation.
All the favorites made it through to the Men's Steeplechase final, with the always consistent Donnie Cowart taking a tumble with a few laps to go, before recovering and taking a time qualifier. Evan Jager looked in top form and said he doesn't plan on taking it easy in Sunday's final.
The Women's 1500 had two sit and kick heats, and one faster section, where all three time qualifiers came out of, including 2013 World team qualifier, Cory McGee, who was the last into the final on time. After a tough Winter/Spring, Mary Cain looked to be returning to form. Keep in mind, four Women will qualify for the World team here, as Jenny Simpson has the automatic qualifier. Simpson makes it look easy.
Off the track, the usual spots were busy with track and field fans. Pre's Rock had fresh pairs of shoes left behind, Pre's Trail was filled with this weekends competitors, and my friend Tim Jeffreys and I ran into some fast teens at Track Town Pizza. The place was packed, and we had a big booth, so we offered to share some space with part of the bright future of American distance running (see below). Great people that have exciting careers in front of them. Really enjoyed their company!
Seen and heard Friday in Eugene:
Biggest track ad of all time? #USATFoutdoors pic.twitter.com/dPKMRaUxwS

— Pat Price (@WritingAboutRun) June 26, 2015
"I don't think it's a lock (the win). You have to keep your game face on" @EvanJager #USATFoutdoors pic.twitter.com/U9OjOAMRmI — Pat Price (@WritingAboutRun) June 27, 2015
"I think it will take an 8:25-26 effort to make team Sunday in these conditions." @DonnCabral #USATFoutdoors pic.twitter.com/cReLWdwsN7

— Pat Price (@WritingAboutRun) June 27, 2015
"My concern right now is making the top 3; whatever time flashes up." @DutchFilmmaker pic.twitter.com/6VmAPHG1Cd — Pat Price (@WritingAboutRun) June 27, 2015
"I just wanted to make it to the final. Didn't care about time. Didn't care about place. Well.. maybe place" @AdiVerb pic.twitter.com/4GxtnoH8U6

— Pat Price (@WritingAboutRun) June 27, 2015
.@lashawnmerritt treats the semis mixed zone like open mic night at the haha hole #USATFoutdoors pic.twitter.com/a4p0399scF — Pat Price (@WritingAboutRun) June 27, 2015
"It sucks not making the team, and not making the final." An upbeat @Jwariner despite #USATFoutdoors pic.twitter.com/HqNVzbDbux

— Pat Price (@WritingAboutRun) June 27, 2015
No time prediction."Whatever is takes to make the team (Sunday)" @ShaqWalker880 #USATFoutdoors pic.twitter.com/OnLDcelmgQ — Pat Price (@WritingAboutRun) June 27, 2015
"I owe Salazar an apology, unless some better evidence comes out" @NickSymmonds #USATFoutdoors pic.twitter.com/bjyYskn641

— Pat Price (@WritingAboutRun) June 27, 2015
When it's packed at Tracktown Pizza, you make very fast friends. Dinner with @matthewmaton1 @AlexaEfraimson & @tihaje pic.twitter.com/tyzNgzAHRw — Pat Price (@WritingAboutRun) June 27, 2015