No Comments
What2Watch: Friday at the USATF Championships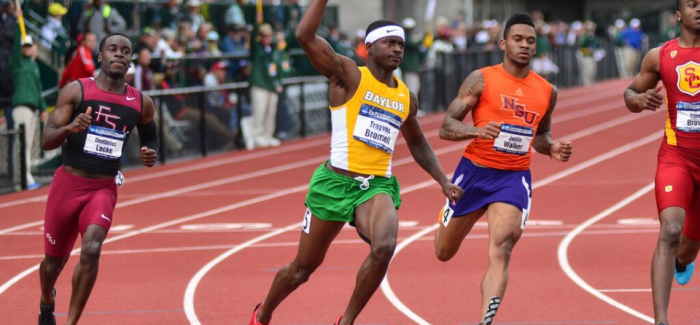 Jesse Squire | On 26, Jun 2015
Will Trayvon Bromell officially become the Next Great American Sprinter today?
This is Day 2 of the USATF Championships at Hayward Field in Eugene, Oregon, and here is your guide to what, why, how, who and when to watch today.
What happened yesterday
Pat Price is our man in Eugene this week and he wrote about last night's action, concentrating on the 10,000 meter races and melee of press attention that Galen Rupp faced. Check it out for his behind-the-scenes view of the meet.
A few additional items:
NCAA long/triple jump champ Marquis Dendy (Florida) won the long jump with a wind-aided 8.68 meters (28′ 5¾"), which makes him the odds-on favorite for Worlds gold. Jeff Henderson (National Athletics Institute) and Mike Hartfield (adidas) took second and third, also with some big jumps, and will round out the US team. NFL wide receiver Marquis Goodwin (Buffalo Bills) was just two inches shy of making the team, and Jarrion Lawson (Arkansas) became the first man since 1996 to jump over 27 feet and finish fifth. In other words, the USA hasn't been this deep in the long jump since the days of Carl Lewis and Mike Powell.
The USA will send three men's hammer throwers to the Worlds for just the fifth time, as Kibwe Johnson (Nike) came through for the win with a Worlds qualifying mark. Second and third were Conor McCullough (USC) and A.G. Kruger (Nike), who both already had qualifiers.
Trayvon Bromell (Baylor) ran shockingly fast in the 100 meters heats: 9.84. That's tied for #10 on the all-time world list. Tyson Gay (unattached) also ran fast–9.85–but with a huge tailwind, and Ryan Bailey (Nike) false-started and is out of the competition.
The men's javelin was won by Sean Furey (Chula Vista Elite) with a big final-attempt throw of 83.08 meters (272′ 7″), which gives him an automatic qualifier to the Worlds. The only other American who has it is Tim Glover (unattached), who finished fourth. Second and third place were Riley Dolezal (Nike) and Sam Crouser (Oregon), who have until August 8 to get a the mark.
A similar situation arose in the men's discus, where champion Jared Schuurmans (National Athletic Institute) has the mark but second and third, Russ Winger (Asics) and Andrew Evans (unattached) do not yet have the mark.
Michelle Carter (Nike/NYAC) won the women's shot put for the third straight year with a big throw of 20.02 meters (65′ 8¼"). Tia Brooks (Nike) was second, and third was a bit of a surprise when Jeneva Stevens (New York AC) threw an outdoor PR.
The stands didn't look all that full yesterday but the announced attendance of 8,762 was very good. It's the second best Thursday total ever at a US Championships (click here for data from 1980 to present).
Today's events
Today's finals are the men's and women's 100 meters, the men's high jump and women's triple jump and javelin, plus semifinals in a range of running events.
What's at stake
For one, it's a shot at a national championship. But the top three* will also make the US team for the World Championships in August. This is also the selection meet for the Pan-American Games (Toronto, July 18-26) and the NACAC Championships (Costa Rica, August 7-9), and since the best athletes tend to skip these other meets then anyone in the top six or so will probably be on a national team of some sort.
*pending the usual qualifying criteria, which is a bit different this year
The USATF Junior Championships are running concurrently with the senior championships and will act as a selection meet for the Pan-American Junior Championships (Edmonton, July 31-August 2).
How to watch
The meet will be broadcast live on NBC Sport Network from 10:00pm to midnight (Eastern time). "All" events from 12:15pm to 10:00pm ET will be webcast at USATF.tv, and field events will be webcast during the TV broadcast (a tacit admission that NBCSN is going to ignore them in their entirety).
Key links
Schedule, start lists and live results
Webcast
Daily Relay A-Z guide to the US Championships: Part 1 – Part 2
House of Run podcast preview
Track and Field News formcharts
Event-by-event
Here's a deeper look at the day's action, taken in chronological order.
Decathlon, day 1
Begins at 12:20pm PT / 3:20pm ET, runs all day
Leaders: Jeremy Taiwo (unattached), Trey Hardee (Nike), Zach Ziemek (Wisconsin)
As defending champion, Ashton Eaton (Nike/Oregon TC) has a bye to the Worlds and will contest some individual events instead. The three above are more than 300 points ahead of the field and appear to all be headed to Beijing for the World Championships. They'll be battling for place, and Hardee is probably the strongest on the second day.
Running event semifinals and heats
Begin at 5:00pm PT / 8:00pm ET
The evening kicks off with semis in the men's and women's 100 meters, and those could be very interesting given the fast times in yesterday's heats. Other semis will be held in the women's 1500, men's steeplechase, men's 400 hurdles, and men's and women's 400 and 800.
Men's high jump
Begins at 5:40pm PT / 8:40pm ET
Favorites: Erik Kynard (Brand Jordan), Jesse Williams (Nike/Oregon TC), Jacorian Duffield (Texas Tech)
Kynard had a rocky start to his outdoor season but has returned to his usual form. If he keeps it, no one else can touch him. Williams is a seasoned pro, and NCAA champ Duffield has been jumping at least as high. Other contenders include Bryan McBride (Arizona State) and Nick Ross (unattached).
Women's triple jump
Begins at 6:00pm PT / 9:00pm ET
Favorite: Keturah Orji (Georgia)
Orji has jumped beyond 14 meters (45′ 11¼"), once wind-aided and once not. She's the only American who has done that this year (and the first in four years to do it without an excessive aiding wind), which makes her a heavy favorite to win her first national title. Due to the lack of depth in this event, she might be the only American going to the Worlds—and she still needs to improve her best mark to 14.20m (46′ 7¼") in order to assure she'll make it.
Women's javelin
Begins at 7:00pm PT / 10:00pm ET
Favorites: Kara Winger (Asics), Brittany Borman (Nike)
Five years ago, Winger (then known as Kara Patterson) broke through on the world level, but then injury struck. She's regained form and is now a legitimate medal contender at the World Championships—and she won't have to go alone, as husband Russ Winger won a team spot in the discus. Borman is the only other American who has achieved the automatic qualifying mark for the Worlds; Ariana Ince (unattached) is the only other American reasonably close.
Women's 100 meters
Begins at 7:30pm PT / 10:30pm ET
Favorites: your guess is as good as mine
We don't yet know who the finalists are—semis will be held earlier in the evening—but even if we did, it still wouldn't make this any more clear. Heading into the meet the favorites were probably Tori Bowie (adidas) and Tianna Bartoletta (Nike). Carmelita Jeter (Nike) ran like crap all year until yesterday's heats, where she ran an eye-opening 10.87, albeit with a big wind at her back (+4.5 m/s). Once you factor in the wildly varying wind conditions among the heats, the "best" runs were recorded by English Gardner (Nike), Jenna Prandini (Oregon), and Jeneba Tarmoh (Nike).
Men's 100 meters
Begins at 7:30pm PT / 10:30pm ET
Favorites: Tyson Gay (unattached), Trayvon Bromell (Baylor), Mike Rodgers (Nike)
Justin Gatlin (Nike) has a bye to the Worlds as last year's Diamond League champion and will contest the 200 instead. The semifinals of this event will tell us a lot about what will happen in the final, but right now the buzz is about Bromell. His 9.84 in yesterday's heats puts him at #10 on the all-time world list. Gay also ran well, recording 9.85, but his heat had a huge tailwind (+4.9 m/s). Two outsiders to watch are Isiah Young (Nike) and Remontay McClain (unattached), both of whom won their heats yesterday.