2 Comments
The New York City Marathon a trial for the Trials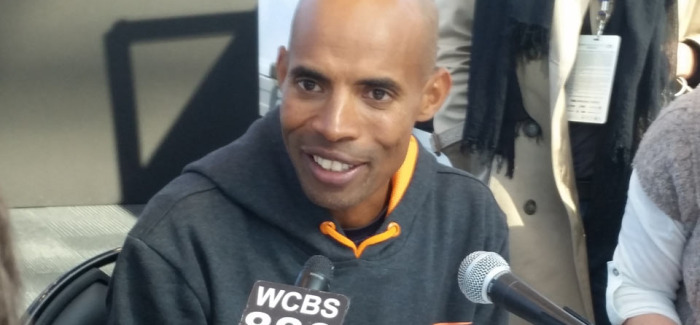 Daily Relay | On 01, Nov 2014
Deep elite fields of American men and women will have their feet planted on the New York City pavement for Sunday's marathon, but you'll have to forgive them if the back of their minds are somewhere in the cloudless skies over Los Angeles, home of the 2016 U.S. Olympic marathon trials set for Feb. 13 of that year.
New York City presents circumstances similar to what runners will face on that February Saturday, namely a non-paced, championship-style race featuring many top American marathoners.
"I kind of work backwards from that date and fill in the whole four years," said 2012 Olympian Desiree Linden, who suffered a femoral stress fracture in her right leg after qualifying for the 2012 Olympics marathon. She was at the start line in London but pulled out early in the race.
"It's no pacers and tough conditions and a tough course," she added. "It's a good place to really practice racing, which obviously the trials are and the Games will be, if I'm lucky enough to make the team."
One of Linden's competitors – both Sunday and for an Olympic team place — is Kara Goucher, the 2007 Worlds 10,000m bronze medalist who is still building back from her own injury, a fractured metatarsal in her right foot. New York will be her first marathon since the injury.
"The big goal is to be ready on February, 13, 2016, to make the Olympic team," said Goucher, who is focused on the "big picture," aiming merely for a 2:28 on Sunday and not at her 2:25:53 mark from 2008, still an American course record.
"'Big picture' is making the team for Rio," she reiterated. "At first I thought, if I make the team for Rio, then I'll be happy. After seeing Deena, I don't feel that way at all anymore."
Deena, of course, is Deena Kastor, the 2004 Olympic marathon bronze medalist who just set the masters world record (69:36) in Philly's Rock 'n' Roll Half nearly seven weeks ago. Her time was more than two minutes faster than Goucher's.
Kastor, who will turn 43 a day after the 2016 trials, isn't looking ahead — "I'm pretty focused on this race right now," she said. But after seriously considering retiring from the marathon following a rough go at 2013 Worlds in Moscow (2:36:12 for ninth place), she is now planning to compete in LA and perhaps even take aim at the masters world marathon record of 2:24:54 somewhere along the way.
Linden, Goucher, Kastor, Shalane Flanagan and Amy Hastings are the biggest names likely to compete for one of the three spots on the women's team, but Linden knows there are plenty of runners closing in on the top Americans.
"Boston was huge for me because I felt like it put me back in the conversation," she said of her 2:23:54, 10th-place performance there. "I do want to keep moving forward instead of looking back, but there's certainly a nice pack that are clipping my heels, and anyone can have a breakthrough at any point. [Annie] Bersagel looks great. [Lauren] Kleppin looks great. Hastings, obviously, had a huge run [2:27:03 for fifth place in Chicago]. Kara's coming around."
Except Hastings, everyone Linden mentioned is competing to beat her Sunday.
"This weekend is very important, and I want to take another opportunity to establish myself as one of the frontrunners for the spots," said Linden. "If you want to make the team, and, hey, we go out in 1:12, are you ready for that? I want it to be outside of the comfort zone of the people who are clipping my heels, so it's a good chance to practice that and see where I'm at."
Norwegian-based Bersagel is excited to get to run against many of the women she'll face at trials.
"I hope I can improve between now and a year and a half," she said, "but it helps to run against the same people you're going to be competing against in 18 months. At the same time, I don't think I'd want to be running against the same group of people every time out."
Like with the women, many of the men who are eyeing a breakthrough for what should be a wide-open trials are in New York.
Ryan Vail is one of those in New York hoping to show he's ready to grab one of the podium places there for the taking. Still, he understands that no one has gone anywhere, though Ryan Hall and Dathan Ritzenhein have battled injuries and Meb Keflezighi will be nearly 41 come trials.
"It's definitely a little up in the air right now, but if you look at every guy that made the team in 2012, there's a very good chance that everyone will be in the race again. Abdi [Abdirahman], as well, is still planning on making it to the trials."
Vail was the top American man in New York last November (2:13:23 for 13th), a feat he's trying to duplicate Sunday.
"Obviously, I think it's going to be tougher this year than it was last year to do that, but I think that's got to be my goal If I want to give myself a shot at the Olympic trials."
What's it going to take to make the team?
"I think you have to look at 2012 and say, if you're not in 2:09 shape, you probably don't have a chance — Houston was a fast course. If you're not a 2:09 guy on the day, I think you're going to have a hard time.
"I'm going to have two more marathons before the Olympic trials," Vail continued. "So if I can take another step forward like I have for each of my marathons, I think I'll be right in that ballpark."
Nick Arciniaga knows that the 2016 Olympic team is likely his best shot to make one, and his performance Sunday will – he hopes – give him the confidence to do that.
"Doing well at this race kind of solidifies my accomplishments going into 2016 trials. If I can take down Meb, if I can beat Ryan [Vail] again, I can give myself the confidence I need to be out there on race day in LA and beat them on that day again."
He, too, is trying to get in 2:09 shape.
"Everything I'm going to do is to prepare myself to be able to run a 2:09 at the trials. If I can run a 2:09 at the trials, I'll make the team — most likely," said Arciniaga. "Being in a championship-style race is where I can teach myself how to outlast everybody again and again."
The top two finishers from the 2012 trials – Keflezighi and Hall – are both in New York this weekend, though only the former is racing. Keflezighi continues to be the premier tactical marathoner in America, and good tactics – along with supreme fitness – are what it will take to make the team, but his credentials won't matter if he's not ready on that day.
"The United States have it fair and square, just like racing," he said. "Racing is — there's no judgment; you've got to earn it. I didn't go to Beijing because I didn't earn it. So come February 13, 2016, a lot of people are aiming for that goal. … It's one of my goals to do that.
"Hopefully, Sunday will be a good indicator of that; if not, just get ready for 2016."
Hall was at the marathon expo, meeting fans as he ramps up his training for a pair of November races coming off yet another injury setback this summer. Like Keflezighi, Hall has made two teams at the marathon distance and is focused on getting his body ready to qualify for a third.
"Certainly, when I'm out there training, that's what's in the back of my mind is going to trials and needing to be 100 percent ready to go — looking to build momentum with every marathon," said Hall, who plans to run one this spring.
As for who his primary competitors will be in 2016?
"In marathon, it's very tough to tell who's going to be on. We do have a lot of young guys moving up to the marathon, debuting, running some pretty solid times. There are a lot of wild cards."
One of those debutants is Luke Puskedra, the Alberto Salazar-coached athlete who, at 24, is perhaps the youngest of the runners with a realistic shot of contending at the trials. He believes New York is the race that will best equip him to make the team.
"That was also one of the reasons why we picked New York, because it's more of a race," he said. "To get prepared for [trials] — there's not going to be pacers, there's not going to be, 'OK, we need to hit this split.'"
To make a team, it's about being ready to run the best race on a pre-determined day. That day is set and has been for a while. Who can prepare properly? Whose body will be ready? A lot of the runners are still learning about themselves, says Toni Reavis, running broadcaster, blogger and storyteller.
"It's one thing to get fit, it's another thing to see the red-letter day on the calendar months and months and months out and then try to back-time your fitness into that one particular day. … There's an art to peaking, and it's who gets it done right."
"These guys are all experimenting now," Reavis added. "Ryan Vail never tried altitude before. It's a perfect time to experiment. Now they're going to take the lessons of these last couple of seasons and then put them into play and establish these patterns. And then we'll see."
The New York City Marathon is the next step for many in getting prepared for a big run in 15 months, but Reavis also thinks March's LA Marathon could serve as a test run for many contenders, even though the courses will be different.
"I think they'll go to LA to fly into LAX, go to the hotels, just experience the whole LA vibe — just to put as much experience behind you as you can before you then put the bib on for real."
New York and Los Angeles are rival cities with a nation separating them. The Big Apple hosts the world's biggest marathon – 50,000 strong — and it's the one that will consume the thoughts of many top Americans the next two days. After Sunday, though, thoughts will shift west to a much smaller affair. The top Americans running this Sunday expect this New York course, competition and championship-style race to prepare them to achieve glory in that faraway setting on that still faraway date.