No Comments
The Monday Morning Run: Willis and Wilson star, Euro Champs preview and Bolt's night out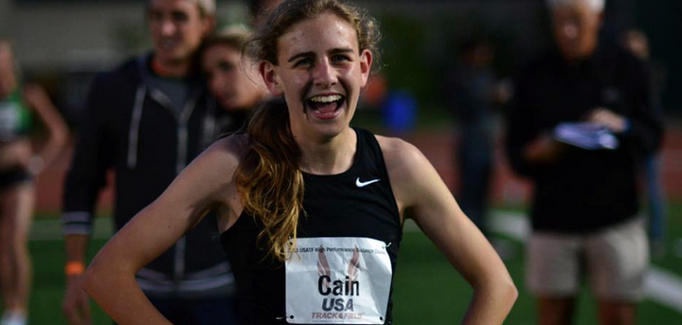 Kevin Sully | On 11, Aug 2014
It turns out you miss a lot of track and field if you don't have the internet. I discovered this the last few weeks when a crosstown move left me unable to get online and, as a result, without the ability to watch live streams of the Commonwealth Games, World Junior Championships and any other track meet that was webcast to the farthest corners of the internet.
After a two week hiatus, I'm back–partly to recap what happened when I was away, but also to look ahead to this week's action.
The Medalists
The top three performances of the week
Gold: Nick Willis
Willis organized the Michigan Track Classic meet and then won the featured race of the evening, the men's mile, in 3:53.50. The field Willis assembled also ran well. Seven men broke four minutes, including five Americans who ran under 3:58. Garrett Heath placed second in 3:53.61.
Silver: Ajee Wilson
In the Michigan Track Classic's other race, Wilson won the women's 800 in 2:00.29. At the end of the summer when there is really nothing to write about, I'll roll out my "Wished It Was a Championship Year" team.  Wilson's name will probably be at the top of that list. She's run 1:57 and 1:58 in her two biggest races of the year and looks as if she still hasn't peaked this season. The final Diamond League races with her and Eunice Sum will be very competitive.
Also in Michigan, Charlene Lipsey placed second in 2:01.15. Only one year out of college, add her to the list of American women that are capable of breaking two minutes.
Bronze:Usain Bolt
Usain Bolt had an eventful week in the UK. From winning the gold medal in the Commonwealth Games to……….
Oh my – Usain Bolt Went On An Epic All-Night Bender In London And Ended Up In A Dentist's Surgery http://t.co/u9MUGknQgo

— Chris Nickinson (@chrisnickinson) August 8, 2014
To review this epic seven days, the Daily Relay acquired Usain Bolt's training log for the week of August 2nd- August 8th.  Note: this is not actually Usain Bolt's training log.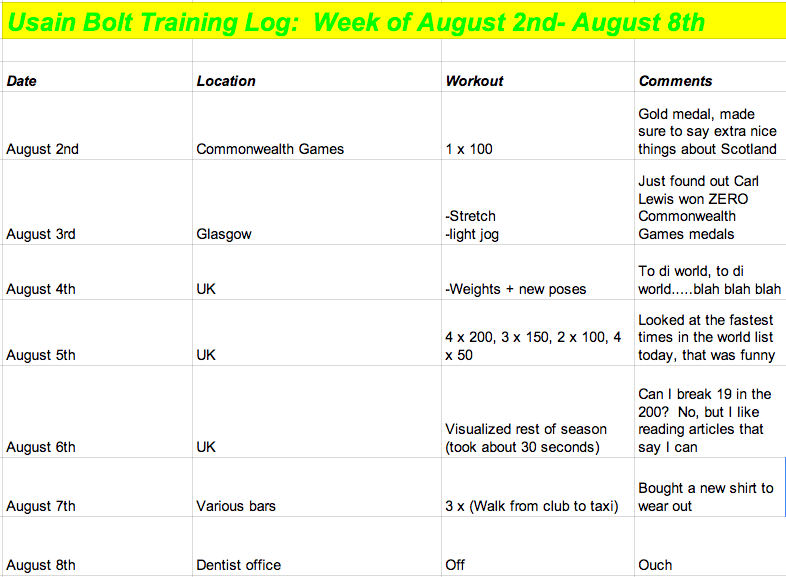 Meanwhile, Justin Gatlin is out of competitors so he is racing drones in practice……
Lingering Questions from World Juniors
-Did the meet move Eugene closer to hosting the 2019 World Championships?
The reported attendance was 51,532 over the six days at Hayward Field. From afar, there didn't appear to be any logistical snafus and the stands were mostly full during the marquee races.
Still, the success of the meet won't do enough for those who want to see the 2019 World Championships in a larger city. Eugene in 2019 will be much like Eugene in 2014–a college town that is passionate about track and field and the only city in the United States with the desire and capability to host a World Championships. Too few hotels…not close enough to a "major market"…too small of a stadium…..etc.
Barcelona and Doha are the other bidders for the championships, and yes, they will have larger stadiums with a greater capacity than Hayward Field. But I don't think a larger stadium is better. Especially in the post-Bolt world of 2019 where there won't be any guaranteed sell-outs. Even with Bolt, the 2011 and 2013 World Championships had large swaths of empty seats for many of the sessions.
Hayward Field's current capacity is near 20,000. There will be pressure for them to dramatically expand the seating if order to win the bid. Instead, I'd like to see the IAAF take a different approach and use the size of Hayward Field as an asset in 2019. With fewer seats available they can raise the prices of tickets, market the intimacy of the venue and look great on television. Major League Soccer tried something similar when they shifted toward building soccer-specific stadiums in the 2000s. The guiding principle being if you can't sell 60,000 tickets, don't play in a stadium that seats 60,000 people.
Track has many stadiums that are "track specific." They may not meet the exact specifications the IAAF wants, but they are able to host Diamond League meets and, most importantly, they showcase the sport in an exciting and dynamic light.
-Should Jamaica be concerned about their medal total?
They earned six total medals in Eugene and didn't qualify anyone into the men's or women's 100-meter finals. The Jamaica Observer cites management issues for the low output. Namely, the federation entered two athletes in the 100 (Jonielle Smith and Michael O'Hara) who had no plans of competing in the 100. Smith was hurt and O'Hara wanted to focus on the 200. No alternates were listed for either athlete so Jamaica was left with just one entrant in the women's and men's 100 meters.
These are type of issues that probably don't happen at the senior level so I doubt we witnessed any sort of sprinting sea change in Eugene.
-Is Mary Cain still the best US mid-distance prospect?
She won gold in Eugene so the obvious answer is yes. The other two parts of the triumvirate, Alexa Efraimson and Elise Cranny, ran the 1,500 where they finished sixth and fourth respectively. The 1,500 field was tougher than the group Cain faced in the 3,000, but it's safe to say that Cain is still a level of both Efraimson and Cranny for the time being.
What will make this trio even more interesting to follow in the years to come is the different paths each will take with their running. Cain started running professionally in high school. Cranny is pursuing a more traditional route and will run collegiately at Stanford next fall. Efraimson still has another year of high school, so we don't know yet where she will run and who will coach her. There are strong indications that she will run professionally, but continue to work with her high school coach. If that does happen, it would mean all three of the phenoms will have slightly different approaches to their post-high school careers. Stay tuned.
-Will US track and field be as dominant in the future?
Aside from the unpredictability of junior success, it's pretty clear that the US is in a position to have the strongest track and field team for the foreseeable future. Here is how Jesse broke it down last week.
Without a doubt, the US had its best World Junior Championships ever. The US team tied its best medal total (21) and number of top 8 finishes (39), and had by far its best point total. In particular, a gold medal sweep of the men's sprinting events–the 100, 200 and 4×100–suggests that the tide may soon turn in the US-Jamaica men's sprinting rivalry. Mary Cain won the 3000 meters, the first US distance running medal (1500 or further) ever at a World Juniors.

On the other hand, the USA was the home team and that provides certain advantages. It's easier on the athletes due to less travel and more familiar foods and surroundings. I don't think it's any accident that three of the four best US team showings were when the meet was held in the USA (2014), in Canada (2010), and in Jamaica (2002), all of which were nearby and English-speaking. So to some extent this high level of performance should have been expected.
Euro Trip
What do you call a track meet without the best sprinters or distance runners? The European Championships.
I'm kidding, I'm kidding, I'd love to make more jokes about the European Championships and how you need a Ph.D. in track and field to known any of the women on the start list of the 3,000 steeplechase. But I'm not going to do that.
Why? Because we are in a track and field desert right now. There were virtually no meets over the weekend. Bolt doesn't race on a beach in Brazil until Thursday and the next Diamond League is more than a week away.
With that being said, here is a lightning preview of the European Championships, which takes place this Tuesday-Sunday in Zurich. The events are presented in no particular order.
M10,000: How much filler is left about Mo Farah at this point?
M1,500: Norway has two Ingebrigstens? The European Championships are really about finding out which elite athletes have a slightly slower brother or sister.
M3,000SC: Mahiedine Mekhissi-Benabbad in a route. How will he treat the mascot after the race? Jamel Chatbi of Italy and Tarik Langat Akdag of Turkey both have personal bests of 8:08. I'm unfamiliar with both of these names.
MHJ-Time to get serious. Conventional wisdom says Bohdan Bondarenko won't be able set the world record in a championship setting. Ivan Ukhov and Andriy Protsenko will push him.
M110H: Pascal Martinot-Lagarde is on fire this summer. The final here will look like a semifinal of a Diamond League meet…. good, but not great.
M100: Team GB enters a solid team. Christophe Lemaitre, Jaysuma Saidy Ndure and Churandy Martina should all make the final. Sub 10 seconds is a possibility.
M200: Lemaitre vs. Adam Gemili. As far as 200s go, this is pretty good.
M400H: No recognizable names–fastest time of the year is Rasmus Magi who is 25th on the world list.
M400: Borleeeeeeees
M5,000: Farah gets back into the good graces of the English fans by going for the double. To do it he will have to beat……pretty much nobody.
M800: Pierre Ambroise Bosse, Andrew Osagie and Lewandowski/Kszczot from Poland.
MShot Put/Discus/Hammer Throw/Javelin: All of them are really good. The European Championships should invite the Americans and rebrand themselves as the Field Event World Championships.
MLong Jump: Chris Tomlinson vs. Greg Rutherford, two Brits who don't like each other. I don't envy the person who has to make the room assignments for the British team this week.
Men's Marathon: Team GB is sending nobody. Bet that will go over well with the BBC commentary team.
MPole Vault: All Renaud Lavillenie needs to do is set a personal best and the world record is his.
MTriple Jump: Idowu is back!
W1,500: Sifan Hassan v. Abeba Aregawi. The best race on the track all week. Gamze Bulut of Turkey is also entered. Depending on how you look at it she is either the rightful gold medal winner from the 1,500 at the London Olympics, or a disgraced silver medalist. It's very complicated.
W100H: Good head-to-head between Cindy Billaud vs. Tiffany Porter, the two best non-American, non-Sally Pearson hurdlers.
W100: Dafne Schippers (the heptathlete who beat Allyson Felix in a 200) and Myriam Soumare of France have both run 11.03 this year.
W200: A nice look at the future of British sprinting. Jodie Williams has the fastest seed time (22.50) and Dina Asher-Smith is coming off a gold medal in the 100 at the World Junior Championships.
W3000SC: Who are these people?
W400H: No Zuzana Hejnova, but Eilidh Child and Denisa Rosolova.
W400: Christine Ohuruogu and nobody else.
W5,000: Hassan again?!?
W800: I hope Sifan Hassan runs all three of the events she is entered in.
WHigh Jump: This one could be dramatic. Blanka Vlasic of Croatia versus the upstart Morgan Lake.
WMarathon: Lots of contenders for who you would normally see 4th-6th in a major marathon. Estonia has entered triplets (Leila, Liina and Lily Luik).
WShot Put: Easy win for Schwanitz of Germany.
W10,000: The women who have the 3 fastest times are 33, 38 and 41 years old. I'd say that isn't a promising sign for the future of European 10,000 meter running.