2 Comments
Monday Morning Run: High jumpers flirt with world record, Blake stumbles, Rudisha wins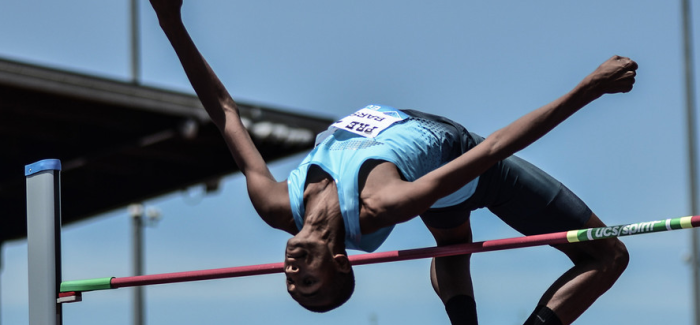 Kevin Sully | On 16, Jun 2014
Photo via TrackTownPhoto
Like the rest of the sport's world, last week was very busy for track and field.  We experienced maximum overload on Saturday when the NCAA Championships and the New York Diamond League overlapped for an hour. Two meets on television at the same time?
For coverage of the NCAA Championships, check out Jesse's thorough recap of the meet. As always, I'll focus on the professionals, which featured two Diamond League meets.
The Medalists
The top three performances of the week….
Gold: Bohdan Bondarenko/Mutaz Essa Barshim
The two engaged in a terrific high jump battle in New York City on Saturday, one the IAAF called the greatest in the history of the event. For the first time two men cleared 7-11 ¼ (2.42 meters) in the same competition. Bondarenko ended up winning on misses, but not after both took several cracks at the world record of 8-0 ¾ (2.46 meters). The world record is on borrowed time. The fun will be in seeing which man will be the first to do it.
Here is a 13 minute video of Bondarenko and Barshim's jumps. The entire clip is worth your time, but it really starts to get going around the four minute mark.
Despite losing, Barshim looked the better of the two. Except for his trouble at 7-8 ½ (2.35) he was phenomenal and cleared 7-11 ¼ with room to spare. He might have had a better chance at the world record if he took fewer jumps at the lower heights. Barshim took eight jumps before attempting 8-0 ¾. Bondarenko was more judicious with his attempts and only jumped four times before the world record height.
One person attempting a world record in a meet is exciting. Having two involved pushes it to another level. The competition is driving the event to a incredibly high level. And not just with the top two. There still is a possibility that the world record is broken this summer by a man other than Bonarenko and Barshim. Ivan Ukhov jumped 7-11 ¾ indoors and Derek Drouin and Alexsey Dmitrik both cleared 7-10 ½ this year.
It was peer through a hole in the fence type of competition.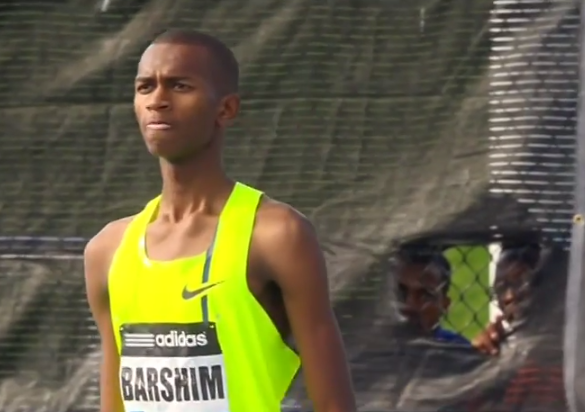 Silver: Tori Bowie
After back-to-back Diamond League wins in Rome and Eugene Bowie still ran like she had something to prove on Saturday. She took another step forward in New York and removed any doubt that she was a one (or two) race wonder.
She won the 100 in 11.07 coming from behind with a strong last 50 meters to catch Jamaican Samantha Henry-Robinson. Last week it looked like Bowie's rise coincided with injuries and absences of the biggest names in sprinting. That is still partially the case (Fraser-Pryce pulled out of the meet with an injury) but the consistency and dominance of Bowie is not an aberration. Right now she is the best female sprinter in the world.
Bronze: David Rudisha
Was David Rudisha's front running 1:44.63 to win the 800 in New York City an indication that his injury problems are behind him and he has revived the Rudisha of two years ago? Or, is the relatively slow time and small margin of victory against a mediocre field another sign that the world record holder is not the same runner he was in 2012?
I'm asking because I have no idea.
Rudisha went to the front early and maintained his lead throughout the second lap. Like at the Prefontaine Classic, his first 400 was solid, but his final 400 was only 54 seconds. With that split, a stronger field catches him. Luckily for Rudisha, Mohammad Aman, Nijel Amos and Abubaker Kaki weren't in the race.
Winning has to count for something though. Especially after his rough last 100 meters in Eugene where everyone went past him. Two weeks after that race, there didn't look to be any effect on his psyche. He beat second place, Mark English, by four tenths of a second and also finished in front of Marcin Lewandowski and Adam Kszcot, two men who beat him at the Prefontaine Classic.
All this could mean that the Rudisha redemption tour is underway. On Saturday he showed he is capable of winning Diamond League races. But can he return to the form he was in from 2010-2012? I'm not ready to say definitively until he runs in the 1:42 range or has a decisive victory over either Aman or Amos. When evaluating Rudisha, it isn't just about winning, but winning in the same brilliant and thoroughly dominant way he did for the those three years.
His comeback is only two races long and I'll need at least another race before I can confidently answer the questions I asked above.
Surging….
-Allyson Felix
Like Rudisha, Felix had questions about her health entering the season. After her first Diamond League win of the season last Wednesday in Oslo, she pushed aside any concerns about the torn hamstring that took her out of the World Championships 200 final in Moscow.
The most interesting story with Felix continues to be her future in the 400. In the pre-meet press conference she said that she is running the 200 and 400 this year and will make a decision about which event to focus on after the season.
Her 400 potential has always fascinated me for a couple reasons:
1) The one season when she ran the event with regularity, she finished .03 from a gold medal.
2) She splits sub 50 seconds virtually every time she runs a 4 x 400 relay leg at the World Championships or Olympics.
3) If anyone were to complete the 200/400 double, it is Felix. The competition will certainly kick up next year, but right now both events seem wide open. In the 400, Sanya Richards-Ross, Christine Ohuruogu, Amantle Montsho and Francena McCorory are all beatable.
Last week on the podcast, Ato Boldon said he thinks Felix will use the 400 as a way to get stronger for one last Olympic run at the 200 in 2016. That seems like a safe bet–not many athletes want to shift focus that late in their career. For Felix though there is still potential in the longer race. Her efficiency, fluid stride and tenacity are all natural fits for the 400. In terms of times and medals, she has achieved virtually everything she can in the 200.
-Warren Weir
Weir delivered the best sprint performance of the weekend when he rocketed off the turn and ran 19.82 in the 200 in New York City. Not only was the time legal, but it was into a -.2 m/s headwind.
All this season I've lamented the state of the men's 100. Maybe sprint fans should focus on the 200 this year instead. Bolt and Blake can get away with avoiding one another, but I don't think either will be as likely to skip out on a race with Weir. Economically, it makes sense as well, Weir's appearance fee isn't nearly as high as Bolt or Blake's.
-Men's 400 hurdles
Javier Culson ran a smooth 48.03 for the world lead in New York, while Ashton Eaton continue his rise in his new event. Eaton ran 49.16 to win in Oslo, in what many believe to be the first Diamond League victory for a decathlete. The win also means Eaton will be sticking around the 400 hurdles this year and will get a decent lane in the major European meets.
The race in New York City was much deeper than the one Eaton won in Oslo. However, there is plenty for Eaton to be encouraged about. Cornel Fredericks, who Eaton beat earlier this season, finished third in New York and was half of a second behind Culson.
Slowing….
-Yohan Blake
Quite literally, the men's 100 meters can't get out of its own way this year. Yohan Blake stumbled out of the blocks and never recovered in his first Diamond League race of the year. Blake rebounded to run grab second, but ran out of track before he could catch Nesta Carter. Carter's winning time of 10.09 looks a little better when accounting for the -1.9 m/s headwind. Still, not much to get excited for in the men's 100 this year.
Credit to Blake for finishing the race. Most probably would have packed it in after such a horrible start.
-American Record Attempts
There were two records attempts on the line in Oslo, the men's 3,000 steeplechase and the men's 5,000. Neither seemed likely, though they both were feasible enough that they weren't completely out of the question.
In his first steeplechase of the year, Evan Jager gave his own American record a scare. He ran 8:06.97, just off his 8:06.81 mark from Monaco in 2012. His time on Wednesday was good enough for second behind Jarius Birech who ran away from Jager in the final laps.
Though he didn't get the record, Jager looks poised to run under 8:05 this season. Why the optimism? Pacing. Here is a comparison between Jager's splits in Monaco 2012 and Oslo 2012. The times listed are for the 1,000, 2,000, bell lap and finish time.
Monaco 2012:    2:44    5:27     7:03       8:06.81
Oslo 2014:         2:39    5:21     7:00       8:06.97
Pacing is one of the few things in distance running that is immediately correctable. Certainly, more races, and more consistent pacemaking, for Jager will help him even out the splits and lower his own American record.
On the topic of pace, any hope Galen Rupp had of breaking the American 5,000 record went out the window when the lead group didn't follow the rabbits. Rupp finished third in 13:03.35 behind Yenew Alamirew and Caleb Ndiku.
Rupp's 26:44 at the Prefontaine Classic is proof enough that he can get Bernard Lagat's record of 12:53.60. But not many 5,000s are won in 12:53 right now. To get the record, he will need to find himself in the perfect race. Oslo had the competition and the weather, but not the pacing.
-Chris Solinsky
At the Portland Track Festival on Saturday, Chris Solinsky ran 29:05.41 to finish third. After watching this post-race interview it is hard not to see similarities between Solinsky's current situation and that latter stages of Alan Webb's career.

Winners Who Didn't Win
-Kemi Odekoya
Before Tori Bowie won a Diamond League race from lane one, there was Kemi Odekoya who came from nowhere on the innermost lane to win the 400-meter hurdles in Doha.
Little was known about the Odekoya before the race and immediately after we didn't see much of her either. She reemerged in Oslo and ran 54.96 to finish a close second to Kaliese Spencer.
It also produced the best finish of the weekend.

-Alexa Efraimson
The greatest female high school distance runner not named Mary Cain placed 10th at the New York Diamond League 1,500. Her time of 4:07.05 is the second fastest high school mark of all-time and is less than three seconds behind Cain's best.
On Saturday, Efraimson finished in front of Gabe Grunewald and Nicole Sifuentes and was about half a second behind Brenda Martinez.
Meanwhile, Cain finished fourth in the 800 in 2:01.67. If Efraimson extends her season through World Juniors, Cain will have her hands full.
-Nick Willis
In the mile at Oslo, Willis broke 3:50 for the first time in his career when he finished second in 3:49.83. Ayanleh Souleiman of Djibouti won the race with a time of 3:49.49. Willis isn't quite Tim Duncan (or Bernard Lagat) in terms of longevity, but he did a break a personal best that he set way back in 2008.
There have been two Diamond League races in the mile this year- one at the Prefontaine Classic and then Wednesday's Dream Mile in Oslo. Between the two, eight different men broke 3:50. That looks to be the most in history at least according to the IAAF website, which gives yearly data back to 1999.