One Comment
James/Merritt I, US relay problems & Solinsky retires: The Monday Morning Run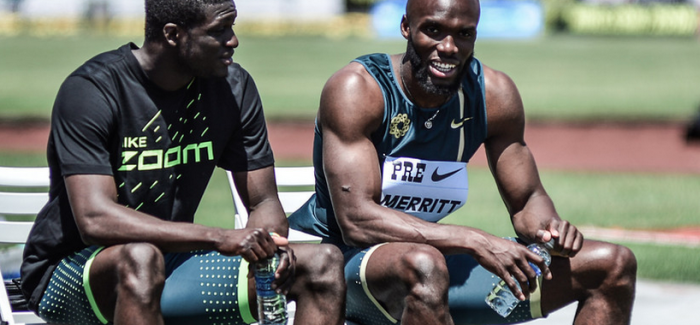 Kevin Sully | On 02, May 2016
Two retirements to announce. Sanya Richards-Ross said last week that 2016 will be her last season. It's been almost 10 years since she ran the American record of 48.70 in the 400m. Throughout her career, she ran under 49 seconds four different times–something only one other person since 2000 has achieved. If you clear out the performances from the 1980s it's Marie-Jose Perec, Cathy Freeman in Atlanta and a whole bunch of Sanya Richards-Ross atop the all-time list.
Looking back, I'm not sure people realize how historically great she was from 2005-2009. This was partially due to her performance at the championships. She medaled plenty, but didn't get that individual gold until 2009. Of course, she came back in 2012 and added another one in London and has a trove of relay golds.
Making the team this year will be difficult. Two American women not named Allyson Felix have already broken 50 seconds this season, and that doesn't include Phyllis Francis, Francena McCorory or Natasha Hastings. Her more likely path is via the 4 x 400m relay, but there are no safe spots on that team either.
Chris Solinsky officially ended his comeback last week. Depending on your perspective he could be remembered as the best American distance runner never to make an Olympic team, a victim of the Olympic/World Championships calendar, a reminder that you never know when your best race will come (or even in what distance), or an example of someone whose ambition and drive outran what his body was physically capable of.
Perhaps he was a mixture of all four and each one in some fashion influenced the others. His 2010 was phenomenal–three times under 13 minutes in the 5000m and the sub 27 minute performance in his debut 10,000m. If Alan Webb was the spark that started the American distance running resurgence, Solinsky was a bucket of lighter fluid that kept the blaze going.
Now to the rest of the Monday Morning Run. I wrote this before the Payton Jordan results rolled in so let's assume there were a bunch of Olympic qualifiers, a collegian upset a professional and Bernard Lagat easily broke the master's record in the 10,000m. I'll touch on any major developments from Palo Alto next week. But now we turn our attention to the meets that began before Sunday night including the Penn Relays/Drake Relays mega TV block on Saturday.
The Medalists
The top three performances of the week
Gold: Kirani James
The first of hopefully many James and Lashawn Merritt match-ups was wonderfully predictable. These two always create close, memorable races in ways that make me think they don't understand that track is supposed to be boring until late June or so.
James/Merritt I went to James in 44.08. His slight lead at the top of the homestretch remained intact over the last 100 meters. James couldn't pull any farther away and Merritt was unable to cut into the margin. They were in lock step, but were a stride apart in the final meters. James held on to the line and set the world lead and broke the meet record. Merritt went 44.22, well clear of third place and also under the old meet record.
James has run 400s this year already, this was Merritt's first test at 400m after running 200s for most of April. Perhaps that made the difference on Saturday. I'm assuming their second meeting on the year will come at the end of the month in Eugene. It only gets better from here.
Silver: Keni Harrison
If there are puddles on the track and rain drops on the camera lens then it is definitely not sprinting weather. Harrison didn't seem fazed by the rain or the tough field on Saturday at the Drake Relays. She remained atop the high hurdles pecking order with a 12.56 victory. Harrison already had the fastest time of the year with a 12.36 at the beginning of April. Now she has the best win of the year as well, defeating Kristi Castlin, Brianna Rollins, Nia Ali, Jasmin Stowers and Queen Harrison.
Bronze: Omar McLeod
In that same weather, McLeod blazed a 13.08 in the men's 110m hurdles. It turns out that when you break 10 seconds without hurdles, you are pretty fast when they put the hurdles back on the track. McLeod won this race comfortably, David Oliver was the next closest in 13.31.
It's hard to expect someone running away with this event–the results of the past three years indicate that the winners will take turns throughout the summer. But if someone is to assert a level of dominance, similar to what Aries Merritt did in 2012, it looks to be McLeod. He has the world indoor title, a 9.99 and has a large enough cushion on everyone else right now that he can absorb a small error and still win the race.
Surging….
-Jenny Simpson
Simpson closed in just under 62 seconds to win the Drake Relays 1500m in 4:06.43. It looked like many other Simpson races–smart, controlled racing with a hint of aggression when it mattered most. She pulled away easily from the field over the last 400 meters and looks to already be in midseason, automatic Simpson mode.
-US women at Penn
The men's 4 x 100m screw up got most of the attention (more on that below), but the women did solid work across the board. There were no issues with the baton and they beat a star-studded Jamaican team in the women's 4 x 100m. I'd be shocked if the quartet of Tianna Bartoletta, Candyce McGrone, Kimberlyn Duncan and Carmelita Jeter is the team that takes the track in Rio so any talk of team chemistry is a bit premature.
The women's 4 x 400m team of Natasha Hastings, Dee Dee Trotter, Phyllis Francis, and Sanya Richards-Ross easily took care of Jamaica despite Richards-Ross losing 1.5 seconds to Jamaica's Stephanie-Ann McPherson on the anchor leg.
-Michael Slagowski
I feel bad for the newest member of the high school sub-four minute mile club. Well, it's a special kind of sympathy reserved for someone who is on his way to a successful college career (presumably on a full-ride scholarships) and is part of an exclusive group of runners.
But, if Michael Slagowski broke four minutes 10-15 years ago, his world would be different. He'd be on talk shows, have offers to run professionally and be a household name (or at the very least a household name in houses that have runners). I'm not sure he wants any of that so maybe I should hold off on my sympathy. High school boys have spent the past two seasons trying to put the four minute mile out of style. Grant Fischer and Matthew Maton did it last year and Drew Hunter ran under four twice this indoor season. Slagowski's 3:59.93 on Saturday makes him the ninth high schooler to break four and the fourth since 2015.
The allure of a sub-four minute mile is strong–this historical connections put it an unique place amongst other events. But at the high school level, will the attention begin to fade as more runners break the barrier? When someone becomes the 10th, 11th, 25th, or the 47th member of the club will a sub-four turn into just another fast mark?
-Caster Semenya
I'm not sure why she is wasting her time tripling in inconsequential meets in early spring, but she's racking up a ton of team points. Maybe taking the 400, 800 and 1500m at the South African Student Championships was on her to-do list for 2016. If it was, mission accomplished Semenya ran 52.52, 2:03.39, 4:31.12 this weekend and put to rest all the non-existent doubts that she is, in fact, the fastest student in South Africa.
-Wayde Van Niekerk
At those same Championships, Van Niekerk won the 100m and 200m. He resisted the allure of the triple and skipped the 400m. His best running came in the 100m where he ran a wind-aided 9.98 in the prelims and a wind legal 10.03 in the final. All this short sprinting is going to make an Niekerk even tougher in the quarter, but also might make him wonder if he ever wants to run a 400m again.
-Meghan Beesley
The first Lane 8 superstar of the year. Beesley came from the outside to win the women's 400m hurdles at the Drake Relays in a close race with Dalilah Muhammad, 55.43 to 55.45.
-Kinesio Tape
What used to only appear on the legs has now migrated to the upper body. Face tape can't be too far away.
Tape. Anyone know where I can find some tape? Anyone? Drake stadium is all out. Dang it. I need tape. ? pic.twitter.com/Ar3aRYejnC

— marc bierbaum (@BierbaumMarc) April 30, 2016
Aries Merritt 13.61 (-0.1) #DrakeRelays, pic.twitter.com/r3moWd1cs9

— Óscar Fdez. (@gabyandersengz) April 30, 2016
Slowing…..
-US 4 x 100m baton passes
The consensus is that Tyson Gay is a great curve runner. However, he might not be the best choice for third leg on a 4 x 100m. The two most recent US baton screw-ups have featured Gay failing to get the baton to the anchor leg in the exchange zone. Last August at the World Championships, it was Gay to Mike Rodgers that took the US from sure silver to off the podium. Saturday at the Penn Relays, the US had the lead before Gay and Isiah Young demonstrated an inability to connect in a way that even James Harden and Dwight Howard would have criticized.
That old USA bugaboo … Getting that stick around https://t.co/x3Bu8KRFCR

— Joe Fleming (@ByJoeFleming) April 30, 2016
I'm not even sure either instance was Gay's fault. At Penn, he took the blame in the post-race interview. But at this point, does it matter? A US relay DQ is so prevalent that you have to switch it up just so you aren't repeating the same mistakes over and over again. In the same interview, Gay also said that the US would get it right when it counted. There is very little evidence that this has ever been the case.
Struggle at a low-stakes meet and you are in for even bigger problems at an Olympic final. This is not to say that a US team gets DQ'd in every meet. But it happens enough to mean it's not a fluke or just a strange confluence of events. On paper, Gay is the perfect candidate for the third leg. He's excelled in the 200m during his career and was particularly strong in the opening bend. He is fast enough to maximize the speed of Gatlin on the backstretch. Everything points to Gay running third on the US team–except the results on the track.
-Jamaican national teams at the Penn Relays
There were some bad breaks, weak teams and under-performances across the the six relays on Saturday for Jamaica. Their only win came when the US dropped the baton in the men's 4 x 100m. Other than that they were shut out.
The men's 4 x 200m caught some bad luck when the lead-off leg made it less than 100m before pulling up with an injury. I was surprised that the women's 4 x 100m wasn't closer. Jamaica ran Elaine Thompson and Shelly-Ann Fraser-Pryce. I thought that would be enough to carry them against a US team that didn't have Tori Bowie or English Gardner. Fraser-Pryce got the baton in the same neighborhood as American anchor Carmelita Jeter, yet Fraser-Pryce couldn't close the gap at all.
The composition of these relay teams will change greatly between now and August. And any loss by a men's Jamaican team that doesn't include Usain Bolt comes with a giant asterisk. I don't think you can take much from a late April relay meet other than Jamaica didn't have a great showing and the US is contractually obligated to drop the baton in at least one relay per meet.
-Brenda Martinez
4:14 for ninth in the 1500m is probably not how she envisioned starting her season. She was in the mix at the bell before running a 69.5-second last lap and finishing well behind Jenny Simpson. Outdoors, the 800m has been Martinez's focus so this was an off distance race and it comes after a full indoor season. No reason to overreact to this performance.
-Clermont's wind
What happened to the +3.5 and +4.2 m/s wind readings? If we wanted .5 and .0 we could have just done this at Drake and the athletes could have made some money.
Winners who didn't win
-Jeremy Wariner
It was Wariner who had the fastest 4 x 400m split in the professional races at the Penn Relays. He ran 44.50 on the second leg for the USA Red team that wound up in second place. Obviously relays splits aren't the most reliable measure, but that's a great performance for someone I don't think anybody is projecting for their Olympic Trials 400m final.
-Kristi Castlin
To come in second in a field that included six of the top eight Americans is a promising sign for Castlin. She's never made an outdoor team for the US. This year looks as difficult as any other with Harrison, Brianna Rollins, Nia Ali, Jasmin Stowers, Dawn Harper Nelson, Queen Harrison and Sharika Nelvis creating a logjam between 12.30 and 12.70. You'll have to run faster to make the Olympic Trials final than the Olympic final in Rio.
The good news for Castlin is that she looks primed for breakthrough. On Saturday, she was only .6 off her personal best from 2012.
-Aries Merritt
Merritt won a bronze medal in the 110m hurdles last August with his kidneys functioning at 15%. About eight months later (and after he had kidney replacement surgery in September), he finished fifth at the Drake Relays. This was his first outdoor competition since the replacement and he ran well to finish finish fifth in a Diamond League caliber field in 13.61. He said after the race that he is still adjusting to competing post-replacement and he can feel his trail leg rub against his new kidney on each hurdle.