No Comments
Assessing Team USA's performance at the World Junior Championships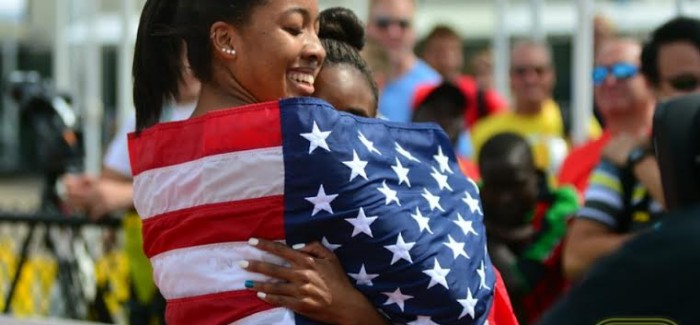 Jesse Squire | On 29, Jul 2014
Photo credit: Track Town Photo
After just about every major international championship, I attempt to assess the performance of the US team. I've never looked at the World Junior Championships before, but then again the meet was a far bigger deal in the USA this year than in the past for the simple reason that the USA hosted it.
A prerequisite for making judgment is setting out criteria for evaluation. I'm not going to consider how the team's performance lived up to expectations or not, but rather a simple assessment of the end results as compared to past results for Team USA. In essence, it's looking at the strength of the team that the USA brought to the meet.
The traditional method of judging a national team performance is looking at number of gold, silver, and bronze medals earned. But it's certainly not the only way, and maybe not the best way for a developmental meet like the World Juniors. I'm also going to look at total number of top 8 finishes and the points awarded by the IAAF (they score top 8 places, going 8-7-6-5-4-3-2-1).
Here is that data for Team USA since the World Junior Championships were first held in 1986.
| | | | |
| --- | --- | --- | --- |
| Year | Medals | Top 8s | Points |
| 1986 | 14 | 25 | 132 |
| 1988 | 9 | 17 | 100 |
| 1990 | 9 | 19 | 100 |
| 1992 | 9 | 16 | 86 |
| 1994 | 17 | 25 | 140 |
| 1996 | 12 | n/a* | n/a* |
| 1998 | 13 | 28 | 133 |
| 2000 | 1 | 7 | 24 |
| 2002 | 21 | 31 | 188 |
| 2004 | 19 | 26 | 166 |
| 2006 | 11 | 22 | 109 |
| 2008 | 17 | 33 | 174 |
| 2010 | 15 | 39 | 185 |
| 2012 | 20 | 36 | 188 |
| 2014 | 21 | 39 | 206 |
(*No 1996 data beyond medal counts is available at the IAAF website and the results were never published in Track and Field News.)
Best World Juniors Ever
Without a doubt, the US had its best World Junior Championships ever. The US team tied its best medal total (21) and number of top 8 finishes (39), and had by far its best point total. In particular, a gold medal sweep of the men's sprinting events–the 100, 200 and 4×100–suggests that the tide may soon turn in the US-Jamaica men's sprinting rivalry. Mary Cain won the 3000 meters, the first US distance running medal (1500 or further) ever at a World Juniors.
On the other hand, the USA was the home team and that provides certain advantages. It's easier on the athletes due to less travel and more familiar foods and surroundings. I don't think it's any accident that three of the four best US team showings were when the meet was held in the USA (2014), in Canada (2010), and in Jamaica (2002), all of which were nearby and English-speaking. So to some extent this high level of performance should have been expected.
On the other other hand, though, the USA's best performances have been in recent years. The last four editions of the World Juniors represent four of the USA's five best results. This could mean a lot of things: the USA is becoming more globally competitive at the junior level, or that US athletes are taking the World Junior Championships more seriously. The latter should not be discounted, because the US system is not like that of other nations; our developmental system is all about Americans competing against each other and very little about competing against other nations.
A reflection of the US system
The development system for most of the world's other countries is a lot different than ours. It's mostly based around the club system, and athletes who show elite talent by their late teens are often given extra coaching, competition, and support. Athletes are often exposed to international competition as soon as they're ready for it. It's very much like the system most of the world uses to develop soccer stars, or Canada uses to develop hockey stars, and fairly similar to professional baseball's major and minor leagues. Athletes in these systems are groomed to be pros by their late teen years.
The US system of development in track and field is based around schools and we tend to develop our athletes more slowly–but it's a bit harder for those with ability to go unnoticed. We give millions of children an opportunity to train and compete at whatever level their talent and desire will take them. We separate the wheat from the chaff at age 18, but our university system still gives thousands of athletes opportunities to compete (and at a very challenging level) up to age 23. After that, we make them find their own way in the sport.
It's a system that works pretty well in the sprints, hurdles, jumps, and shot put. If you haven't shown by age 23 that you are close to having what it takes to compete on a world level in those events, then it's unlikely that you will ever make it. We've figured out how to make our system work in the distances, where it may take a bit longer for world-class talent to show itself. And our system just doesn't work at all in the long throws, where it takes a long time to develop into a world-class athlete.
The end result of our mass-participation let-them-be-kids approach is that while the USA brought more junior talent to the WJC than any other nation, the junior talent the USA didn't bring is on an order of magnitude greater than the talent any other nation left behind.
This is extremely important when dealing with high-achieving young athletes. It's entirely possible that some of these athletes will improve very little or not at all. But even some don't improve in the future, them being great right now raises the expectations on those who want to beat them in the future.
Compare, for example, Jordan Hasay and Abbey D'Agostino, who are just nine months apart in age. Hasay twice finished fourth at the World Juniors in the 1500 meters, which was the best ever at a WJC by a US distance runner (1500 or further) until this year, but has yet to develop into a Diamond League-caliber runner. D'Agostino was unremarkable in high school but ended up achieving far more in her collegiate career (and is now significantly faster over 5000 meters). Hasay being so good as a teenager meant that D'Agostino had to make huge improvements to beat her. Both are still young, just 22 years old, and are going to have to improve even more in order to be competitive on the world stage.
But the expectations that American women distance runners have for themselves have changed dramatically over the last decade, and their ability to compete with and beat the best in the world is reality. I mean, the results we saw at last week's World Juniors in the women's 1500 and 3000 meters were historic for American distance runners, but they weren't surprising at all.