2 Comments
The Monday Morning Run: NOP investigation, Tarmohgeddon defined and a javelin controversy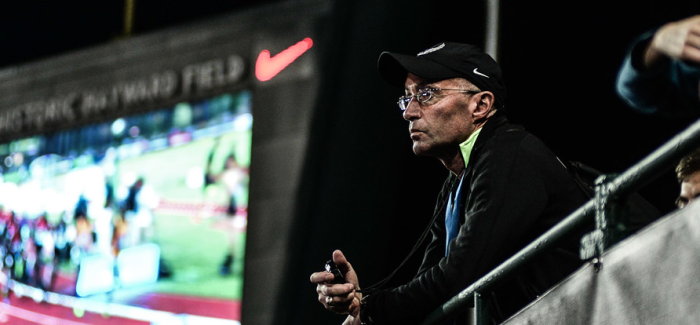 Kevin Sully | On 09, Jun 2015
Photo: TrackTownPhoto
First, the good news. Between last week and this week there are four Diamond League meets. The bad news is sandwiched in between those is a doping scandal that bridges two continents and threatens to bring down the most successful and popular distance running group in the world. How I wish the only controversy to discuss on this week's belated edition of the Morning Run was sector fouls in the javelin and pyrotechnics at the finish line in Birmingham.
I'll try to touch on it all and do it before the story with the Nike Oregon Project shifts again.
The Medalists
The top three performances of the week
Gold: Jenny Simpson
There are a few different ways you can explain how impressive Simpson's 3:59.31 victory in the 1500m at the Rome Diamond League was last Thursday. First, you can just point to the line–a world lead. Second, the competition. She beat Sifan Hassan and Dawit Seyaum, the two women outside of Simpson who have been running the best this year and, along with Abeba Aregawi, constitute the main medal contenders. Next, consider the circumstances. The race came five days after the Prefontaine Classic. It's difficult enough to win two races in a row in a quirky distance like the 1500m. Simpson did it on a short turnaround and with no tune-up race in Europe. Running under four minutes off the plane is hard to do.
Does all this make Simpson the runaway favorite for gold? Right now, I think she is in about as good a position as you could possibly hope for in June. She's won two in a row, but the 1500m is fickle, especially in championships without rabbits. That said, all the quantities are known this year. There still exists a possibility that Turkey shows up to Beijing with two women we've never heard of who can break four minutes, but other than that Simpson has run against (and beaten) everyone she will see at the World Championships.
Silver: Justin Gatlin
It would be cliche to say Gatlin looks like he was shot out of a cannon during his start at the Rome Diamond League meet, so watch his first 20-30 meters and come up with your own analogy.
The reaction time, the explosion out the blocks and the drive phase work in tandem as he spontaneously combusts down the track. In his 200m races, he seems to have trouble managing his speed, lest he run out of control and spin out. That problem doesn't exist in the 100m. One phase of his race flows into the next as the margin on the field grows.
In Rome, he ran 9.75, .01 off his time in Doha and .23 ahead of second place. This wasn't the strongest field–no Tyson Gay, no Asafa Powell, no Ryan Bailey and especially no Usain Bolt. But it also was a field that was good enough that it shouldn't have been beaten by over two tenths of a second. If Powell, Gay and Bailey were in the race, they would be a closer form of second place, but still clearly second. Bolt is very clearly the only person who can beat Gatlin this season, and after races like Rome, we might be giving Bolt too much credit in saying that.
Bronze: Yomif Kejelcha
The most prolific 17-year-old since Zac Efron won his second Diamond League race in a row, a world leading 12:58.39 in Rome. In the process, he defeated everyone he will need to beat to win a gold medal in Beijing, with the exception of Mo Farah. The Ethiopian selection process can be convoluted, but unless he starts stalling out, Kejelcha should make the roster. The Rome field was deeper than the group he race against in Eugene. It was as a different type of race too–one where five men broke 13 minutes and the pace didn't lag like it did at the Prefontaine Classic.
Surging….
-Tarmohgeddon
Loosely defined, Tarmohgeddon is the magnetic force that binds Allyson Felix and Jeneba Tarmoh. A broader interpretation encompasses all the strange outcomes that occur when the two are on the track at the same time.
It's inception dates back to 2012, when they tied for the final spot on the US 100m team at the Olympic Trials. From there, a strange turn of events took place ending in Tarmoh withdrawing from the run-off and, in essence, forfeiting her spot to Felix. Tarmohgeddon was quiet for most of the last three years until this year when its power became inescapable. In the Bahamas, the force was so strong that it literally brought them together in a collision in the 4 x 200m relay. How do you crash in a 4 x 200m you ask? Tarmohgeddon.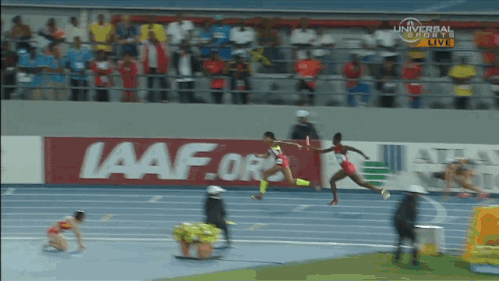 Now, we can add Sunday's race in Birmingham to the list. Felix entered the race with a season best of 21.98. Tarmoh had just run 22.77 at the Rome Diamond League meet. Felix was coming off a decisive victory in the 400m at the Prefontaine Classic. There was no reason to think she could be matched over her preferred distance.
22.29 for Tarmoh. 22.29 for Felix. Tarmoh was declared the winner.
Tarmohgeddon once again reigns. There's no telling where or when this ends.
-Sharika Nelvis
The high hurdles crashes in Rome took out Sally Pearson, Brianna Rollins and Jasmine Stowers. Very quietly, Sharika Nelvis ran 12.52 and, after this week, looks just as safe a bet as Stowers to earn a berth on the World Championships team.
-Marvin Bracy
The battle over who will win the US 100m Championships (Justin Gatlin has the bye and has said he will run the 200m at USAs) is heating up with Tyson Gay, Ryan Bailey and Bracy all in contention.
Bracy set a personal best of 9.93 in Birmingham. He got the benefit of a fortuitous +2.0 m/s second wind, but he also slowed a bit at the finish when he grabbed his right hamstring. He didn't seem too concerned about the injury after the race, although the most of the focus was on Adam Gemili's fall. Both Gemili and Bracy are 21-years-old so here's to the beginning of a 10 year no-ducking (or hamstring injury riddled) rivalry!
-Julius Yego
Yego's last attempt in the javelin in Birmingham traveled 91.39 meters, the farthest throw since 2006. Initially, officials thought it fell outside the sector and ruled it a foul.
However, they redrew the sector lines (because Yego's throw was so far it went past the lines) and discovered that it was a legal throw. Whether this was a creative redrawing of the lines or not, it still counts as the best in-stadium throw not involving Michael Vick.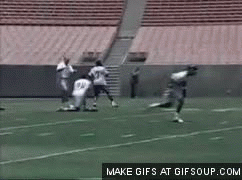 -Mohammad Aman
Aman returned to 2013 Aman and set the world lead in Rome with a time of 1:43.56. He also beat Nijel Amos for the second consecutive meet. Depending on how you view David Rudisha, Aman is no worse than the third best 800m runner in the world (that is also contingent on what event Ayanleh Souleiman runs). Rudisha was scheduled to race in Birmingham, but withdrew. We haven't seen him on the track since he pulled up in Ostrava in the 600m.
-Pedro Pablo Pichardo
P3 triple jumped 17.96m in Rome. That is his third best mark of the year and ties him for the 13th best jump of all-time. After watching his last phase, I love to throw him in the long jump and see what he could do against a Diamond League field.
Slowing….
-Alberto Salazar/Galen Rupp/Nike Oregon Project
As a child of the Marion Jones/Lance Armstrong/Sammy Sosa/Mark McGwire era, I've had plenty of practice being cynical about drugs in sports. Despite this, I held on to some optimism even when it seemed irrational. My naivete disappeared, but I never got to the point where I was convinced that every extraordinary performance was the result of doping.
I'm also the son of a lawyer who drilled the concept of presumption of innocence into my head at an early age. Since my teenage years, it's been difficult to reconcile that concept with the multiple episodes of high profile doping cases that often end the same way.
It's through that prism that I view the doping reports against Galen Rupp and Alberto Salazar.
Each day brings new information from people connected with the group in the past or others like UK Athletics and WADA. I'm betting we hear more from the principles in the days ahead. Mo Farah has already spoken during a 30-minute press conference before the Birmingham Diamond League meet. Farah said that he wasn't leaving Salazar, but did say "let's put this on Alberto."
Farah pulled out of the meet two days later, citing the need to get back to Portland to learn more about the situation. The interpretation of his withdrawal is framed largely by how you feel about Farah's involvement in the saga.  It could show innocence or guilt, strength or weakness.
In the press conference, it was difficult to pin down what Farah wants to know of Salazar. At one point it he said more evidence was needed before he would leave his coach, but at another time he mentioned that he only needed the existing claims to be proven true. There is a huge difference between the two.The allegations against Salazar and Rupp is an interestin case in determining what the public, and athletes, consider "proof" in the current era of track and field.
The BBC/ProPublica report supported what it claimed with multiple sources over several years. Whether that constitutes proof to you is open to your own interpretation. There was no evidence of blood doping or covering up of failed tests, but the authors never said there were failed tests or blood doping take place. The report did provide several instances of violations of the anti-doping rules, particularly Salazar's skirting the regulations around Therapeutic Use Exemptions (TUEs).
Despite the press conference and investigations, it's important to remember that Farah was not named in the report. It's possible to believe the ProPublica/BBC and Farah. Both can be true.
But if both are true then it's a leap to think that Farah would be willing to stick with a coach who broke the rules in order to help his top competition in the 10,000m. If Salazar was illegally aiding Rupp behind Farah's back then that probably would constitute a loss of trust in the athlete/coach relationship.
Salazar hasn't made any formal statements other than the ones that were published/aired last week. His claims that he "never coached an athlete to manipulate testing procedures or undermine the rules that govern our sport," and "No athlete within the Oregon Project uses a medication against the spirit of the sport we love," is directly contradicted by the interviews of Kara and Adam Goucher, Steve Magness and massage therapist John Stiner.
Even if you discount most of what those four said, you are still left with Salazar operating in an extremely dark grey area of anti-doping rules. An area that is certainly in conflict with the spirit of the sport that Salazar refers to. I'm interested in what he says next and if his explanation is sufficient for Farah. Also, I'm curious how fans will judge performances by "grey area" athletes in a sport that is as black and white as track and field.
-Jasmine Stowers
Aberrations happen. Even Steph Curry has a game where he shoots 2-15 from the three point line. Hopefully for Stowers, that explains her first week of June. She hit a hurdle in Rome and stumble to the finish. On Sunday in Birmingham she false started and was disqualified. Is last week enough to disrupt her rhythm and complicate her run to the World Championships gold medal? Or, is it just two instances of bad luck in one week that she will shrug off on her way back to running 12.3s and 12.4s? The Oslo Diamond League on Thursday will let us know.
-Sally Pearson
More bad luck for the women's high hurdlers. In the same race where Stowers hit a hurdle, Pearson broke and dislocated her wrist when she crashed out mid-race. It didn't look fun.
Pearson had surgery on Monday and has not yet said how long she will be sidelined with the injury.
Winners who didn't win
-Grant Fisher
The high schooler ran 3:59.38 to become the second prep this year to break four minutes in the mile. Matthew Maton also ran 3:59.38 three weeks ago at the Oregon Twilight meet three weeks ago. Two boys breaking the barrier in the same year makes me wonder whether the accomplishment will still create the same buzz in the future. With Fischer, only seven have broken the mark, but with the proliferation of post-season all-star meets it should be more common in the years to come. That said, there is something unique about the sub-four barrier.
The Prefontaine Classic still tracks the number of people who run faster than four minutes in their meet and sub-four is cause for celebration amongst pros, even if their equivalent times are much better.
-Yohan Blake
Ok, he ran a 21.57 200m and finished 13th overall at a meet in Jamaica. That isn't exactly an ideal position to be in a couple weeks before the Jamaican Trials and a few months ahead of the World Championships. But, …….there actually is no but here. Other than Blake actually running, there isn't much good to take away when a professional male track athlete runs 21.5 in a 200m. This article did say that he shut it down early so let's just assume he started slowing to a jog at about the 120m mark.
Blake is also quoted as saying he will be ready for the Trials at the end of June. 21.5 to 20.0 would be mighty impressive.
-Adam Gemili
In the most pyrrhic of runs, Gemili broke 10 seconds for the first time in his career when he ran 9.97 to finished behind Marvin Bracy in Birmingham. He tumbled at the finish and had to be carted off the track with a hamstring injury. Initially, it was reported that pyrotechnics at the finish line caused Gemili to lose his balance and send him to the track, but he later clarified that an awkward lean at the finish line was the problem.
Pyrotechnics, a broken ten second barrier, a hamstring injury and a few somersaults….all in a matter of moments.