3 Comments
Ten Cures for NCAA Track and Field Fever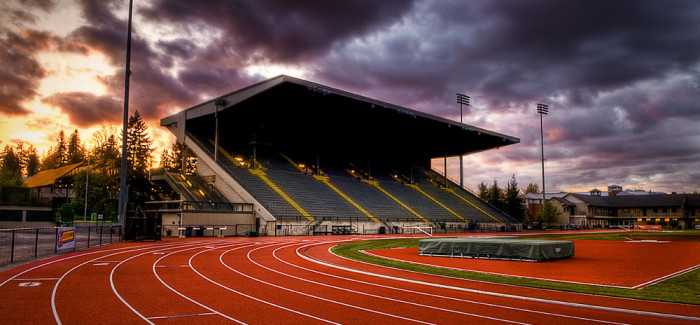 Jesse Squire | On 08, Jun 2015
The NCAA Division I outdoor track and field championships begin on Wednesday and run through Saturday at historic Hayward Field on the campus of the University of Oregon.
Daily Relay will have daily coverage, previews, recaps and analysis. Check back at our 2015 NCAA coverage page every day this week to catch up on all the news.
Suppose you have college track fever—and it's only Monday! How do you get your prescription filled when you don't have a cowbell?
Here are the top ten things you can do today and tomorrow to get yourself pumped up for the NCAA track and field championships.
#1 and #2: Watch TrackTown LIVE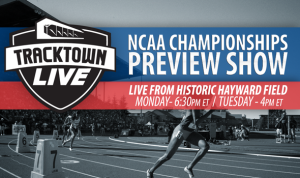 There will be a pair of 90-minute online preview shows live from Eugene, one on Monday (from 6:30pm ET/3:30pm PT) and one on Tuesday (from 4:00pm ET/1:00pm PT). It will be simulcast at USTFCCCA.org, Flotrack.org, and Runnerspace.com.
The hosts are Paul Swangard, one of the nation's best TV and stadium announcers, and Jordan Kent, former Oregon standout sprinter. The guest list is long, but the most notable names on it are multi-event superstars Ashton Eaton and Brianne Theisen-Eaton, plus all three of this year's collegiate record-setting pole vaulters (Demi Payne, Sandi Morris, Shawn Barber) and eleven more college stars.
#3: Follow your team
The great thing about college sports is that there are so many teams and everyone has at least one they follow. (You can even get a licensed running jersey now.) Sometimes you might even have two; around here, it seems that every sports fan cheers for a major-conference team (mostly Ohio State, Michigan, or Notre Dame) and a Mid-American Conference team (mostly Toledo, Bowling Green, or Eastern Michigan). Find out who their qualifiers are, when they compete, and what kind of chances they have. I'm pulling hard for Brooke Pleger, Bowling Green's hammer thrower, but I'm also cheering for the MAC to outscore the Big Ten.
#4: Play fantasy track
The USTFCCCA is running a fantasy prediction game they're calling Pick the Champ. It's pretty simple: make a pick in each event, and your predictions get scored in the familiar 10-8-6-5-4-3-2-1 format. Entries close by the beginning of the first event on Wednesday.
#5: Poke around the USTFCCCA's coverage
The USTFCCCA's National Championship Central page is a portal to an overwhelming amount of information. They have information on every qualified athlete (including their hometowns) and breakdowns of which teams and conferences have the most qualifiers. They have links to records and history and video highlights of past championships for most of the last 25 years. And that's only scratching the surface.
#6: Play with formcharts and team scores
Oregon fan Bill Ogden has created a nifty little web app that allows you to play around with team scores. He says:
Use the drop downs to select between Men and Women, and to view different projected finish orders, e.g. based on seed time, college best performance, TFRRS qualifying, and with the default being the Track & Field News' formchart projections.
Then you can change the projected finish order for each event by dragging the athlete's name up or down in the list. The app then automatically recalculates the team scoring. So it is easy to play with and see the results of alternate outcomes.
This is a hobby project and work in progress but I have had some success making it responsive to real time results and updating itself and adjusting team scores and projected finish orders based on preliminary and final rounds, so look for that during the meet.
#7: Plan a watch party
It appears that every single race will be on television, and field events might get some pretty good coverage too via ESPN3's "ESPN Surround" webcasts. In any case, a new schedule allows you two shots at scheduling a watch party. Every men's running event final but the 10k will be live on ESPN on Friday night. If you can't get the gang together then, try again on Saturday afternoon when all the women's running events will be contested. This gives you two different two-and-a-half-hour self-contained championships.
#8: Check up on college track history
Track and Field News has been covering the championships since 1948 and they have lots of information too: championship results of every event from 1921 to present (and women's results from the pre-NCAA era) plus all-time collegiate lists for men and women.
#9: Plan a road trip to Eugene
The majority of us will not be at Hayward Field for the NCAAs—the stadium holds less than 11,000 (which is also about the maximum number of visitors the city can accommodate). But if you're a track fan, then someday you must make the holy pilgrimage. Eugene is basically Disneyland for track fans, one of the few places where track and field is treated like a major sport. There are great side trips too; Oregon wine country, the Pacific coast, the weird and wonderful city of Portland, and the amazing Crater Lake National Park.
#10: Go down to your local high school track
This is the most tired of all the Larry Rawsonisms, but there is no time like the present. The kids are out of school and their track season is over, and football has not yet invaded the stadium. Become ten years old again and pretend that you are the star who is going to run, jump and/or thrown your way to a national championship.