One Comment
World Indoor Championships Recap: Monday Morning Run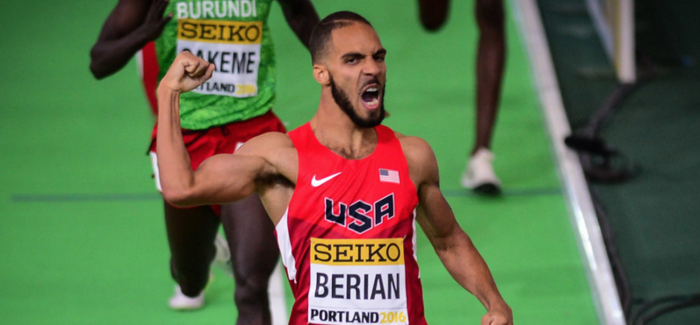 Kevin Sully | On 21, Mar 2016
I was in Portland for the World Indoor Championships over the weekend. There were strobe lights, a full stadium, and a constant stream of gold medals. It's always hard to know how to interpret indoor results. The meet seemed massively important inside the building, but outside the Oregon Convention Center there is the realization that it is just March of a year that peaks in August. How to break it all down…….here's the answer to a few questions that the meet raised.
Does Asafa Powell second place finish qualify as a choke?
Was his silver medal performance and big race failure for Powell? Or, as my co-host Jason asked before the race, are the World Indoor Championships a large enough stage to be eligible for a choking designation? In a way, it can be both.
The World Indoor Championships lacks the participation of other championships, (using Ato Boldon's scale of important championships the Olympics are a 10, World Championships a 9 and World Indoors is a 2 ), but Powell turned it into a big deal with his early rounds on Friday. He put up back-to-back 6.44s in the prelims and semis. Time aside, he looked so much better than every other person in the heats. He shut it down early enough in both races that the world record of 6.39 appeared doable.
If Powell won the final, I don't think it would have meant any sort of meaningful redemption for all of his other misses. However, for someone who has struggled with finishing, winning in Portland would have been nice result because he so rarely closes out what he starts.
But Powell does himself no favors. He raises expectations and hopes in a way that always seems to bring about disappointment. Any other person who ran those times in the prelims and semifinals is a solid bet for gold. Not so with Powell. His performances in the finals have become so common that they aren't aberrations, they are the norm. We've all gotten used to 2 plus 2 equalling 5 and 6.44 turning into a second place 6.50.
Can Vashti Cunningham win an Olympic gold medal?
Yes. Sunday proved she has no problems beating a quality international field. And also, this…..
Of all track and field events, Russia is most proficient in women's high jump. A note that's plenty more interesting now than two weeks ago.

— Nick Zaccardi (@nzaccardi) March 21, 2016
If Russia is still ineligible come Summer, that eliminates at least two solid jumpers from the women's high jump. Only four women jumped two meters or higher in 2015. One is Ruth Beitia, who Cunningham beat this weekend. Another is Blake Vlasic, who has struggled with injuries and is seven years from her person best. The other two women over two meters are Russians.
So in a strange, but nonetheless direct way, the pushes and pulls of geopolitics will have a profound impact on the career trajectory of an 18-year-old. The interplay between the IOC, Russia and WADA could make the difference between Cunningham winning gold, or not..or making the podium, or not….
Who had a performance that hints of things to come?
Even though Centrowitz is only 26-years-old it feels like he's been close so many times in the 1500m. He put a good effort into this indoor season, racing frequently and looking confident with each win. Sunday was his first global championship and while outdoor silver or bronze is better than indoor gold, it still marks the biggest victory of his career. He's run better races and beat better people, but he's never won in a Diamond League or championship setting.
This summer, the Kenyans will be better than they were this weekend and I doubt we will see a top four of America-Czech Republic-New Zealand-America in Rio. Given Centrowitz's consistency this season, and over his entire career, I think this win is more significant that most of the others from the meet.
Another answer to this question is Brianne Theisen Eaton. The mental math moment of the meet came in the women's pentathlon where Eaton ran 2:09.99 to jump from third to first in the final event of the competition. Anastasiya Mokhnyuk and Alina Fodorova led Theisen Eaton entering the 800m, but both hit the skids and failed to break 2:20. Ashton Eaton's frenetic cheering from all over the track helped whip the crowd into a frenzy and created the most noise on the second day of the meet.
Theisen Eaton has finished second in the last three global championships so this was a significant breakthrough as well as a personal best. Can she hold the top spot when the pentathlon becomes the heptathlon this summer and Jessica Ennis Hill and Katarina Johnson Thompson are in the picture?
Did the athlete introductions get the people going?
If you watched on television you saw the individual athlete intros where they ran down the ramp on to the track. There was smoke, strobe lights and for some events they made the whole place dark.
It's the type of "innovation" that isn't really all that innovative compared with other sports, but it's still cool to see Trayvon Bromell emerged from smoke with "Enter Sandman" blasting through the arena. One request, and this is the same for World Relays. Individual walk out music. Let the athletes choose for the 10 seconds that they are on the ramp. It gives a chance for them to display their personality and also decreases the chance we hear Van Halen's "Jump" to introduce, wait for it, the high jump!
How good was Team USA?
The US got medals from all over–sprints, distance, hurdles, jumps, throws. Their total of 23 is the most in history. I predicted 19 medals, but also hedged and said I wouldn't be surprised if they landed in the mid-teens. Russia's absence definitely helped the United States pad their stats as the next closest country, Ethiopia, finished with five medals. The US won 13 gold medals, as much as the rest of the countries combined.
There probably isn't much more you can take away from the high US total other than they had a great four days and having it in the US helped.
Hosting the championships meant that more of the US's best athletes were likely to attend, resulting in them vastly outperforming the form chart. Take the men's 800m–outdoors, it's considered one of the weaker events for the US medal hopes, but the US went 1-3 and grabbed two medals. One of those medals came from Erik Sowinski, who qualified for the meet via an invitation from the IAAF since he didn't meet the time standard as of two weeks ago. I bring this up to show both the strange policy of wild card and the absurdity of putting too much weight on any medal total, especially one from the World Indoor Championships.
What was the best use of music throughout the weekend?
Seb Coe gave a short speech on Sunday and Aloe Blacc's, "The Man," played while he walked to the microphone. Specifically the part that went, "I'm the man, I'm the man, I'm the man…." Subtle.
Best tactical moment of the meet?
Besides Genzebe Dibaba realizing she was better than all of her competitors and ending the race in the span of 50 meters, it was Boris Berian. His risky opening 200m of 23.9 in the 800m was consistent with the strategy he used during his breakout season last year.
Going through under 50 seconds for the first 400 is extremely rare in an indoor race and watching the six men kill each other for the lead on the backstretch of the first lap looked like it might crossover from strategic to counterproductive. Berian won the battle for the pole position and never gave it up. Although he slowed down quite a bit, the front-running paid off because everyone else went out fast too. They didn't hit sub 50 for the first 400, but they were still well out of the their comfort zones.
Berian's move to the front accomplished two things: It put him in front, meaning others would need to go around him if they wanted to pass. And, it forced everyone to jump right into a pace that was way over their head. If the pack backed off completely and ran something close to even splits from the gun, there might have been an opportunity for someone to emerge and make a decisive move past Berian when he slowed on the last lap (each of his 200s was slower than the one before). This being indoor though, there is less patience. The gravitational pull from Berian was too strong to resist and everyone followed suit.
When did it get the loudest in the stadium?
Here's a rough estimate:
1) Matthew Centrowitz winning the 1500m
2) Boris Berian's 800m
3) Things involving Ashton Eaton
4) Both 4 x 400s
5) Brianne Theisen Eaton's pentathlon 800m
6) Men's 3000m
What does Mo Farah do when he's not competing?
He brings his family to track meets, of course. Farah attended all three days, family in tow. His seats were a few rows in front of mine on the press tribune so I got to see first hand what life would have been like for Farah if he stayed in Great Britain instead of moving to the United States.
He has a good deal of anonymity in America, but the Oregon Convention Center took everyone who recognized him and put them all in one building. Over the course of the two days, he signed autographs, posed for pictures, walked around with a babybjorn and had the BBC folks plug in a bottle warmer.
Some guy & his kid enjoying #Portland2016 pic.twitter.com/RbNGoDpj2K

— Chris Nickinson (@chrisnickinson) March 20, 2016
What worked at the night of a thousand pole vaults?
Thursday was pole vault night. I wasn't in the stadium that evening, but I did watch on my iPad. It was probably the most pole vault I've consumed in one sitting so putting that event aside on it's own day accomplished the goal of getting more eyes on the event, at least for me. Now that I've watched two hours of pole vault, let me weigh in with some comprehensive thoughts.
When the men and women were alternating attempts on the runway it was fast paced with little down time. Male vault, replay, female vault, replay, etc. I stuck with it because there were no lulls. As the competition progressed, and the women's competition ended, it started to feel more like baseball. Lots of time between vaults, more time to move the bar up, pitching changes, you get the point. I know they need to recover and the time does help build the suspense, but after three hours it started to feel interminable.
Also, it would be helpful to have a graphic up at all time about who is still in the competition and what heights they have cleared. I'm sure it will take up a good portion of the screen, but in this case it's justified. A running crawl or a permanent leaderboard (maybe even just the top ten) provides some needed context, especially if you didn't tune in at the beginning of the telecast. How many people are left in the competition? Who's next on the runway? Is Lavillenie out already or is he just napping on the infield waiting to vault?
Which field looked most like a outdoor championships?
Even though there is no men's 3000m outdoors, it was the men's 3000m. There were the established stars in Augustin Choge, Caleb Ndiku and Abdalaati Iguider and the newish names of Youssouf Bachir, Yomif Kejelcha and Ryan Hill. Move Mo Farah from the commentary box to the starting line and you'd have a legitimate argument that this was the best possible group of 3000m runners this winter.
The race itself lived up to the names on the start list. With six laps to go, Ndiku made a gigantic move to the front which kicked off 1000 meters of frenetic surging. Kejelcha found himself at the front and just held off Ryan Hill, who moved from fifth to second on the last lap. Choge took third and Ndiku fell back to fifth place. Kejelcha ran the last 1000 meters in just under 2:23. I don't think that worries Mo Farah all that much because the preceding 2000 meters were so slow. It does, however, give confidence to Kejelcha and Hill, two runners who are better suited for 3000 than 5000, but are very dangerous in a sprint finish.