One Comment
The Monday Morning Run: Mid-Season Diamond League Review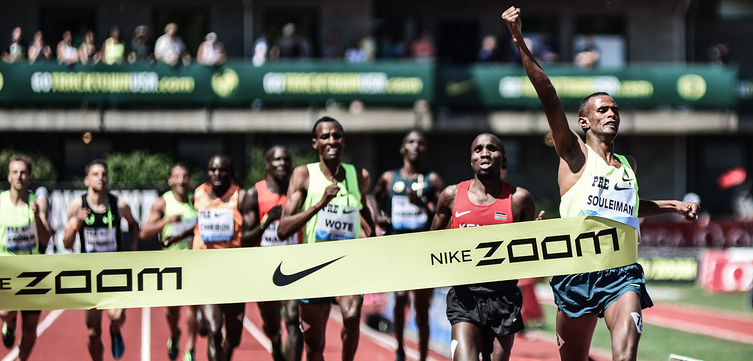 Kevin Sully | On 23, Jun 2014
Photo via TrackTownPhoto
You know it is a slow week in track and field when Jesse's Weekend's Best Match Ups post only goes five deep. The Diamond League was off last week, the Europeans were competing in their team champions and the Americans were preparing for next weekend's national championship.
Since the Diamond League season is almost to its halfway point, I'll review which events have exceed expectations in 2014 and which are falling flat. First, the three best performances of the weekend.
The Medalists
The three best performances of the week
Gold: Richard Thompson
Thompson became the ninth fastest man in history on Saturday when he ran a 9.82 for 100 meters in Port of Spain, Trinidad and Tobago. Thompson's time is a world lead and a national record. Less than three weeks ago Thompson ran 9.74 in Florida. That time did not count because there was no wind measurement.
On Saturday, the wind read + 1.7 m/s. In the video below you can see the flags blowing strongly behind the runners and they take off out of the blocks.
In the women's 100, Michelle-Lee Ahye also had the benefit of a favorable wind. With a + 1.6 m/s behind her she ran a world-leading 10.85.
Silver: Geoffrey Ronoh
The rabbit went rogue and won the Mattoni Olomouc Half Marathon in the Czech Republic. He was supposed to set the pace for marathon world record holder Wilson Kipsang. His bib even said "Pace Men," so there would no confusion.
Ronoh doesn't enjoy labels though so he ran away from Kipsang and won the race in 1:00:17. Kipsang finished second, eight seconds back. Dennis Kimetto was never a factor and came in third in 1:01:42.
Bronze: Stephen Sambu
Sambu beat Geoffrey Mutai…….in a 10k. Sure it was 20 miles shorter than Mutai's preferred distance, but Sambu is running incredibly well the last few months. Sunday, he won the BAA 10K in 27:25, 10 seconds ahead of Mutai. Earlier this year he won the Healthy Kidney 10K in New York and broke 27 minutes at the Prefontaine Classic 10,000 after serving as a pacemaker for most of the race.
Diamond League Mid-season Review
It's about halfway in the profession season. Let's run through most, but not all, of the events, ranging from the most memorable, in group one, to the forgettable, in group three.
Group 1: Do they know there are no medals this year?
Event: Men's high jump
Both in terms of marks and competition, this is the best event in 2014. Several men have a legitimate shot at the world record and none of the big names shy away from competition. Bohdan Bondarenko and Mutaz Essa Barshim waged an engrossing back-and-forth in New York City where there were five combined attempts at the world record height. The in-competition dynamic was fascinating as well. Barshim starts the rhythmic clap before each jump, while Bondarenko asks for quiet at the top of the apron.
Still waiting on:
Ivan Ukhov is typically stronger during the indoor season. This year looked to be different when he opened with Diamond League wins in Doha and Shanghai. He hasn't be as good this last month, but if he can get going he is capable of beating Barshim and Bondarenko to the world record.
Wishes it was a championship year:
All of them. None of them. The fields are so deep this year that a monster jump could be out of the medals.
Keep watching for:
The world record. When does it fall? And how long does the new record stand before it is broken again?
Best Competition:
New York Diamond League.
Event: Men's 400
Lashawn Merritt and Kirani James are carrying this event. In the process, they are also proving how entertaining an event can be when the best compete with regularity. Their head-to-head at the Prefontaine Classic was certainly the best sprint race of the year.
Still waiting on: 
N/A.  Actually, now that his NCAA season is over, I'm waiting on Deon Lendore to race in the Diamond League. I'm not sure it will happen, but Lendore trails only Merritt and James on the yearly list.
Wishes it was a championship year:
Merritt. I'd say he is prepared for rounds.
Keep watching for:
How many 400s will Merritt run this year? The IAAF yearly lists say eight (nine if you count his 4 x 400 leg at the World Relays), but that number seems really low. I feel like every week I check Twitter and see that he ran another 44 second 400 in somewhere in western Europe.
Best Race:
Merritt vs. James at the Prefontaine Classic.
Event: Men's 1,500/Mile
The 1,500/mile has been fast, deep and fun. Fewer races are reverting to the slow tactical races that we're used to.
Everyone is breaking 3:50. Eight men have already gone under the mark and it is not even July. Strangely, Asbel Kiprop isn't one of the eight. He looked like a candidate to challenge the 1,500 world record after his 3:29.18 in Doha.
Still waiting on:
At the risk of sounding like Isaiah Kiplagat, the man who unsuccessfully tried to ban Kenyan athletes from Diamond League races, I think Kiprop looks a step behind. Part of this could be attributed to his busy race schedule. Or, he could be targeting a run at the world record in Monaco later in July. Or, maybe the 1,500/mile is just really deep this year.
Or, it could be some combination of all these.
Wishes it was a championship year:
In his four races, Ayanleh Souleiman has won twice and finished second and third. His mile time at the Bowerman Mile was the fastest since 2007.
Keep watching for:
With all these fast times, I'm curious how many Americans will get dragged to personal bests over the next two months. Matt Centrowitz has run 3:35/3:50, but past that no American has cracked into the top tier this season.
Best Race:
Souleiman blows past Kiprop with 300 meters to go and six men break 3:50 at the Bowerman Mile.
Event: Men's 400 hurdles
Javier Culson and Michael Tinsley own six of the eight fastest times of the year. Those two look a cut above everyone else at this point.
Still waiting on:
Is Angelo Taylor still around? Or is he like a hurdling eclipse that only appears every eight years to win gold medals?
Wishes it was a championship year:
Culson has three wins on the season though only one of them was in a Diamond League meeting. The depth is down this year in the hurdles creating less parity at the top.
Keep watching for:
How fast can Ashton Eaton get? How many Olympic and World Championships medalists can he beat? I'm sure the 400 hurdlers are quite happy that Eaton chose their event to play with on his off-year.
Best Race:
Culson runs world lead at New York Diamond League
Event: Women's 1,500/3,000
I grouped these two events together because there is some crossover amongst the top athletes. The outdoor season started with a historically fast 3,000 in Doha. From there, the middle distances have only become more interesting. Several countries are competing at such a high level. Six women representing five different countries have broken four minutes in the 1,500 this year.
Kenya has Hellen Obiri and Mercy Cherono. The United States has Jenny Simpson and Brenda Martinez. Ethiopia has Genzebe Dibaba and the little-known Dawit Seyaum.
Still waiting on:
N/A.
Wishes it was a championship year:
Obiri. 3:57.05 and 8:20.68 will win you most races.
Keep watching for:
The impending Abeba Aregawi v. Dibaba v. Obiri clash at 3,000 meters. I know the 3,000 is a relic of decades past when some genius thought women couldn't race 5,000 or 10,000 meters on the track. Clearly those people didn't foresee the existence of Tirunesh Dibaba.
Sexist history aside, I love the distance. It attracts people from the 1,500 and 5,000. If it can help us get Dibaba, Obiri and Aregawi on the track at the same time this year then its legacy grows even more impressive.
Best Race:
Obiri leads everyone to a PR at the Doha 3,000.
Group 2: Still time for improvement
Event: Men's 100/200
The only reason this doesn't slide to third group is :
1) Tyson Gay and Justin Gatlin are facing off in the 100 in Lausanne next month.
2) Championship year or not Warren Weir seems content on running his guts out.
Still waiting on:
Usain Bolt. And we may be waiting awhile. It also looks unlikely that he will participate in the Commonwealth Games. Both he and Yohan Blake were not on the initial entry lists. This weekend, Blake's agent said:
"He's (Blake) healthy, you saw what he did in Nassau and how he has looked since coming back, but he is looking forward to the next three years, so this year is about getting him back in the saddle and getting him back to running really fast again."
Running in a meet in 2014 definitely makes you unable to prepare for the next three years. Right.
Wishes it was a championship year:
Before Richard Thompson ran 9.82 on Saturday, Justin Gatlin had the four fastest times of the year. Gatlin is also undefeated in his seven appearances in the 100.
Keep watching for:
Bolt sat out the World Relays where Blake anchored the Jamaican team to two gold medals and a world record. Short of running a 9.5, there is nothing Blake can do to supplant Bolt as an icon. But maybe this year he can start to close the gap. It looked like Blake was making headway in 2011 when he won gold in the World Championships 100 and popped a 19.26 in the 200 at the close of the season.
The next year, he upset Bolt twice at the Jamaican Olympic Trials. Then the Olympics came, Bolt won the 100 and 200 and the rivalry was back to square one. That is, it wasn't much of a rivalry.
With Bolt hurt, is this the year Blake can capitalize? At this point he is certainly behind Gatlin, but there is still plenty of season remaining and Blake is known for peaking late in the season
Best Race:
Weir's terrific 200 in New York City.
Event: Men's 800
When David Rudisha finished seventh at the Prefontaine Classic the world got flipped-turned upside down in a way not seen since Will Smith made that fateful move to Bel Air. Since then, the 800 has settled a bit. Rudisha won in New York City, but didn't answer all the questions about his fitness.
Still waiting on:
Nick Symmonds was banged up after the indoor season and hasn't made an appearance outdoors yet.
Wishes it was a championship year: Nijel Amos has the best win of the year and proved that taking a year off to pursue DJing is a smart career move for a middle-distance runner.
Keep watching for:
Rudisha, always Rudisha.
Best Race:
Event: Women's 400
In recent years we can count on a few things in the women's 400:
1) A collegian will run run fast early in the season. We have that with Courtney Okolo, who has the fastest time of the year.
2) Amantle Montsho will get outleaned by hundredths of a second. Already happened once.
3) Americans will make up most of the top ten. They currently have six spots.
4) There is no clear frontrunner. Novlene Williams-Mills has looked the best, but she has been far from dominant.
In all, a pretty standard year thus far in the women's 400.
Still waiting on:
Christine Ohuruogu finished last in New York. She always manages to round into form later in the season.
Wishes it was a championship year:
Williams-Mills has the second fastest time of the year and wins in Oslo, Eugene and Shanghai. Francena McCorory, Natasha Hastings and Amantle Montsho have given her good competition.
Keep watching for:
It is pretty much a weekly occurrence for me to discuss Allyson Felix's potential in the 400. In 2014, it looks like she will explore the distance in a way she hasn't done since 2011. Felix opened up with a 50.81 for fifth place in Shanghai. Since then, her 200s have improved so I think she will be much more competitive this weekend at the USA Championships and has a chance to beat her personal best of 49.59 later in the summer.
Best Race:
Shanghai. Williams-Mills and Montsho are separated by inches.
Event: Women's Long Jump
This is my nominee for underrated event of the year. It gets no publicity and will probably get even less coverage now that the men's high jump is reigns over the field events. Tianna Bartoletta has returned to the runway and is the only woman over seven meters this season. Blessing Okagbare has also showed she can sprint and jump and doubled up in the Diamond League meet in Shanghai.
Still waiting on:
Brittany Reese's best result of the year is a fourth place finish at the Prefontaine Classic.
Wishes it was a championship year:
Tianna Bartoletta could probably qualify in three events, four if you count the 4 x 100 relay.
Keep watching for:
Can the sprinters, (Bartoletta, Okagbare, Tori Bowie) defeat the pure jumper (Reese)? Remember, between World Championships and Olympics, Reese has won the last four major championships.
Event: Women's 100 Hurdles
Brianna Rollins has raced sparingly, but has won every race save for one early season slip-up at the Drake Relays. Her winning times are in the 12.5 and 12.6 range. Last year she ran under 12.5 four times. Rollins's isn't an obvious winner this year and behind her is the usual deep field of American hurdlers.
Still waiting on:
Sally Pearson pulled out of the New York City meet and hasn't raced since early April.
Wishes it was a championship year:
N/A. Everything is so tight in this event. Five women have run between 12.53 and 12.59.
Keep watching for:
Is the Rollins/Pearson rivalry going to materialize? Rollins was great last season, Pearson the two years before that. If we don't see it this year I'm not sure it will ever happen.
Best Race:
Rome, Rollins and Harper Nelson separated by .01.
Event: Men's 110 Hurdles
Lots of close races and lots of different winners. Pascal Martinot-Lagarde has looked the best, but that could easily change next month.
Still waiting on:
Aries Merritt's only mark of the year is a 13.78 from May 3. He has withdrawn from meets since then and is not 100% healthy.
Wishes it was a championship year:
Martinot-Lagarde has the hot hand…or hot trail leg. He won in Oslo and Eugene with the two fastest times of the year, 13.12 and 13.13.
Keep watching for:
Is America vulnerable in this event? Last year the United States looked set for another several years of dominance in the high hurdles. They had the last two world champions and the Olympic champion. This year, there is more diversity atop the world list. The US looks to be in a transitional year with Merritt and Jason Richardson off to slow starts and the next group of collegians not quite ready to consistently compete at the Diamond League level.
Best Race:
Wenjun Xie upsets the field in front of his home crowd in Shanghai.
Group 3: Wake me up when September Ends
Event: Men's 5,000
More accurately, wake me up when Mo Farah runs. The most dominant runner of this era has left a huge hole as he prepares to return to the track. You could get excited about a potential Caleb Ndiku/Mo Farah rivalry, but after Ndiku only put a second on Galen Rupp in the Oslo 5,000, Farah probably isn't too concerned.
Still waiting on:
Mo Farah. At least he is running the Commonwealth Games.
Wishes it was a championship year:
Caleb Ndiku won the Prefontaine Classic 5,000 and was runner-up in Oslo. To me though, he will always be the guy who raced indoors in a beanie.
Keep watching for:
Rupp's chase of the American record. The United States is deep at the 5,000, but I expect performances to flatten out after a hot start. Rupp and Bernard Lagat might be an exception since they raced so sparingly in the early months of the outdoor season.
Best Race:
All the big names met in Oslo.

Event: Women's 800
No memorable performances thus far. Eunice Sum has the best win of the year, a 1:59.02 in Oslo.
Still waiting on:
No results thus far from Olympic champion Mariya Savinova.
Wishes it was a championship year:
She only has one Diamond League win and yet Sum looks like the class of the field.
Keep watching for:
Progression of the youth. Sahily Diago of Cuba has the two fastest times of the year. Ajee Wilson just turned 20 and is still improving. Mary Cain ran two 800s this year, but I expect her to focus more on the 1,500 once the World Junior Championships approach.
Event: Women's 100/200
Too many of the main attractions are missing. There does appear to be some light at the end of the tunnel. Carmelita Jeter ran her first 100 of the season recently and Michelle-Lee Ahye of Trinidad and Tobago is an emerging start after her 10.86 this weekend.
Still waiting on:
Carmelita Jeter and Shelly-Ann Fraser-Pryce are both are injured. Jeter is heading back to action while Fraser-Pryce has struggled all season with injuries.
Wishes it was a championship year:
Torie Bowie won the Prefontaine Classic 200 and then followed it up with wins in Rome and New York City.
Keep watching for:
Aside from Ahye, this might be a year to keep tabs on the next crop of Jamaicans and Americans. Veronica Campbell-Brown, Fraser-Pryce and Jeter are all veterans and they aren't guaranteed to make it through the next Olympic cycle.
Best Race:
Bowie wins Prefontaine Classic 200 out of lane one.