No Comments
1:00 a.m. on the West Coast: A London Marathon Live Diary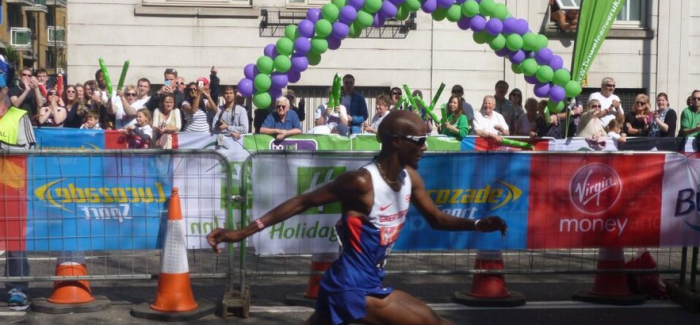 Photo via @RunEmilyERun
OK, I'm up!
Since I decided not to do a preview of this race with my odds and whatnot I will give a quick rundown of what I thought the odds should be compared to the odds the overseas sports book William Hill put up.
                        Me   William Hill
Wilson Kipsang: 5/2, 15/8
Mo Farah:         15/1,  3/1
Tsegaye Kebede: 4/1, 4/1
Geoffrey Mutai:    3/1, 7/1
Emmanuel Mutai:  7/1, 8/1
Ibrahim Jeilan:      20/1, 10/1
Ayele Abshero:    12/1, 12/1
Feyisa Lelisa:      15/1, 20/1
Stanley Biwott:    18/1, 20/1
Obviously the big difference is they have Mo Farah at 3/1 and to put that nicely, that's insanely stupid. I get these odds are available overseas only and the regular better over there knows Mo Farah and will bet him…BUT it's his first marathon and this field is absolutely stacked. If he finishes top 3 that is a massive victory for him.
And what's with the disrespect to my boy Geoffrey! I know I picked him to win so I'm a little biased but why does he have significantly worse odds than Farah and Kebede? I think Kipsang, Kebede and G. Mutai are a cut above the rest of the field. Last thing, Jeilan at 10/1? I thought I was higher on him than anyon,e but giving him better odds than Abshero or Lelisa doesn't make sense unless of course you live in London and are really holding onto that 2011 World Championship 10,000. Anyway, to the diary!
1:44 a.m. I don't have Universal Sports anymore so I'm watching the race on some website called, watchathletics.com–kind of proud a website like this exists.
1:45 The woman's race is about 10k in and there are 10-12 woman left, including all the names you would expect and my pick, the destroyer of all things wrapped up in a baby face.
1:49 About 10 minutes from the start of the men's race and it's all about Mo Farah as far as these announcers are concerned. I mean just because he's British, the double World and Olympic champion and I'm watching a British feed of this race that is taking place in London doesn't mean…Yeah, carry on guys.
1:53 I'm really tired…I don't know why I made getting up at 1:30 am to watch the London Marathon one of my things.
1:57 So this is the "2014 Virgin Money London Marathon." What the hell is Virgin Money? Am I completely behind the times. Is that like bitcoin? Is that still a thing?
1:59 Farah gets the loudest cheer during intros, didn't see that coming.
2:00 And we're off! THIS IS TOTALLY GONNA LIVE UP TO THE HYPE!!
2:03 Tons of people are wearing Mo Farah masks and it's kind of freaking me out. It looks like that movie where you're allowed to commit crimes for a day without repercussions, only everyone just runs really fast. Probably not as good a movie…
2:05 We are at over 15 minutes since we've last seen the women's race, I realize it's not as big as the men's but maybe we can check in on that other elite field with the best 5k/10k runner in the world making her debut.
2:08 Kevin and I are chatting on G Chat, apparently there are multiple feeds to this race and I'm on the one that doesn't want to show what the hell is going on with the elite fields.
2:09 Wow, the women's race! only 21 minutes in between updates. Lost Tiki Gelana but Jeptoo, Kiplagats and Dibaba still fighting it out!
2:11 Men's wheelchair race…. maybe they started them first this time so they won't collide with runners! Won't be nearly as exciting if one elite doesn't get taken out at a water station though.
2:13 Men at 2:02 pace after 2 miles. Farah a good 3 minutes off sub 2 hour pace.
2:16 Farah decided not to start with the leaders which is probably really smart, but I can't see him winning this way…or any other way really.
2:18 Pacers are wearing the Hamburgler/Beetlejuice singlets from last year except for Haile Gebrselassie. He doesn't need to steal hamburgers.

2:19 Ibrahim Jeilan running side by side with Mo! That's my super darkhorse pick to finish near the top…actually can that be a dark horse if William Hill has him as the 6th best odds to win? Yes, they are crazy.
2:21 Women are on 2:17 pace, that seems fast…
2:22 No sign of the pirate ship yet…Guess I'm watching Pirates of the Caribbean or Goonies after this to get my fix.
2:22 A Charlie Chaplin impersonator just started running along with a guy running in a full pumpkin costume…Kevin picked the pumpkin guy as a sleeper for the top 10.
2:30 We are another 10 minutes since showing either the men's or women's races…sure glad we got a look at that pumpkin guy.
2:30 And there's the men's race! Looks like everyone is still in play for now, I guess we will miss the big move of the race later when they show two people drinking tea.
2:31 PIRATE SHIP!!!!! It's just as beautiful as I remember. I hope Patrick Makau is captaining today.
2:32 And a group of like 6 white guys…I'm going to go out on a limb and assume these are British runners.
2:35 Hey, the women's race! Only 15 minutes between updates this time! Still the same 4 with Jeptoo, Dibaba and both Kiplagats.
2:37 Farah still about 45 seconds behind the lead pack. He's like the Duke of Plaza Toro, leading from behind…
2:42 Kevin just told me he's eating a bowl of cereal and to put that in my recap. Done.
2:43 Same 4 for the women. Down one pacemaker, but they are nearly 90 minutes in The Baby Faced Destroyer is still lurking!
2:44 Farah making a little bit of a move and he dropped Jeilan…picking him 6th was an impressively bad decision.
2:46 We just got a slow motion look and analysis at Mo grabbing a bottle of water…Used two hands. Not pretty, but effective.
2:47 Normally I don't like when they show the regular runners but…PIRATE SHIP!!!
2:48 Jessica Augusto sighting ahead of Gelana, Is she in 5th?! That was where I picked her, come through for me Jessica!
2:49 Nope, I think she's in 8th…Damn you Jessica.
2:50 The announcers have no idea where Jeptoo went they aren't sure if she took the lead or fell off the pack–a good argument as to why we should stay on the elites.
2:52 Probably could do without the 6th and 7th place finishers in the women's wheelchair race. Probably could do without the 6th and 7th place finishers in every race ever.
2:54 Apparently Jeptoo dropped out. WOW the curse of Kevin picking you to win strikes again.
2:54 Dibaba drops the ball! I mean her drink! She stops to pick it up, and it costs her about 20 meters. Are water bottles her kryptonite? Does she have a weakness?!
2:55 Kiplagat vs Kiplagat! But I'm not counting Dibaba out, she's like Mike Myers (from Halloween, not the SNL cast member) or Jason (from Friday the 13th, not the House of Run podcast co-host) she won't die!
2:57 Geb already out of the men's race. He was trying to make it to 30k, I'm guessing they didn't run 30k in 57 minutes…
2:57 Dibaba falling farther back. I can barely see her baby face at this point.
2:59 Still looks like every major player still in the men's race as we near the halfway point, except for that Farah guy…
2:59 He must of heard me! Seems like Mo has started to close the gap a bit, the crowd won't like this…
3:02 They cut out just as Mo is about to grab water, we better get analysis of that later.
3:03 63:07 at the halfway point for Mo, just 56:52 to go sub 2, I feel stupid for doubting that now.
3:04 Announcers think Mo is 35-40 seconds back but there are still 7+ guys in that front group. Odds he outruns all of those the rest of the way:
William Hill's odds        Jason's odds
2/1                                       100000/1
3:06 Farah dropped his water now! What is happening! I need analysis! This is the real reason 5k/10k runners don't make the jump to marathons, they don't know how to pick up things!
3:11 Announcer astutely pointing out Dibaba doesn't look as smooth in mile 20 of a marathon as she does in a 5k or 10k…also, I don't look as smooth running in flippers as I do with running shoes.
3:12 Dibaba 12 seconds back and we are 1:57 into the race.
3:12 Is it possible for water stations to cost someone a chance to win? Dibaba is testing that theory. She needs a late night parking garage training session.
3:13 Announcers trying to figure out how long ago the British record from 1985 happened, they settled on 18 and a half years…Awesome, I'm only 20.
3:14 Still everyone hanging around in the men's race. Farah still 45 seconds back. Top 5 would be a major victory at this point.
3:16 Kevin just messaged me that Mo will be lucky to finish top 5. 2 minutes slow SULLY! Just like Farah.
3:18 Florence Kiplagat making a bit of a move just a couple meters up on Edna. Dibaba about 10 seconds back, but only a 5k to go! This is destroyer time.
3:21 Still 8 or 9 guys up front. You'd have to think a few of them are going to have something left and we could get a really good time.
3:25 We are up to showing the vision impaired champion for the last 5 minutes. It's a great accomplishment, but they rarely show the elites for that long. I swear I'm not a heartless monster.
3:26 Farah still about 50 seconds back, and now we are showing the white dude group again…I DON'T CARE ABOUT THE GUYS WHO ARE GOING TO FINISH 10th-15th.
3:27 How about the women's race?!!? We have to be less than 10 minutes from the finish!!
3:28 And they listened to me again, I wonder if I can use these powers to get them to show the pirate ship one more time…Oh, the race is happening. Still both Kiplagats with Florence leading slightly and I think Dibaba has fallen a little farther back. I've officially given up the dream.
3:30 Big Ben and the Baby Faced Destroyer in the same shot fighting for our attention.
3:34 Still side by side with less than a quarter to go in the women's race. Edna makes a move and Florence is bankrupt!
3:35 Edna Kiplagat 2:20:21, Florence Kiplagat 2:20:24 and Dibaba 2:20:35.
3:36 Great race, really impressive debut for Dibaba to run sub 2:21 in her first ever marathon. Who knows what happens if she didn't drop that water bottle.
3:37 "There have been some changes in the men's race." And of course we didn't show you any of these because we never do!
3:37 Really stressing the Farah British record now…I thought that was going to be a forgone conclusion before the race. Definitely a disappointment if he fails to get it.
3:38 Kipsang and Biwott separated from the pack, glad we missed that…Geoffrey Mutai in 3rd.
3:39 Rant time: My TV had picture in picture when I was a kid in the early 90s, have we lost that technology over the years? Or, could we maybe use that to show two things at once so we stop missing every important move that ever happens in THE BEST FIELD OF ALL TIME?
3:39 Is this diary exactly the same as last year's?
3:40 Why are we back to the white guys again?!?! They aren't top 10, and they've stayed on them longer than the leaders, I don't care that they are British and I love the UK more than Kevin loves Marvin Bracy.
3:43 Kevin is very bitter about Biwott right now, expecting a blowup but I think deep down he's actually proud. Kevin's Biwott is my Geoffrey Kipsang.
3:47 Geoffrey Mutai struggling, down to 5th now. Just didn't have it today, he's still my boy.
3:48 Kebede and Abshero are in 3rd and 4th, but out of reach of the leaders unless this race breaks exactly like last years did–guess I shouldn't dismiss the possibility…
3:49 Kipsang and Biwott still neck and neck 1:49:30 in, probably 15 minutes to go.
3:52 Really thrilled they are showing these British women finish in 2:35 instead of the last 10 to 15 minutes of the men's elite field that's, you know, THE BEST FIELD EVER ASSEMBLED! (AM I OVER-USING THE ALL CAPS MOVE?!?!)
3:54 This announcer is saying Farah should go back to the 1500 and 5k, what about his best race? You know, the 10k?! And it's his first marathon! Take it easy guys…
3:55 Haven't showed the leaders in 7 minutes, if one of them made a move we didn't see…I might snap.
3:56 Now showing us the 3rd and 4th place…WHERE ARE THE LEADERS?!
3:57 Hey, the guys winning the race! Less than 8 minutes to go, both still side by side, course record pace, they better not go away from them for more than a few seconds.
3:58 Kipsang starting to gap Biwott, and they keep going back to Farah while the race is being decided. I get he's the big name and it's London but stop it.
3:59 Kevin knew it was coming and it finally does, can't really blame Biwott for this one, Kipsang is the best in the world.
4:00 Speaking of Kipsang, "I think this man is good enough to win the Olympic Marathon." Athletics Kenya releases a statement, "Not if we can help it!"
4:01 Kipsang just racing the clock now for the course record.
4:02 90 second gap between 2nd and 3rd, pretty crazy.
4:03 "Why would you want to take on these athletes in the marathon" IT'S HIS FIRST MARATHON AND YOU WERE TALKING ABOUT HOW GREAT IT WAS 2 HOURS AGO! Can't wait for Skip Bayless to weigh in on this so we can get a rational angle.
4:04 2:04:27 new course record for Kipsang, Biwott a really solid 2nd in 2:04:53.
4:06 Kebede and Abshero finish 3rd and 4th in 2:06:29 and 2:06:30.
4:07 Mekonnen 5th and Geoffrey Mutai in 6th.
4:08 Farah in 8th, but right behind some really elite guys, so let's all calm down, this race was much slower than we all thought with only two guys under 2:06:29. I said not even an hour ago I would be really disappointing if he didn't break the British record, but the way that race went down its not nearly as bad as I thought. Obviously not how Farah wanted it to go and the expectations were high, way too high by some *cough* William Hill *cough* but it wasn't a disastrous debut by any means, I'd give it a C to C-.
4:11 They interview Farah and he said he will definitely want to run another marathon, suck it announcers!
4:12 Jessica Ennis, goodnight.