No Comments
The Monday Morning Run: 26 Thoughts on the London Marathon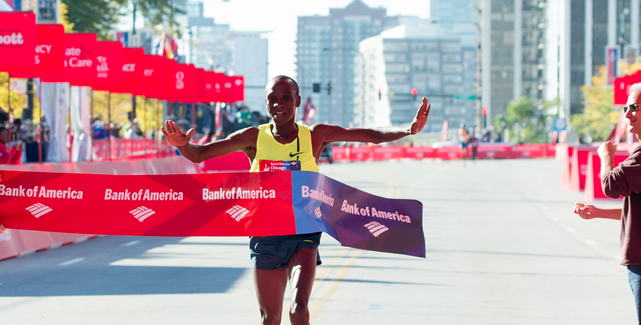 Kevin Sully | On 28, Apr 2015
Photo: Chicago Marathon
Due to results overload, we are splitting up the Monday Morning Run this week (not to mention posting it on Tuesday……). The London Marathon recap is on tap for today with the full review of the Penn Relays and the Drake Relays on Wednesday.
For London, let's revisit the most important competition of the year that you probably didn't watch live. Here are 26 thoughts on the races won by Eliud Kipchoge and Tigist Tufa.
1) Eliud Kipchoge's win was a throwback to the days of the traditional marathoner–runners who came to the roads after years of success on the track. They migrated out of necessity, not because the marathon was the more lucrative option. Now, runners in their teens and early 20s take a shot. The long races on the track don't provide enough financial incentive to stick around and the intimidation and fear of 26 miles has dramatically decreased. Kipchoge wasn't as decorated as Paul Tergat and Haile Gebrselassie in the 5,000 and 10,000, but he did win four major championship medals on the track. And like Tergat and Gebrselassie he jumped to the roads after his potential was exhausted at the shorter distances.
Kipchoge's been around since 2003, yet he is only 30 years old. "Late in the career" is a relative term. He should have plenty of time to chase other major victories and expand on his already preposterous marathon record.
2) Here is the aforementioned record:
@EliudKipchoge 2:04:05 2nd Berlin '13 2:04:11 1st Chicago '14 2:04:42 1st London '15 2:05:00 1st Rotterdam '14 2:05:30 1st Hamburg '13

— Bernard Lagat (@Lagat1500) April 26, 2015
3) We say nothing surprises us in marathons, but Tufa's win was a shock. She had the eighth best PR in the field and had virtually no experience in major marathons. The odds were pretty high that Mary Keitany or Edna Kiplagat or Florence Kiplagat or someone else with a 2:19/2:20 next to their name would have a great day and run away with the race. On Sunday, Tufa was the aggressor and she won with a comfortable 18 second margin over Keitany.
4) The slow pace of the women's race probably played into Tufa's hands. The field was a sensible 1:11:43 through halfway. With four miles remaining there were still eight women in the lead pack. Then, Tufa split a 16:14 5K from 35-40K and the race was over. This wasn't quite the sit-and-kick that Wilson Kipsang employed in New York City, but it was odd to see so many runners in contention that late. The strength of Tufa's surge was also startling until you remembered that they were running 5:30+ per mile most of the race. Everyone in that lead group of was capable of running faster. None did and Tufa took advantage.
5) In the 2013 New York City Marathon, Tufa and Buzunesh Deba made an early break from the pack. Because the two trained together at the time, the move looked preplanned and the smartest strategy for Deba to win the race. Of the two, Deba was the more established name at the time. Tufa's role seemed to be more of a supportive team member/rabbit/sacrificial lamb.
The strategy almost worked. Deba ended up second. Tufa, who did more of the leading during the duo's time at the front finished eighth. Since then, Tufa hasn't run a single major marathon. Deba has had a string of high profile races, though she has never crossed the line first. It's more evidence of the unpredictability of marathons that Tufa's big day came before Deba's.
6) A great contrast in the faces of the men who came across in second and third place. Kipsang was smiling, pleased with his effort and aware that Kipchoge was just too good to beat on that day. Dennis Kimetto finished about a minute later and looked like someone who just had their tonsils removed.
It will be interesting to track how Kimetto progresses in the next few races. Will his career follow the pattern of Kipsang or Patrick Makau? Both set the world record like Kimetto. Kipsang has been able to sustain his success, while Makau has struggled. Third place on Sunday is respectable and he can take solace that he was a factor until very late in the race. Since the fall World Marathon Majors are split three ways, there is a good chance Kimetto will get in a race without Kipchoge or Kipsang.
7) If you are in charge of picking the men's Olympic team for Athletics Kenya, you would like there to be no more marathons before the Olympics. As it stands, their selection for the men's team is easy. Kipchoge, Kipsang, Kimetto.
It's impossible to screw it up. The other contenders ran themselves out of contention in London and Boston didn't reveal any under the radar stars. Kipchoge and Kimetto are unproven in tactical races, but you have to put them on the team because they are too good to leave off. You can adjust for tactics. You can't for speed.
The problem is that there are still two more cycles of marathons to go before they actually need to make a selection. Between the fall of this year and the spring of 2016, there will disturbances in the form chart. One of the three, Kipchoge/Kipsang/Kimetto will have a poor race. Some 19-year-old will run 2:04 in Amsterdam. Emmanuel Mutai will come back to life and finish second in Chicago.
The selectors will start to overthink the process and they'll end up putting Geoffrey Mutai on the team because they felt bad about leaving him off last time.
8) In Ethiopia, it's a bit more difficult to pick a men's team. Lelisa Desisa is the only one who you'd feel confident putting on the line in Rio. Luckily for Ethiopia there are two more cycles of the marathon so they can identify who they can put beside Desisa. You might be thinking that Ethiopia has an embarrassment of riches in the marathon and that anyone they put on the team will perform well.
The 2012 edition of the team proves otherwise. They pulled off the rare triple DNF, an accomplishment usually reserved for the three 400 runners on your high school track team who your coach put in the 1600 because they talked all week about how they could run 4:40 no problem.
Because there is so much talent in Ethiopia, there is immense pressure to pick the right three for the Olympics. They should never have an Olympics where they don't win a medal and factor heavily into the outcome of the race.
9) One more on the Olympics. Good luck trying to figure out Kenyan women's team. The "Fantastic Four" of Mary Keitany, Florence Kiplagat, Priscah Jeptoo and Edna Kiplagat went 2-5-7-11. Throw in Caroline Rotich, who just won Boston and Jemima Sumgong, who finished 6th in London, and there are at least six women in contention for the three spots.
10) Geoffrey Mutai didn't finish the race. This comes after back-to-back sixth place finishes in his last two races. When it goes in the marathon, it goes quickly. Mutai has morphed from headliner to an afterthought in about 18 months. After Sunday, it's hard to imagine him moving back into that top level again. From 2011-2013 he was the best marathoner in the world. He had fast times, major championship victories and wins over the best runners in the world.
11) Mutai's contemporaries, Patrick Makau and Moses Mosop are also a long way from their best. Makau dropped out 5K into Boston and Mosop has never matched his 2011. The careers of marathoners are as unforgiving as the race itself.
12) The men's race held a much more honest pace than the women. The rabbits passed through halfway 62:19 and then Eliud Kipchoge ran 62:22 for second half. With the quick pace, the results were much more in line with pre-race predictions that the women, though Kipchoge's win still qualifies as an upset in my opinion. Racing the world record holder and a man with a three race winning streak does mean you are the underdog.
However, Kipchoge was a much more likely winner than Tufa. The top three in the men's race might have been out of order, but they were the three that were "supposed" to be in the mix at the end.
13) I didn't think both Kimetto and Kipsang would finish in the top three. Something would happen, I guessed, that would keep the match-up from materializing. In the end, Kimetto finished well behind Kipchoge and Kipsang, but the fact that he was there during the last 10K was fun to watch.
14) Co-host Jason stayed up late to watch the race live. His viewership accounted for the .000000001 Nielsen rating in the Las Vegas market.
Jason's recap of the race? Kipsang Kipsang got Kipsang'd. Kipchoge's move with 800 meters remaining that dropped the defending champion was reminiscent of Kipsang's own effortless disposal of Lelisa Desisa at the New York City Marathon. Advantage still goes to Kipsang because he had the audacity (and available oxygen) to talk trash during his kick.
15) There were many things I got wrong in my pre-race forecast. I missed on both winners and picked Emmanuel Mutai for second in the men's race. As a result, I'll take all the responsibility for Mutai's 11th place finish in 2:10:54.
How did that happen? He never finishes anywhere but second and on the rare occasion that he does, it's because he finished third or fourth. Scratch the last part of that sentence, he never really finishes third or fourth only second. A strange off-day for the most consistent marathoner in the world.
16) I did get pretty close with the "random European" prediction. Somehow Javier Guerra of Spain finished seventh in the men's race. For the women, the top European was Ana Dulce Felix who took eighth.
17) I was very curious to see how Tsegaye Mekonnen would do against such a good field. He's so young and inexperienced and I'm guessing that contributed to his struggles. He didn't finish the race.
18) Here's another call to retire the best marathoner in the world title. It's a curse more than an honor. The results are too dependent on competition, courses and the luck of the day. Until someone runs off five or six majors in a row against tough fields it is tricky to pin down who is the best. If this exact field raced again in four months, how confident are you in picking Kipchoge?
A more productive exercise is to look at the year after it's complete and decide who had the best year. Even that leaves room for debate.
19) Even when Kipsang doesn't win he still performs well. He was third at the Olympics, fifth in 2013 London Marathon and runner-up on Sunday. In the marathon, it's hard to tell the the difference between an off day and a legitimate crack in the wall. Based on the time, and his proximity to the winner, I'd say that Kipsang will continue to be in the top tier of marathoning until at least 2017. A paced race between 2:05/2:05 is the Kipchoge sweet spot. I'd still take Kipsang in a race without pacers.
20) Paula Radcliffe ran her final marathon and finished in 2:36:55, good enough for 20th overall and the fourth woman from Britain.  Now begins the inevitable speculation about whether she will run just one more time at the Olympics.
21) Here is the BBC's Denise Lewis trying to keep up with Radcliffe

Now imagine that same situation except Radcliffe is running 2:15 pace.
Lewis: "…..(pants)……How are you doing Pa–."
Radcliffe: (runs past, doesn't look back)
22) Forget the tactical approach to the women's race, even with perfect pacing they would have been nowhere near Radcliffe's 2:17, let alone her 2:15. If Keitany can't PR again in her career (she's run 2:18:37) then we might need to wait until the next era of marathoners come before we see someone crack 2:18.
23) The men's race was THE GREATEST FIELD ASSEMBLED and two men broke 2:05 and one more broke 2:06. When is that sub two hour marathon happening again?
24) Another major marathon, another race where Stanley Biwott was a factor late into the race. He was in the main pack through 35K and was actually ahead of Kimetto when Kipchoge and Kipsang separated from the group. He ended up fourth in 2:06:41. The law of Emmanuel Mutai says Biwott will get his victory one of these days. It might only be one, but his consistent top five performances will be rewarded.
25) As predicted, Kenya's men dominated Ethiopia. All of Kenya's best were in this race and Ethiopia only had two men in the elite field. Kenya finished 1-4, but any broad statements about the balance of power tilting toward Kenya should wait until a more evenly matched race. Desisa is Ethiopia's best right now and he was in Boston. Their 2-50 is a jumbled mess. Tilahun Regassa did well on Sunday and finished fifth in 2:07:16. Considering the quality of the field, that is probably the best race of his career.
26) It was a completely different story in the women's race. Led by Tufa, the Ethiopian women fared much better than Kenya. Ethiopia went 1-3-4 with Tufa, Tirfi Tsegaye and Aselefech Mergia. Unlike the men's race, this was a relatively balanced field between Kenyans and Ethiopians. If anything, Kenya had the better squad on the line in London. Tsegaye has been a revelation and could have run for second, but chose to attack instead. Mergia did well to beat out Kiplagat and Jeptoo.