7 Comments
Five things track and field can learn from the World Cup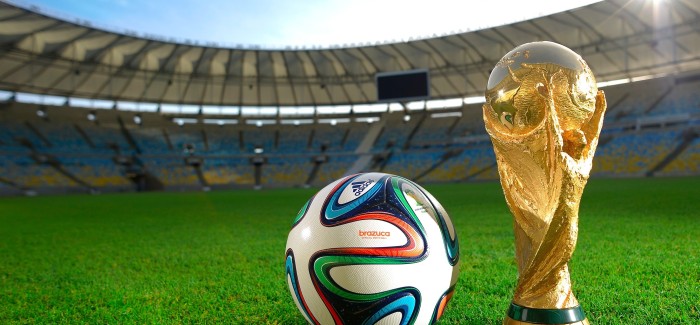 Jesse Squire | On 24, Jun 2014
There is another global sporting event going on right now that is also based on running, jumping and throwing (and a lot of kicking). The World Cup is heading towards the end of its group stage, and Sunday's US-Portugal match drew an overnight rating of 9.1, the highest ever for US television.
Soccer is clearly a sport on the rise in the USA, and the World Cup is its biggest show piece. What can our sport learn from the World Cup?
1. National teams draw broad interest
While soccer's American fan base is constantly increasing, it is still very much the case that most US sports fans only care about soccer for a few weeks every four years, when the US men's national team is playing. We track fans know all about that, because those same sports fans only care about track and field during the final week of every Summer Olympics. To a far lesser degree, the IAAF World Championships draw heightened interest, much in the same way that the Gold Cup and European Championships do for soccer.
While still a big deal for established soccer fans, the World Cup isn't the pinnacle of the sport for all of the football crazies in countries like England or Germany. Many are bigger fans of particular clubs and their greatest interest is usually in the UEFA Champions League and/or their own national league. But those are established fans. When it comes to broad worldwide interest, the national teams are where it's at. Similarly, the Diamond League meets are well-liked by established track fans but don't do much to bring in new fans. Even so, the athletes we root for at Diamond League meets are mostly determined by their nationality (certainly more so than by their sponsor).
The IAAF's new World Relays meet is a move in the right direction. It's a brief, one-weekend departure from the normal invitational circuit and captured wider interest. But even so it's just once a year, whereas FIFA has monthly "international weekends". Last weekend saw the European Team Championships, a fun weekend of competition that saw the host Germans upset the favored Russians. Maybe other continental confederations could put on their own annual team championships. I think it would do track and field a service if the IAAF took more command of the international schedule and corralled all the national championships into the same week, so that there aren't such huge gaps in the Diamond League schedule.
At the very least, Diamond League competitions could emphasize national affiliation. Minor tweaks could be national flags on bibs or by-nation scoring summaries for each meet. However it's done, track and field needs to take advantage of the interest in national teams.
2. Qualifying is important.
What we call the World Cup is actually the World Cup Final. The World Cup is a worldwide competition over two to three years that culminates in the 32 teams that qualify to the final. In nations for which qualifying is not a foregone conclusion–such as the United States–the qualifying games draw great interest.
Qualifying to the Worlds and Olympics in track and field is a funny two-tiered system. Athletes must gain a qualifying mark and then be selected by their national federation. For running events longer than 400 meters and for field events in general, gaining the qualifying mark is often the hardest part.
That leads us in track and field to do foolish things. We seek out conditions that will optimize times or distances at the expense of compelling competition. The stopwatch or the measuring tape is more important than the fans. We end up being very good at satisfying the former and very bad at satisfying the latter.
For example, look at how Ciarán Ó Lionáird qualified for the 2011 World Championships:
"When we arrived at the track it was set in the middle of some cornfields," says Ó Lionáird. "It had a rickety old grandstand with a pub on the corner of the track. It was like a throwback.
…
"The race was run in almost total silence. I hit the bell in 2:37 right on the shoulder of the leader and finished second [behind the Ethiopian Dawit Wolde]. I remember crossing the line, looking at the time and thinking: did that just really happen?
…
"Nate [Brannen], who had finished just behind me, said, 'man, you've just changed your life.' It was only when the news filtered through to Ireland and I got messages on my phone that I realised what had happened. It was amazing."
It's a great story, but here's the problem: "The race was run in almost total silence." Nobody saw him qualify for the World Championships.
Compare this to the famous March 2013 "Snow Game", where the US men's national soccer team defeated Costa Rica in a Colorado blizzard. The conditions were atrocious and it was not good soccer, but it was well-attended and well-watched because winning was all that mattered. We in track and field would never let such an important competition happen in weather like that, but soccer would never let its qualifying take place in an anonymous empty stadium.
We in track and field don't have to do qualifying by time. Nations could earn anywhere from one to three qualifying slots per event in things like IAAF World Series events and the Diamond League and other competitions. It's how Winter Olympic sports like bobsled do it, and it makes World Cup bobsled events that much more compelling.
Track is often criticized as a sport run by insiders and for insiders and there's a lot of truth to that. But it's partly because the system rewards it. Let's change the system and let new fans in on the fun.
3. Keep it simple.
Last Sunday, one of the talking heads on ESPN's "The Sports Reporters" said that one thing he really likes about soccer matches is that you know almost exactly how much time it will take to watch.
Similarly, the most popular sport in the United States doesn't ask too much of your time. Deadspin's Drew Magary:
The NFL has blown up over the past few decades because it's awesome and because of gambling and because, compared to other sports, football asks very little of your time. You can set aside a handful of hours a week for the NFL and still get other things accomplished in your life.
In fact, pretty much every code of football–association, gridiron, rugby Gaelic, Aussie–requires just a few hours of fandom once a week (sometimes twice a week in soccer). The Diamond League has done pretty well with this, making itself into a mostly two-hour show that happens about once a week (and usually on a consistent day and time).
College track sucks at this. The meets take all damn day over two or three days each weekend. You have to be up on hundreds of athletes in forty men's and womens' events. Flotrack Pro is great and all that but I've not yet signed up mostly because the meets they broadcast are like this. I'm not going to stare at a computer screen all weekend, I have a life. If college track wants to expand its fan base–and I truly wonder if any decision makers in college track care if it does–it needs to simplify, simplify, simplify. Nobody will watch an indoor meet if they have to sit through 43 heats of the 200 meters or if there are twenty minutes between events.
4. Spread it around.
The World Cup's matches are spread out across as many as a dozen cities within a nation. A lot of people can see matches this way and one city does not get overloaded. Track's big meets are held in once city and one stadium–but we're getting away from that and it's to our benefit.
The USATF Championships begin tomorrow with the men's and women's shot put, held at the California state capitol grounds. It remains to be seen whether it will be a hit with the public, but trends indicate that it should be. "Hammer Time" at the 2012 Olympic trials was popular, as is the Kansas Relays' downtown shot put and long jump. Street vaults and street athletics are big and so is Stockholm's Big Shot and the shot put at Zurich's train station. By breaking our sport into smaller pieces and spreading it around a single city, we are drawing more people into the fold.
This is how I think Eugene's bid for the 2019 World Championships will deal with the city's shortcomings. I would not be surprised if it ended up being a combined Eugene/Portland bid, with some sprints and/or field events held at sites like Portland's Providence Park or Corvallis' Reser Stadium. It would be a first for a Worlds and a significant risk (and challenge), but I think the IAAF might go for it because…
5. One big event can change things.
When I was young, nobody watched soccer on TV in the USA. Even if you wanted to you couldn't. The World Cup wasn't on US television until 1990. The real turning point in creating a US market for soccer was hosting the 1994 World Cup. That got the ball rolling. It's taken considerable effort since then by many people over a long period of time, but soccer is now part of the American spectator sports landscape and it wouldn't be anywhere near where it is now without that '94 Cup.
I don't think this fact has gone ignored by Nike CEO Phil Knight or various IAAF bigwigs, both of whom want track and field to tap into the vast market of US sports fans. There are considerable challenges to Eugene (or some other Oregon city) winning a 2019 Worlds bid, but the example of the '94 World Cup cracking the US market is a big help. If there is money to be made, risks will be taken.
The Worlds by themselves won't move the meter on track and field. For example, Canada hosted the '01 Worlds and it did little to nothing to change track's status in that country for more than a few weeks. But the '94 World Cup wouldn't have made much difference here either if not for the follow-up creation of MLS and other such efforts.
So what if Oregon does land the 2019 World Championships? Will it be a one-off event that has no lasting effect? Not if former Oregon head coach Vin Lananna has his way. It's obvious that he already has a plan to ramp up interest leading up to 2019, having led successful bids for the 2014 World Junior Championships and 2016 World Indoor Championships. Lananna always has a plan, and with Nike's financial backing he has the means to implement it. 2019 is just prior to an Olympic year, when interest in track is at its highest point, and five years ahead of a possible US Olympics. If all these things come to pass, then there will be a big push to keep track in the public eye in that five-year gap.