One Comment
The Monday Morning Run: Chicago Marathon Preview, Athlete of the Year Controversy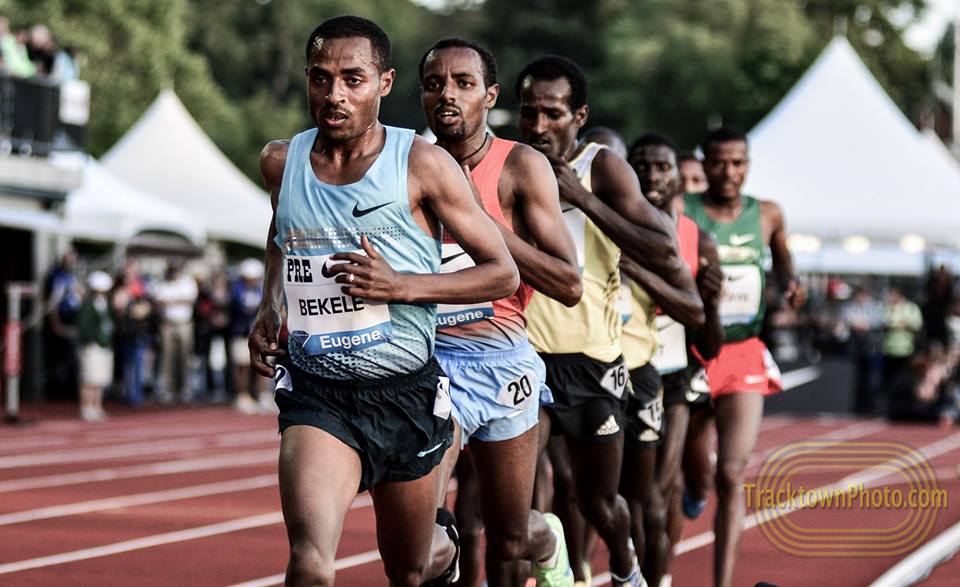 Kevin Sully | On 06, Oct 2014
Photo via TrackTownPhoto
The buzz of Berlin hasn't even worn off and yet we are only six days away from the Chicago Marathon, the next major of the fall. There won't be a world record in this one, but it will have two deep races and will be on at a decent hour for those of us in the United States.
As we head deeper into marathon season, a quick reminder that the Monday Morning Run will continue to focus on the professional side of the sport during the fall. For the next few months that means major marathons, the random track meet that lost its way and somehow ended up in October (hello there, Asian Games) and any other off the track news like when Usain Bolt decided to wear lederhosen in Germany.
For cross country faithful among us, I encourage you to check out Jesse's weekly recap of the NCAA scene. It's comprehensive, incisive and Jesse does a fantastic job distilling down all the results from meets across the country each week. I will touch on cross country when the pros run it, but other than that, Jesse is your source any time dirt, mud or grass is involved.
The Medalists
The top three performances of the week
Gold: Mutaz Essa Barshim
Yes, there still are track meets, and no, you didn't miss a world record just because you stopped paying attention three weeks ago. Barshim jumped 2.35 to easily win the gold medal at the Asian Games in Incheon, South Korea. He took also took two unsuccessful jumps at 2.40 before bowing out of the competition.
Barshim will end 2014 with five clearances of 2.40 or higher, two of 2.42 or higher, a personal best of 2.43, an indoor gold medal and the Diamond League title.
Silver: Ali Hasan Mahbood
The time was almost ten minutes slower than Kimetto, but how about a three man sprint to the finish in the men's marathon at the Asian Games?
I say sprint finish, but after running 26 miles this looked more like drag racing with the parking brake on. Still, Mahbood outlasted Kohei Matsumura and Yuki Kawauchi* to win in 2:12:38.
*Note: Nobody actually outlasts Yuki Kawauchi. He is already waiting for you at your next marathon. I hope you didn't spend too much energy on your victory lap.    
Bronze: Edna Kiplagat
She ran 1:07:57 for a course record at the Great Scottish Run half-marathon. Kiplagat looks primed for another strong performance in New York City. Her chances of winning also increased with the withdrawal of defending champion Priscah Jeptoo. Jeptoo was the best women's marathoner in the world last fall when she crushed the field with huge negative split in New York.
Since then, she has struggled. In the spring, she dropped out of the London and now she won't make it to the start line this fall.
Even without Jeptoo, New York still has the strongest women's field of the fall. It could set up a rematch of 2011 with Kiplagat and Mary Keitany at the front. But there are at least five other women who could contend for the win.
In other New York City news, Stanley Biwott also scratched. It's a tough break for Biwott after he had such a strong performance this spring in London–the first time he truly lived up to his marathon potential.
But when one runners scratches, another takes their place. In this case, the men's field will add Lelisa Desisa and Jemima Sumgong will toe the line for the women.
Surging….
-IAAF Athlete of the Year Drama
I'm not sure what people were expecting. Did they think Justin Gatlin would be permitted to race in the Olympics, World Championships and most of the Diamond League meets this year and yet somehow the IAAF was going to make him ineligible for the Athlete of the Year?
That is not to say that they shouldn't. There are legitimate arguments about giving awards to athletes who have past doping offenses. But the toothpaste is already out of the tube with Gatlin. To try to make him disappear at this point misses the entire point.
From a public relations perspective, I'm sure the IAAF isn't thrilled about him going undefeated in 2014. Gatlin's success has boxed them in. Exclude him from the nominations and people ask why was he eligible to compete in the first place. Put him on the short list and you get the type of blowback that has been brewing all season.
Robert Harting, the discus thrower and fellow nominee, released a statement withdrawing himself from consideration for the award because he "cannot stand the fact that I am on the same list with former doping offenders to choose from. And for me that is the reason for my waiver…"
Harting has very little chance of winning the award, but maybe his withdrawal will help consolidate support behind another candidate. Or, as throws guru Martin Bingisser suggests, at the very least it might scare voters off of Gatlin.
Harting may actually influence IAAF AOY decision. He wouldn't have won, but his comments may push votes away from Gatlin, a front runner.

— Martin Bingisser (@bingisser) October 5, 2014
Regardless of the drug issue, I think there are three people who will be selected ahead of Gatlin–Renaud Lavillenie, Mutaz Essa Barshim and Dennis Kimetto.
However, after looking at the full list of nominees, there is a scenario where things could tip toward Gatlin. If voting gets broken down by geography or event  there is only one other sprinter on the list (and one other America) and that is 400-meter runner Lashawn Merritt. As prolific as Merritt was, his season wasn't as strong at Gatlin's. Merritt also has a doping positive in his past so he wouldn't get any protest voters from those who are reluctant to support Gatlin.  If you inclined to support a sprinter, or someone from North America, Gatlin is your only real choice.
There is less commotion in the women's list. The quartet of throwers (Valerie Adams, Anita Wlodarczyk, Barbara Spotakova and Sandra Perkovic) have all been nominated. Adams, Wlodarczyk and Perkovic should be the three that make the trip to Monaco, but is the IAAF really going to choose three throwers?
-Tyler Pennel and Esther Erb
Pennel and Erb won the men's and women's USA Marathon Championships on Sunday in Minneapolis. Just 26-years-old, this was Pennel's first marathon. He ran 2:13:32, beating Jared Ward (2:14:00) and Scott Smith (2:14:40).
Erb came from behind to win in 2:34:00. Heather Lieberg and Brianne Nelson finished second and third in 2:34:08 and 2:34:22 respectively.
Slowing….
-UK Athletics
After a week of getting criticized for their self-fulfilling and self-defeating decision to send only runners with a chance at the top 30 to the World Cross Country Championships, UK Athletics finally admitted what was behind the selection policy.
They just didn't want to spend the money.
As strange as that sounds, it at least makes more sense than the original "top 30" selection criteria, In this bizarre situation UK Athletics wouldn't put you on the team unless you have the ability to be top 30 in the world, but the only way to prove you have the ability to be top 30 in the world is if you run in races like the World Cross Country Championships.
It's a remix on one of Michael Scott's rules of business from The Office—play to win…but you must win to play….. They've heard of that show in the UK, haven't they?
The latest statements from UK Athletics are even more confusing. Yes, they do admit they don't want to spend the cash. But they also open up the selection to athletes "with top 30 potential in 2015 or at any future World Cross."
How you determine who has the potential to finish top 30 seems overly complicated. Instead, why not just send your best runners and see how they do? If you get beat, that's ok. As Jason Henderson brought up in the original Athletics Weekly post, Andy Vernon has never finished in the top 30 in his four tries at the event.  Mo Farah got beat at World Cross. Badly.
This same principle holds true on the track. Was Richard Kilty on anyone's form charts heading into the World Indoor Championships this year? No, but you send your best team and sometimes they surprise you.
Regardless of the reason, sending somebody is always better than sitting at home. If UK Athletics wants to concede spots at a global championship that is fine, but they shouldn't be under the illusion that this strategy (forced by budget or otherwise) does anything other than make you less competitive and less relevant every time you use it.
-Haile Gebrselassie
Gebrselassie dropped out of the Great Scottish Run 19 minutes into the race. He won the race last year in 1:01:09.
No, I don't remember Michael Jordan on the Wizards, Jerry Rice on the Raiders (or Seahawks) or the last two seasons of Homeland.
Chicago Marathon: Essential Questions
1) Will there be a closer finish in the men's or women's race?
With Priscah Jeptoo's decline, Rita Jeptoo has become the undisputed best marathoner in the world. Those titles don't last very long so here's hoping she enjoys it. Despite the fleeting nature of marathon performances, I think Jeptoo still has one more dominant race in her. Florence Kiplagat and Mare Dibaba have the best chance at pulling an upset, but Jeptoo is so experienced and ran the fastest time of her career just six months ago.
The men's race is harder to forecast. Kenenisa Bekele comes in as the top pick much in the same way Usain Bolt is tabbed as the favorite even in seasons where he hasn't yet broken 10 seconds.
Bekele's debut in Paris this spring didn't answer many questions. He won in 2:05:04, but there wasn't the competition around him to give me an indication if he is one of the best marathoners in the world. Eliud Kipchoge, Tadese Tola, Bernard Koech all have run times in the 2:04s. Kipchoge is particularly consistent and there really is no indication that he will run slower than 2:04 on Sunday. I'm feel less confident in Tola and Koech who both ran their personal bests in Dubai.
Farther down in the start list there are other names that could contend such as Sammy Kitwara and Wesley Korir.
2) What is on the line for Kenenisa Bekele?
If you are into never ending debates, then you have probably wondered who is the greatest men's distance runner of all-time. Because the definition of "distance runner" is open for interpretation, this is a difficult question to answer.. Most people, especially those who didn't personally witness Emil Zatopek winning the 5,000, 10,000 and marathon in the same Olympics, boil this down to a face-off between Bekele and Haile Gebrselassie.
Some think that Bekele with the 5,000 and 10,000 world records and all of his world championship and Olympic accolades has already passed Gebrselassie. The lone holdouts cite Geb's success in the marathon. He broke the world record twice in the marathon and that was before the era when guys broke it every 15 minutes.
The only thing Geb has left is his superior times and performances on the roads. He never won a major marathon other than Berlin, but he did run under 2:04. If Bekele can do that, I have a hard time seeing anyone claim Bekele is not best of all-time.
3) Where will the first American man/woman finish?
Going off of personal bests, the fastest American man is ranked 15th on the start list. That being said, I think at least one American will crack the top ten. Bobby Curtis, Craig Leon and Patrick Rizzo have all run in the 2:13s, but with a good day and good conditions have the potential to run faster.
Debutante Matt Llano has said he is targeting Ryan Hall's American debut record of 2:08:24, which would certainly put him in the first ten.
For the women, Amy Hastings has the strongest credentials of all the Americans. She ran 2:27 twice between 2011-2012, but since then she has only finished one marathon (2:42:50 in the 2013 New York City Marathon). After Hastings, the next two fastest Americans are Clara Santucci and Becky Wade. Also, keep your eye on Lisa Uhl who is running her first marathon and had an excellent collegiate career on the track.
4) How close can the men get to the world record?
Before Berlin, I think they would have come very close. But Berlin did two things:
1) It lowered the existing mark another 26 seconds, moving it 48 seconds away from the Chicago course record.
2) It also proved how good Dennis Kimetto and Emmanuel Mutai really are.
It was those two who set the course on fire last year and showed that on a good day Chicago can rival Berlin in terms of fast times. But not every runner is Kimetto and Mutai, so even though Chicago is trotting out three runners with personal bests under 2:05 and three more under 2:06 it doesn't necessarily mean that they have the capability to do what those two did last year when they ran 2:03:45 and 2:03:52.
I'll probably be proven wrong. Betting against a fast time in the last few years has been very unsuccessful. I think Bekele will push the pace so I still think the time will still be quick, but they'll finish somewhere in the 2:03:50-2:04:30 range.
5) Will the conditions allow for fast times?
The pacemakers were very good last year and in general marathon pacemaking has been solid over with the notable exception being Gebrselassie's wild and crazy adventure in London this year.
Right now, the forecast is for a high of 59 degrees F and a low of 52. There is also 40% of rain for Sunday and the possibility of windy conditions. All of this is better than the hot tempts that slowed the race in year's past. If Chicago gets the cool-dry-calm trifecta on Sunday morning, recent history tells us we can expect something fast.
Fact of the Week:
If you run 2:09:12 or slower in the marathon you are actually closer to the women's world record than the men's. Only nine American men have ever run faster than 2:09:12.