No Comments
College Weekend Recap: Hail to the Victors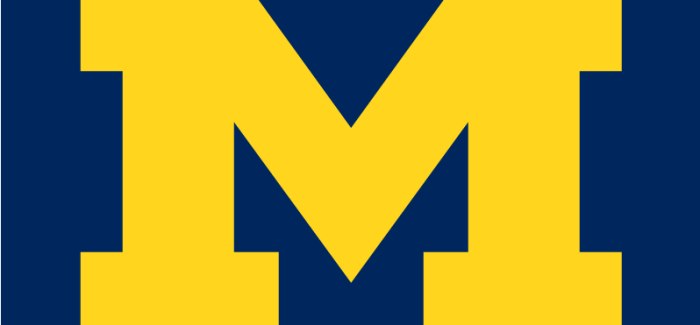 Jesse Squire | On 06, Oct 2014
Good news is hard to come by in Ann Arbor these days, but cross country is bringing some.
There was a lot of action this last weekend in college cross country. Washington hosted a big meet and there were good races in Louisville, Fayetteville, Boulder, and the Lehigh valley.
The first major race of the weekend was in South Bend, Indiana, and it's a story that has meaning in the larger context of college sports.
Notre Dame Invitational: Michigan wins in upset
Results
It's not been a good year so far for Michigan football. A 2-3 record, including the first 0-2 start to the Big Ten season since 1967, would be bad enough but it's not even the worst part. Quarterback Shane Morris was left in the game against Minnesota after clearly suffering a concussion—one that head coach Brady Hoke said he was unaware of at the time, even though it was clearly obvious to everyone watching in Michigan Stadium or on television. The Deadspin headline: Brady Hoke's Dangerous Incompetence So Bad ESPN Announcers Denounce It.
Then, of course, there was the reaction to the criticism over the Morris incident. Hoke was combative at a press conference on the Monday following the game and refused to take responsibility for putting Morris into a dangerous situation, and even denied believing Morris suffered a head injury. Later that night—actually 12:52am Tuesday—athletic director Dave Brandon finally sent out a press release on the situation, one that admitted mistakes but did not lay any blame on Hoke. The popular and well-connected MGoBlog tweeted that "This statement took so long because the medical staff refused to lie" and "This was a day-long fistfight over whether and how Michigan would admit they played a concussed player".
The real object of Michigan fan's ire is not Hoke, who will likely be gone before Christmas, if not before Thanksgiving. No, the man they really hate is the AD, Dave Brandon. About 1,000 students and fans rallied on the Diag Tuesday for his ouster. And this football season is only the latest in a long list of issues that students, fans and other supporters have with Brandon.
He's seen as arrogant and condescending. He's screwed with tradition, which is no small thing because it's what makes college football fundamentally different from the pros. Brandon, a former Domino's Pizza CEO, doesn't do market research and blames the customer for not wanting to buy an inferior product at a newly-inflated price. Apparently he even told a longtime season ticket holder who expressed dissatisfaction to find a new team to support. He's not winning a lot of friends.
Yet during all of this wailing and gnashing of teeth, the Michigan cross country programs are quietly having one of the best seasons in their history. The teams are undefeated, and the women are ranked #1 in the nation. On Friday the men's team, #19 in the latest coaches' poll, knocked off #10 BYU plus eight other ranked teams to win the Notre Dame Invitational. How ironic is it that the "conquering heroes" won at South Bend in the final year of the Michigan-Notre Dame football rivalry?
Steeplechaser Mason Ferlic won the individual title for the Wolverines, and three more finished in the top 25. Their fifth man was 34th despite running the last four miles in one shoe, suggesting he has more to offer his team.
The #10 BYU Cougars, the pre-race favorites, came second (by just fifteen points) followed by #15 New Mexico. #24 Florida State ran well to get fourth, and then in fifth place we got a lesson in college tie-breaking. #23 Eastern Kentucky and #22 Southern Utah tied at 209 points each, and the Colonels came out ahead of the Thunderbirds by a score of 3 to 2 through the convoluted NCAA system: compare #1 runner vs #1 runner, #2 vs #2, and so on to #5.

New Michigan men's coach Kevin Sullivan has been on the job for less than three months but already seems to be making an impact. The term Michigan Man gets thrown around a lot but whatever it means he fits it; he is the greatest middle distance runner in Michigan (and Canadian) history. Women's coach Mike McGuire, a man who inspires great loyalty in his athletes and who has had a tremendously successful career in Ann Arbor, is also a former Michigan runner.
It has turned out well for the running programs to look only to its alumni for its coaches, but there's no reason it has to be this way. Brady Hoke and Dave Brandon will get fired sometime this year, and Les Miles is widely rumored as the top choice to replace Hoke. He played at Michigan and was a graduate assistant under the legendary Bo Schembechler. But blind adherence to Michigan roots as a qualification is pointless: prior to their hiring, neither Schembechler, Fritz Crisler, nor Feilding Yost had any connection to Michigan (either the university or the state), and their accomplishments are why Michigan is the second-winningest football program in major college history.
While they are desperately looking for the next Bo, what the Wolverines really need is another Don Canham. The 1940 NCAA high jump champ for Michigan went on to coach the track team for nearly two decades, and founded and managed the NCAA indoor championships at Detroit's Cobo Arena from their inception in 1965 into the early 80s (a meet that turned a profit by its second year and returned the money to participating teams). When he moved up to athletic director, he turned around lagging football attendance and hired little-known Bo Schembechler from Miami University (after passing on Joe Paterno, who would not commit until after Penn State's bowl game). I guess the lesson is that if you want something done right, you should hire a track guy.
Women's race: New Mexico wins easy
Results
The competition in the women's race wasn't quite as deep–the only ranked teams in the meet were #12 New Mexico and #30 Penn State–and the Lobos showed they deserve their ranking by packing three runners in the top ten and five in the top twenty. The Nittany Lions had a rough day and finished fifth.

Washington Invitational
Results
All thisngs considered, the meet out in Seattle was the most competitive of the weekend and provided some drama in the men's competition.
#2 Northern Arizona was the strong favorite coming into the race, especially since #6 Stanford sat out virtually all of their best runners. Yet the Lumberjacks didn't have the scoring lead until the very end. #13 Virginia led for the first half of the race, and then #20 UCLA took a small (2 point) lead at the 7k mark before Northern Arizona finished well for the win.
The takeaways from the men's race:
*Northern Arizona was just cruising and can do more, but depth could be an issue for them. They finished 2-4-6 bu their fourth and fifth runners were 24th and 26th.
*UCLA is a far better team than previously thought, definitely better than #20.
*Stanford finished third and beat four ranked teams while resting four stars, so they appear as a force to be reckoned with…unless some of those stars are resting due to injury.
*#8 Indiana had a crap day and finished eighth. Right now they look no better than third in the Big Ten.
*Villanova's Patrick Tiernan is on fire. Barely 20 years old, the sophomore out of Toowoomba, Australia (seriously, that's a real place) decimated the field and left NAU's Futsum Zienasellassie (fourth at last year's NCAAs) some twenty seconds in arrears. If anyone is going to challenge Oregon's Edward Cheserek for the individual national title, Tiernan could be the guy.
The women's race saw a battle between #3 Oregon and #4 Stanford, albeit at less than full strength for either squad. The Ducks rested superfrosh Sarah Baxter and Columbia transfer Waverly Neer, and the Cardinal rested stars Aisling Cuffe and Cami Chapus. While Oregon won this battle by the score of 48 to 55, it has little inherent meaning due to the absence of those four athletes. What's more important is why they didn't run. Are they saving their mojo for later, or are they battling illness or injury?
What did have meaning was the individual race, won with ease by Stanford freshman Elise Cranny. She's one of the trio of amazing high school runners who graduated last spring, along with superstar Mary Cain (pro) and the aforementioned Sarah Baxter (Oregon). The fourth-place finisher at the World Junior Championships 1500 meters put seven seconds on the field in the last 1,000 meters in her first collegiate competition.
Other meets
Paul Short Run
Results | Flotrack coverage
Lehigh's Paul Short Run is a bit of a second-tier meet, although the women's race did see a battle between #5 Georgetown and #6 Florida State. The Hoyas rested two runners and still beat the Seminoles, who did not have a good day despite Colleen Quigley's individual win and they might not be as good as their ranking. Both teams lost to the Guelph Gryphons, the dominant program in Canadian collegiate running. They're the only non-Division I team at the big Wisconsin Invitational in two weeks, and there we'll get to see exactly how good they are.
Navy pulled out a win in the men's race over Guelph and Adams State, the #1-ranked team in Division II.
Greater Louisville Classic
Results
Wisconsin swept the men's and women's titles at the Greater Louisville Classic. The races held to form, with the #16 Badgers defeating #23 West Virginia and #28 Virginia Tech while the #11 Wisconsin men pummeled inferior competition.
Chile Pepper Festival
Results
Arkansas swept the men's and women's titles at their home meet with no difficulty at all. The men's individual race was a thriller, as the Razorbacks' Stanley Kebenei outkicked NCAA steeplechase champion Anthony Rotich (UTEP) by a single second.

Rocky Mountain Shootout
Results
Colorado's Rocky Mountain Shootout is always a small meet (this year it had just five teams) and is little more than a time trial for the hosts. This year's times were very good; the #1-ranked men poste the third, fourth and fifth fastest in course history. The weather–cool, dry and windless–played a large part in that, but it's still an impressive display.

Division III
Every week I'll take a look at a non-Division I level of collegiate competition. This week it's Division III, the NCAA's small-college no-scholarship division.
The D-III Championships will be hosted by Wilmington (OH) College on Saturday, November 22 at the Golf Center at Kings Island in Mason, Ohio. As far as I know, it will be the first NCAA championship held at an amusement park.
32 teams will qualify via eight regional championships. The top two in each will automatically qualify, and the 16 at-large bids will be determined by a selection committee based on regional place and regular-season record. There is no limit on the number of teams that can come from a single region. Another 56 athletes will automatically qualify as individuals, the top seven from each region who are not on qualifying teams.
Currently, the #1-ranked teams are North Central (IL) for the men and Johns Hopkins for the women. The North Central Cardinals have won two of the last three men's championships (and three of the last five) and dominated the D-II Pre-National Invitational two weeks ago with a near-perfect score of 16 points. Last year they were upset by St. Olaf, who beat them by just two points.
The Johns Hopkins Blue Jays women's team are two-time defending national champions and finished tenth on Saturday at the Paul Short Run, beating many D-I teams (such as Mississippi State and Harvard) along with the #2 team in D-II, Adams State.
The top returning individuals in men's competition are St. Olaf's Grant Wintheiser, who is undefeated in two races so far this year, and Central (IA) College's Eli Horton, who won the track 5k last spring but is off to a rough start so far this fall.
The women's individual race might be wide open. St. Olaf also has the top returning woman from last year's NCAAs in Noelle Olson, whose only race this fall is a pedestrian 38th at the Oles' home invitational. Johns Hopkins' Hannah Oneda is the #2 returning runner but she missed much of last spring and has raced only once this fall. My pick is Washington U's Lucy Cheadle, who won the D-II steeplechase title last spring.
They Said It
Coming away with that win was a huge confidence boost for the entire team. We have so much faith in what Coach Sullivan is doing. This is the right step for us and it shows we're on the right track. It proves that we're a team that can contend this year, for Big Tens, Regionals and who knows what can happen at Nationals. It's only the first week of October, but this is an indication of where we're going and where we can end up. I got tears in my eyes when I was looking at the result board and saw 'Michigan — 1st Place'. I was jacked; we started singing 'Hail to the Victors!' and it was the greatest feeling. Having guys execute the way they were supposed to and having months of training pay off like that; coming from the uncertainty of the summer, this was the reward we were looking for.
-Michigan's Mason Ferlic on his team's win at the Notre Dame Invitational
We really executed our race plan well today. We learned that we can win by running like this. A couple of us were getting antsy to go, but we knew we had something left because we were patient, and it was definitely exciting being in a big pack and running down people like that.
Oregon's Lindsay Crevoiserat on her team's win at the Washington Invitational
If you look at the team scores, we were in second for half the race. It was when our fourth and fifth guys moved in to the top-30 that we sealed the deal.
Northern Arizona head coach Eric Heins on his men's team's win at the Washington Invitational
The team looked great, the weather is great, and the conditions are great. I have to be really careful about getting too excited.
Colorado head coach Mark Wetmore on his team's perfect score at the Rocky Mountain Shootout