One Comment
The Monday Morning Run: Beijing rematches, Zurich in slow motion and the one week too late club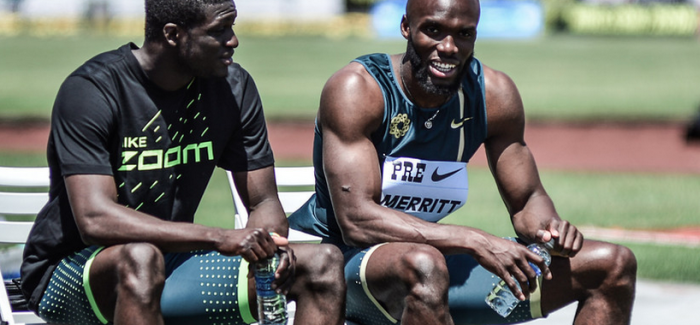 Kevin Sully | On 08, Sep 2015
Zurich hosted the first half of the Diamond League's two-part finale last week. It's the post-script on a season that reached its climax over a week ago in Beijing. Most people looked in slow motion on Thursday.
Not literally, they are still very fast. But in comparison to the enthusiasm and intensity of the World Championships, Zurich was subdued. The selling point on a one-day exhibition format is fast times, but there weren't any to be found. Instead, the meet featured solid times and some blanket finishes brought on by mutual exhaustion. The World Championship rematches in the women's 3000m and men's 400m were entertaining, but not groundbreaking. The quirks of the schedule make it so that the best match-ups only become possible when they matter the least. If you could give me Almaz Ayana vs. Genzebe Dibaba in early August or early September, I'd choose August every time. The medals have already been handed out, the athletes have already peaked, so what is there exactly for the fans to get excited about?
None of this is the athlete's fault. After winning a gold medal, it's probably hard to find motivation to travel halfway across the world to compete again. And it's equally difficult to rebound from a massive disappointment and bring your best stuff only one week later. Both issues are inevitable when the schedule lasts beyond the World Championships.
The newly elected IAAF president, Seb Coe has an opinion about post-World Championships Diamond League meets.
Seb Coe says he's considering ending season on World Champs. Got to agree. End of season Diamond Leagues just tired athletes below par.

— Ben Bloom (@benbloomsport) September 3, 2015
I'm not sure where this sits on Coe's list of priorities, but it seems like something that could be changed with little drama. The Diamond League finals are better served as a ramp up to the World Championships rather than as a denouement to a season that has stretched too long. If the World Championships/Olympics are the pinnacle of the season, then they should be last on the calendar.
If you want the Diamond League finals in Brussels and Zurich to really matter, put them in the weeks before the biggest meet of the year when athletes are sharper and excitement and interest around the sport is building. That is, unless you want the Diamond League finals to be like the NFL's Pro Bowl in which case I have to ask if you've ever actually subjected yourself to watching the Pro Bowl.
The final finale is this week in Brussels and maybe the extra rest will liven up the competition. Usain Bolt has already withdrawn citing fatigue. But the meet does have the potential of answering the last unknown of 2015–who is the best women's 200m runner in the world? The Dafne Schippers/Allyson Felix/Elaine Thompson battle is enough to keep me hanging around my computer for one more week.
The Medalists
The top three performances of the week
Gold: Almaz Ayana
The most anticipated match-up in Zurich paired Ayana against Genzebe Dibaba in a World Championships rematch. And it turned out pretty much the same way the 5000m in Beijing did. Ayana ground Dibaba down from the front and won the 3000m in 8:22.22. Ayana ran the last lap in 64 seconds and Dibaba wasn't a factor in the last 100 meters.
Ayana's winning time was actually slower than the last 3000m of her 50000m in Beijing, which speaks to just how good Ayana was in that race in Beijing……or how tired both women were in Zurich…..or that Dibaba has slowed in the final few weeks of the season, at least in races longer than 1500m….or maybe it's a combination of all those possibilities.
Regardless, Ayana looks better and better with each passing race and has serious Olympic double potential in the 5000m/10,000m.
Silver: Lashawn Merritt
Merritt's one trump card all season was his free pass into the World Championships. The presence of the bye meant he could be much more cautious with his build-up. As a result, he wouldn't be as fast in May and June as he usually is. I should have factored this in more when looking at Merritt's early season results, but what good is a meet in late May if you can't overreact to it? It turns out, Merritt timed his peak perfectly.
Not perfect enough to win gold in Beijing because it would have taken some form of rocket propulsion to beat Wayde Van Niekerk at the World Championships. But Merritt did turn in his two best performances at the end of the season. First, a silver at the World Championships and a personal best that would have been gold if Van Niekerk didn't have a 43-second out of body experience that took him straight to the hospital. Merritt did well in that race to finish second, ahead of Kirani James who looked the better of the two all year.
In Zurich, Merritt beat James again and also took down Van Niekerk, winning in 44.15.
Bronze: Paul Koech
Zurich wasn't kind on recent world champions–less than half of them of them won their event on Thursday. But forget gold medal winners, Koech wasn't even in Beijing. As per usual, he didn't make the Kenyan steeplechase team for World Championships because he struggles with altitude in the qualifying race in Nairobi. And, just as predictably, he went on to win a really good meet after the World Championships were over. On Sunday, he also won the 5000m in Berlin at the IAAF World Challenge meet.
In most countries Koech's struggles and subsequent success, would qualify as a minor controversy, or something that would at least be debated…..what do you do with the runner who has one glaring weakness that excludes him from the most important competition of the year, every year?
But Kenya just went 1-4 in the World Championships steeplechase so there isn't much of a need for a discussion. Kenya will continue to dominate the steeplechase at the World Championships and Koech will continue to reign over early September.
Surging….
-Henrik Ingebrigtsen/Fabienne Kohlmann's mid-race moves.
Both refused to quietly into that Zurich night. Ingebrigtsen with 500m remaining in the 1500m, Kohlmann with 250m left in the 800m–they had glimmers of hope before their sizable leads were erased and they were swallowed up.
Kohlmann held on for third behind Eunice Sum and Lynsey Sharp. Ingebrigtsen time at the front was more daring after he built up a lead that made the pack a tad nervous. Then, Asbel Kiprop decided it was time to run and Ingebrigtsen's fate was decided. He got kicked down to reality in the last 100 meters when he went from first to sixth in an instant. But if you are going to get sixth anyway you might as well do it on your own terms.
-Shelly-Ann Fraser-Pryce
A narrow win, but still a win in the 100m. Fraser-Pryce ran 10.93 into a -1.4 headwind to hold off Blessing Okagbare who ran 10.98. Tori Bowie was third in 11.06.
-Kariem Hussein
The stadium in Zurich got the loudest when Hussein won the 400m hurdles. It didn't matter that none of the Beijing medalists were in the race…a Swiss guy won.
Slowing….
-David Rudisha
At least we know exactly how fast Rudisha sleepwalks. Quick enough to finish in the top five of a Diamond League, though unfortunately a few steps too slow to win the race.
Rudisha led the pack through the first lap in Zurich, but was nowhere close to the pacer. With 300 meters remaining, he looked like he took a short nap and was passed by five people on the backstretch. He woke up coming off the final curve and crawled back to fourth place in a very close finish. Adam Kszczot ran 1:45.55 to win. Rudisha isn't on the start list for Brussels so this might be the last we see of him in 2015.
-Kirani James
In the three person 400m battle between James, Lashawn Merritt and Wayde Van Niekerk, James moved up a spot between Beijing and Zurich. Third at the World Championships, James took second behind Merritt in Zurich.
Even with a positive end to the season, James is still in a very tough spot for 2016. He's squeezed between young and old with Merritt and Van Niekerk. Both men aren't showing any signs that they are going away. Van Niekerk has 200m speed that James can't contend with and Merritt is consistent and experienced in ways that make him difficult to beat when the championships roll around. James can certainly bounce back and win gold next year in Rio–it's just going to be a whole lot more difficult than anyone would have predicted at the beginning of the year.
-Ezekiel Kemboi
When Evan Jager said that Kenyan stars don't always prioritize Diamond League meets, it sounded like a moment of modest deference. Jager beat all but one Kenyan in Paris in July when everyone in the race looked to be putting their best effort on the track. They may have peaked better than Jager at the World Championships, but saying they were holding back in the regular season seemed to be selling Jager's accomplishments short.
But the Ezekiel Kemboi went and finished 14th in Zurich and it made you think that maybe Jager was completely right. This was the same Kemboi that ran away with the gold medal just a week before using a terrifyingly fast last 250 meters that scattered the field and took Jager's hopes for a medal with it. Other than illness, or just not trying very hard, there aren't very many explanations for why that same runner then runs 8:33 a week later and finishes over 100 meters behind the winner. Of course Jarius Birech finished well and took second place in the race behind Paul Koech so maybe this is more of a Kemboi thing.
-Genzebe Dibaba
From unbeatable to two straight losses. Is she tired from all those record attempts early in the season? The 3000m set up perfectly for someone like Dibaba who ran both the 1500m and 5000m this year. But Almaz Ayana took it to her again and Dibaba lost contact in the last lap. Is this enough to push Dibaba to look at the 800m/1500m as the focus for 2016?
It's strange that an elite runner could bounce the 5000m for the 800m, but that speaks to both the versatility of Dibaba and the dominance that Ayana has shown. I'm not sure Dibaba wants to see her on the start line again in the 5000m, even if it means Dibaba has to completely shift focus next year. Her prospects in the 800m are strong. That event is deep, but Dibaba's 1500m splits put her right in the medal mix.
One week too late club
To honor those who missed out on gold in Beijing. It could have been because of a bad break, fluke performance, mistimed peak or just an off day. These athletes took an extra week to get back where we thought they'd be at the World Championships.
–Nijel Amos ran 1:43.28 by himself in the 800m at the Berlin World Challenge meet on Sunday. Amos now owns three of the six fastest times of the season to go along with the mountains of regret that he couldn't get out of the semifinals in Beijing.
–Mutaz Essa Barshim snapped his losing streak and won the high jump in Zurich. He cleared 2.32m and beat Bohdan Bondarenko and Zhang Guowei. The high jump followed Barshim's lead this year and regressed after a 2014 that was chalked full of world record attempts from Barshim and Bondarenko. With Bondarenko out injured for most of the Diamond League season, neither man was able to capture the magic from last year. Apparently, both were necessary for either man to thrive. Barshim jumped more than Bondarenko, but since May he never looked like the man who routinely cleared 2.40m.
Now that we've seen the other side, Barshim, Bondarenko or somebody else needs to jumpstart this event back to 2014 levels. We got a taste of how good it can be and the addition of Guowei's celebrations only pushes it over the top.
–Eunice Sum was third in Beijing. Other than the men's marathon, she was the only letdown for Kenya, which had gold medals coming out of their ears by the end of the meet. At the World Championships, Sum got caught in an avalanche of fast times in the 800m and slipped to third in the final. In Zurich, the time was slower and Sum was back in front. She ran 1:59.15 and soundly defeated the new world champion, Marina Arzamasova, who took fifth. I guess that puts Arzamasova in the "one week just right" club.
–Marquis Dendy jumped 8.32m in Zurich, equalling Greg Rutherford's best jump of the competition. Rutherford won via the tiebreaker, but Zurich was still a great bounceback for Dendy.
In Beijing, Dendy was a millimeter away from making the finals with a monster foul in the last jump of qualifying. Instead, he had to watch the finals as both the remaining Americans were shut out of the medals. The U.S's struggles in the men's horizontal jumps embodied the entire American performance at the meet. There were tremendous highs, Christian Taylor jumping 18.21m in the triple jump, but there was also a lack of depth brought on by near misses and poor performances. Out of the two men's horizontal jumps, Taylor was the only medalist in events where the US could have come out with three or four more.
Speaking of the long jump, I'm buying early on it being the next "it" field event. I know we are a long way from 8.95m or even consistent jumps in the 8.40 m range, so this is a future bet that might pay off in 2017/2018. The men's long jump can't stay quiet forever and the high jump and triple jump have proved it just takes one person putting out a big mark for the doors to open.