One Comment
Kiplagat & Chumba prevail without pacers, Puskedra becomes the marathoner America's been waiting for: 26 thoughts on the Chicago Marathon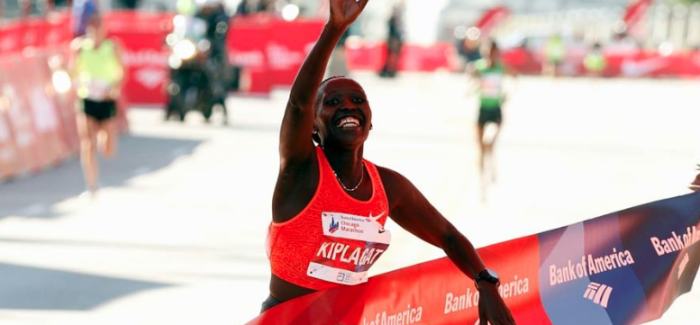 Kevin Sully | On 13, Oct 2015
Photo: Chicago Marathon
After a brief sabbatical, the Monday Morning Run is in full force. It's on a Tuesday this week, but hey this was the first step in getting back to a semi-regular schedule after my wife gave birth to our first child in September. Before long I'm sure I'll start posting a column with Monday in the title on Monday.
Because of my absence, I never gave the track season a formal goodbye and I didn't properly preview the fall marathon season before it started. I won't spend time retracing any events of the past except to say that Eliud Kipchoge's 2:04:00 marathon in Berlin while his insoles seceded from the rest of his shoe should make him eligible for some honor that is more distinguished than a world record.
I'll try to make up for lost ground by jumping in today with some takeaways from the fall's second of three major marathons–Chicago. As always, if you enjoy listening to people talk about track and field, marathons and everything else running related I co-host a podcast that posts a new episode every week.
Now, to shake off some rust with 26 thoughts on the Chicago Marathon…..
1) Chicago didn't produce the fastest men's marathon of the weekend. At the Eindhoven Marathon, Stephen Chebogut ran 2:05:52. Chicago would have been faster, but they decided to go rabbit-free this year. The lack of pacemakers received a large amount of attention because pacers at Chicago had become commonplace and with the quest for records and fast times seemingly becoming more important each year Chicago took a step that will, in most cases, slow down their race.
I don't think marathons need rabbits except for pure record attempts so I think the decision was a net positive. As it's currently constructed, Chicago can't out-Berlin the Berlin Marathon so why try? Instead, they created an entertaining competition where the outcome and style of race wasn't predetermined.
Even though it wasn't a festival of sub 2:05s, I hope Chicago keeps pacers out. In most years, the times probably won't be extraordinary. Other times, maybe they will be. But it will be unpredictable, which is why we wake up early on Sunday mornings.
2) On that same topic, just because it was slow for the men on Sunday doesn't mean it will always be slow. All it takes is one runner deciding to race aggressively (and chase some time bonus cash) and the whole pack could follow. Geoffrey Mutai ran 2:05 on the tough New York City course without pacers. Sammy Wanjiru ignored the heat in Beijing and ran a solo 2:06. The 70s and 80s were filled with aggressive running. Fast times can happen in non-paced races, it just is going to take some initiative from the world's best.
3) No rabbits certainly slowed down the men's race. The pace was 1:05:11 at halfway and eventually picked up before leveling off in the last few miles. Race director Carey Pinkowski's message to the runners who didn't like the slow pace? Here's a map to Berlin.
4) The women's race was actually quicker in 2015 than it was last year( and that was with a doper winning the race). In 2014, there was confusion about what the pace supposed to be among the elite women (and even if there was a pacer present), which underscored the problems with rabbited races. Rita Jeptoo won in 2:24:35, more than a minute slower than Kiplagat's time on Sunday. In general, the quality of rabbiting is worse in women's racing because of a smaller pool of runners who can run the pace required of the top athletes. As a result, there is less of impact when pacers aren't there. Add in the fact that the women's race started at the same time as the men (and women are less keen to sit around and watch each other) and you have a quicker time this year.
5) Florence Kiplagat's was her first marathon title outside of Berlin. With it, she began to fulfill all those expectations that were foisted on her in 2011 when she broke 2:20 in just her second attempt at the distance. Sunday, she ran away from the pack with two kilometers remaining and won in 2:23:33. Mary Keitany still has to be considered the top woman marathoner in the world, both in terms of PR and consistency, but there isn't a reason why Kiplagat couldn't join her. Kiplagat is the half marathon world record holder and is still only 28 years old. And now that she's won somewhere other than Berlin the possibilities for more victories are many.
6) Kiplagat finishing a marathon looks an awful lot like me when I go down a waterslide.
7) Dickson Chumba won the men's race in 2:09:25. He was third last year behind Eliud Kipchoge and Sammy Kitwara. Chumba was in the group of three that separated from the pack and eventually shook free of Kitwara and Abera Kuma.
Before Sunday's race you'd probably say Chumba is in the second tier of marathoning. He's still very good, but nobody is picking him to beat Eliud Kipchoge, Wilson Kipsang or Lelisa Desisa. After Chicago, I'm not sure he moves up. It was the best win of his career, but the field was the weakest of the three fall marathons and his time didn't stand out. He could absolutely beat one of those runners in the top level. At this point though, his list of accomplishments still isn't at a Kipsang/Kipchoge level. As always, consistency is the deciding factor in the marathon, so I'll be very curious how he backs up this race in the spring where he hopefully takes on Boston or London. If he wants any chance at being selected for the Kenyan Olympic team, logic dictates he'd have to finish at or near the top in one of those two races.
8)
Penny saved…or millions of pennies: Men earned $145k in time bonuses from 2014, paced #ChiMarathon This year: 0, as in Zero.

— Philip Hersh (@olyphil) October 11, 2015
And no money spent on pacemakers…. Wait, was this altruistic message of eliminating rabbits to help restore the soul of road racing just a cost-cutting measure in disguise? It was? Ok, I'm still good with it.
9) The story for the U.S. was Luke Puskedra running a huge personal best to finish fifth in 2:10:24. A general rule is that if the top American is in the same shot as the race leader in the final mile then they are doing pretty well. Puskedra stuck with the main pack for the first 30K and finished less than a minute behind Dickson Chumba. In the process, he beat Wesley Korir and Lucas Rotich, both decorated marathoners. Puskedra put together virtually even half marathon splits (1:05:14/1:05:10) and had the breakthrough that American marathon fans have been waiting for. I don't think anyone expected that Puskedra would be the guy–especially after he planned on quitting running entirely when he crashed and burned in his debut in New York last fall.
10) Puskedra's great run was one of the unintended consequence of the lack of rabbits. Without pacers, the best runners happened to default to Puskedra's ideal pace. In previous years, the main field would have started out at 2:04/2:05 pace and been in a different race from anyone trying to run 2:10. Usually in paced marathons there is a second group of rabbits to help the runners targeting 2:10/2:12, but that pacing effort isn't nearly as organized as the one for the top runners in the field. Puskedra got all the benefits of running with the leaders without having to sacrifice his own race plan. When Chumba and co. took command Puskedra fell back, but by that point he was well on his way to his personal best.
11) The Puskedra story is a good reminder of why you should never quit something when you are 24-years-old, especially if you were good at that thing for most of your life.
12) It also reminds us that the marathon is so difficult to predict when and if the breakthroughs will come. Puskedra always seemed destined for longer races even when he was running fast 10,000s on the track in college. His switch over to the roads went well at first with a fast half marathon and then it got rough in New York City last fall. Now in one race he's put himself in great position to make the Olympic team.
13) Some interesting stats:
U.S. men w/sub-2:12 marathons since the 2012 Olympics. Top three at Feb. 13 trials go to Rio. pic.twitter.com/Q2BMRDiGQM — Nick Zaccardi (@nzaccardi) October 11, 2015
U.S. women w/sub-2:28:30 marathons since the start of 2013. pic.twitter.com/JVCOU238id

— Nick Zaccardi (@nzaccardi) October 11, 2015
These numbers aren't the end all be all, but it's a pretty good bet that to finish top three in the Olympic Trials next February, you'll need to be capable of running under 2:12/2:29 pace. If that is the case, the amount of potential candidates is actually quite small. As frequently as we say anything can happen in a marathon (and it's a statement that has been proven true regularly), it does have its limits. Someone from outside these lists could sneak on, but the marathon is so honest that it's hard to bet on a huge drop in time coming in a championship race.
14) Let's talk about the Olympic Trials for the men. If you move Ryan Hall out of your top three, then you have Meb Keflezighi, Dathan Ritzenhein as the only contenders with Olympic experience. Right now I have Meb a little bit ahead of Ritzenhein and Ritzenhein a little bit ahead of the pack chasing for that third spot. Certainly Puskedra enters that group after this weekend and will probably enter the race as the best among the Ryan Vail/Nick Arciniaga/Bobby Curtis/Kibet/Jeffrey Eggleston tier.
15) For the women, Shalane Flanagan and Desiree Linden are safe bets. Amy Cragg looks like she is in position for the last qualifying position. The fall marathons haven't helped us sort out much of anything other than confirming Flanagan's status as a favorite and confirming that Deena Kastor could in fact still qualify.
16) The first American woman to cross the line was Kastor who set a master's record of 2:27:47 and placed seventh. At 42, it's easy to draw parallels between her and Meb Keflezighi. But while Meb still has maintained the top spot in marathoning, Kastor has fell behind Shalane Flanagan and Desiree Davila. But with this performance she is right back in the mix for the third spot in Los Angeles.
17) The perils of having more than one pair of the same type of shoes
Thanks to @mariofraioli too for helping prevent me showing up this morning with one leg shoe — Hon wesley korir (@weskorir) October 11, 2015
18) On start lists alone, Chicago was a step down from where it has been in recent years. The top five men in the world split themselves between Berlin and New York. The top women's field will be in New York.
Because of the timing of the US Olympic Trials, many of the best American men and women are sitting out this cycle of marathons. The most famous exception, Meb Keflezighi, is running New York.
Even with rabbits Chicago wasn't going to have course record potential for the men. They were hurt by the decision of their defending champion, Eliud Kipchoge, to opt for another race this fall. Their most high profile entrant of 2014, Kenenisa Bekele, looks like he is giving marathons a break for the time being. Rita Jeptoo getting busted for doping didn't help build any momentum off of last year's race either.
19) Despite the weaker field and the slower race up front the same amount of men broke 2:10, six, as last year. Last year was obviously much quicker up front with three men under 2:05, but it was clear that the slower pace at the beginning kept the field together and the limit the late race meltdown.
20) For the second year in a row, Sammy Kitwara finished as the runner-up. Last year, he was 17 seconds behind Eliud Kipchoge, this year he finished 25 seconds behind Dickson Chumba. He ran 2:09:50, which doesn't have quite as much pop as a second place time as a 2:04:28 (the time he ran last year) does. Tip–if you are going to lose a race, do it when the pace is ridiculously fast.
21) I did enjoy Sammy Kitwara's zig-zagging across the road as he tried to make it difficult for the those behind him to draft. That could still happen in a paced race when the rabbits exit, but the little tactics like that are much more apparent when the clutter is removed from the outset. Besides, someone sucking on your for 20 miles is much more annoying than someone doing it for the last five.
22) Abera Kuma was the winner of the mortal finish award. He was with Kitwara and Chumba through 35K, shadowing them the entire race. The slow pace, and his 10,000m personal best, made him a popular topic for the race commentators as they warned Kitwara and Chumba not to let the pace dawdle too much lest they fall victim to Kuma's fast finish. But, the 10,000 is not the marathon. Not even close. Finishing quickly on the road after 20 or 25 miles bares little resemblance in most cases to what somebody's capabilities are on the track. Far better to have track speed than to not, but possessing it just one of many factors that come into play in the final miles of a race. Kuma, fast closer and all, lost 4:19 on Chumba in the final 7 kilometers.
23) Dathan Ritzenhein was in the commentary booth for the race. He's a former training partner of Luke Puskedra so I'm sure he was excited to see him overcome his recent struggles. And there is also another part of him that is counting heads for Olympic qualifying and now understands that Puskedra will have to be watched next February.
24) It wasn't just your co-worker who dropped a huge chunk of time off his personal best and can't wait to tell you about it. Sara Hall went from 2:48:02 in Los Angeles in March to a 2:31:14 on Sunday. Hall was the second American behind Kastor.
25) With all the Puskedra talk, don't forget the U.S. also had another man crack 2:12. Elkanah Kibet debuted in 2:11:31 and finished seventh. Kibet graduated from Auburn and now runs for the U.S. Army team and is stationed in Fort Bragg.
26) The fall majors wrap in New York City in November. They never have rabbits so the story there is how Wilson Kipsang and Mary Keitany handle their London Marathon losses. Also, there will be Meb. Kipsang's rematch with Lelisa Desisa means the potential of more of this…….