No Comments
Monday Morning Run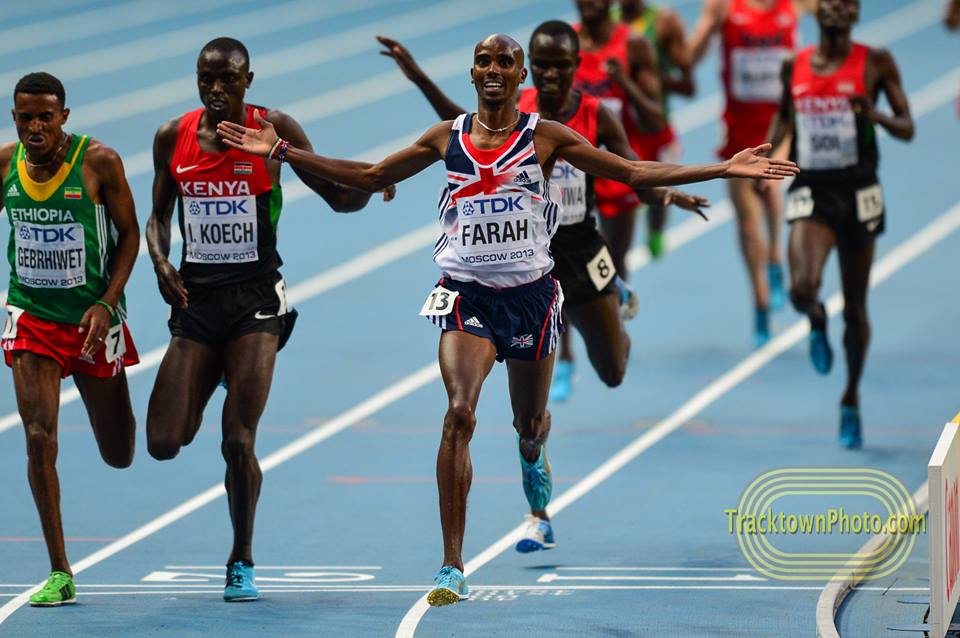 Kevin Sully | On 19, Aug 2013
A few weeks prior to the World Championships I wrote about a potential malaise in Moscow. With a rash of injuries to the sport's superstars and several doping controversies still swirling the highlight of the 2013 season looked to be a long way from the spectacle in London last year. In turns out that even a championship missing big names is still pretty good. Track fans are so used to endless exhibitions that any meet with some actual stakes becomes compelling. Watching Nick Symmonds and Mohammad Aman battle for gold will always be more interesting that David Rudisha time-trialing at a Diamond League meet.
At the end of the competition, USA won the most medals overall but it was host Russia who walked away with the most golds. There were other upsets too, some close races and a fair bit of controversy as the meet became a trial balloon for how athletes would respond to the new anti-gay laws in the country that will host the Winter Olympics next year.
The competition wouldn't be complete though without handing out some post-meet awards that focused on the serious, and not so serious side of the competition.
Best individual double: Mo Farah
A compelling case can be made for Farah, Usain Bolt or Shelly-Ann Fraser-Pryce. Bolt and Fraser-Pryce actually leave the meet with three gold medals after they anchored Jamaica to victories in the 4 x 100 relay. Separating these three requires a bunch of arbitrary guesswork, so here goes. Bolt, unfortunately for him, gets judged against his past performances and his times in Moscow were the slowest of all of his championship wins. Also, through no fault of his own, the competition was a bit down in both the 100 and the 200 with Yohan Blake and Tyson Gay out. His path to victory was the easiest of the three.
Fraser-Pryce also benefitted a bit from a lack of competition. If Allyson Felix's hamstring holds up around the curve, does she catch Fraser-Pryce? Maybe, but the way Fraser-Pryce ran in winning the 100, it would be hard to pick against her. Still, no Felix, no Veronica Campbell-Brown and a Carmelita Jeter that was not 100%.
Farah's times weren't record breaking, but he faced deep fields in both events that were all keying on him. Everyone knew when his kick was coming and yet the Kenyans and Ethiopians were unable to stop it.
Best race: Women's 400
If Amantle Montsho's torso made even the slightest motion toward the finish line the gold medal would have been hers. Instead, Christine Ohuruogu capped a thrilling stretch run to catch Montsho at the tape and win by .004 seconds.
Best response to high expectations: Mary Cain
The 17-year-old was unflappable and advanced all the way to the finals in the 1,500. Her eventual 10th place finish was not up to her own high standards, but if you told her, or her coach Alberto Salazar, at the beginning that she would reach a global final before she started her senior year of high school, I bet they would have taken it. Here is how Jesse Squire saw it in his recap after the race:
And what of wunderkind Mary Cain? She finished tenth in the 1500 meters and was overmatched for the first time in her young career. It was the fourth-fastest race she's ever run and probably should feel no shame. But she does feel disappointed, and this is her first real test with that feeling. How a young athlete deals with perception of failure, whether that failure was real or not, is often the difference between those who become champions and those who become flameouts.
Best comeback performance: David Oliver
"Left for dead" is overly dramatic, especially in track and field, so let's just say expectations were measure for David Oliver entering the 2013 season. He missed the podium in 2011 and last year he did not qualify for the US Olympic team. In Moscow, Oliver had to contend with a stacked field that included the defending Olympic and World champions. The race was expected to be tight, but Oliver blew the entire field away.
Biggest upset: Eunice Sum
Prior to the meet, the women's 800 was projected to be a toss-up. Not many expected Sum, a 1,500 runner, to factor in to the medal picture. Prior Sunday her best performance of the year was a 5th place finish in the 1,500 in Monaco. In the final straightaway in Moscow, she had to chase down Alysia Montano and hold off crowd favorite, and reigning Olympic and World champion, Mariya Savinova. In total, it was a strong championships for the Kenya women. They medaled in every mid-distance and distance event and also earned gold in the 800, steeplechase and the marathon.
Best performance: Teddy Tamgho
With his sixth round mark of 18.04, Tamgho became the third man to ever break the 18-meter barrier. He now sits only behind world record holder Jonathan Edwards and American Kenny Harrison on the all-time list.
.
Best fictitious email exchange: Kenya and Ethiopia discussing tactics before the men's 5,000 (note: this is fictitious)
To: KoechIsiah234@hotmail.com, TLongosiwaRunner@msn.com
From: EdwinSoi5000@gmail.com
Subject: 5000
Hey guys, thinking maybe we should talk about tactics. Farah looked fast in 10k. Let me know.
Edwin
To: EdwinSoi5000@gmail.com TLongosiwaRunner@msn.com
From: KoechIsiah234@hotmail.com,
CC: Yenew.Alamirew@earthlink.net, HagosTheGreat@rocketmail.com, MEdris@aol.com
Subject:: Re: 5000
Good idea. I cc'ed the Ethiopian guys cause they want to win too. What do you guys think about tactics? I say fast pace, maybe we can beat Farah. Who wants to lead first?
To: EdwinSoi5000@gmail.com KoechIsiah234@hotmail.com Yenew.Alamirew@earthlink.net, HagosTheGreat@rocketmail.com, MEdris@aol.com
From:TLongosiwaRunner@msn.com
Subject:: Re: Re: 5000
Not me.
To: TLongosiwaRunner@msn.com KoechIsiah234@hotmail.com Yenew.Alamirew@earthlink.net, HagosTheGreat@rocketmail.com, MEdris@aol.com
From: EdwinSoi5000@gmail.com
Subject: Re: Re: Re: 5000
No thanks
To: EdwinSoi5000@gmail.com KoechIsiah234@hotmail.com TLongosiwaRunner@msn.com Yenew.Alamirew@earthlink.net, HagosTheGreat@rocketmail.com
From: MEdris@aol.com
Subject: Re: Re: Re: Re: 5000
I'll do it if someone else does
To: EdwinSoi5000@gmail.com KoechIsiah234@hotmail.com TLongosiwaRunner@msn.com Yenew.Alamirew@earthlink.net, MEdris@aol.com
From: HagosTheGreat@rocketmail.com,
Subject: Re: Re: Re: Re: Re: 5000
Not interested
To: EdwinSoi5000@gmail.com TLongosiwaRunner@msn.com Yenew.Alamirew@earthlink.net, MEdris@aol.com HagosTheGreat@rocketmail.com,
From: KoechIsiah234@hotmail.com
Subject: Re: Re: Re: Re: Re: Re: 5000
This is not for me.
To: EdwinSoi5000@gmail.com TLongosiwaRunner@msn.com t, MEdris@aol.com HagosTheGreat@rocketmail.com,
From: Yenew.Alamirew@earthlink.net
Subject: Re: Re: Re: Re: Re: Re: Re: 5000
Pass
Best celebration: Robert Harting
In the end, this came down to Harting's shirt vs. Ezekiel Kemboi's hips. Compared to his previous efforts, Kemboi's post-race antics were puritanical. With Harting, you know what you are going to get and what you get is a wonderful combination of strength and an unusable jersey.
Best kick: Tirunesh Dibaba
No drama here, yet still amazing to watch Dibaba close a 10,000 in under 60 seconds.
Best lesson in international affairs: Jason Richardson learning who Edward Snowden is
After his preliminary heat, American hurdler Jason Richardson is asked his thoughts on NSA leaker Edward Snowden. The result was confusion.
Most ill timed tweet: Tyson Gay
Curtis Mitchell just finished third in the 200 when Tyson Gay sent out this tweet:
My coach LANCE BRAUMAN officially the best coach. He coached @MrMitchell200m to the bronze medal. S/O to pure athletics

— T -REZZIE (@TysonLGay) August 17, 2013
Brauman is currently under a fair amount of scrutiny after several of his athletes have failed drug tests, most notably Tyson Gay. Another one of Brauman's athletes, Kelly-Ann Baptiste of Trinidad and Tobago, withdrew from the meet after she reportedly tested positive for a performance-enhancing drug.
Best uniforms: Jamaica
If they were going for the claw marks then Yohan Blake chose the wrong meet to be injured for. Jamaica has the advantage of having a great color combination and of course everything looks a lot better when you are winning.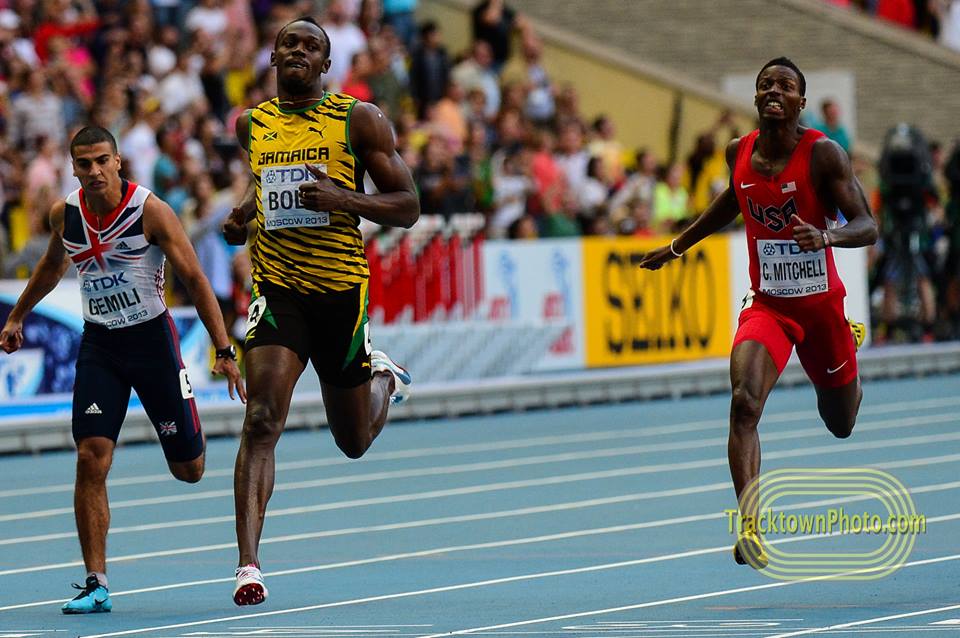 Best interview: Kayoko Fukushi
Fukushi was "very happy!" after her bronze medal in the marathon. It takes a bit for the interviewer to realize that she does not speak English
.
Worst decision by a federation: Ethiopia for not allowing Tirunesh Dibaba to double
Ethiopia reportedly would not let Dibaba run the 5,000 after her 10,000 victory because they wanted to give the opportunity to a younger runner. I was surprised to learn such thinking exists in professional sports especially when the veteran who is making way for the youngster is an eight time gold medalist. Ethiopia ended up finishing 1-3 in the event. Not a huge loss, but they gave away a silver medal.
Biggest no show: Kirani James
The pre-race favorite inexplicably faded to seventh in the homestretch as LaShawn Merritt stormed to victory. To his credit, James offered no excuses after the race, saying he simply didn't have it.
Not race of the meet: Men's 1500
Those who complained of the sit and kick tactics in the 5,000 and 10,000 must have been apoplectic watching almost the entire field run together until the final 100 meters. The best man, Asbel Kiprop, still won but it wasn't "inspired running" as the Brits would say.
Disqualification of the meet: French women's 4 x 100 relay
The French women didn't learn of their disqualification until after they received their medals. Great Britain was elevated to the bronze medal position and the United States walked away with the silver.
Best sponsor/athlete interaction: Brad Walker
According to Brad Walker, Nike dropped him after he taped over the Nike logo during the pole vault competition in Moscow. Walker argues that the tape was in place to hold the shoe together. Now, he is getting rid of all his Nike gear on eBay.

Opened up eBay tonight under polevaulterbrad. The coat is being washed and will be posted up with pics tomorrow. pic.twitter.com/cHkZCKZlj7

— Brad Walker (@SkyWalkerPV) August 19, 2013
Best use of the mascot: Yelena Isinbayeva
Can we go back to a more pleasant time? A time before Yelena Isinbayeva made bizarre comments about homosexuality and then a day later claimed she was misunderstood, blaming her poor English and, hold on….MASCOTS!!!!!
Best fashion statement: Emma Green Tregaro
Brianna Rollins's headband, Dwain Chambers's post-race hat and Ezekiel Kemboi's haircut all received serious consideration. The winner is Emma Green Tregaro and her controversial cuticles that she painted to protest the anti-gay laws in Russia. The high jumper's rainbow print only lasted one day until before she was told that they were in violation of IAAF rules prohibiting political protests.
Best photograph of a photograph: Jim McDannald, Daily Relay
Ok, this one is a little self-referential, but Daily Relay's own Jim McDannald caught up with AFP photographer Olivier Morin after he took his famous shot.