No Comments
The 2014 Track and Field Draft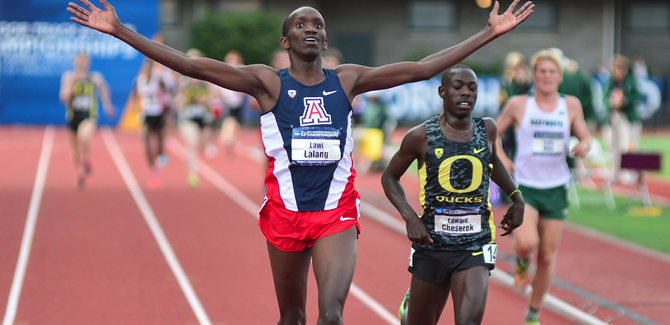 Kevin Sully | On 25, Jun 2014
Photo via TrackTownPhoto
The NBA Draft is on Thursday evening, which means it's time to roll out of the 2014 Track and Field Draft. Last year, I had Brianna Rollins as the first overall pick (a good selection) and left Ryan Hill outside my top 30 (not so good). Before we get to this year class, let's review the ground rules:
-Only athletes who competed in college this year are eligible
-I am only selecting a first round (30 athletes)
-All athletes, regardless of if they still have collegiate eligibility, are eligible to be drafted. Last year, nine of the selections returned to college.
-Marketability, potential, longevity, ability to win major championships are all factored into the draft order. This hurts field events and athletes who compete in countries where it is hard to make a national team.
-Like all drafts, there was a high level of subjectivity. Athletes weren't picked based on how many team points they could score (because they don't do that in professional track), or how dominant they are in their event. Rather, they were rated on their perceived value as a professional athlete.
-An NBA draft isn't going to feature an entire first round of just points guards, so where possible I tried to fit in lower profile events.
Let's get picking!
1) Trayvon Bromell, Baylor: 100
With this selection Bromell becomes the first freshman in the history of the draft to be selected #1. Hypothetical history! Even if he weren't a freshman, it would be hard to argue against Bromell as the top pick. He became the youngest man to ever break 10 seconds when he won the NCAA Championships in 9.97.
At the professional level, the American men's 100 group isn't anywhere near its peak. Right now, Bromell is already in the top three and the only guarantee to beat him is Justin Gatlin. He doesn't turn 19 until July, the same month when he will likely line up against the best runners under the age of 20 in the World Junior Championships. At worst, he is a career 9.8 guy. In the post-Usain Bolt era that will be good enough for a medal at championships.
2) Courtney Okolo, Texas: 400
The sophomore currently sits at the top of the world rankings in the 400. She posted a 50.03 during the season and capped off the year with an NCAA title in Eugene. The only danger in picking her is the short shelf-life of 400 runners. For every Sanya Richards-Ross and Lashawn Merritt there are dozens of promising NCAA runners who reach their peak in college and never improve.
Who knows if that will happen to Okolo.
What I do know is that she is capable of winning Diamond League meets right now. She has the benefit of an incredibly deep training group at Texas. Three of her teammates are ranked in the 20 on the yearly list (giving Texas spots number 1, 5, 14,17) and all have broken 51.40. Maybe that will keep her around Austin for another year.
3) Deon Lendore, Texas A&M: 400
The Trinidadian quarter miler jumped way up the draft board this year. Last year I had him as the 26th selection behind fellow 400 runners Bryshon Nellum and Arman Hall. Lendore return for his senior year and won indoor and outdoor titles in the 400. He improved his personal best to 44.36 this season and is the 3rd best 400-meter runner in the world behind Lashawn Merritt and Kirani James.
Competing for Trinidad and Tobago means he should be able to qualify for national teams fairly comfortably over the next couple years.
4) Dentarius Locke, Florida State: 100/200
Two 100 runner in the first four picks…I'm showing my sprint bias. Locke was on my radar last year, when I had him at the #24 slot. He came back for his senior year and won the indoor title in the 60 and finished second to Bromell in the 100 outdoors.
He has experience on his side. He made the World Championship team last year (though he didn't compete) and also ran 9.96 in Monaco. I like his steady progression over the last few years and I think he will run another sub-10 this summer.
5) Remona Burchell, Alabama: 100/200
The last few years Jamaica has made it a point to keep their most promising talents at home and not send them away to US colleges where they are (according to some) overraced for the sake of team points. Considering that, Burchell is a bit of a throwback to the days of Veronica Campbell-Brown and Michael Frater–top Jamaicans who ran for American universities.
She seems to be thriving in the environment. Burchell had a fantastic junior season, which included two national titles and a personal best of 11.03 in the 100.
6) Laura Roesler, Oregon: 800
Roesler won the 800 both indoors and out with such ease that you wonder how fast she can run if she had any competition. She is out of collegiate eligibility so we will get the answer to that question soon.
Her personal best is 2:00.54–a time that already makes her competitive for US teams and high Diamond League finishes. In terms of marketability, Oregon runners are always going to have an advantage because they leave school with higher name recognition than the average NCAA champion.
7) Dedric Dukes, Florida: 200
He ran a 19.97 in the 200, which would have been the sprint performance of the year if not for Bromell's windy 9.77 or his legal 9.97.
Dukes ran well early and held his form throughout the season, ending the season with an NCAA Championship in the 200. He also did some work on Florida's 4 x 400 and has a personal best of 45.66 in the event.
8) Edward Cheserek, Oregon: Distance
I doubt the freshman goes pro, but if Cheserek does he leaves with four NCAA individual titles and two team championships. Not bad for nine months.
His 24-second last 200 in the 10,000 at NCAAs looked Bekele-esque. A few days later he showed his mortality when he lost to Lawi Lalang in the 5,000. Even in defeat though he was spectacular to watch. His electric kick and high potential make him an easy top 10 pick.
9) Sharika Nelvis, Arkansas State: 100 hurdles
Another indoor/outdoor champion. Nelvis's personal best is a 12.71, but ran a wind-aided 12.52 to win NCAAs. NCAA champions in the 100-hurdles usually fare well as professionals. I'm guessing that trend will continue with Nelvis.
10) Mac Fleet, Oregon: 1,500
By virtue of his NCAA championship in the 1,500, Fleet moves up from the 22nd spot last year. It's easy to envision him transitioning to the Oregon Track Club in Eugene or the Bowerman Track Club in Portland and having a very successful professional career.
11) Marielle Hall, Texas: Distance
Hall was under the radar last year and had never broken 16 minutes in the 5,000. This year she broke through and ran 15:19.26 in the 5,000 at the Stanford Invitational. She backed up that time when she defeated Abbey D'Agostino to win the NCAA Championships.
Her jump this year screams that she is a late peaker. That bodes well in distance running, especially in an event where the US is a bit soft.
12) Jenna Prandini, Oregon: 100/200/Long jump
We are only 12 picks in and already four Oregon runners have been selected. Prandini scored in three individual events at the NCAA Championships and racked up 24 points by herself. Her most impressive race on the track came in the 100 at Mt. SAC where she beat a field of established professionals and ran a personal best.
She can also jump. Prandini won the NCAA title in the long jump and is part of the recent upswing in sprinters who can also jump.
13) Abbey D'Agostino, Dartmouth: Distance
I had D'Agostino slotted as the 19th pick last year. Her loss to Marielle Hall and Aisling Cuffe at nationals dropped her a few slots than what I anticipated for her in 2014, but she still won three championships this year, one in cross county and two in indoor track.
14) Lawi Lalang, Arizona: Distance
Another runner who improved his position from the 2013 draft. Lalang was at #16, mostly because I thought we wouldn't see much of him once he competes with other Kenyans for national team spots. Then he ran 13 minutes in the 5,000 over the summer. He tumbled a bit in the fall and winter when he was injured in cross country and was throttled by Cheserek indoors. But he bounced back and capped his senior year with an outdoor title in the 5,000 and a runner-up in the 1,500.
His former Arizona teammate, and fellow Kenyan, Stephen Sambu, is providing a nice blueprint for how to succeed post-collegiately in Tucson. And he also can get some advice from that Bernard Lagat guy.
15) Ryan Crouser, Texas: Shot put
Crouser dominated the shot put this year. I was excited to see how he would stack up at the USA Championships this week, but he has withdrawn with an injury. Still, he had a great season winning titles indoors and outdoors with ease. The American men's shot put scene is deep. If he can crack into the top three he is certainly a medal contender.
16) Cory McGee, Florida: 1,500
McGee was a surprise World Championships qualifier last year in what was a strong event for the United States. When she came back to school she proved to be a consistent performer finishing fourth indoors and second outdoors.
17) Aleec Harris, USC: 110 Hurdles
The redshirt senior improved massively this season–from 13.69 to 13.18. He ran his personal best in the most important meet of the year and only missed out of title because Devon Allen hurdled out of his mind in Eugene.
18) Kendell Williams, Georgia: Heptathlon
She is only a freshman, but Williams looks like she is a safe bet to be America's next great heptathlete. Indoors she holds the world junior record in the pentathlon. If that doesn't say marketability I don't know what does. Her strengths, hurdles and jumps, make her contenders in individual events as well.
19) Phyllis Francis, Oregon: 400
Francis had a monster indoor season. She ran 50.46 in the open 400 and anchored Oregon's 4 x 400 to a victory with a sub-50 split. If we held the draft then, Francis would have been a top five pick. Outdoors she struggled in the rounds at NCAAs, but rallied and finished second behind Okolo in the final.
20) Devon Allen, Oregon: 110 Hurdles
Like the San Diego Padres drafting Johnny Manziel, choosing Allen might be a pointless exercise. Even after he ran 13.16 and set a meet record in the NCAA Championships, the redshirt freshman said he is committed to playing football for the Ducks.
If I was more confident he was prioritizing track he would be a top five pick. Maybe if he runs even faster at USAs he will change his mind?
21) Mike Berry, Oregon: 400
In his final race, Berry finished a close second to Deon Lendore at the NCAA Championships. He has been running in high pressure situations since his freshman year, however, he hasn't improved his time since his sophomore year at Oregon.
22) Wayne Davis II,Texas A & M: 110 Hurdles
Before the NCAA meet he would have been the first high hurdler taken, but I could still easily still see him becoming the best professional. He was very consistent this year and set a personal best of 13.20 That is fast enough to win some Diamond League meets, especially since we haven't see any sub-13 second times this season.
Davis is Trinidadian and if there is another great Trinidadian high hurdler that is going to give him competition I certainly don't know their name.
23) Shalaya Kipp, Colorado: Steeplechase
Kipp skyrocketed up the board last year after she finished third at USAs during her redshirt year. She had Olympic experience and the best steeplechase coach in America working with her. Everything seemed to be trending upward. Then, she was a surprise fifth place at the NCAA meet this year.
All of her previous accomplishments don't go away because of one bad meet so I am keeping her on the board. When she does turn professional she will likely be training with Emma Coburn and Jenny Simpson–a big plus for Kipp's development.
24) Marquis Dendy, Florida: Long jump/Triple jump
Comes out of Florida which should be renamed Horizontal Jump U. Omar Craddock, Will Claye, Christian Taylor are all recent products of the highly successful program. Dendy won the long jump and triple jump at NCAAs and improved his triple jump best by over a meter this year.
25) Brandon McBride, Mississippi State: 800
The only men's 800 runner selected in this year's draft is McBride, who won indoors and outdoors and has a personal best of 1:45.35. He is Canadian so he will have an easier path to the Olympics and World Championships than his American counterparts.  Although, two of the first three finishers at the NCAA meet this year were Canadian so maybe a Canadian 800 renaissance is on the horizon.
26) Arman Hall, Florida: 400
Let's put out the disclaimer for selecting 400 runners again. Before the season, Hall was sure top ten pick this year. He actually ended up dropping five spots from where I had him in 2013. He went out in the heats and the NCAA meet and withdrew from the NCAA Championships.
27) Aaron Brown, USC: 100/200
The second Canadian taken in the last four picks. Brown finished third in the 100 behind Bromell and Locke and has run 10.05. He qualified for the World Championship team last year and is poised to be Canada's sprint hope for the next Olympic cycle.
28) Ashley Spencer, Texas: 400
Spencer tumbled from #9 last year after a rough junior season. She was the NCAA champion as a freshman and sophomore, made the World Championship team last year and then transferred to Texas to follow her coach.
She joined a loaded team in Austin and was solid indoors. Outdoors, she was injured during heats of the 400 at NCAAs and didn't compete in the rest of the meet. Her past performances are strong enough to keep her in the top 30.
29) Kennedy Kithuka, Texas Tech: Distance
Like Lalang last year Kithuka is lower than he should be solely because he has to compete with Kenyans in order to make championship teams. Maybe, like Lalang, he will improve dramatically over the summer. He was overshadowed by Cheserek and Lalang this year, but he still leaves the NCAA with plenty of championships.
30) Eric Avila, Southern Oregon: 1,500
With the last pick, we go to the NAIA. Avila has been a revelation, running 3:56.89 in a post-season meet in San Diego this June. Prior to running at Southern Oregon he had given up the sport after leaving Northern Arizona University. He might be a big gamble, but because of his time off he also has fewer miles on his legs than the average 24-year-old middle-distance runner.
The Next Six
-Kendra Harrison, Kentucky: 100/400 hurdles
-Mo Ahmed, Wisconsin: Distance
-Shelby Houlihan, Arizona State: 1,500
-Sam Crouser, Oregon: Javelin
-Nick Ross, Arizona: High jump
-Emily Lipari, Villanova: 1,500