No Comments
Thursday's Best Matchups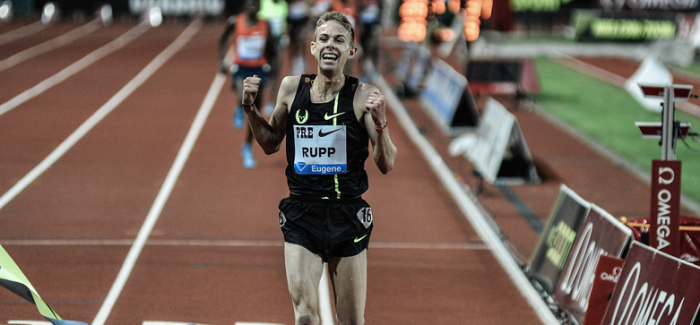 Jesse Squire | On 26, Jun 2014
Galen Rupp should win the national 10,000 meter championship easily, but who will win the race for second–or first, if Rupp withdraws?
The USATF Championships run through Sunday at Sacramento's Hornet Stadium. I usually look at the best matchups of the weekend as a whole but for the national meet I'm taking it one day at a time. Be sure to come back every day this weekend.
Yesterday's Action
The championships got underway with the men's and women's shot put, held at a facility built onto the grounds of the California capitol building in downtown Sacramento. The Sacramento Bee says 5,000 spectators came out to see the action.
As expected, the women's title went to Michelle Carter without much contest. The men's championship went to Joe Kovacs. This may have been the changing of the guard in the event long dominated by veterans such as Christian Cantwell and Reese Hoffa. Cantwell withdrew and Hoffa finished third while Kovacs threw a big 22.04 meters (72′ 3½"), the best in the world. He's just the eighth man since the creation of WADA to go over 22 meters.
Today's Events
Your key web links…
Meet website
Live webcast at USATF.tv from 2:00pm ET
Schedule, start lists and live results
And today's best matchups are…
A.G. Kruger vs Kibwe Johnson
Men's hammer throw, 3:00pm local time (6:00pm ET)
The meet is getting wall-to-wall coverage on NBC, NBC Sports Network, Universal Sports, and webcasts on USATF.tv. The webcasts will switch over to field-event only coverage during TV broadcasts. That's nice and all, but it's a tacit admission that NBC will never show field events besides a single recitation of the winning attempt (and from a horrible camera angle too). This event will take place during the non-TV portion of Thursday's action and I hope that the webcast gives it the attention it deserves.
Hammer expert Martin Bingisser picked this as a three-way battle between veterans A.G. Kruger and Kibwe Johnson with newer face Chris Cralle as a possible upset pick. Cralle beat Kruger for the first two times ever earlier this year and then Johnson beat Cralle. A couple of young upstarts could be in the mix, the NCAA D-I and D-II champions. They are Matthias Tayala (Kent State) and Justin Welch (Findlay).
Jordan Hasay vs Kim Conley
Women's 10,000 meters, 8:20pm local time (11:20pm ET)
Shalane Flanagan was the overwhelming favorite here but withdrew late yesterday, and now the battle for victory gets much more interesting. Jordan Hasay, the former Oregon star now with the Oregon Project, put up some fast 10k times last year and this in her first serious attempts at the distance and raced well at the Portland Distance Festival two weeks ago. She is up against a tough character in Kim Conley, the surprise 2012 Olympian at 5000 meters who has made continued progress in the two years since then. Hasay has a habit of folding late in the race while Conley almost never does, I think Conley has superior speed, and she's the Sacramento hometown favorite. On the other hand, Hasay beat Conley over 10k at May's Cardinal Invitational.
Three other runners might be able to make an impact: Brooks' Amy Hastings and collegians Emma Bates (Boise State) and Juliet Bottorff (Duke).
Chris Derrick vs Ryan Vail vs Aaron Braun
Men's 10,000 meters, 9:00pm local time (midnight ET)
Don't get me wrong here, I think Galen Rupp is by far the best runner in the race and will win with ease if he runs. But it's possible that he skips this in favor of the 5,000, and even if he doesn't then the real race is for second.
Derrick has put together a good 2014 season but not stellar (by his standards, at least). He ran a near-PR at 5000 meters in May and was ninth over that distance at the Prefontaine Classic, finishing as the top American. He ran some tough cross country races in the winter and was second to Ben True at the USA 15k road championships. Solid but not spectacular, and he's the favorite of this trio but not a huge one.
Vail spent his spring concentrating on the London Marathon, where he ran tenth in a PR of 2:10:57. He showed some return to speed with a 3:43.94 for 1500 meters at the Portland Track Festival two weeks ago. Braun also targeted a spring marathon, the Los Angeles race, but that one didn't go too well with a 2:19:51. His runner-up finish in 1:01:38 at January's Houston half marathon indicates he's in good shape, though, and I expect him to be a factor.
There are some "working class" long shot runners in the race who could surprise: three guys from the Hansons-Brooks Distance Project, led by Bobby Curtis, U.S. Army runner Aron Rono, and John Gilbertson from the Mammoth Track Club.