No Comments
#TBT: Revisiting the 2012 Olympic Marathon Trials (and 10 Thoughts on how they relate to 2016)
Pat Price | On 11, Feb 2016
Our coverage of the 2016 Olympic Trials Marathon continues with a look back to the 2012 Olympic Trials Marathon. And if you missed the past two posts, here are our Women's picks and Men's picks to make the Rio squad.
The 2012 Olympic Trials Marathon was fast. The Men's field strung out quickly, largely due to Ryan Hall doing what he liked to do; hammer. Ultimately, Meb Keflezighi prevailed, followed closely by Hall and Abdi "Black Cactus" Abdirahman, who narrowly held off a charging Dathan Ritzenhein. The Women's race started slower, but ended up being a four person race by the halfway point. After a big push at 16/17 miles, Amy (Hastings) Cragg ultimately fell off the pace, leading to a podium of Shalane Flanagan, Des (Davila) Linden, and Kara Goucher, respectively.
Thoughts on how the '12  race relates to '16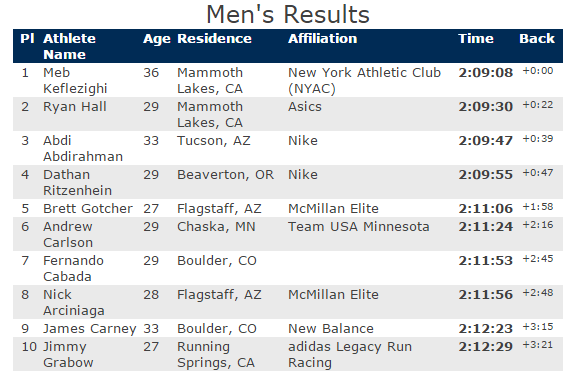 The Men's Race
In 2012, Ryan Hall took it out hard. By 3 miles, the field was down to 7 runners. The top 3 all came out of that field. Who will be this years Hall?Possibly Elkanah Kibet? Maybe the front running Diego Estrada? Will someone take it more evening and try to close hard, a la Brian Sell at the '08 Trials? The heat could be the great equalizer.
An early surprise in 2012 was steepler, Brian Olinger, who got in off of a 10k qualifer. While the 10k qualifier no longer exists, who will contend that only has the half standard? Tim Ritchie, Sam Chelanga, and Diego Estrada are debutants to watch. And some guy named Rupp.
Ritz was dropped around the 18 mile mark in 2012. This was the point when Abdi was waving his arms at the crowd. He nearly came back in the last few miles. This year, he won't have to contend with Hall or Abdi. I doubt this race will go out at 2:07 pace, through the half, like they did in Houston, but don't expect Ritz to give up much room to the leaders.
Behind past Olympians, Meb and Ritz, the next 3 returning competitors in 2016 are Brett Gotcher, Fernando Cabada, and Nick Arciniaga. All 3 are seasoned vets and should be smart enough to measure their output against the heat and the field. Will any of them make that leap to the podium?
Meb made his break at the 24 mile mark. Will he do the same in 2016, or will he go earlier, a la Boston 2014? Meb would love to win, but I'm sure the first and foremost goal is to make the Rio team. Expect newcomer Galen Rupp to be right on his shoulder. That's where it will get interesting!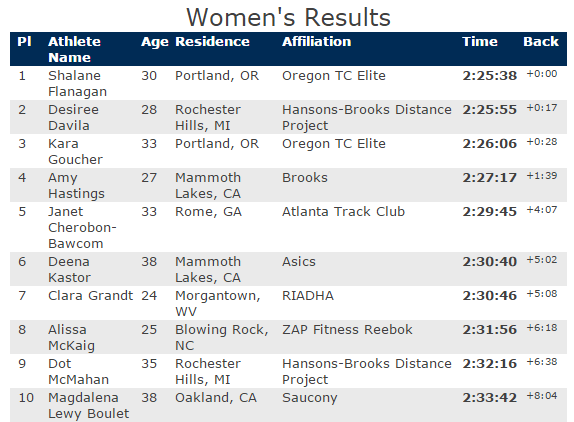 The Women's Race
The top 4 finishers from 2012 are back and look to compete for the podium spots once again. Will Linden leapfrog Flanagan? And more importantly, will Hastings muster the strength to get by Goucher and earn a trip to Rio?
One competitor that has not been talked much about is Janet Cherobon-Bawcom. JCB was 5th in 2012 and went on to represent Team USA in the 10k. She ran a strong tune up last month in Arizona and should not be discounted.
In 2012, Kara Goucher came into the race a little banged up, but gutted it out to find her way onto the podium.. After a rough few years, she seems to be back on the right track. After two strong halves, her coach says "she's ready." Has her fitness come full circle?
As a 24 year old, Clara (Grandt) Santucci surprised the field with a 7th place finish. She's back in 2016 after raising over $16,000 on GoFundMe to support her training. Can she capitalize on her new found capital? Will this become a viable model for fledgling marathoners in the future?
Sara Hall spent the end of the 2012 Olympic Trials Marathon hugging her husband after his second place finish. This year, it's her turn. After some solid halves, and then an impressive 2:31 in Chicago this past Fall, does she have a shot at following in Ryan's footsteps to the Olympics?
Stay tuned for more coverage all week and from LA this weekend!