No Comments
Sunday a reminder that, even for elites, marathoning hurts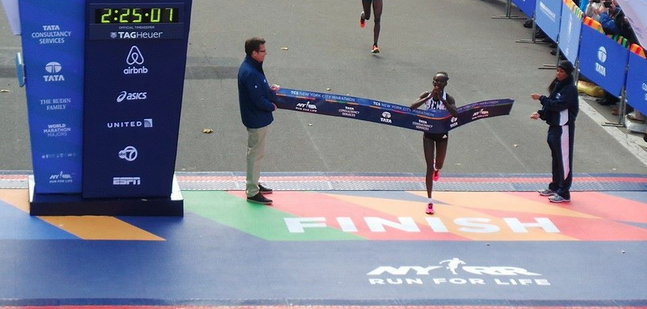 Daily Relay | On 04, Nov 2014
Photo: New York City Marathon Facebook
The sheer number of people who complete marathons every year – 541,000 Americans in 2013, according to Running USA – can obscure how difficult the task is. All of the runners in Sunday's New York City Marathon made sacrifices of time and money to get to the start line and then from there to the finish. All of the runners had to brave winds that gusted above 40 mph on a course that mostly directed runners into those gusts.
Even within a field with so many committed runners, the elites are the folks whose identities are most built around running marathons. They're the ones trying to earn money doing it, finish on podiums and make Olympic teams and make sponsors happy. They're not going to go back to work Monday or Tuesday and get congratulations from peers just for finishing. Sometimes, with all that on their shoulders and the wind in their faces, inspiration is required.
"It seemed as if I fell asleep out there," said 10th-place finisher Deena Kastor, referring to when she lost touch with the lead women's group, "but I was actually just digging down for all the inspiration we have in our pockets to try to rely on in race day."
Watching the race and hearing the stories from the runners afterward, I felt like the entire thing could have had Nazareth's "Love Hurts" playing as a baseline track beneath it all.
The wind made the race – or ruined it, depending on one's perspective — and Jemima Sumgong, Meb Keflizighi and Ryan Vail all said afterwards that they had never experienced a race at any level in which the wind had such an effect.
"Last year was windy, but this was another level above definitely," said Vail, a product of Oklahoma State. "We get a lot of wind in Stillwater, but this was tough – a lot of gusts."
It was a race difficult enough to lead Kara Goucher, the woman who owns the American course record in New York City as well as a World Championships medal, to tears after her risky proposition backfired.
"Kind of decided with my coaches to kind of take a gamble and get as much protection from the wind as I could as long as possible, but it didn't slow the race down in front as much as I would have liked," said Goucher after her first marathon coming off a metatarsal fracture in her right foot. "I got a little in over my head, and it was just really windy. I was by myself and just really hit the wall for the first time in my career and really struggled."
She cried while completing the race's last few meters and again when she sat for her post-race interview. It was a painful experience.
Geoffrey Mutai is one of the great marathoners of the last half-decade. He's won seven marathons and five half-marathons, but even he couldn't defeat the wind Sunday. Once Wilson Kipsang and Lelisa Desisa dropped him, Mutai had nothing left to battle the wind alone. His last two mile splits proved the wall can hit anyone — 5:37 and 5:43.
In his Twitter post prior to the marathon, he wrote, "completely enjoying my time in NYC." He hasn't tweeted since the end of his race Sunday.
The wind caused the most serious pain of the race, but it's not the only way the elites were hurting Sunday, even if the other ways came with a bit of humor.
At the 15K mark, the 2013 Boston Marathon champion Lelisa Desisa had to go to the bathroom, and though he was able to find relief (on the run), his stomach didn't have true rest until 90 minutes later when he was crossed the finish line.
"At the 15K, I want the bathroom," said Desisa. "My bladder is full. Maybe this is good to release, the bathroom. … Because my bladder is full, I'm not relaxed because of that. Then after 21K, 30K, it changed to my stomach is become big, because I have no relax."
Then, after running – in that pain — behind all-time marathoning great Wilson Kipsang for miles, when he final tried to make his move, Desisa bumped Kipsang, who gave the Ethiopian a derisive look and put seven seconds between the two over the final 200m, adding insult to injury.
Nick Arciniaga stayed with the men's lead pack longer than seemed likely and even led for a bit during the ninth mile. He and good friend Vail worked together over the last 10 miles to help keep their pace strong and finish ninth (for Vail) and 10th (for Arciniaga).
Still, Arciniaga didn't get out with just a 10th-place finish. Though he wrote on Twitter that he didn't realize his predicament until after the race, he also left New York City with a pair of bloody nipples and painful showers for a couple of days.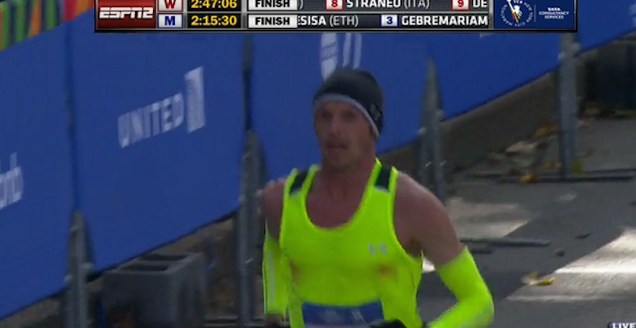 A common expression among marathoners and their coaches is "respect the distance." In a world of the 2:02 marathon, the smooth strides of Dennis Kimetto and Wilson Kipsang may make the marathon seem more like an extended 10K than the difficult and painful test of endurance it is.
Sunday was a good reminder that elites spend six months preparing for little more than two hours of strenuous exertion, and whether it's winds or bowels or chafing or any number of things, a lot can and does go wrong, and the life of a marathoner is one of pain, discomfort and sacrifice.
"It was like racing to surviving in that wind, and you just felt like you were being blown backwards the rest of the race," said Linden, who finished in fifth as the top American woman.
Someone calculate the physics of a 97-pound woman running by herself into a 40 mph wind.
This thing that elites do for a living – it's hard. Let's not forget that.