No Comments
College Cross Country: Issues and Answers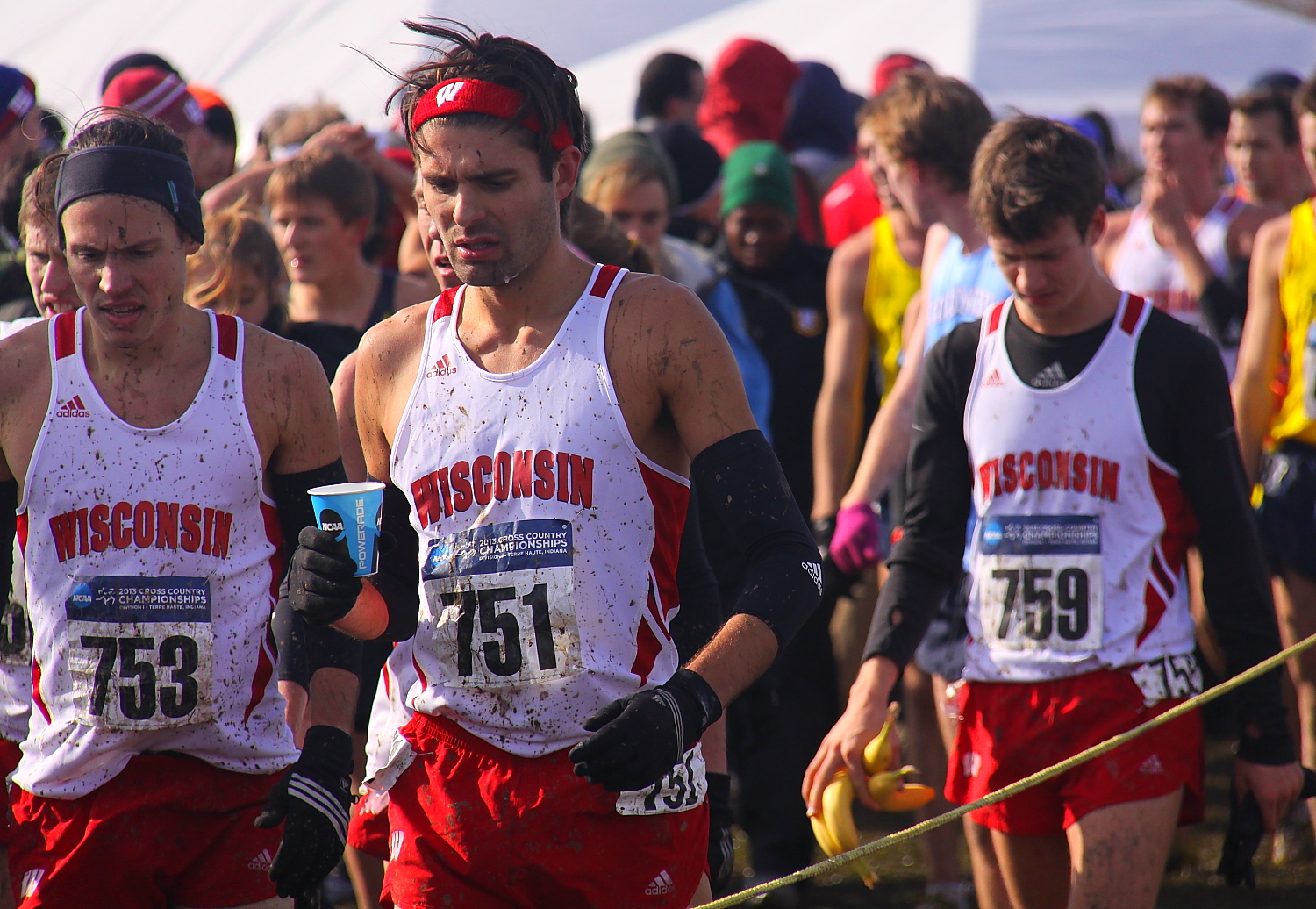 Jesse Squire | On 04, Nov 2014
Photo: Dane Schubert for Daily Relay
This more or less weekly column has gone through a lot of changes over the years and will have another right here.
When I originated it at my old site, tracksuperfan.com, it was to fill a void. I noticed that while conferences handed out Athlete of the Week awards, nobody did it on a national level. No magazine, website or organization named national athletes of the week so I did.
It didn't take long after I pointed this out for the national coaches' association, the USTFCCCA, to start up an Athlete of the Week award. I didn't feel I needed to duplicate that so my column went in a different direction. I started recapping the weekend's action.
Aaaand now the USTFCCCA does a weekend recap. They do it better and sooner than I do it too, so I'm going in a different direction yet again. Think of this as the Larry King "Random thoughts, news and views" of college track and cross country. (What's that? You have no idea who Larry King is. I guess you wouldn't. Has it really been twelve years since he stopped writing for USA Today?)
Here we go…
Who's #1?
That's the key question in any sport. Which team or individual is the best? It's why we have championships, to sort it out for good, but up until those championships we like to talk about who will win. Coaches get annoyed by the question and just want to settle it on the field, whether it's football or cross country or motorized barstool racing*, but sports fans need to fill the time between games or races and arguing is how we do it. Thus the need for polls and such.
*An actual segment on ABC's Wide World of Sports back in the 70s. I am not making this up.
Men's teams
"Everything I've heard or everything I've been told, we don't even need to go, just give Colorado the trophy". That 's what Oregon head coach Robert Johnson said before Friday's Pac-12 cross country championships. I can't imagine that he really meant it, rather he meant to motivate his team—ranked #2 in the NCAA–or try to cut Colorado down to size in the national running media (what little there is of it).
Yeah, nice try. For the first three-fourths of the race it was close, and at 6k the Buffaloes led by only nine points. But over the last 1¼ miles they blew it open and finished 4-5-6-7-8 for a total of just 30 points, to Oregon's 57 and Stanford's 60. They run with the demeanor of men who know they can beat you any time they want.
How good was their race? Consider the following…
*Colorado's 1-5 gap was 11.7 seconds
*The Buffaloes put five men ahead of Maksim Korolev, the Wisconsin Invitational champion and third at last year's NCAAs
*If Colorado scored six runners and #2 Oregon scored five, they still would have won
*The entire rest of the Pac-12 (five ranked teams) scored 25 to Colorado's 30
Is Colorado really one of the greatest team of all time? No, I don't think so. They're the best team in several years, probably the best since Wisconsin's 2005 squad, and far better than any other team this year, but not the greatest. The best way to describe this team was posted at Let's Run: they have a team of #2 runners.
What that means is they don't have any true stars, the kind of #1 runner you'd expect on a podium team. They have no one who will be right up front in the race. In this way of thinking, Oregon has two #1 runners in Edward Cheserek and Eric Jenkins, as does Stanford (or at least they do when Maksim Korolev has a good day). Colorado's five scoring runners are all just as good as the #2 runner on a top team, and that's impossible to beat unless you have some sort of all-star team (the kind with four or five #1 runners).
I'd say that Oregon is probably the #2 team in the NCAA and it's between Stanford and Syracuse for #3, but there are three unknown quantities in Villanova, Oklahoma State and Iona. The race for the other three trophies and spots on the podium is where the most interesting competition will be.
Here's a paradox for you: who will score more points in the distance events at the Pac-12 and NCAA Championships this spring, Oregon or Colorado? Barring injury or illness, it will almost certainly be Oregon. Your #1 cross country runner types score big track points, your #2 types score just a few. The Ducks are setting themselves up for the meets they want to win, and the Buffaloes are too. They just have different priorities.
Women's teams
All summer and fall I'd been eagerly anticipating the Big Ten Championships showdown between Michigan and Michigan State. One or the other has been #1 in the polls every week this year, they're familiar and bitter rivals, and had avoided each other all through the fall. Michigan looked great early in the season while Michigan State looked very good. Then two weeks ago the positions reversed when Michigan State dominated Wisconsin's Adidas Invitational and Michigan had an off day to finish third at the Pre-Nationals at Indiana State.
It didn't turn out to be the war that I expected. Michigan State won rather easily (26 points) while Michigan (93) fell to third behind #8 Wisconsin (55). The Wolverines were without #1 runner Erin Finn, who missed the meet with a foot injury (no word on how severe) but even if she had won the meet it wouldn't have changed the final placing.
More than a month ago I wrote that being the best in the nation in September is a tricky thing for Michigan because there's nowhere to go but down. Whether the Wolverines can make a turnaround in three weeks and contend for a national title far from settled, but it doesn't look like it right now. On the other hand, just a few years ago Georgetown finished third in the Big East and then got it together and won the NCAA Championships, so anything can happen.
The team that came out of the conference championship weekend looking like a team that could beat Michigan State is Iowa State. They dominated the Big 12 Championships, led by their potent 1-2 punch of Crystal Nelson and Katy Moen, and did it while resting All-American Bethanie Brown (out with what is described as a minor foot injury). The Cyclones' third and fourth runners ran very well on Saturday, so if Brown can return at where near her previous level then they're holding five good cards.
Another team that could be in the mix is Georgetown. They Hoyas won the Big East with a score of 19 points, which sounds crazy until you remember that the Big East is not the conference it was just a few years ago. The only runner who broke up Georgetown's top five was Caterina Rocha (Providence), who was 2nd at last year's NCAAs and 52nd at the adidas Invitational two weeks ago. The Hoyas' fourth and fifth runners are going to need to be at a bit higher level than that in order to contend for the national title.
What about Oregon? The Ducks have been near the top of the polls all season and received #1 votes every week. They won a tough Pac-12 meet on Friday and that counts for something. They're very deep but they don't look like a #1 team to me. Their #4-#5 runners aren't significantly better than those of MSU or ISU (if at all better) and the Ducks' #1 runner—a role that changes almost weekly—can't keep up with the likes of the Spartans' Leah O'Connor or the Cyclones' Crystal Nelson. So right now, I don't see them as a title contender.
Men's Individuals
By the time you read this you will have had an opportunity to watch the Pac-12 cross country championships on the Pac-12 Networks. (It will repeat ad infinitum if you missed it.) For the first half or even two-thirds of the race you might be thinking "what's wrong with Edward Cheserek? Why isn't he leading this thing?" And then when he went to the lead he answered all questions. He blew it wide open and won by 11 seconds, but it looked like he could have won by as much as he wanted. The sophomore already has four NCAA titles to his credit, spread out over cross country, indoor and outdoor track, and it's hard to imagine any situation besides catastrophic injury in which he doesn't win a fifth.
As for who is #2, it looks to me like a tossup between Villanova's Patrick Tiernan and Eric Jenkins, Cheserek's teammate. Stanford's Maksim Korolev could be up there too, but his ninth-place finish at the Pac-12 meet does not inspire confidence.
Women's Individuals
The odds-on favorite right now is probably Iowa State's Crystal Nelson. She overpowered the Big 12 and left Baylor's Rachel Johnson far behind. The USTFCCCA's Kyle Terwillegar and Dennis Young:
For Nelson, this clearly marks her as one of the national title favorites. She now has wins over the only two women who have finished ahead of her this year: Shelby Houlihan of Arizona State (won Griak to Nelson's third; beat her at Wisconsin) and Johnson (runner-up at Griak; beat her soundly today).
For her part, Houlihan won the Pac-12 over Stanford freshman superstar Elise Cranny and she has lost only to Nelson and Johnson. Lurking in the background is Iona's Kate Avery, who took fourth in the 10k at the Commonwealth Games this summer. She made her season debut at the MAAC Championships and won by a minute and 42 seconds.
Conference droughts
If Michigan State does end up winning the women's title at the NCAA Championships, it will be the first for a Big Ten's women's team since 1985. That's the second-longest dry spell among the seven still-existing conferences that have won a women's championship.
Those conferences, their last championships, and the teams that won:
1982 – ACC (Virginia)
1985 – Big Ten (Wisconsin)
1988 – SEC (Kentucky)
2002 – Mountain West (BYU)
2004 – Big 12 (Colorado)
2012 – Pac-12 (Oregon)
2013 – Big East (Providence)
How about the men? There are eight existing conferences who have won men's NCAA cross country championships. Their last titles:
1946 – Missouri Valley (Drake)
1963 – West Coast (San Jose State)
1965 – Mid-American (Western Michigan)
1981 – WAC (UTEP)
2000 – SEC (Arkansas)
2011 – Big Ten (Wisconsin)
2012 – Big 12 (Oklahoma State)
2013 – Pac-12 (Colorado)
Overachieving and Underachieving
Who did better or worse than expected this weekend?
Stanford men: overachieving
The Cardinal came into the meet ranked #9 in the latest coaches' poll but finished just three points behind #2 Oregon. This was in part due to the season debut of Sean McGorty, the reigning US junior cross country champion who is making a slow and careful return from injury. Miler Michael Atchoo (gesundheit) also ran well, finishing 14th in a very tough conference.
Maksim Korolev (Stanford): underachieving
The graduate transfer from Harvard had an off day and finished ninth at the Pac-12 Championships, his lowest finish in a cross country meet since October 5 of last year. Had he run even with or ahead of teammate Joe Rosa, as he has in every race this year, then Stanford would have upset #2 Oregon for the runner-up trophy.
Wisconsin women: overachieving
The Badgers took a surprise second place at the Big Ten Championships over #4 Michigan. Did they overachieve or did Michigan underachieve? I think it was a little of both. Two weeks ago at the adidas Invitational the Badgers' top five average time was 26 seconds behind that of #1 Michigan State, and at the Big Ten meet it was just 15 seconds behind. When you're at that level, closing by 11 seconds is significant.
UCLA men: underachieving
The Bruins have been flirting with NCAA top-ten status all year but they did not run like a top ten team at the Pac-12 Championships. UCLA (168) had nearly double the score of #12 Washington (87) and they were close to losing to unranked Arizona State (182). The Bruins tried to push the pace early in the race, which was either brave or foolish when up against the likes of Colorado, Oregon and Stanford.
Big Ten Network: underachieving
The Big Ten meet was a big deal, especially on the women's side. The Big Ten was one of the few top conferences that did not live-stream its championship meet. The meet will be shown on the Big Ten Network, but not until November 12, some ten days after the meet. Ten days! The teams involved will be packing up to go to their regional meets by then. The Pac-12 Network didn't webcast their meet either, but didn't sit on the video and broadcast it last night.
Ohio State women: overachieving
The #19 Buckeyes finished fourth at the Big Ten Championships, which is not a surprise given that the lastest coaches' poll put them fourth among Big Ten teams. They're overachieving on the season as a whole; 19th is the highest they've ever been in the national poll, and fourth is the best they've ever finished at the Big Ten cross country championships. They appear to be in solid position for qualifying to the NCAA Championships, something the Buckeye women have done only once (in 2008, on a "push" after finishing second-to-last in the Big Ten). This is the best season in Ohio State women's cross country history. As the lone BCS power in a talent-rich state, they should be good, and coach Sara Vergote deserves credit for making them a respectable program in just her second season in Columbus.
Iona men and Furman men: can't tell
Iona and Furman both did something unusual at their conference championships by sweeping all of the top nine places, a perfect score plus four. Are the Gaels and Paladins that good? Or are the MAAC and Southern Conferences that bad? I don't know. But I do know that if your 1-5 gap is 0.3 seconds, as Iona's was, you're not being pressed.
Penn State men: overachieving
There were four ranked men's teams in the Big Ten championships: #6 Wisconsin, #14 Michigan, #20 Indiana and #22 Michigan State. No surprise that they finished in that order, but somehow unranked Penn State ended up in the middle of them for a third-place finish. It's their highest ever since joining the Big Ten in 1990 and totally unexpected.
North Carolina women: overachieving
There were no ACC women's teams ranked in the top ten, but six teams were ranked between #12 and #30. The favorites were the #12 Florida State, the seven-time defending ACC Champions. #15 North Carolina leapfrogged the Seminoles and #13 Virginia for their first conference title since 2003, back when Shalane Flanagan wore Tar Heel blue.
Syracuse women: underachieving
In that same ACC women's championship race, #16 Syracuse had a very bad, no good day. They finished all the way back in 8th, losing to every ranked team plus unranked Notre Dame (a very good 5th) and "also receiving votes" Virginia Tech (6th).
NC State men: overachieving
#3 Syracuse ran away with the ACC men's championship as expected, but North Carolina State was completely unexpected as runners-up. They were unranked in the coaches' poll going into the meet but beat #13 Virginia (running on their home course) and #15 Florida State. Much of the credit goes to sophomore George Parsons, who ran way over his head.
Villanova women: underachieving
The Wildcats were ranked #24 going into the Big East Championships, but lost to two unranked teams (Providence and Butler) and only managed to defeat a single regionally-ranked team (Marquette). It looks like a long shot for them to qualify to the NCAA Championships, something Villanova's women have failed to do just five times in all of school history.
Ole Miss men: overachieving
Arkansas' men came into the SEC Championships as the overwhelming favorites. After all, they were the only ranked team in the race and have won 22 of the 24 championships since they joined the league. Ole Miss has never won the SEC in men's cross country and has been runner-up just once. But the Rebels nearly pulled off the upset. One of Arkansas' top five DNFed (coach Chris Bucknam wouldn't say why) and only a furious finish by their usual #6 man saved the Hogs' bacon. Ole Miss came up just 6 points short of Arkansas.
Foreign athletes
Last week, Noah Shannon Gallagher waded into the topic of foreign athletes in the NCAA in a long piece for Running Times.
It's a very old issue. Billy Mills was battling collegians from overseas way back in 1960. It is a little different than it was in the 70s and 80s, when some coaches did their recruiting at the Olympic and Commonwealth Games, mostly due to age restrictions weeding out some and openly professional competition pulling out others. But foreign athletes can still be a bit controversial.
I'll simply tell you my story about attitudes towards foreign athletes and leave it at that. I ran at Bowling Green back in the early 90s, and we hated Eastern Michigan. The source of our vitriol was the mere fact that EMU swept the conference in cross, indoor and outdoor just about every year. They had some foreign athletes from all over the globe—Africa, Europe, South America—and for some of the guys on our team that was a bridge too far. (There were other teams in the conference who had some foreign athletes but we didn't even notice them because we could beat those teams.) It was all about the fact that for us, Eastern was on another plane of existence. Of course, EMU head coach Bob Parks also took undiscovered talent that the bigger programs had missed and developed them into champions, but somehow the guys weren't as upset about that. (I was because we mostly didn't do that, but that's another story.)
Our coach did not believe in bringing in foreign athletes, and his reasoning was the same as others with the same attitude who were quoted in the RT column. He agreed about the issue of spending US dollars on athletes whose families had paid into the US system through taxes, but that was a minor one (and considering that most public university funding is via the states and he saw no problem with out-of-state recruiting, I found that a bit disingenuous). A former US national team member, our coach simply thought that part of what the NCAA is for is developing American talent to compete on the international level against athlete from other nations and beat them.
So imagine my surprise when he mentioned one day that he was working on recruiting a Canadian runner. I asked him about his no-foreigner policy and what happened to it. He replied that Canadians were different. I said, no, no they aren't, they're not from the US! I wanted to tell him he was totally full of shit but let it go because I was already becoming emotionally disinvested in the program. Besides, I was getting pretty serious with a woman whose grandparents had been born overseas and was learning all the abuse they had suffered for it, and I wasn't too keen on a closed-border policy.
Other College News
On Friday morning it was announced that Michigan athletic director Dave Brandon is resigning his job after coming under fire for several years. Things came to a head recently with the nasty Shane Morris concussion incident and Brandon's arrogant hamhanded treatment of it. How happy is the fan base that Brandon is gone? The well-read MGoBlog posted Muppet videos in celebration, including Beaker "singing" Ode to Joy.
That the football team has been historically bad didn't help Brandon's situation, but the biggest reasons the fan base was unhappy were all about gameday experience and public relations. Brandon is first and foremost a businessman (former CEO of Domino's Pizza) but, despite what every sportswriter tells you, college sports isn't exactly a business (and isn't quite not a business either). The AD job at any major D-I university is a mishmash of business, public relations, administration, and politics, and Brandon was only good at one of those. He was fired–I mean, he decided to resign–right now because Saturday was Michigan's homecoming game and thousands of fans wore white t-shirts in a move called "White Out Dave Out". Or at least they were going to, but Brandon was already out the door.
So what does all of this have to do with the only sports that really matter—track and field and cross country? As it turns out, Brandon was good for those sports. And they need the kind of help he could offer: financial help to upgrade outdated facilities.
Michigan's track and field facilities are woefully inadequate for a department that prides itself on trying to compete on a national level in every sport. How inadequate? Well, consider the Michigan Track Classic, the hugely popular August mini-meet created by Nick Willis, UM alumni and Olympic silver medalist. It says something that when Willis decided to create the meet he didn't do it at UM's Ferry Field. Instead he went to suburban Saline High School because its track facilities are superior in every way: seating capacity, warmup facility, track surface and layout. Let me repeat that: a high school has superior track facilities to that of the NCAA's third-wealthiest athletic department.
UM's indoor track was a rarity on college campuses when it opened in 1974 and put the Wolverines far ahead of their rivals, but now it's just a flat 200 meter oval in a pole barn and barely rates as middle-of-the-road by the standards of the Mid-American Conference. The revival of the Michigan-Michigan State indoor dual meet series is held 150 miles away at Grand Valley State's track, for crying out loud. Both of these facilities should have been replaced two decades ago.
So two years ago Dave Brandon began a $355 million capital campaign to upgrade all of Michigan's nonrevenue sports facilities, including brand-new indoor and outdoor tracks. Exactly what those facilities will include appears to still be up in the air, but the original vision was "to have facilities in every sport that would make us eligible as a site for [NCAA] regional or national [championship] competition". For an indoor track—which might be more important for a cold-weather campus like Michigan's—that means being on par with Arkansas, Texas A&M, and New Mexico: a high-quality banked track with seating for 3,000 or more. No wonder every head coach on campus signed a letter a few weeks ago supporting Brandon. They were all promised the best facilities money could buy, and some were already delivered.
As of right now, that campaign is only 73% of the way to its goal. What will happen when a new permanent AD is put into place? Will it be easier to find that last $96 million? Or will the vision and promises be compromised? For someone like me, who lives just 37 miles away from a campus that once said it wants to be able to host an NCAA track and field championship, that's a very big deal. When the new AD sets up his office in Ann Arbor, be assured that I'll read every tea leaf on whether he really wants his indoor track to be the leader and the best.
They said it
This is just incredible. We've waited for so long for this moment…We were the underdogs, and we knew what we could do, and that gave us a little bit of a fire to see those rankings every week, and we knew what we were capable of. I'm not surprised, but I'm extremely happy.
–North Carolina's Annie LeHardy on her team's upset win at the ACC Championships
Just before the race today, we got in the huddle and told the guys to look down at the uniform. We told them that they have to understand that the name on the uniform means a lot more than us, it represents all the years and traditions of the team. When you wear the Badger jersey, it means something more.
Wisconsin head coach Mick Byrne, whose team regained the Big Ten title after a 14-year win streak was broken in 2013
The great part of our team is that we have 10 or 11 guys who can run with the top-group in any workout and the same thing in any race. There's always a guy right behind me pushing me.
–ACC individual champion Martin Hehir on his Syracuse team
I've been at this long time and we've been lucky enough to have a lot of good things happen to us. It feels great, but I always put it in big perspective and know that we have more work to do in the next couple of weeks.
–Colorado head coach Mark Wetmore on his men's team and their Pac-12 victory
That was the plan; to go with about two miles left and just try to finish hard. I felt pretty good today and so I just went for it. Of course it's an honor to win, but I'm really excited for Eric (Jenkins) finishing second and just really proud of how hard my teammates ran today.
–Oregon's Edward Cheserek on blowing up the Pac-12 race
The downside of winning MAC is that I must now grow a very unfortunate moustache. Post long run hastily made deals gone wrong.

— Linh Nguyen (@CoachLinh) November 2, 2014