No Comments
SPEED Rankings: Mid-Distance and Distance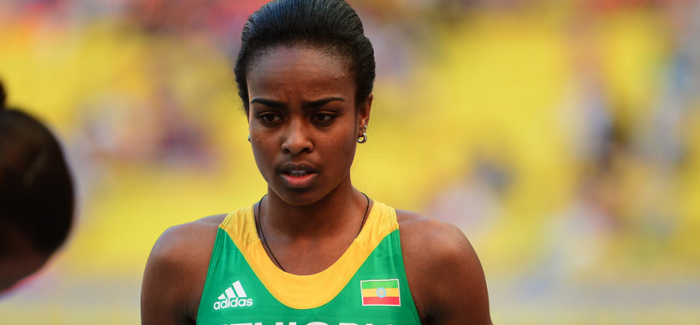 Kevin Sully | On 14, May 2015
Photo: TrackTownPhoto
Last week, I learned that there are definite drawbacks to making rankings right before a huge meet. Shorty after I posted the first edition of the SPEED rankings my top five in each event was quickly torn asunder with the results from the Jamaica Invitational.
Proving that I have learned nothing, I will do essentially the same thing this week in the mid-distance and distance events. The Hoka One One Mid-Distance Classic is Thursday, the Doha Diamond League is Friday, the Shanghai Diamond League is Sunday. There will be numerous shakeups by Monday and these rankings will be immediately disproven.
Here's my best guess at the pecking order in the 800-10,000 right now. Whatever you do, please don't archive this page or read on Thursday night.
Men's 800
1) David Rudisha
2) Mo Aman
3) Nijel Amos
4) Brandon Johnson
5) Adam Ksczot
Rudisha has the world leading time–a mark that probably won't last through the weekend once the Diamond League has its first serious 800. If Rudisha starts running like he did from 2010-2012 then everyone will be running for spots 2-5.
With so few races, it's hard to tell if that Rudisha still exists or if he is headed toward a career of being a very good, but beatable 800 runner. Aman and Amos are next in line and both beat Rudisha last year. Johnson makes the list by virtue of his strong relay leg in the 4 x 800 at the World Relays.
Women's 800
1) Ajee Wilson
2) Eunice Sum
3) Brenda Martinez
4) Alysia Montano
5) Sahily Diago
A warning up front, these rankings are going to be skewed American just because the top Americans have been running in more of the big name meets. Starting Friday, that will change. For this post though, they might be overrepresented.
Do I think that in Beijing the US will have three in the top five of the women's 800? Probably not. But these are rankings are based on the current landscape and it is very hard not to see a heavy American presence at the top of the 800 form chart. All of the US's 800 runners ran well in the Bahamas. One of the ones who didn't race in the meet, Brenda Martinez, won a bronze medal in 2013.
Sum races on Sunday in Shanghai against a strong field.
Men's 1,500
1) Asbel Kiprop
2) Timothy Cheruiyot
3) Matthew Centrowitz
4) Nick Willis
5) Homiyu Tesfaye
Kiprop, Centrowitz and Willis stand out because of their consistency in a topsy-turvy event. Cheruiyot ran 3:36 at altitude in April and Tesfaye had a good showing indoors. The American hierarchy will be sorted out Thursday in Los Angeles. I don't think Centrowitz is going anywhere, but I could see Leo Manzano making a jump into the top five with a good race.
Women's 1,500
1) Sifan Hassan
2) Abeba Aregawi
3) Jenny Simpson
4) Shannon Rowbury
5) Anna Mischenko
If Genzebe Dibaba sticks with the 5,000 then I'm confident (or as confident as is possible when predicting a 1,500) that one of the top four from above will win gold in Beijing. All ran well last year and all benefit from a lack of Kenyan and Russian depth. Simpson v. Rowbury will be great to track throughout the summer. Hassan and Aregawi will face off in Doha and Simpson and Rowbury will run at the same track in Los Angeles.
Men's 3,000 Steeplechase
1) Jarius Birech
2) Ezekiel Kemboi
3) Brimin Kipruto
4) Evan Jager
5) Conseslus Kipruto
There is even less data for the steeplechase. I'm predicting that the rankings for this year will be Evan Jager plus a rotating combination of four Kenyans. Mahiedine Mekhissi Benabbad is out for the entire season with a foot injury, which puts Jager as the top candidate to be FNKIAS (first non-Kenyan in a steeplechase).
Birech was dominant last year and ran four of the top five times of the season including the only sub-eight minute performance. Kemboi might be on the downside of his career, but he has the benefit of a career's record of success and the most interesting dance moves.
Women's 3,000 Steeplechase
1) Sofia Assefa
2) Hiwot Ayalew
3) Emma Coburn
4) Etenesh Diro
5) Habiba Ghribi
Like with the men's steeplechase, I leaned heavily on last year's results. Assefa and Ayalew are great, but I wouldn't be surprised if we had an entirely different top two next week. Coburn is still at the point of her career where she gets better every year. That trend should continue in 2015. Diro is only 24 and has run 9:19.
Men's 5,000
1) Mo Farah
2) Muktar Edris
3) Hagos Gebrhiwet
4) Caleb Ndiku
5) Thomas Longosiwa
Farah is the reigning world champion and is coming off a winter where he broke the world record indoors in the two-mile and broke 60 minutes for a half-marathon. There is no reason to put him anywhere than number one. Edris was the surprise of the event last year and backed that up with a bronze at the World Cross Country Championships in March. Ndiku withdrew from the 3,000 in Doha so we will have to wait to see if he is a legitimate threat to Farah.
Women's 5,000
1) Genzebe Dibaba
2) Viola Kibiwot
3) Almaz Ayana
4) Sentayenu Eijgu
5) Sally Kipyego
Dibaba was on fire again indoors and set a ridiculous world record in the 5,000. She only needs to be in the neighborhood of that form for her to win gold at the World Championships. Based on her history, that is far from given. This will be the first season where she focuses on the 5,000, so maybe that will yield more dominant results. The other women are hard to separate and veterans Meseret Defar and Vivian Cheruiyot are capable of winning a medal.
Men's 10,000
1) Mo Farah
2) Geoffrey Kamworor
3) Bedan Karoki
4) Dejen Gebremeskel
5) Galen Rupp
Kamworor won the World Cross Country Championships and looks like the only rival to Farah. All of Farah's other opponents are known entities who he has raced, and beaten, many times. Karoki was runner-up to Kamworor in cross county and has more experience on the track than most of the other top Kenyans.
Gebremeskel has been around for several years, but hasn't had a stand out race as of late. Rupp looms in fifth. He had a very short indoor season and will be making his outdoor debut in Los Angeles. He's a lock to qualify out of the US Championships in June, which means he only needs to worrying about peaking for mid-August.
Women's 10,000
1) Tirunesh Dibaba
2) Almaz Ayana
3) Sally Kipyego
4) Vivian Cheruiyot
5) Betsy Saina
So many question marks here because of Tirunesh Dibaba's status. Last year she ran the London Marathon, but I'm not sure if she switched completely to the roads or if she wants to see if she can hang on to most favored Dibaba status. This list is also predicated on who decides to double. Ayana and Kipyego are capable of running a fast 10,000, but they may just stick to the 5,000. Or vice versa.