No Comments
Athletech: Nick Zaccardi, Editor of OlympicTalk (NBCSports.com)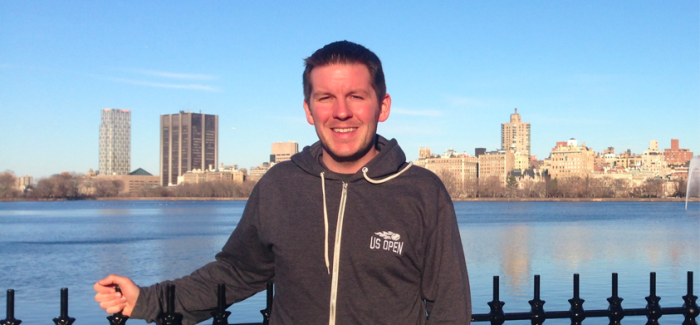 Welcome to Athletech, where we discover the gear and technology the running and track & field community uses to get stuff done. If there is someone who you'd like us to feature, tweet their name to us @DailyRelay with the tag #Athletech.
1) Who are you and what do you do?
I am Nick Zaccardi (@nzaccardi), editor of OlympicTalk on NBCSports.com. I report on and monitor news across all Summer and Winter Olympic sports with emphasis on the athletes and events of most interest in the U.S. I've been in my role since June 2013, when I came over from SportsIllustrated.com.
I dabble in (painfully slow) recreational distance running, and my favorite Summer Olympic athletes, all time, are Steve Prefontaine and Hicham El Guerrouj.
2) What hardware do you use?
When I'm at my desk, on a normal day, I'm on a Dell Latitude E6430 PC. I had a MacBook at SI, but I don't consider myself a straight Mac or PC guy. There are plusses and minuses for both. If things get crazy, or I'm covering an event, I'll fire up my iPad 2 (that I dropped and cracked running to watch a protest in Paris last year) essentially as a second screen for streaming or social media. For typing on it, I use a Zagg keyboard.
On the go, I wear out my 16 GB iPhone 5. In a bind, I can do all my work on the iPhone. I am not technologically savvy.
3) What software do you use?
For reporting, I rely on iTalk for interviews, but I'm paranoid so I also carry at least one audio recorder and a notebook, of course. I cling to LexisNexis for research. I also owe the guys at sports-reference.com/olympics and olympstats.com many, many thanks for their databases. Geniuses.
News gathering for all Olympic sports, globally, can be very needle-in-haystack. I have various news alerts and RSS feeds that come via email or on Feedly and other aggregation websites. I very much miss Google Reader, which was much more streamlined.
I'll run foreign news outlets such as L'Equipe, Bild and Gazzetta dello Sport through Google Translate. I also visit foreign newspaper websites just to see what's making front-page news (in sports) around the world. Ollie Williams' blog is a must read every morning, too.
I throw stuff into Google Docs to stash away on a daily basis. I keep spreadsheets with Olympic hopeful athlete info, too.
I use TweetDeck on my PC and iPad and the standard Twitter app on my iPhone. I'm all about lists on Twitter, constantly shuffling from Summer Olympics to Winter Olympics and from sport to sport.
4) What would be your dream setup?
I'm pretty close to my dream setup. It doesn't get any better than being at NBC if you love the Olympics. In addition to technological aid, I have a network of co-workers who astound me with their knowledge and diligence. Incredible people who I couldn't live without.
Yeah, I wish Google Reader was still around and that track and field received more mainstream media coverage. But all major meets are streamed online or on TV these days, athletes and federations are generous with their time and assistance and the availability to news from around the globe continues to become more and more accessible.