One Comment
NCAA Championships Day 1 Viewer's Guide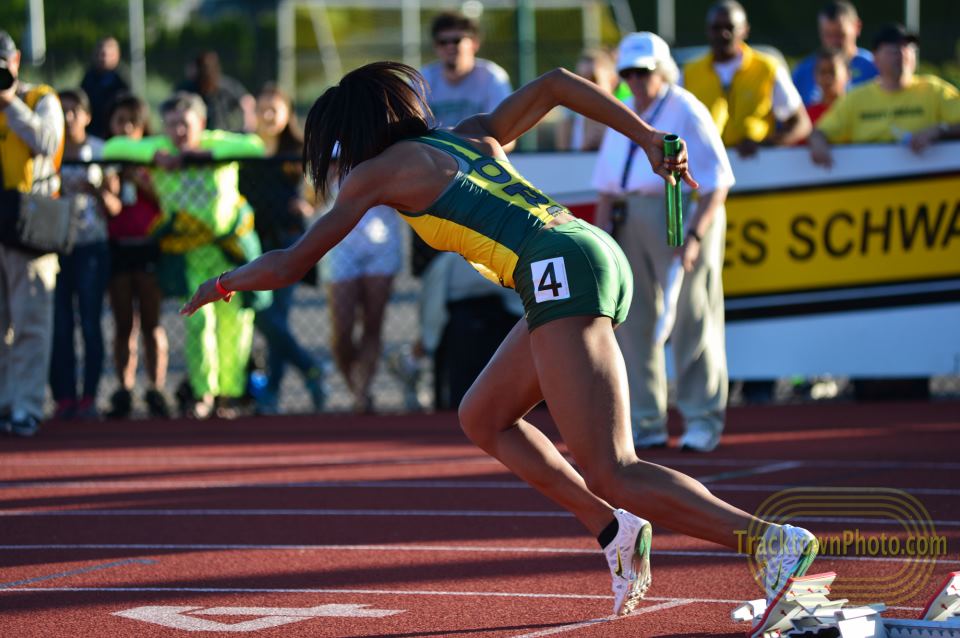 Jesse Squire | On 11, Jun 2014
Photo: TrackTownPhoto
The NCAA Championships begin today at historic Hayward Field and this is our quick guide for what to watch in each event.
Your key links for the championships…
Live Results are at FlashResults.com.
Today's webcast will be at WatchESPN.com.
Most every piece of information you could need is at the USTFCCCA's National Championship Central.
Track and Field News has event-by-event formcharts and predicted scores for men and for women.
Team Contenders
Based on number and quality of qualifiers, the men's championship will come down to Oregon, Florida, and Texas A&M. The women's title chase should be between Oregon, Texas and Texas A&M, with Florida having a somewhat shorter odds but still in the picture.
If you only watch one event today, make it the men's 10,000 meters. It looks like it will be a fantastic battle between the last two NCAA cross country champions in their first rematch since November, and down-the-line places will make a big impact on who wins the men's team championship.
The Main Event
Men's 10,000 meters
7:15pm local time (10:15pm ET)
The Favorites: Kennedy Kithuka (Texas Tech) and Edward Cheserek (Oregon) won the last two NCAA cross country championships and the last two NCAA indoor 5k championships. This race is figured to be between them. Last fall's NCAA cross country championships was supposed to be a Kithuka coronation but freshman "Ches" startled with an upset win. This is their first rematch since then.
The Challengers: Shadrack Kipchirchir (Oklahoma State) ran 27:36.79 earlier this year, which puts him #9 on the all-time collegiate list, but the longer the race the less inherent meaning fast times hav, and his competitive history doesn't suggest he's a title threat. Mo Ahmed (Wisconsin) was ninth at last year's World Championships and at his best he'd very much be a title contender, but hasn't done a whole lot so far this year.
Team scoring: Oregon has three entrants in Cheserek, Parker Stinson, and Trevor Dunbar. The Ducks need big points out of this event; seventeen or more would be a big success and twelve or less would be failure.
Other Finals
Men's Decathlon
First event at 11:30am local time (2:30pm ET), runs until 6:00pm (9:00pm ET)
The Favorites: Georgia teammates Maicel Uibo and Garrett Scantling are more than 100 points better than the rest of the field. They'll battle it out for the win.
Best of the rest: Dakotah Keys (Oregon) will get lots of support from the crowd and is the only other entrant who has gone over 8000 points. Wisconsin's Zack Ziemek tends to come up big at championship meets. Kevin Lazas (Arkansas) struggled this year but is capable of being in the mix, and defending champion Johannes Hock (Texas) has elbow problems.
Team scoring: Oregon has two entrants, Keys and freshman Mitch Modin. The Ducks are looking for five or six points out of Keys and anything from Modin would be gravy.
Women's Hammer Throw
1:30pm local time (4:30pm ET)
The Favorite: Julia Ratcliffe (Princeton) hasn't lost this year and has consistently thrown further than anyone else.
The Challengers: Brooke Pleger (Bowling Green) is one of only two entrants who scored a top-eight finish last year and has lost to no one but Ratcliffe (at the East qualifying round two weeks ago). Jillian Weir (Oregon) and Denise Hinton (LSU) could be in the mix too.
Team scoring: Oregon needs points out of Weir and anything more than three or four would give an early push to their title hopes. Texas A&M's Brea Garrett is not considered a scoring threat.
Men's Pole Vault
4:00pm local time (7:00pm ET)
The Favorites: Sam Kendricks (Ole Miss) is the defending NCAA outdoor champion but Shawn Barber (Akron) knocked him off at this year's indoor championship. The title will almost certainly come down to these two.
The Challengers: In the unlikely scenario where both of the favorites falter, Jake Blankenship (Tennessee) might be able to jump into the gap, as would former NCAA champion Andrew Irwin (Arkansas).
Team scoring: Texas A&M's Chase Wolfle has a chance at scoring, and anything he contributes would be a bonus for the Aggies.
Women's Long Jump
4:15pm local time (7:15pm ET)
The Favorites: Lorraine Ugen (TCU) won last year's title with a huge 6.77 meter (22′ 2½") jump and put up 6.71 (22′ 1″) to win this year's indoor championship but has not looked very good during the outdoor season. Oregon's Jenna Prandini put up a big PR(6.51/21′ 4¼") at the West qualifying round.
The Challenger: Kylie Price (UCLA) was sixth last year and runner-up to Prandini at this year's Pac-12 Championships.
Team Scoring: Oregon is depending on a big meet out of Prandini–the long jump, both sprints, and the relays–and the best possible scenario would be a big jump in the first round followed by five passes.
Men's Shot Put
5:30pm local time (8:30pm ET)
The Favorite: Ryan Crouser (Texas) is the biggest favorite of the entire meet. His best throw is about 2 ½ feet further than anyone else's and he won the NCAA indoor title by nearly 4 feet.
Best of the rest: The battle for second place could be quite interesting. It could go to any of seven men: Stipe Zunic (Florida), Darrell Hill (Penn State), Stephen Mozia (Cornell), Nick Vena (Georgia), Stephen Saenz (Auburn), Curtis Jensen (Illinois State) or Jonathan Jones (Buffalo).
Team scoring: Zunic is the only qualifer from the three teams in the title hunt. If he's runner-up (or close) it will help the Gators stay in the chase.
Running Event Semifinals
Men's 4×100 (7:00 ET): Florida, Texas A&M and LSU are the class of the field. Running error-free is the goal.
Women's 4×100 (7:15 ET): The top four in the team race–Oregon, Texas, Texas A&M and Florida–are the top four in this race, and a mistake that keeps any out of the final might take them out of the championship picture.
Men's 800 meters (7:30 ET): Brandon McBride (Mississippi State) is a big favorite. Florida has three entries and all are capable of getting through to the final but none are bulletproof runners. Texas A&M (Hector Hernandez) and Oregon (Boru Goyota) have entrants who are long shots to get to the final.
Women's 800 meters (7:45pm ET): Laura Roesler (Oregon) is the top dog, and teammate Annie Leblanc hopes to get to the final too.
Men's 400 meters (8:00pm ET): Huge team race implications here, as Texas A&M and Florida each have three entrants and Oregon has one.
Women's 400 meters: (8:15pm ET): Same goes here, as Texas has four entrants, Florida has three, and Oregon has two. They can't all make the final.
Men's 100 meters (8:30pm ET): The semis might give us some clarity amongst favorites Dentarius Locke (Florida State), Aaron Brown (USC) and Trayvon Bromell (Baylor). Texas A&M has two entrants and Florida has one, and any of them getting to the final would be a bonus for their team.
Women's 100 meters: (8:45pm ET): Oregon is leaning heavily on Jenna Prandini, who will also be long jumping today. Texas A&M has four entrants but none are title contenders, while Texas and Florida each have one who could make it to the final.
Men's 400 Hurdles (9:15pm ET): Six sub-50 second hurdlers are here and that leaves little room for error. Texas A&M needs Gregory Coleman to get to the final.
Women's 400 Hurdles (9:30pm ET): Keni Harrison (Kentucky) is the favorite. If either of Texas A&M's two entrants fails to make the final it would be a blow to the Aggies's championship hopes, but if either of Texas' two gets into the final it would be a big boost to the Longhorns'.
Women's Steeplechase (9:45pm ET): 2012 champ and Olympian Shalaya Kipp (Colorado) is back after a redshirt year. Oregon would like to get Megan Patrignelli to the final.