2 Comments
What2Watch: Thursday at the USA Championships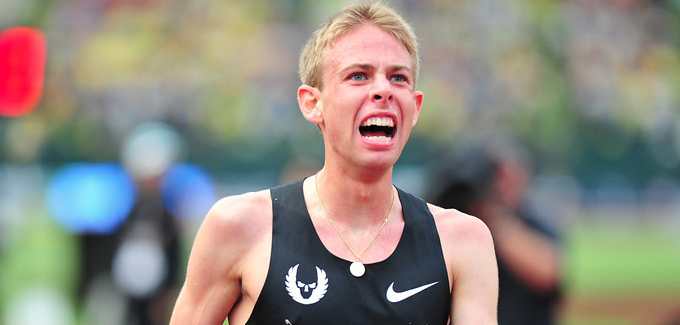 Jesse Squire | On 25, Jun 2015
All eyes will be on Galen Rupp tonight.
The 2015 USATF Championships kick off today at Hayward Field. Here's my usual rundown of what, why, when, how and who to watch.
Today's events
The lion's share of attention will go to the men's and women's 10,000 meters, but there's a lot more to watch. The men's long jump final looks to be a ding-dong battle, the men's decathlon gets underway, four throwing events have finals, and a few running event semifinals are worth your time as well.
What's at stake
For one, it's a shot at a national championship. But the top three* will also make the US team for the World Championships in August. This is also the selection meet for the Pan-American Games (Toronto, July 18-26) and the NACAC Championships (Costa Rica, August 7-9), and since the best athletes tend to skip these other meets then anyone in the top six or so will probably be on a national team of some sort.
*pending qualification, which is a bit more complex this year
The USATF Junior Championships are running concurrently with the senior championships and will act as a selection meet for the Pan-American Junior Championships (Edmonton, July 31-August 2).
How to watch
There is no television coverage today, but "all" events will be webcast at USATF.tv from 1:00pm to midnight Eastern time (10am to 9pm local time). I use the scare quotes because field events almost never get the attention they deserve.
Key links
Schedule, start lists and live results
Webcast
Daily Relay A-Z guide to the US Championships: Part 1 – Part 2
House of Run podcast preview
Track and Field News formcharts
Meet home page
Event-by-event
Here's a deeper look at the day's action, taken in chronological order.
Decathlon, day 1
Begins at 12:45pm PT / 3:45pm ET, runs all day
Favorites: Trey Hardee (Nike), Jeremy Taiwo (unattached), Garrett Scantling (Georgia)
As defending champion, Ashton Eaton (Nike/Oregon TC) has a bye to the Worlds and will contest some individual events instead and that opens up the competition. The best days for Hardee are likely behind him but if healthy he's still the class of the field. Injury issues could be a factor for Scantling, who was a DNF at the NCAAs two weeks ago. Taiwo is in the best form of his life and finished 6th with a PR at the big international Gotzis Decathlon last month. Outsiders with a shot include former Wisconsin star Zach Ziemek (unattached) and Curtis Beach (Nike), while the locals will be pulling for the Ducks' Dakotah Keys (Oregon).
Men's javelin
Begins at 3:00pm PT / 6:00pm ET
Favorites: Riley Dolezal (Nike/Team NoDak), Sean Furey (Chula Vista Elite), Tim Glover (unattached)
The three above are the only Americans who have thrown beyond 80 meters (262′ 6″) this year. Dolezal is by far the most consistent, but split his two meets against both Furey (the defending champion) and Glover. If you're looking for an outsider to break into the top three, NCAA champion Sam Crouser (Oregon) is your best bet. But sometimes crazy things happen in the javelin; two years ago Dolezal himself went from a nobody to a national champion with a gigantic nine-meter PR throw, like a career minor-leaguer suddenly becoming a major-league all-star.
Heats, various events
Begin at 3:40pm PT / 6:40pm ET
Events ranging in length from 100 meters to 800 meters will have their first rounds and they are not supposed to be high-drama affairs. Field event finals should be the focus at this point in the day.
Men's hammer
Begins at 3:45pm PT / 6:45pm ET
Favorites: Kibwé Johnson (Nike/NYAC), A.G. Kruger (Nike), Conor McCullough (USC)
Johnson (the defending champion) and Kruger have ruled this event for years—together they've won nine of the last ten national titles—but there's a new challenger to their domination. Well, sort of new; McCullough was a World Junior champion five years ago, but inconsistencies in training environments limited his progress. That's settled down now and he's finally throwing far enough to compete with the veterans. Michael Lihrman (Wisconsin) bombed at the NCAAs but on a good day he could get into the top three.
Men's long jump
Begins at 5:00pm PT / 8:00pm ET
Favorites: Jeff Henderson (National Athletic Institute), Marquis Dendy (Florida), Mike Hartfield (adidas)
The USA has been in a bit of a men's long jump drought since the retirement of Dwight Phillips. There appear to be some new stars on the horizon, though. Henderson broke through last year and is now a real threat for gold at the Worlds, and collegians Dendy and Jarrion Lawson (Arkansas) put up some big jumps at the NCAAs (albeit wind-aided). Hartfield is consistent if not spectacular. Triple jump stars Christian Taylor (Nike) and Will Claye (Nike) are more than capable of mixing it up with the favorites, as is uber-decathlete Ashton Eaton (Nike/Oregon TC). This is probably the most interesting field event of the day.
Men's discus
Begins at 6:00pm PT / 9:00pm ET
Favorite: Jared Schuurmans (National Athletic Institute)
Schuurmans is everyone's favorite to win this event, and after that it gets murky. Collegian Rodney Brown (LSU) had a great season then bombed out at the NCAAs with a seventh-place finish. NCAA champ Sam Mattis (Penn) had a season that went about the opposite way. Track and Field News picks Andrew Evans (Chula Vista Elite) and Chase Madison (unattached) for second and third, but neither has been a paragon of consistency.
Women's shot put
Begins at 6:25pm PT / 9:25pm ET
Favorites: Michelle Carter (Nike), Tia Brooks (Nike), Brittany Smith (Nike), Felisha Johnson (Nike)
Carter is a heavy favorite; she is among the world's five best shot putters. Brooks recently beat Carter, which no American had done in three years. Smith and Johnson just beat Brooks at the Oslo Diamond League meet and consistently throw far. Double NCAA champ Raven Saunders (Southern Illinois) has rewritten the junior record books but might not be ready for the next step up. A long shot worth keeping an eye on is Jill Camerena-Williams (New York AC), the 2011 Worlds bronze medalist who is regaining form after two years of maternity leave.
Men's 1500 semis
Begins at 6:45pm PT / 9:45pm ET
Given the increased depth in US middle distance running and the inherent unpredictability of championship middle distance running, these three semifinal races will be wild. The field is being trimmed from 30 entrants to 12 finalists, and Matthew Centrowitz (Nike Oregon Project) is just about the only runner I'd consider a lock to make the final. Other than that, crazy crap can and will happen.
Women's steeplechase semis
Begins at 7:05pm PT / 10:05pm ET
The steeplechase semis are less likely to come with surprises, but the depth of the US contingent this year makes this a good undercard for the 10k finals that come after it. Click here for more.
Women's 10,000 meters
Begins at 7:35pm PT / 10:35pm ET
Favorites: Molly Huddle (Saucony), Shalane Flanagan (Nike/Bowerman TC)
This is expected to be a battle between Huddle, the USA's best all-around distance runner and Flanagan, the USA's best marathoner. Both are contenders on the world level, but this race distance is better suited for Huddle. Extremely hot weather could very well be a confounding variable. The favorite for the third spot is Emily Sisson (New Balance), who just finished her collegiate career at Providence, but a number of pros are capable of giving her a run for it. Let's Run thinks highly of Emily Infeld (Nike/Bowerman TC), and I think marathoners Amy Cragg (Brooks) and Desi Linden (Hanson's-Brooks Distance Project) could do well in difficult conditions.
Men's 10,000 meters
Begins at 8:15pm PT / 11:15pm ET
Favorites: Galen Rupp (Nike Oregon Project), Ben True (Saucony)
Rupp has won the national 10k title six times in a row and is the heavy favorite, but may have more to worry about tonight than the intense scrutiny directed towards him and coach Alberto Salazar. True has become a world-class runner—two weeks ago in New York he became the first American to ever win a Diamond League 5k—and might have better closing speed than Rupp. Again, hot conditions might make this race less predictable. The third spot is expected to come down to Diego Estrada (Asics) and Hassan Mead (Nike/Oregon TC). Chris Derrick (Nike/Bowerman TC) is one of the USA's best 10k runners but has been battling injury and doesn't look ready to challenge.