No Comments
NCAA Championships Day 1 Recap, Day 2 Viewer's Guide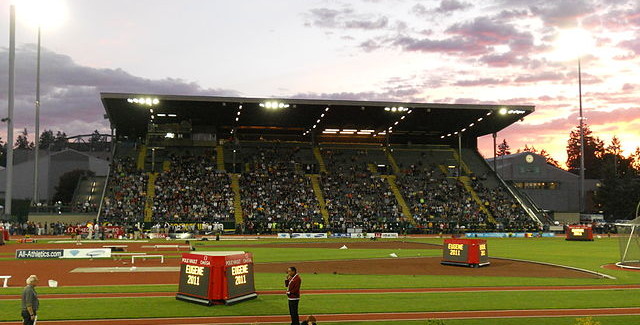 Jesse Squire | On 12, Jun 2014
What happened yesterday at the NCAA track and field championships? And what should you be looking for today? We have it all in our quickie guide.
Your key links for the championships…
Live Results are at FlashResults.com.
Today's webcast will be at WatchESPN.com.
Most every piece of information you could need is at the USTFCCCA's National Championship Central.
Track and Field News has event-by-event formcharts and predicted scores for men and for women.
First day update
The main event was the men's 10,000 meters and Oregon freshman Edward Cheserek continued his unbeaten streak at NCAA Championships, his fourth of the 2013-14 season (along with cross country and the indoor 3000 and 5000). Leading a tight group for most of the race, he gapped them with a blazing last 250 meters for the win.
"Ches" led an Oregon 1-5-8 finish and the Ducks are well positioned to win their first men's outdoor national title in thirty years. Florida and Texas A&M, the teams that tied for last year's championship, appear to be facing off for second.
Oregon's hopes for a women's outdoor championship took a beating yesterday then the 4×100 relay failed to complete even one handoff and half-miler Annie LeBlanc didn't qualify to Friday's finals. A win by the Ducks isn't impossible but would require a highly unlikely string of events to take place. The women's championship now looks like an intrastate battle between Texas and Texas A&M.
Event recaps
Cheserek won the men's 10,000. More from Let's Run.
As expected, Princeton's Julia Ratcliffe won the women's hammer throw. More from espnW.
Texas' Ryan Crouser, the heavy favorite and an Oregon native, won the shot put but may have broken a toe in the process. More from The Oregonian.
Ole Miss' Sam Kendricks successfully defended his outdoor title and avenged his NCAA indoor loss to rival Shawn Barber. More from WTVA.
Oregon's Jenna Prandini won the long jump and is doing everything she can to keep her Ducks in the hunt for the championship. More from the Eugene Regiser-Guard.
Florida's Fawn Miller, the #1 seed, won the javelin with a personal record throw. More from the Gainesville Sun.
Previews of today's finals
Men's Decathlon
First event at 11:00am local time (2:00pm ET), runs until 10pm ET
There were big questions about defending champion Johannes Hock (Texas) and his post-Tommy John surgery elbow. He leads after the first day and is obviously in very good shape, but today's events include the pole vault and javelin, the two that could give a tricky elbow some trouble. The only other major deviations from the formcharts are that Zack Ziemeck (Wisconsin) is doing better than expected and might be headed to a top-four finish, and Dakotah Keys (Oregon) is not and looks hard pressed to do anything better than fifth.
Women's Heptathlon
First event at 1:00pm local time (4:00pm ET), runs until 9pm ET
The Favorites: Lindsay Vollmer (Kansas) is the defending champion and Kendell Williams (Georgia) is one of the best U20 heptathletes of all time. The battle is between these two.
Best of the rest: Besides Vollmer, Allison Reaser (San Diego State) is the only scorer returning from last year. Freshman Grete Sadeiko (Florida State) and sophomore Nicole Oudenaarden (San Diego State) should be in the mix as well.
Men's Hammer Throw
1:30pm local time (4:30pm ET)
The Favorite: Britain's Nick Miller (Oklahoma State) assumes the role after Remy Conaster (USC) missed qualifying due to acute appendicitis.
The Challengers: Tomas Kruzliak (Virginia Tech) is the defending champion but hasn't thrown as far as last year. Matthias Tayala (Kent State) is #2 on the yearly list.
Team scoring: Oregon could get some big points out of Greg Skipper. Kyle Strawn (Florida) is a bit of a long shot to score and Casey Strong (Texas A&M) is an even longer shot.
Women's Discus
2:00pm local time (5:00pm ET)
The Favorite: Shelbi Vaughan (Texas A&M), the greatest high school discus thrower of all time, hasn't lost since last year's NCAA Championships and seeks to win her first title. It's hard to see her losing.
Best of the rest: Defending champion Anna Jelmini (Arizona State) is way off last year's form. Second is probably a three-way battle between Jessica Maroszek (Kansas), Danniel Thomas (Kent State), and Kellion Knibb (Florida State).
Team scoring: Texas A&M expects ten points here from Vaughan. Oregon has an entrant in Laura Bobek and any points at all out of her would be an unexpected bonus.
Men's Long Jump
4:30pm local time (7:30pm ET)
The Favorite: Since NCAA indoor champion Jarrion Lawson (Arkansas) failed to qualify, the role of favorite falls on Corey Crawford (Rutgers).
The Challengers: Marquis Dendy (Florida) isn't consistent but can hit a big one. The leading jumper of the outdoor season is Laderrick Ward (SIU-Edwardsville) and he shouldn't be ignored.
Team scoring: Dendy could give his Gators a huge boost or leave them in the lurch. Texas A&M and Oregon both have entrants but neither are expected to score.
Women's 10,000 meters
7:15pm local time (10:15pm ET)
The Favorite: Emma Bates (Boise State) was runner-up at the NCAA cross country championships to Abbey D'Agostino, who is contesting the 5000 here. She was third in this race last year behind two seniors. For what it's worth, Let's Run likes Elinor Kirk (UAB) to win.
The Challengers: Juliet Bottorff (Duke) won this race three years ago. Others who could be a factor include Elvin Kibet (Arizona), Erin Finn (Michigan), Emily Stites (William & Mary) and Elaina Balouris (William & Mary).
Team scoring: None of the four teams figured to battle for the championship have runners in this race.
Running Event Semifinals
Men's 200 meters (7:00pm ET): Dedrick Dukes (Florida) and Aaron Brown (USC) are the favorites. Texas A&M has two entrants who should make the final, Oregon has one and he's a long shot to get there.
Women's 200 meters (7:15pm ET): Texas A&M has four entrants and if three qualify to the final then the Aggies are on track to stay in the team championship battle. Texas and Oregon each have a sprinter who must make the final for the same reason.
Men's 1500 meters (7:30pm ET): Saturday's final looks like a titanic battle between umpteen-time NCAA champion Lawi Lalang (Arizona) and defending champion Mac Fleet (Oregon). The Ducks could line up insurance points if freshman Sam Prakel got to the final too.
Women's 1500 meters (7:45pm ET): Emily Lipari (Villanova) doesn't have the fastest time but all she does is win. Florida has two entrants who should make the final. If Oregon could get either of their two entrants into the final it could lead to much-needed points on Saturday.
Men's 110m Hurdles (8:05pm ET): There are a lot of quality hurdlers here, led by Aleec Harris (USC) and Wayne Davis (Texas A&M). Oregon has two who could make the final.
Women's 100m Hurdles (8:20pm ET): Indoor champ Sharika Nelvis (Arkansas State) is the favorite. Florida and Texas each have a hurdler who should get through, while Oregon's hurdler is facing an uphill battle.
Men's Steeplechase (8:35pm ET): Defending champion Anthony Rotich (UTEP) is the class of the field. Oregon needs Tanguy Pepiot to qualify.
Men's 4×400 (9:20pm ET): Of course all the major players in the team championship are at the top of the list in the 4×400.
Women's 4×400 (10:00pm ET): Same as above.