One Comment
Mutai eyes redemption in New York City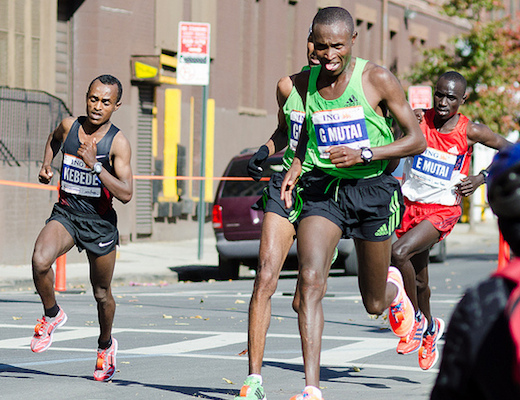 Daily Relay | On 02, Nov 2013
photo: Flickr
Geoffrey Mutai enters Sunday's New York City Marathon as the favorite, but he does not enter without question marks.
Mutai set the distance-running world ablaze with course records in Boston (2:03:02, breaking the previous mark by 2:50) and New York City (2:05:05, breaking the previous mark by 2:37) in 2011. In the latter, he beat Emmanuel Mutai by 1:22 and Tsegaye Kebede by 2:08. He was in a world of his own.
Since that glorious season, though, he dropped out of a hot 2012 Boston Marathon at mile 18 and then, stunningly, was not selected for the Kenyan Olympic marathon squad that summer.
Instead, he went for the marathon World Record that September in Berlin but missed the mark. Though he still won the race, it appeared training partner and pacer Dennis Kimetto could have outkicked him in the end had he tried (or perhaps better stated "been permitted to").
Then this spring, he dropped out of the London Marathon mid-race with a hamstring injury, remembering it as "a very big problem" during the race.
Although his field of foils is strong, each has questions to answer as well.
Tsegaye Kebede, 2012 Chicago champ and 2013 London champ, has not run as well in unpaced races, and Stephen Kiprotich, the 2012 Olympic champ and 2013 Worlds champ, has never broken 2:07. Plus, both runners have had a short turnaround since the World Championships marathon in August, where Kiprotich won and Kebede finished fourth. Moreover, those two are going for the World Marathon majors $500,000 bonus, which either could win even without crossing the finish line first.
There's Martin Lel, the 35-year-old who's won this race twice, but one of those times was a decade ago. He may be healthy, but does he still have the speed to hang with Mutai — He's only finished two marathons since 2008 — 2012 London, where he placed second, more than two minutes behind Wilson Kipsang and a second ahead of Kebede; and 2011 London, where he also finished second, this time five seconds behind Emmanuel Mutai while beating Patrick Makau at the tape.
Most consider Stanley Biwott the other main contender. He was one of many people not named Kebede to flame out after a 1:01:34 first half in London this spring. It's a list that includes Wilson Kipsang, who finished fiifth, and Kiprotich, who finished sixth. Kebede himself ran a positive split of about three minutes.
Perhaps that race on a flat, paced London course is a non sequitur when previewing Sunday's race on an undulating, unpaced New York City course. What's surely to be a more controlled early pace could allow Biwott to use his top-end speed down the stretch. The contrarian might say that the difficulty of the course may be too much for the first-timer.
Mutai insists his strong half marathon in Udine, Italy, in September — he ran 59:06 — puts him in the right frame of mind for Sunday.
"It was so important 'cause I started strong start," said Mutai on Friday. "I started pushing a lot, and I ran alone — no one was around to push me, so I push alone. So, that's why I was encouraging myself."
Mutai has two of the top four and three of the top 12 half marathon times this calendar year, though Biwott has two of the top 10 and the second fastest time in the world this year, beating Mutai by two seconds with a 58:56 performance in Ras Al Khaimah, U.A.E., back in February.
Mutai says he's not concerned about his competition.
"When it comes to the race, I'm not looking at anyone, because I'm fighting my own and they're fighting their own," he said, noting that runners often struggled when consumed with their opposition. "When I try to do my own, I run well."
If there's anything osmotic about Mutai's training group, then he has to be a shoe-in, since he trains with Kipsang (sometimes) and Kimetto (all the time). The former just broke the world record in Berlin, and the latter was the only one able to maintain the hot early pace in October's Chicago Marathon, a race that otherwise left carcasses strewn along the final 10K, much like London did (I see you there, Moses Mosop and Ayele Abshero, to single out two victims).
"I watched Kipsang in Berlin; I watched Dennis in Chicago," said Mutai "They've been giving me a lot of encouragement. When someone trains together and sees that performance, you know you are not far from that."
Those performances from men he trains consistently have to have been shots of confidence for a runner who, again, has DNFed in two of his last three marathons and was overlooked by his governing body for the Olympics in between, a snub he simply calls "disappointing."
When asked if Kipsang or Kimetto had the edge on him in training, Mutai replied, "No, I see we are the same."
Mutai says his training has been even better than in the past with Kipsang and Kimetto to push him, "because when you get a strong group, you find yourself even more. You find that there is something automatically coming to change you."
The Kimetto-Mutai relationship is one deserving of a documentary. Mutai discovered Kimetto and encouraged him to run juniors, even though he was a "senior" in his early 20s. Of course, most list Kimetto as 29 whereas Mutai indicates he's 25. Either way, in the three years since running as an overaged cross-country runner, Kimetto has set a record for the fastest debut marathon (Berlin 2012) and a course record at a major marathon with the 2:03:45 in Chicago.
As a course, New York City sets up well for Mutai, who believes his cross country background is well-suited to New York's combination of bridges and rolling hills.
"I found when I run a course like this, I find myself gaining and gaining [on opponents] a lot more than on a flat course," said Mutai, who is not concerned with the potential of winds at 16 mph, noting that "The wind cannot blow to the same direction [we're running] all the time."
He added, "I like the course because I have been running cross country, and cross country is up and down."
Mutai has a chance to claim a spot back atop the men's marathon pecking order if he can put aside the doubts and disappointments of the last 18 months. He's healthy, been racing well, eats up the course and has the confidence of his training partners' recent triumphs.
"I'm still looking forward to make my success again," said Mutai. "For what I have run [before], I don't want to put in my mind, 'I've already achieved like this.' I am still looking at my success to come."