No Comments
The Monday Morning Run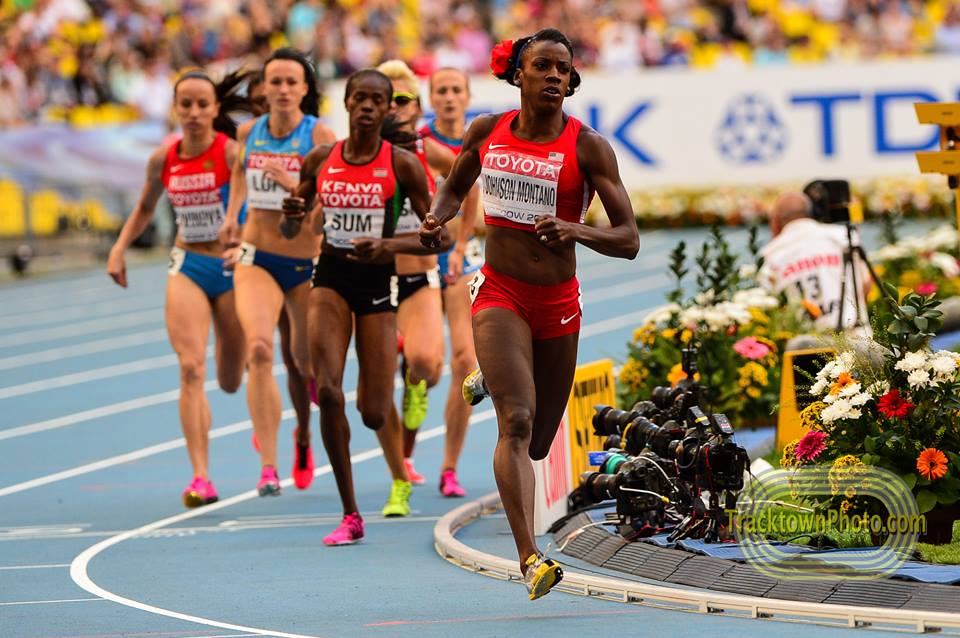 Kevin Sully | On 26, Aug 2013
Photo courtesy of TrackTownPhoto
Welcome to the off-season, or to be more accurate, the post-World Championships exhibition season (not to be confused with the pre-World Championships exhibition season).  Even after Thursday's Diamond League meet in Stockholm, there are still at least six big name meets remaining before we can begin say the 2013 outdoor track season is complete.
In 2010, David Rudisha used a late season meet to set the world record in the 800.  In September of 2011, Yohan Blake ran 19.26 in the 200, setting the stage for his great 2012 and burnishing his credentials as a great late season runner. Last year Shelly-Ann Fraser-Pryce and Carmelita Jeter continued their Olympic rivalry and went head-to-head three times throughout August.  Those types of performances don't appear to be in the cards for 2013.  All of the world records look to be safe with the exception of the men's high jump and many of the top athletics seem content to slowly wind down their season.  There is still plenty of time to be surprised, and perhaps one of the final six meets will deliver something that will have us talking well into the 2014 season.
In the interim, it is time to delve into a hypothetical exercise that asks a simple question. If race distances were modified, would we have seen different champions in Moscow?  What if the powers that be decided long ago that 2 ½ laps made more sense as a middle distance than 3 ¾? Or that the track should be  300 meters, and thus all competition distances were based off that number.
So, in the spirit of the off-season, and meaningless lists, here is the first edition of the Off-Distance All-Stars.  Some were more successful than others in Moscow, but all would benefit from a slight tweak in their racing distance.
The Off-Distance All-Stars
Women's 600: Alysia Montaño
Her front-running style makes the race entertaining, and keeps her clear of the traffic behind her, but it also leaves her susceptible to late race breakdowns.  She has finished fourth, fifth and fourth in the last three global championships. At this year's World Championships she led through 700 meters before falling out of the medals.  Her fast start has also revealed how deadly she would be in the 600.
In Moscow, she was a full second clear of the closest runner at 600 and this winter she just missed the indoor world record at 600 by .15 seconds. The fast early pace would be less of a liability in the 1½ lap race and her first 200 probably wouldn't need to be any faster than it is in her 800s. In short, no 400-meter runner has the strength to stay with her and no 800-meter runner would be able to catch her.
Men's 1,200: Ayanleh Souleiman
Souleiman employed the "avoid Rudisha at all costs" strategy this year and jumped from the 1,500 to the 800.  From a medal perspective, it was a success.  He earned the bronze in the shorter distance, but failed to qualify for the final in the 1,500.  The rounds of the 1,500 immediately followed the 800 making an legitimate shot at a double almost impossible.  Even with Rudisha, and the two other medalists from London missing, the success in the 800 is a surprise.  His 3:30.91 personal best suggests he should be much better at the 1,500.
A 1,200 might just be long enough for him to get away from the speed of Rudisha and keep clear of Asbel Kiprop.  With no actual 1,200 to run, Souleiman will have to hope for a distance medley relay to be added to the Olympic program.  If it does, look out for Djibouti on the first leg.
Women's 200 hurdles: Queen Harrison
Before you jump on me for completely making up an event, the 200-meter hurdles have been run a few times in both the straightaway and the traditional 200 fashion.  Jesse Owens famously ran 22.6 in the 220-yard low hurdles when he broke three records and tied a fourth in the span of 45 minutes.
Harrison, a dual hurdler with success in both, would be a perfect match for this event.  She made the semifinals in the 2008 Olympics and 2011 World Championships in the 400-meter hurdles. This year she completely focused on the 100 hurdles and finished fifth at the World Championships.  Why the 200 and not the 300?  Her personal bests of 12.43 and 54.55 projects better over the shorter distance.
Men's 1,000: Nick Symmonds
Symmonds has said that he wants to try to run the 800/1,500 double in the next Olympics.  That is asking a lot, especially considering the American depth in those events.  It would be much more convenient for him to focus on the 1,000– an event which would be the perfect meeting point of his stamina and his speed.
If this were an actual event, chances are David Rudisha would dominate it in about the same fashion as he does in the 800.  But, I think Symmonds could make a strong case for second.  His personal bests of 1:42.95 in the 800 and 3:34.55 in the 1,500 make him faster than the milers and stronger than the 800 runners. Also, he has proven himself to be adept at tactical racing, something that would no doubt be useful in a middle distance race that could be fast or slow at the start.
Women's 500: Christine Ohuruogu
Unlike her teammates on the Off-Distance All-Stars, Ohuruogu won a gold medal this year.  But think of the possibilities of her running the 500 meters!  We have all seen how dramatically she closes the gap on her 400-meter competitors in the homestretch.  In some cases, she catches everyone before the line.  She did it in Beijing, she did it in Moscow and she almost pulled it off in London.
Now, imagine what her winning margin would grow to if she had an extra 100 meters to run it up.  Amantle Montsho would need more than a well-timed lean to beat her.  I'm already getting interested at the idea of a Ohuruogu/Montaño match race over 550 meters in 2014.
Men's 300:  Wallace Spearmon
Spearmon hasn't had a great season, but even before this year he always seemed like he ran out of room in the 200.  There were reports that he was switching to the 400 this year, but that never materialized.  In 2006 when he was closer to his prime, he ran the fastest indoor time ever recorded for 300 of 31.88.  Outdoors at the 2009 Prefontaine Classic and finished behind LaShawn Merritt and Xavier Carter.
This distance would be ideal for a 200/400 runner, but there haven't been many men who have done that double recently and there certainly hasn't been a dominate one since Michael Johnson (Johnson, not coincidentally has the fastest time outdoors in the 300– a 30.85 clocking at altitude in Pretoria).  In 2013, Merritt, Usain Bolt and Kirani James would be the best at the 300, but a 2006 Wallace Spearmon, after he ran a 19.65 200, is an interesting prospect.
To Stockholm!
Despite the presence of a smattering of stars, the Stockholm Diamond League meet was largely uneventful.  The women's 800, however, tapped into the best of post-championship track and field.  Only one of the top six from Moscow was missing and the addition of 1,500 gold medalist Abeba Aregawi gave the race an interesting twist.  After the race, it was Alysia Montaño's lane five finish that was the major topic of discussion.
Other News
–Veronica Campbell-Brown's hearing for her positive drug test will be held in September.
–The Jamaica Anti-Doping Commission responded to critiques of its nation's drug testing policy after its former Executive Director criticized the lack of testing in a Sports Illustrated article.
-The Washington Post explains the current state of the Oscar Pistorius case, which is scheduled to begin on March 3, 2014.
-The Irish Times has the latest take on Alberto Salazar's comments about doping.
This Week
-The Zurich Diamond League on Thursday has compiled its typical stellar field. Kirani James will get a chance to avenge for his poor performance in Moscow against LaShawn Merritt in the 400.  Meseret Defar and Tirunesh Dibaba both come in with a World Championship gold medal and will square off for the first time this year in the 5,000.  In the men's 100, Usain Bolt leads a field that closely resembles the final eight from Moscow. Asbel Kiprop will see if he can run even faster in the 1,500 than his 3:27 from Monaco. Shelly-Ann Fraser-Pryce, David Oliver, Mohammad Aman and Nick Symmonds are also expected to compete.
-On Saturday, Valence, France will host the Decanation meet, a ten-event competition between eight countries.
-On Tuesday, Jason and I will be joined on the podcast by David Epstein, the author of The Sports Gene.  If you have questions for Mr. Epstein, you can email them to houseofrun@gmail.com or tweet them to @houseofrun.