One Comment
Preseason All-Track Football Team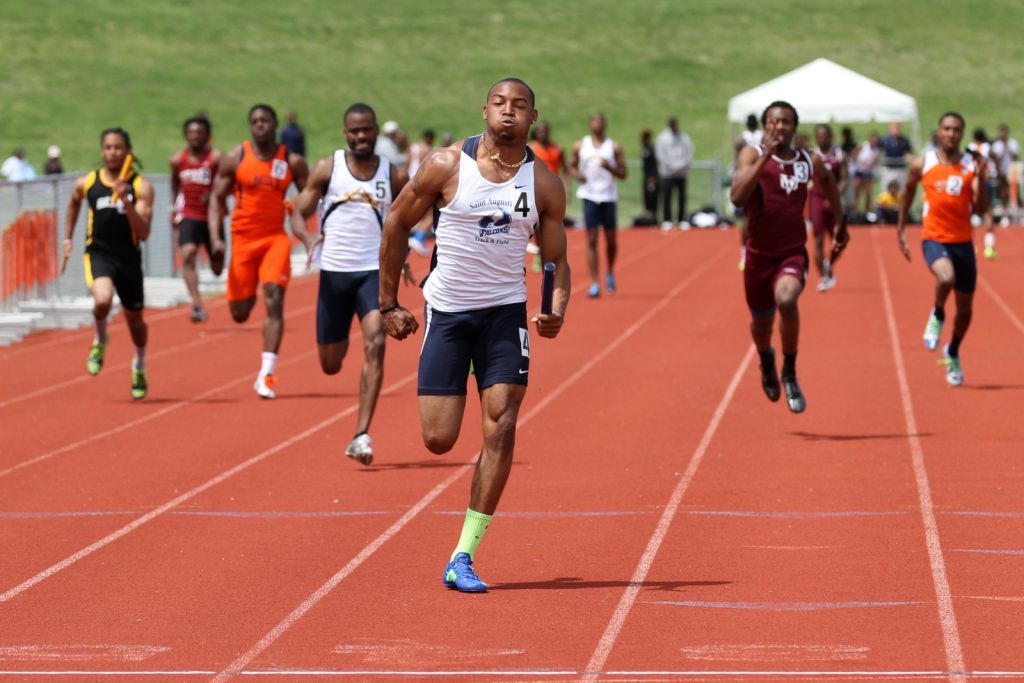 Jesse Squire | On 27, Aug 2013
College football's fastest sprinters, such as St. Augustine's Jermaine Jones, do not compete in Division I. (Photo courtesy St. Augustine's sports information.)
The college football season begins on Thursday night, and we have our own take on it here at the Daily Relay. Just like you, we want to know who the best players are at each position.
But to us, "best" means "best at running, jumping and/or throwing". Football is just something interesting to watch between track seasons. So here is the first Daily Relay college football preseason All-Track Team.
I picked athletes at each of the standard football positions (as listed on a 2013 roster) by their best single mark of the 2013 track season (as determined by the IAAF scoring tables and correcting for the affects of wind in the 100 and 200 meters). I only considered athletes who competed in NCAA track last year, which disqualifies freshmen and JC transfers–but they often do not continue as two-sport athletes. As far as football achievements are concerned, the only requirement is being on a 2013 roster.
Offense
Offensive Captain
Jermaine Jones, wide receiver, St. Augustine's
Jones was named the 2013 Division II Outdoor National Men's Track Athlete of the Year by the USTFCCCA. He led his Falcons to a runaway victory at the NCAA Division II Championships by winning the 200 meters, placing third in the 100 meters, and anchoring the 4×100 relay which twice broke D-II records. He also won the D-II indoor 200 title and anchored runner-up 4×100 and 4×200 relays in the Championship of America heats at the Penn Relays.
The sophomore from Wilmington, NC, caught 26 passes for 367 yards and 4 touchdowns last year, and also does some duty returning kickoffs and punts.
Running Backs
Broderick Snoddy, Georgia Tech
Spring football kept Snoddy out of all but two outdoor meets, but he still qualified to the NCAA East Preliminary Round in the 100 meters. He was most productive during the indoor season, where he ran 6.67 for 60 meters (a Georgia Tech school record), finished 13th at the NCAA Indoor Championships, and scored six points at the ACC Championships. During the 2012 football season he rushed for 50 yards and a touchdown, and saw action in every game on special teams.
John Spooney, Brown
Spooney is a three-time Heptagonal (Ivy League) champion in the 100 meters and a two-time champion in the 200 meters. He qualified to the NCAA East Preliminary Round in both distances in 2013. He took a year off from football in 2012 after being the Bears' second-leading rusher in 2011, including a 156-yard outing against Cornell.
Wide Receivers
Damiere Byrd, South Carolina
Byrd only competed during the indoor season but was very good. He qualified to the 60 meter finals at the SEC Championships but did not compete (presumably due to injury), and his best time of 6.66 would have qualified to the NCAA Indoor Championships if he had declared. His career receiving average is an insane 25.5 yards per catch and he is projected as a starter for this fall.
Justin Scott-Wesley, Georgia
Scott-Wesley ran the 60 meters, 100 meters, and 4×100 relay for the Bulldogs last spring. He qualified to the University Division finals at the Drake Relays but couldn't quite get to the highly competitive SEC Championships finals either indoors or out. He led off Georgia's 4×100 at the NCAA East Preliminary Round. Last fall he caught six passes for 135 yards and one touchdown, for an average of 22.5 yards per catch.
Tight End
Cody Humphrey, Eastern Washington
Humphrey is an all-around thrower for the Swoops but his best is the shot put. His best mark was 16.40 meters (53′ 9¾") and he took fifth at the Big Sky Outdoor Championships. He has started two games at tight end for Eastern Washington.
Quarterback
Brett Croteau, UMass Dartmouth
Naturally for a quarterback, Croteau is a javelin thrower, the New England D-III champion and eleventh at the NCAA D-III Championships with a best mark of 61.42 meters (201′ 6″). He has seen limited action at quarterback for the Corsairs.
Offensive Line
Desmond Hilliard, Baylor
Hilliard is an excellent thrower who finished ninth in the discus at the NCAA Championships with a PR of 59.13 meters (194′ 0″). On the football field he played in all 13 of Baylor's games last year on special teams and as a backup, and is projected as a starter at right guard for 2013.
D'Wayne Houston, Southern
Houston is an all-around thrower who scored 26 points for the Jaguars at the SWAC Championships by winning the shot put and hammer and taking third in the discus, for which he was named the outstanding field athlete of the meet. Indoors, he swept the weight throw and shot put at the SWAC Championships. He qualified to the NCAA East Preliminary Round in the shot put.
Jordan Roose, Purdue
Roos competes in the discus and shot put and finished 23rd in the latter at the NCAA East Preliminary Round. He returns to the Boilermaker football team after not playing in 2012.
John Petroff, Northwest Missouri
Petroff throws the shot, hammer and discus and is best at the 2-kilo platter, as he finished 18th at the NCAA Division II Championships. In football he started eleven games at tackle last year and was named honorable mention All-MIAA conference.
Cody Holland, Pittsburgh State
Holland throws the shot, discus, hammer and indoor weight for the Gorillas, and scored sixth at the MIAA Indoor Championships in the weight throw. He was a Division II All-American at right tackle last year but is expected to move to left tackle this year.
Kicker
Michael Ashley, Lincoln (Mo.)
Ashley is a long sprinter and a darned good one who finished eighth in the 400 at the NCAA Division II Championships. He sports PRs of 21.48 and 46.80. His kicking duties mostly consist of kickoffs and extra points. Unlike most of the other athletes mentioned here, he didn't grow up playing football–he's from St. Catherine, Jamaica.
Defense
Defensive Captain
Thurgood Dennis, defensive back, Wisconsin-Eau Claire
Dennis was recently ranked as the second-fastest player in college football by CBSSports.com, ranked only behind an incoming freshman who does not plan to run in college. With PRs of 10.30 and 20.86, he has legitimate Division I speed. He put the Bluegolds on his back at the NCAA Division III Championships, winning the 100, taking second in the 200, and anchoring the winning 4×400 relay. His team came up just two points short of the national title.
At six feet tall and 173 pounds, he's got D-I size to go with that D-I speed, but didn't get much interest sine he was a self-described "late bloomer". Wisconsin did end up offering him a half track scholarship in the summer before his freshman year, but he was already enrolled in Eau Claire and didn't want to give up the ability to play two sports, so he stayed put. He started ten games at cornerback during his freshman 2012 season with 58 tackles and three pass deflections.
Defensive Backs
Kevin Johnson, Baldwin-Wallace
Johnson's biggest track successes came in the straightaway sprints, where he was All-Ohio D-III champion both indoors and out. While he's listed as a cornerback, he gets more notice as a kick returner.
Dior Mathis, Oregon
The Duck track team gets some help from the football team and Mathis probably does the most. He ran 10.59 this spring and ran on 4×100 relays that finished third in the Pac-12 and 16th at the NCAA Championships. He is currently listed second on the Oregon depth chart at left cornerback.
Drequan Hoskey, Virginia
Hoskey ran just one meet for the Cavaliers last year, but his 60 hurdle time of 8.06 was good enough to qualify here. On the gridiron he started ten games in 2012 at cornerback.
Linebackers
Courtland Clavette, Brown
Clavette throws the shot some but specializes in the discus, where he was third at the Heps, fifth in the IC4A, and qualified to the NCAA East Preliminary Round. He is listed as a linebacker on the Brown roster (thus his placement here) but functions as the Bears' long snapper.
Jared Minori, Susquehanna
Minori was the Landmark Conference javelin champion and tenth at the NCAA Division III Championships, and has a PR of 65.84 meters (216′ 0″). He is entering his third year as a starter at linebacker.
Justin Shirk, Bloomsburg
Shirk won the 2012 NCAA Division II title in the javelin throw but threw only once in 2013. After last fall's football season he was named All-PSAC Eastern Division second team.
Cody Britt, Bethel (Mn.)
Britt is 6′ 3″ and 200 pounds, a bit light for a linebacker but pretty good sized for a pole vaulter. His best mark this year was 4.25 meters (13′ 11¼").
Linemen
Roger Steen, Wisconsin-Eau Claire
Steen throws everything but the javelin for the Bluegolds, with his best performances in the shot put. His PR of 17.52 meters (57′ 5¾") put him third at the NCAA Division III Indoor Championships.
Tylor Harris, Wake Forest
Harris saw limited action in the throwing events, putting up a best shot put mark of 16.27 meters (53′ 4½"). He started three games at defensive end as a true freshman for the Deacons in 2012.
TJ Beelen, Southern Illinois
Beelen finished third in the discus at the Missouri Valley Conference Championships with a PR of 51.22 meters (168′ 0″). He played ten games with one start at nose tackle in 2012.
Danny Shelton, Washington
Shelton posted a PR of 16.19 meters (53′ 1½") while winning the shot put in the dual meet against Washington State. He started every game for the Huskies last year and won the team's Academic Achievement Award.
Punter
Joe Kelly, Coast Guard Academy
Kelly is the only "distance" runner on the Daily Relay's football squad, recording 1:59.64 for 800 meters during the indoor season and running on 4×800 relay teams that scored at the New England D-III Championships, both indoors and out.