3 Comments
Grace wins 800 to cap journey from near-retirement to Olympics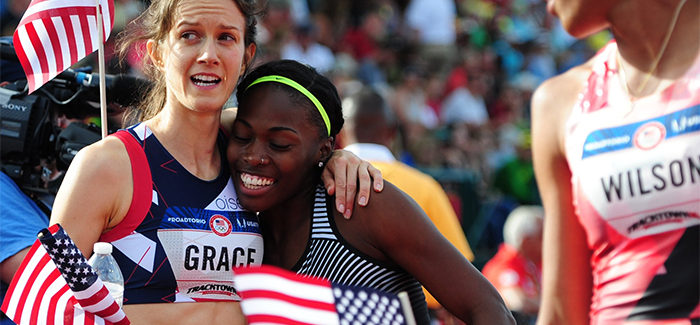 Brendon Desrochers | On 04, Jul 2016
(Photo courtesy PrettySporty.com)
EUGENE, Ore. — The lasting image of the women's 800m final at Hayward Field on Monday evening will be six-time US champion Alysia Montano kneeling on the track in tears. Montano and Brenda Martinez tripped around the final bend, ending both of their chances at making the Olympic team in the 800m. Meanwhile, Kate Grace, the winner of the race, appeared nonplussed at the finish as she clinched her berth for Rio.
"It just, at the moment, that was my response to the reality of the situation. I was almost in shock," she said after setting a personal best of 1:59.10 to win the national title and qualify for the Olympic Games. "It's just been a long road and I've never won a US title. Maybe I am stoic. I had confidence in my ability, despite the fact that I haven't been here before. Maybe in Rio I'll cry."
The tears flowed freely 18 months ago when a torn plantar plate in her left foot was set to sideline her for the entire 2015 season. It was then that a mentor made sure she knew she could walk away from the sport if she wanted to.
"'You don't have to torture yourself. If you want, you can go and take time off and pursue other passions,'" she remembers him saying. "He wanted to show me that my world wasn't ended, but it devastated me, because I was bawling afterward. I went to the physical therapist and she looked at me like I was crazy because I was crying so hard."
Instead of retiring from running to pursue grad school, the Yale alum attended the 2015 World Championships trials here with teammate and 2012 Olympian Kim Conley. She then moved from Bend, Oregon, to Sacramento in July to join the NorCal Distance Project, coached by Drew Wartenburg.
"A year ago this was an abstract idea to even be here and be healthy, and yet the way she's prepared throughout the winter and then this spring, we knew there was a chance," said Wartenburg.
The abstract idea started to crystallize in the middle of a blizzard in New York at the New Balance Games at the Armory.
"We were supposed to race on a Saturday and it got snowed out and postponed a day," said Wartenburg of the weekend when a blizzard lashed the East Coast and dumped 34 inches on New York City. "Kate was second that day [in 4:28.30 in the mile to Conley], but it was the first race back on the track, blowing the dust off. That was an early indication of where things could go, and she just gathered momentum from that point. Confidence begets confidence."
Grace then ran 2:00.05 in the 800 at the Portland Twilight meet on May 15 and set a personal best May 20 in the 1500m at Oxy, finishing second to Jenny Simpson in 4:05.25.
Leading up to the trials, Grace decided to focus on the 800 over the 1500 in the trials. Her strength was telling, since she ran the fastest final 200 meters of anyone in both the first round and the semis. In the final, sitting in sixth place at the start of the last turn, she again ran the fastest final 200 (30.67) while others' Rio dreams fell apart around her.
"I was aware that it was happening," she said of Montano's tumble and Martinez's stumble. "It wasn't a distraction. At that point, I just saw the finish line and focused on finishing hard."
Before the race, Grace and Wartenburg planned for her to stay in Lane 1 as long as possible, and that was a fortuitous decision, since it helped her avoid the chaos going on in Lanes 2 and 3.
"I told her yesterday, 'Don't run 810 meters — run 800,'" said Wartenburg. "We talked about sliding down and staying on the rail, hoping it would open up; if not, waiting for the last possible moment to pop out."
"In the moment, I just decided that something was gonna open," said Grace. "I felt strong, and my split-second decision was to stay on the inside and wait for something to happen — and kick in final 100m."
She added, "I knew it could come together today, and I knew that if I could run my race that I would make the team."
"Kate believes in Kate, and that's what you saw today," said Wartenburg.
In her buildup, Grace repeated the mantra "What do you want to happen in the moment of truth?" Her moment of truth, though, didn't come when she was sitting in sixth place with 200 meters to go.
"I realized that my moment of truth was last year when I was injured," said Grace. "I found a spirit that might not have been lacking, but I was unable to address it in races."
Grace found a new spirit in running, and the payoff could hardly have been better Sunday. Just like a year ago, Conley and Grace experienced it together.
"That's where our journey together started," said Conley. "We've both had a really great comeback over the last year, not just physically, not only on the track, but also in confidence. … There was no way I was going to miss today. I absolutely had to be here to watch her put all those pieces together finally in this moment."
After the race, Wartenburg and Grace indicated that she would probably withdraw from the 1500. Wartenburg is planning to head to more humid climes to help Grace prepare for the Rio weather with one as-yet-undetermined race on the docket between now and the first round of the Olympic 800m, scheduled for the morning of Aug. 17.
Grace will be joined on the team by Ajee Wilson (second in 1:59.51) and Chrishuna Williams (third in 1:59.59). Wilson avoided the mayhem on the last turn by being ahead of it, and Williams did so since she sat three meters behind Grace on the rail.
For the second straight Olympic trials, Molly Ludlow finished a harsh fourth. Sitting back in Lane 2, she had to shuffle her steps to avoid Martinez and Montano, and that may have been led to her finishing just .04 seconds back of making the team.
Conley hopes to build on Grace's momentum
Like in the women's 800m, Conley suffered a stumble of her own in the women's 10,000m on Saturday. She had to stop to readjust her shoe about two miles into her preferred event. The delay caused her to lose seven-plus seconds on the leaders. Conley closed the gap but ultimately decided to step off the track to save energy for the 5000m, which begins Thursday.
"I still love this meet," she said of the disappointment of Saturday. "That's what makes it so fun for everyone in the stands to watch — you can't predict anything."
She added, "Kate's been running so well all spring, and that's really carried me through a lot of the spring as well, because we did have quite a bit of training that overlapped, and so I think we've really taken confidence from each other."
"The energy that those two have been able to share in terms of preparation and syncing is good," said Wartenburg. "Kim talked about coming to the stadium today or not, and trying to be sure that she's rested for the seventh, but bringing her out here and sharing in the energy and bottling a little up — hopefully not too much for the prelim, but hopefully something uncorked in the 5000m final on the 10th."