One Comment
From the Stands: Re:RUN San Diego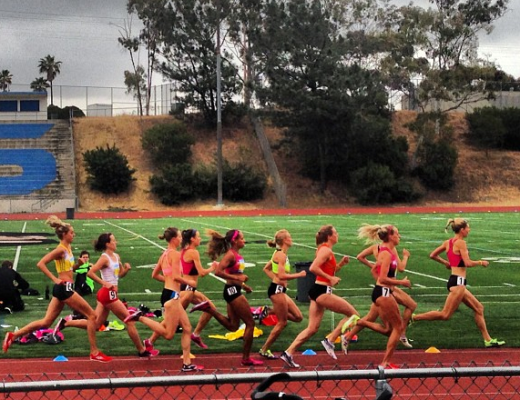 Morgan Gonzalez | On 06, May 2013
As with any running event, the results only tell part of the story. Here at the Daily Relay, we want to tell you the whole story. If you saw the Olympic Trials on television last year, you probably saw Nick Symmonds win the 800. What you probably didn't see, was Symmonds showing up to the Wild Duck Cafe, hours later, still in uniform, to have a few beverages and watch a replay of his victory with his friends and fans. These are the stories we want you to tell us. If you want to submit a "From the Stands," feel free to send questions/thoughts to editors@dailyrelay.com
From the Stands: Re:RUN San Diego
As a die hard track fan it is super easy to stay on top of the weekend's best meets through live results, twitter updates and even race videos, but in a sport that is criticized for its struggles to strike a chord with mainstream audiences outside of the Olympic year, the online viewing experience is akin to watching a concert on TV-entertaining but far from electrifying.
Re:RUN San Diego went for the win and a personal best at the same time without the help of a rabbit, no scratch that…Re:RUN dared to run off course from the standard Track meet format to create an intimate and fun runner-to-runner experience that brings a star-studded professional track meet to competitive and recreational runners after they complete their own 5K and 10K races.
Participants in the open races entered Balboa Stadium, which sits in the the heart of San Diego with the Coronado bridge as the back drop, sweaty and with tired legs but eager to see top middle distance talent race their own legs into the same state in a battle for some serious cash-a total prize purse of $60,000 disbursed amongst the four races. With prize money being put up for very few track meets on U.S. soil these days this fact alone made the event turn many heads.
The rich history of track and field in San Diego came to life on this cool overcast morning: the Flotrack guys scurried around to set up their equipment, multiple cameramen and photographers stationed themselves at the best angles to catch the competing athletes and Olympians Meb Keflezighi and Shalane Flanagan nonchalantly wandered around the meet saying 'Hi' to old friends as if this was a high school dual meet. There were no fan frenzies for autographs, but with a knowledgeable crowd in attendance most people in the stands were likely to play it cool and marvel at their running heroes silently, or they were in fact already old friends.
After the Elliptigo Mile (another original) broke the ice by entertaining the crowd with some laughs and getting everyone's competitive juices flowing, the women's mile field was announced and preceded to walk into the stadium through the crowd the way a rock star would make a statement entrance at a concert. The races themselves, especially the women's, did not disappoint with set time premiums for cash enough to encourage 3 out of 4 races to run an honest pace without the aid of a pace maker. Brenda Martinez's commanding win in the 800, clocking a world leading 1:59.59 with Mary Cain riding the wave for a 2:01.68 Junior Class record, will put Re:RUN San Diego on the map for track connoisseurs.
The short middle distance format featuring only the mile and 800 kept things simple and entertaining, but by the time the meet was over it had pumped up the crowd's adrenaline to want more action. Again, the spectators were largely from the tight knit San Diego running community, who like Eugene's Track Town fanatics know the sport of running well, but are also largely dedicated lifelong competitive athletes themselves. This poses the question of where Re:RUN goes from here? The short format and pre track meet road race obviously sought to expose elite Track and Field to a new audience that can relate from their immediate race experience to the performances of the professional athletes. However, with a majority of true fans of the sport in attendance, perhaps this is the target audience to cater to and build from. With this in mind was the short format enough? After all these people were willing to carve out time from their Sunday morning and pay a significant entry fee to watch Track and Field-a healthy sign for our sport which should be applauded! If the meet is to build a connection between not only competitive runners but also fun runners and the fitness community with track and field athletes what can be done to facilitate this further? To build a stronger connection to the runners before the meet so that spectators come prepared to cheer on their favorites, place their bets in the awesome raffle and eagerly join the athletes on the open field post-race to ask questions and get autographs?
The pieces are all there! Today at Re:RUN a new concept for American Track and Field was born. Rumors quickly circulated around the stadium after the event about speculated updates to the event for next year, and highly credible rumors at that since every runner in San Diego is a friend of another runner who is a friend of Meb or Steve Scott.
Perhaps the next step for Re:RUN and U.S. Track and Field is to move beyond efforts to expose new fans, but to focus on convincing runners already in the sport that spending money and time to go to a track meet is as worthwhile as going to a baseball game, because the time they invest in their own running transcends the gap between the elite in this sport and everyone who dedicates themselves to lace up a pair of running shoes and get out the front door everyday.