No Comments
Five things we learned Thursday at USA Outdoors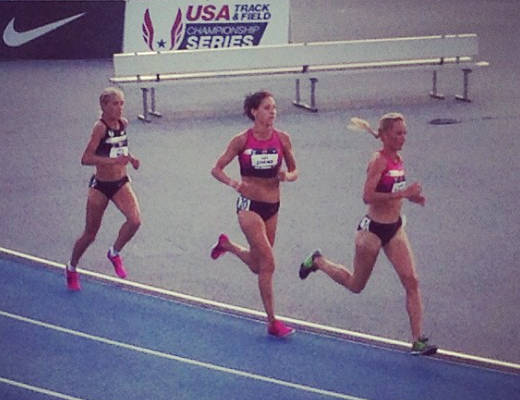 Pat Price | On 21, Jun 2013
Our 2013 USA Track and Field Outdoor National Championships coverage continues all weekend! Make sure and bookmark the Daily Relay Coverage of the 2013 USA Outdoor Track and Field Championships and follow @DailyRelay for updates!
1. Shalane Flanagan is the queen of US Distance Running
If there there was ever any question, it was answered tonight. Flanagan took it out from the gun and rolled to the win in 31:43.20; over 34 seconds ahead of the surprise runner-up, Jordan Hasay, who proved she could compete in warm weather after all. She and new Oregon Project teammate, Tara Erdmann, worked their way up through the race to make it onto the podium. They both need the A or B to be considered for the World Team, but did you really think either had a chance over Kara Goucher and Amy Hastings? Me either.
2. Jeremy Wariner, Bryson Nellum and Robby Andrews are not happy
All three looked rough. Is it over for Wariner? Should he move up to the 800? Did the NCAA season wear Nellum out? And as for Andrews; I don't know. He's had a rough season. Hopefully he can figure it out and have a successful summer in Europe.
3. Miles Batty, Ben Blankenship and Russell Brown are very happy to make the 1500 final
Batty was all smiles and didn't hold in his excitement over nipping Andy Bayer at the line, hence knocking him out of the Saturday's final in the process. If you recall, Bayer out-leaned Batty for the 2012 NCAA 1500 Championship. You gotta be tough in this sport, folks. The first words out of Ben Blankenship's mouth after qualifying for the 1500 final was "the $hit finally came together." It did indeed. And Russell Brown was just plain happy for making the final. The field started with 47 men, and 12 came out of it. Can you blame him?
4. "The goal is to take Nick down"
Duane Solomon is here to win. He told us after the race that he watches the Olympic final once a week, and that he made a few errors that he feels he can correct. Oh yeah, he wants to dethrone the reigning champ and made no bones about it in his post-race interview.
5.  It's hot and humid in Des Moines and Jethro's is the best place to grab a beer/bite around Drake Stadium
Earlier in the afternoon, temps were approaching 90 degrees with high humidity. Shannon Rowbury wore an unusual ice vest in her post-race interview. Just watch the video. Does it work? Only if she thinks so.
At lunch (and after the meet), we stopped by Jethro's and tried the Farmer John's Multi-Grain Ale, Des Moines IPA and Barley and Me Puppy Pale Ale (brewed specifically for Jethro's) from Confluence Brewing, along with the pulled pork sandwich and jalapeno creamed corn. If you're here, I recommend it! (The Farmer John's was my favorite)
**Check out my chat about Day 1 with Spiked Up, Psyched Up's Kevin Liao here on YouTube
Note: Tune in to the races tomorrow on USATF.tv and follow me on Twitter @writingaboutrun for more Des Moines fun